February 28, 2002
Elephants on our bridge? Yes, and tossing trunksful of hay out the top of the tractor-trailer they were being transported in. Seems the trailer was just too tall and had its top ripped off Monday night by the low overhangs on the North Grand Island Bridge in route to the Niagara Falls Convention Center where the elephants are performing with the Sterling and Reid Brothers Circus.

Congratulations to Grand Island High School JV Hockey Coach Gene Kozek on being named WNY JV Club Hockey Coach of the Year. Gene's JV team took first place in the League and will play in a championship game 3 p.m. Saturday in the Buffalo State Arena. <Complete Story>

A big happy birthday to Carolyn Manzo celebrating today, and also to Kevin Sander (two today), Mary Ann Love (extra special good wishes today), Patrick McMahon (today), Michael Rayhill (10 tomorrow), Janie Cooke (7 tomorrow), Ashley Gorman (her 8th birthday tomorrow), Eleanor Kessler (tomorrow), Jamie "Akers" Smith (Saturday), Jeff Denler (cheers on Sunday), Jane Goris and Kevin Smith (Monday), David Vanthoff (Wednesday), Karen Hutzler (Sweet 16 on Wednesday), and Kara Duysters (21 on Wednesday).~~~~Little David Johnson is wished a happy 2nd birthday either today or tomorrow. The son of Tamie and Jeff Johnson, he was born on February 29th!

Our condolences to the families of Hazel D. (Colley) Hartmann and former resident Stanley V. Sankes. Click for complete Death Notice.



If you've ever heard Brent Minet play piano, keyboard or organ, you know why he was chosen the recipient of the "Muddy Waters Award" in the category of Most Promising New Talent for 2002. The presentation was made Feb. 9th by Blues Beat Magazine.

Looking Back 50 years - George J. Burgstahler was appointed supervisor, to fill the term of the late Edward C. Oberkircher.

Looking Back 40 years - The Rogues provided live music for a Gearjammers record hop at Sidway School 40 years ago. ~~~~Federal approval of the north and south thruway exits at Long Road, sought since 1960, "are certain to spur business development at the north end of the Island."~~~~A total of 250 fathers and 350 children enjoyed a potluck supper, movies and sporting events at Kaegebein School Tuesday night, February 27, 1962. The PTA program was arranged by Mrs. George (Doris) Rees and Mrs. Thomas MacGuire.~~~~A fire at the 125-year-old landmark Riverhaven Lodge was a total loss Saturday afternoon, March 3, 1962. Fire Chief Paul McTigue, who directed Fire Company operations from 1-7 p.m., estimated damage at between $50,000 and $75,000. The building was the home of Grand Island's first supervisor and part of the Whitehaven sawmill settlement.

Looking Back 30 years - The Fancher family held a Grand Opening for their Fancher's Flower Shop located across from St. Stephen's Church.

Looking Back 20 years - Jean Willer (Pecoraro) qualified to compete in the US Gymnastic Federation's state competition for Class IV gymnasts.~~~~Grade school boys from St. Stephen School's basketball team, coached by Vince Fisher and Joe Vaganek won the Father Duffy League title Feb. 28, 1982. Lead scorers were Captain Mark Dzielski with 18 points and Ted Kessler with 7.~~~~Eric Beyer, a fourth grader at Sidway School and Jeff Organisciak, a fourth grader at Huth Road School, were members of the Wheatfield Blades Squirt Minor Hockey Team, winner of the New York State Championship in March 1982.

Best bowlers! Dan Hartman bowled a 278 (766) at Island Lanes with the Generic Bowlers, and Mike Sander bowled the high game of 279 (677) for the PJ Garvey Men's league also at Island Lanes this past week.

Congratulations to Bob and Sue Jackson on winning a trip to the Cayman Islands this week through radio station Kiss 98.5.

Boaters and waverunner operators, take note! A Safe Boating Course given by the Buffalo Power Squadron begins 7:30 p.m. tonight at the Buffalo Launch Club. For necessary course information, click BLC Page.~~~~A Meatloaf Dinner will be offered from 4-6:15 p.m. Saturday by the members of the VFW and will be followed by "Kentucky Derby Nite." Details? Click VFW Page.~~~~Save the weekend of March 8-9th for the Zonta Club's annual Antique Show and Sale taking place this year at the Buffalo Launch Club.~~~~The Historical Society will host former Island teacher and Sidway School Principal Catherine DiVizio next Thursday, March 7th in the Library where she will present a program on the Architecture of Buffalo.


February 21, 2002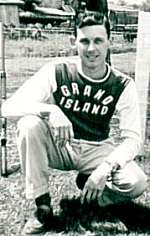 Click photo for larger view
The Long family dates back much further than most on Grand Island. Harvey Long

, born in the Long homestead on Long Road near the Boulevard, will have lived here 80 years on Saturday, February 22nd. Happy 80th birthday to Harvey, shown here wearing his Fire Company baseball shirt in a 1948 photo on Baseline Road.~~~~Others celebrating special birthdays this week are Sherry "Oberkircher" DeBruyn (Saturday), Scott Tetreault (Monday), Debbie Kennedy Rogoza (Tuesday), and Jim Lindsey (Wednesday).

Happy birthday to Jack Kennell, John Braddell Jr., Linda Braddell and Pat Hitcho (today), Sheila Wietan and Mike Podlucky (tomorrow), Lil Carpenter (Saturday), Lauren Braun (12 on Sunday), Tom Ryan (25 on Monday), Mike McMahon (Monday) and Deb Hutzler (Wednesday).~~~~A belated happy birthday to Bill Hackett who celebrated a big one on Sunday, February 17th.

Congratulations to Jason and Wendy MacClellan on the birth of a son, Jason James MacClellen, born January 25th weighing six pounds, two ounces. Proud grandparents are Isle residents Jim and JoAnn MacClellan and Judy Tannenhaus and Alex Murchison of Kenmore.~~~~Diane and Clark Nesbitt are celebrating their 36th wedding anniversary and are wished the best on Tuesday.

Our sincere sympathy to the families of Leonora F. 'Pat" Woodward, Donald F. Bellinger and former residents William "Bucky" Carminati Sr. and Thomas R. Webber who passed away this week.~~~~The death of Michael D. Braun, Sr. of Relsco Printing came as a shock to so many of us. Our condolences to Mike and Sue and the rest of Mike Sr.'s family.~~~~Ellen "Moest" Charles passed away Friday in Lafayette, La. Miss Moest taught first and second grade in the new Charlotte Sidway School in the late 1930s and early 1940s.~~~~ Click for complete Notices.

Looking Back 50 years - Sheds, formerly used for horses and wagons, and being dismantled to make way for the new fire hall, were auctioned off to high bidders Earl Mattison of Huth Road ($105) and Howard Killian of Whitehaven Road ($165).~~~~Dan Heimbach and Roger Dohn were lead scorers with 20 and 22 points respectively 50 years ago this week when the "Islanders" basketball team beat the Tonawanda Griffons (Tonawanda sophomore intra mural champs) with a score of 48-47.~~~~Richard "Dick" Narad won the back stroke event in a time of 1.16 when his high school swim team, the Tonawanda Warriors, defeated Lockport, 49-17.~~~~Marion Pinkow was named the new choir director at Trinity Church 50 years ago.~~~~Phil Killian was crowned Grand Island's undisputed ping pong champion in a tournament held at the Young Men's Club of Grand Island which met in Larson's Soda Bar on Baseline Road across from St. Stephen's Church. In his last game to win the championship, Phil beat Ed Zuchowski Sr. in a close battle.~~~~Mike Edwards, Peter McMahon, Richard Prange, Spike Vampotic, Dennis Yakam and Robert Grycel helped Robert's brother "Johnny" Grycel celebrate his 10th birthday on February 22, 1952. If you remember John, please email a big happy birthday to him this week.

Looking Back 40 years - Shirley "Kreger" Luther served as secretary for her Tonawanda High School Class of 1942 twenty-year reunion committee in 1962.~~~~LaVerne Harding showed movies of Grandyle Village events of the 1940s when 32 original Love Road residents who moved into the Sears and Roebuck homes in 1942 met at Del & Herb's for a 20-year celebration.

For photos click Grandyle Village~~~~The Fire Company was called during a blizzard on Friday evening, February 23, 1962 when 30 "merrymakers" found themselves snowed in at the Buffalo Launch Club.

Looking Back 30 years - The Island Theater Group produced "Ninety Day Mistress" staring Norma Richards as Leona Hastings, Paul Baerkley as Danny, Dorothy Ginsburg as Judith Hastings and Bob Beach as Leona's long lost father.

Congratulations to Scott McMichael on being named a finalist in the 2002 National Merit Scholarship Program. Scott, a senior at Grand Island High School. is the son of Dennis and Barbara McMichael.

A tip of the bowling alleys ball cap to the following Island Lanes bowlers. John Lesczak had a perfect 300 (757). Bill Gerfin rolled a 299 in a great 802 series. Both men were bowling with the Men's A Best Roofing league. Shawn Vaine rolled a 275 (683) in the Sharpshooters League.

For complete information about Wednesday Lenten Luncheons, click Grand Island Ministerium.~~~~The community is invited to the Knights of Columbus Hall Saturday night for the annual Las Vegas night. Click Knights Of Columbus for complete details.


February 14, 2002
The entire Island is grieving for the family and many friends of Travis Hennigar, lost over the weekend. And I believe the community is feeling a strong sense of thankfulness for his friend, Jeffrey Critelli who survived. Though the media credits the paid personnel who did, indeed, do their best job, it was the volunteers of the Grand Island Fire Company who gave up two 10-hour+ days that included searching the river and assuring the safety of the dive teams and others with no thought of compensation or publicity.

Fifth grader Alexandra Imperi Mason, who played the part of Amaryllis in the February 8th performance of "The Music Man" at the high school, had more than the usual family and friends in the audience. Alex's grandparents, Ken and Marilyn Lewis

flew in from Florida and her aunt, Jodi flew in from New York City. Alex is the daughter of Jeff and Laura Mason. Congratulations to the entire "Music Man" cast for a superb performance.

Best wishes to Elizabeth M. Watz of Grand Island and James Lakeman who were married Saturday, February 9th in St. Stephen's Church. The Lakemans will be at home in Williamsville after traveling to Aruba.~~~~Happy anniversary to Merle and Maisie Dommell celebrating tomorrow, February 15th and to Lee and Marilyn Randolph marking their anniversary on Saturday.





The late Gene Masters, Grand Island's legendary coach, and well-known and longtime Vikings Coach John Roth were inducted into the Tonawanda Athletic Wall of Fame on Friday, February 8th. Masters, a graduate of the Tonawanda High School Class of '48 who went on to coach a total of 44 years (1957-2001), and Roth, an N.F.L. All Star in three sports, graduating from Tonawanda High in 1967, received the Eldredge Club Award in their senior year as the outstanding senior athletes of the year at Tonawanda High School.

For Grand Island High School Sports Briefs, click High School News

Our sincere sympthy to the family of Howie Benns, a member of the Grand Island High School Class of 1978 who passed away on Friday, February 8th. Click for complete Notice.

Happy 140th birthday to St. Stephen's Church. First service in the first St. Stephen's Church was held on February 16, 1862. The first church building is still standing just north of the Thruway on Baseline Road

A Buffalo News review on the Amherst Saxophone Quartet concert Friday, February 8 at Westminster Presbyterian Church gives credit to Islander Steve Parisi's Nina's Samba as "a jumping, up-tempo delight. Extended solo riffs for each of the instruments highlighted this infectious number which wanted to make you get up and dance."

Happy birthday to Jackie Filosofos (special greetings today), Todd Sipson (a milestone today), Jeremiah Crowe (16 today), Emily Cole (8 today), Betty O'Dea Carr (today), Lynn Kahn (tomorrow), Deanna Cole (her 18th on Saturday), Craig Walker (Saturday), Grace Olszewski (7 on Saturday), Amanda Stamler (Sweet 16 on Saturday), Pat Kostenbauder and Kathy "Grycel" Farmer (Sunday), Alyssa Ryan (9 on Sunday), Bob Pownall Jr. (a milestone on Sunday), Sean Ford (his 18th on Sunday), Michelle Gast, Mike Meyers and Bob Dworak (special birthdays on Monday), Kathy "Butler" Treadwell (Monday), Karen "Macumber" Scalise and Dorothy Rowswell (Tuesday), Margaret Staub (her 90th birthday on Tuesday), Jennifer Watkins (Sweet 16 on Wednesday), Ben Castleberry (20 on Wednesday), Tommy Smith (6 on Wednesday), Madeline Porter (8 on Wednesday) and Kathleen Ann Brady (9 on Wednesday).

Looking Back 50 years - Supervisor Edward C. Oberkircher, in office for only a few weeks, died Wednesday, February 13, 1952.~~~~A Gay Nineties Revue was produced by Island residents and teachers on February 14-16, 1952. Parts were taken by Mae Thomas, Tom Hogan, Marilyn Trick, Chris Cotter, Bud Link and Veronica Connor who took the part of "Mollie's Mother." A feature of the show was a Bowery Dance by Gert Radius and Lou Jerge.~~~~Purchasing six lots at Love and East Park roads was defeated 25-15 by voters at Sidway School Friday night, February 8, 1952. One voter remarked that the school could spend the $5000 to better advantage by improving the drinking water at the (Sidway) school. "Sulphur makes the water particularly unpalatable." Remember?

Looking Back 40 years - Clare Bush and Philip Kerns were named best twist dancers at the Sidway Jr. High Valentine Party in 1962 and Tom Drake and Marian Guz were chosen king and queen.~~~~Work on the new high school began 40 years ago this week with heavy equipment moved to the Ransom Road site by general contractor John W. Cowper Co.~~~~Jess Tromanhauser of Jenell Drive was a contestant for the USO Talent Parade after an audition where hundreds took part and a few were chosen. Elaine Carlson was guest soloist.

Looking Back 30 years - Scout leaders honored for their time and interest in Boy Scouting activities during the Tuesday, February 8, 1972 Kiwanis Club meeting were Steve Kneidle of Troop #630, Del Krause of Troop #575 and Tom Ott of Troop #254. Making the presentation was President Emery Ashley.

Looking Back 20 years - Mike Endres was the recipient of the Pop Schroeder Award as the Outstanding Driver of the Year (1981) at the B&T Power Boat Association's awards night on February 20, 1982. Mike won the Grand National Championship in his 7-liter Orange Crush in the summer of 1981.

Attention, Class of 1992! Plans for a 10-year reunion of the Class of '92 are announced on our Reunion Page. Click Class of '92 for information.

Former Love Road resident Ron Swick is starring in O'Connell & Company's production of "The Fantasticks" which is playing through March 9 at Cabaret in the Square in Amherst.~~~~Audrey J. Czesak-Kennedy, chief executive officer of Trinity Title & Abstract Corp., has been appointed to the Erie County Commission on the Status of Women by County Executive Joel A. Giambra.

Sesquicentennial News and much more to come! A concert by the American Legion of the Tonawandas has been locked in for July 1st, Island organizations have been offered the opportunity to provide food and refreshments during the Sesqui Craft Show, a major event taking place June 29-30 in the center of the Island, and several Isle clubs are already working on floats to be entered in the gigantic parade scheduled for July 4th. To hear more about what will be going on in "your town" this year, stop by the Sesquicentennial planning meeting scheduled for 7 p.m. Tuesday, February 26th in the GI Memorial Library Meeting room.

Grand Island has a lot going on in town this week, including "Town Tax Day" tomorrow, and the Grand Island Ministerium's first Lenten Luncheon on Wednesday. Click Events Calendar for a week's worth of activities.


February 7, 2002
The storm that left many Island residents without power for as long as three days will long be remembered. Candles and flashlights came in handy as did fireplaces and woodburning stoves. When the electricity did come back on in some neighborhoods, the cable was still out. We watched some old family videos with our 12-year-old grandson who kept our inside wood supply fully stocked. Thanks, John!~~~~Jim and I are especially proud of our grandaughter, Amy Bidell, who was chosen to speak during the DARE awards presentation at the Huth Road Elementary School yesterday. A complete story with photo appears in today's edition of our Grand Island e-News.

Huth Road School students had not one, but two days off this week. Though Friday was a scheduled holiday for the second through fifth graders, school was also cancelled today (Thursday) due to a heating problem.

Carmen and Maria Laurendi of RealtyUSA's Grand Island office were recently presented RealtyUSA's Ultimate Achievement Teams Award.~~~~Former resident Dr. Roger E. Kaiser Jr. has been appointed medical director by the Erie County Medical Center Healthcare Network board of managers. Roger is a member and associate medical director of the Grand Island Fire Company's paramedic program.~~~~Lou Panzica of Ferry Road has been named chief operating officer by his employer, Power Drives, a Buffalo-based supplier of automation and fluid power solutions. Lou, a CPA, will oversee all operations at the company's nine locations, working out of corporate headquarters in Buffalo.~~~~Congratulations, everyone!

The Grand Island Vikings Swim Team beat Kenmore West 66-28 in a Niagara Frontier League meet this week. Congratulations, swimmers.~~~~Sally Head led the Girls Basketball Team with 21 points as they beat Niagara Falls 56-36 this week.

The Wednesday Lenten Luncheons, sponsored annually by the Grand Island Ministerium, will be held at Whitehaven Road Baptist Church beginning February 20th. Click Ministerium Page for details.~~~~A church sermon featured in the Buffalo News "Life Styles" section of Saturday's paper was that of our own Rev. Paul E. Robinson, senior pastor of Trinity United Methodist Church since 1990. If you missed it, just click "here!"



Cathy and Jim's Restaurant received rave reviews this weekend. Owner Ilona Lang has hired topnotch Chef Mike Litzel and has brought back some of the tempting menu specials sadly missed over the past year.

Best wishes to Bob and Evelyn Ragnar Barclay who were recently married.

Our sincere sympathy to the families of Ruthann W. Jones, Lura Jean Lenzner, Harry G. Stoll, James B. Welfare and Island native Dick McNamee who passed away this week. Click for complete Death Notices.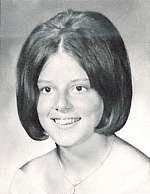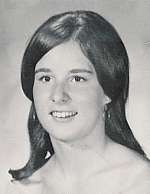 The Costello twins - 1970 graduates
Those celebrating very special birthdays this week include Ellie Wiant (special greetings on Saturday), Linc Nutting (a big one on Tuesday), Carol Roesch (a big happy birthday on February 12th!) and (shown above) Penny "Costello" Linenfelser and her twin Patty Rink (Tuesday's the big day).~~~~Happy birthday to Glenn Skelly (8 today), Robert Podlucky (his 18th tomorrow), Grace Giambra (5 tomorrow), Christopher Ford (his 30th on Saturday), Irma Dworak (her 96th birthday on Saturday), Richard Dobmeier, Barbara (Glor) Martin and Harold Arcouet (Monday), Jagger Robert Click (2 on Monday), Kim Baldassari (Tuesday), Andrew Fred (turning 5 on Wednesday), Roger Butcher and Tom Grycel (Wednesday) and Charlotte Swalm (this week).~~~~A belated happy birthday to Linda Sobieski who celebrated her 50th on Monday.

Looking Back 50 years - The Bedell House was under the new management of Louis P. Meyer.~~~~The Harper family on Love Road were new Island residents 50 years ago. Paul, Bob and Carol Harper (Rolfe) were the newest students at Sidway School - still the only school on the Island.~~~~Island residents, warned of their danger, were donating sweaters of a very flamable material and a very strange "feel" to the Fire Company for demonstration purposes at Monday night drills.~~~~The builder of the new Coldbrook development, behind the Love Road homes in Grandyle Village promised home buyers he would donate a community hall to their neighborhood.~~~~Fire Chief Henry Ehde reported a total of 47 calls for 1951. (Our Fire Company responded to a total of 164 calls this past week!)

Looking Back 40 years - Marion Klingel's editorial in the February 8, 1962 edition of the Island Dispatch promoted the idea of forming an historical society on Grand Island.~~~~Hank Alt moved his Grandyle Mart from the Love Road Plaza to the Island Lumber & Builders Supply on Grand Island Blvd. where he was advertising ice skates sharpened for 25 cents.~~~~Frank Vacanti and his family were newcomers to the Island and East River Road 40 years ago.

Looking Back 30 years - The Sandy Beach Garden Club elected Anita Cole chairman and Grace Jasper, assistant chairman.~~~~Mary Carminati bowled the high game several weeks in a row with the Ladies Night Out League at Island Lanes 30 years ago this month.~~~~The Sports Boosters Club in January 1972 honored the 1971 Champion Viking Football team at a dinner in the Buffalo Launch Club. Captain Daryl Smith was presented the Most Valuable Player (MVP) on defense award and Mike Dowd received the MVP on offense. John Podlucky won the coveted "Helmet Award" for his outstanding statistical season. The championship team was coached by Gene Masters, Roger Wise and Bill Riffel.

Looking Back 20 years - Linda Braddell's "Snow Wonders" won the co-ed, one-pitch softball tournament championship beating out the "Mean Machine" 12-2 in a field of 14 teams at the 2nd annual Recreation Department's Annual Winter Weekend activities at Beaver Island Park.~~~~John Derigo became the Commodore of the Buffalo Launch Club in January 1982.

Russ and Stacy Person are the parents of a baby boy, William Russell Person born November 23, 2001, weighing 8 lbs, 1 oz. Proud grandparents are Rolph and Nancy Person of Grand Island, and James Snyder of East Randolph, NY. Click Islanders In the News to view William Russell's photo.

Grand Island High School students take to the stage tonight at 7:30 p.m. for the opening performance of "The Music Man" which runs through Saturday evening.~~~~The annual Carnival Day at St. Stephen School takes place from 11 a.m. to 3:30 p.m. Saturday at the School.

Another "newer" baby has been reported for our First Sesquicentennial Baby Contest! Alexandria Francesca Anderson was born January 8th at 8:37 a.m. Congratulations to proud parents, Patty and Tim Anderson of Spicer Creek. The last date for registering is February 15, 2002.


January 31, 2002
We think we have the First Sesquicentennial Baby born on Grand Island. His name is Benjamin Paul DeFranks and he was born on January 24, 2002 weighing six pounds, four ounces. First time parents are Paul and Sondra DeFranks. Proud Isle grandparents are Gloria and Jim Galoppo. The First Sesquicentennial Baby Contest deadline is February 15th. Good luck to the DeFranks!

Val Gasbarro led the Girls Varsity Vikings Basketball Team to a 62-51 win over Niagara-Wheatfield with 22 points.~~~~Grand Island's WNY Club Hockey Team is #1 among large schools in the league.~~~~Ken Carter had a great game this week while bowling on the Men's A Best Roofing League at Island Lanes. Kenny scored a 299 in a 797 series.~~~~Congratulations to Grand Island's Wrestling Team. The boys won the team title last week at the Depew Tournament edging Barker by 2 1/2 points.

The Sidway School Reunion Committee is asking our readers for help in locating the following students for the July 6th reunion: Dennis and Terrie Guilfoil, Kathy McGregor Guinn, Charles F. Soch, Barb Soch, MaryJane Barker Lockwood and Linda Barrus Andrews.

Our sympathy to the families of Bernard J. McTague, Irene (Boblak) Miller, Jack F. Hugill Sr., and former resident Sylvia E. Mash, who died this past week. Click for complete Death Notice.



Best wishes to Daniel M. Hiam and his bride, the former Janie L. Martin who were married December 8, 2001 in San Juan, Puerto Rico. Click Islanders In the News to view their picture.~~~~Jack and Marge Breier are celebrating their 54th wedding anniversary today. Best wishes to the Breiers who have been Isle residents nearly that long!

A speedy recovery to Ken Wagner who is back in the VA Hospital. Notes and cards of cheer for Ken should be directed to Room 913, 3495 Bailey, 14215.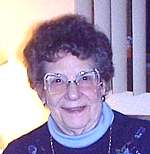 A very special lady will celebrate her birthday tomorrow, February 1st. Happy "80th" to Helen Hassan who has lived on and loved Grand Island for 41 years.

Happy birthday to Sue Radder (today), Hailee Clayton (5 today), Maribeth Head (20 today), Conner Bolles (8 today), Mandy Malaney and Stacey Burridge Ford (tomorrow), Lee Richard (16 on Saturday), Maria Ramsperger (her 4th birthday on Saturday), Samantha Ruotsi (7 on Saturday), Cheryl Wasson and Don Kaiser (big ones on Saturday), Beth Bates and Norm Courey (Saturday), Joseph Diebold, Ilene Dee and Rita DeGlopper (Sunday), Andrew Carlson (4 on Sunday), Sally Head (18 on Monday), Mark VonWryeza (cheers on Monday), Kip Staub (Tuesday's the "big" day), Michael Podlucky (5 on Wednesday), and Brent Minet (21 on Wednesday).

Looking Back 65 years - It was 65 years ago tomorrow, February 1, 1937, that the new Charlotte Sidway School opened to about 100 students in grades 1-8 with two grades to a classroom. Among the children who went from their little school house to the new central school on its opening day were Betty Forsythe Killian, Howard Kaiser, Shirley Kreger Luther, Mae Webb Eastman, Doris Webb Kaiser, Philip Killian, Geraldine Schutt, Bobby Mesmer, Dorothy Lyden Lovelee, Emory Webb and many of their siblings.

Looking Back 50 years - St. Stephen's Church, beginning February 3, 1952, began offering four masses each Sunday at 8 a.m., 9 a.m., 10:15 a.m. and 11:30 a.m. to accommodate the growing parish population.~~~~Lee Tetkowski and Deane Long were busy as beavers preparing the scenery for a Gay Nineties Revue which was presented by the Sidway School PTA on February 14-16, 1952.

Looking Back 40 years - Brownie Troop 732 was meeting in the Huth Road Elementary School under the leadership of Barbara Bagdy and Betty O'Dea.~~~~The Post Office substation in the Love Road plaza was closed in January 1952.~~~~Lights on the north and south bridges werebeing replaced with new standards and sodium vapor lights of the same type as planned for the new bridge.

Looking Back 30 years - Susan Arcouet (Hillock) won 2nd prize in the Northern District's apple pie baking contest sponsored by Camp Fire Girls on February 5, 1972. Competitors were from Kenmore, Tonawanda, Amherst, Clarence and Grand Island.~~~~The Middle School Mathletes, a math club for students with an above average aptitude in math skills, was in its second year in February 1972 under the direction of Dick Bessel.~~~~Mr. Frederick Kuhn's 6th grade reading class took part in a play, "Twelve Angry Men." Cast members included Jeff Goris, Charles Brice, Terry Smith and Lisa Samrany (Podlucky).

Looking Back 20 years - A major project of the Grand Island PTA Council in January 1982 was the "Talking Grand" campaign.

For those of you who have asked about former resident Marie Frampton, she is living in Binghamton. Her address is Room 212, Elizabeth Church Manor, 863 Front Street, Binghamton, N.Y. 13905. Surely she would appreciate hearing from old Island friends.



Saturday's Calendar

The VFW is offering a Groundhog Day Breakfast from 8:30 a.m. to ?
Grand Island Little League holds baseball sign-up on Saturday
The Grand Island Rotary Club hosts its annual Chili Supper and Sale from 11:30 a.m. to 6 p.m. in the High School cafeteria. Have a good weekend!



January 24, 2002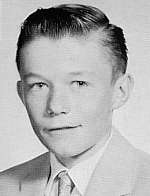 Happy birthday to Tempe, AZ resident Floyd Anderson who will celebrate his 60th birthday next Wednesday, January 30th. This school photo was taken from our 1957 Charlotte Sidway Yearbook, the year we graduated from 9th grade. As I've said before, 1942 was a very good year!

We are still waiting to hear who will be the First Sesquicentennial Baby Of the Year. If you know of a family on Grand Island whose new baby was born on or after January 1, 2002, tell them about our contest which boasts a long list of nice prizes.

Our sincere sympathy to the families of Kenvin R. Moreau and Marie L. Giancarlo who recently passed away. Click for complete Death Notice.

~~~~A group of Ken Moreau's former students are having a prayer service for him this Saturday at 10 a.m. in St. Stephens Church.~~~~Regina M. Gross-Fitzsimmons, a member and past matron of Chapter 875, Grand Island Order of the Eastern Star and wife of the late Edward J. Fitzsimmons passed away on Tuesday, January 22nd.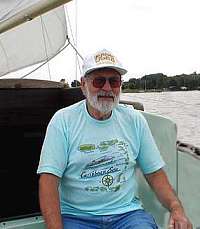 Rolland Miller, shown on his sailboat out on the Niagara, is wished the happiest of birthdays from his children, Tim of Grand Island, David of New Jersey and Donna Alway who is living in California. Rolland and his wife, Nida are long time Kirkwood Drive residents, living here since the early 1950s. The retired owner of "Rolland's Jewelers" on Grand Island and Tonawanda, he is still an active sailor, hunter, fisherman, and blackpowder shoot enthusiast as well as remaining active in Trinity Church activities. Happy 80th birthday Rolland. Sunday, January 27th is the big day.

Happy birthday to Kelsey Nordvik (a teenager today), Sarah Ramsperger (8 today), Ray Dlugokinski and Peter Glor (tomorrow), Amy Millar (18 tomorrow), Peter Garrison and April Kaiser (teenagers tomorrow), Michael Giambra and Sam Clarke (both turn 7 on Saturday), Daneen Gallagher (Saturday), Danielle Quider (her 20th on Sunday), Amy Dzierba and Susan Benns (Sunday), Stephanie Williams (Sweet 16 on Sunday), Joanne Hughes and Martha Criddle (Monday), Jeremy Fraser (Tuesday), Eric Sharpe (11 on Tuesday), Nell Roberts (special greetings on Tuesday), David Clayton III (6 on Wednesday), Rich Foks (celebrating big ones on Wednesday), and Dennis Criddle and Gary Howard (Wednesday).~~~~A belated happy birthday to Lynne Uonites who celebrated on the 14th. Lynne and Skip, who have been living in Seminole, Florida for the past seven years, are looking forward to coming back to the Island for the 4th of July/Sesquicentennial festivities and the Sidway School reunion.

Twenty years ago today Karen and Rom Figler were joined in marriage. Happy 20th anniversary to the Figlers.

I recently received a nice note from Ehde Beth "Stamler" Parrish who is now living in Benton, Kentucky. Ehde Beth, whose family dates far back in Island history, lived on the Island from 1925-1945 and would enjoy hearing from anyone who remembers her.

Looking Back 50 years - Saturday night was Basketball night at the Sidway School gym 50 years ago. Though sparked by 13 points each from Bob Buzby and Bill Linton, Grand Island's "Greens" team was beaten by Riverside.~~~~New Year's resolutions from students in the 5th grade class of Mrs. Adamine Kennelly (Ubel) and published in the January, 1952 "Child Chatter - All About Sidway" in the Island Dispatch included those of Robert Webb: "I will not shoot BBs at animals"; John Pedlow: "I will try to play games better in gym classes"; and Wendy Holden Gaydica: "I will continue my hobby and will help my mother in every way I can."~~~~And last but not least, Kay and Art Haller became the proud parents of a son, Arthur on January 30, 1952. So if you see Art this week, wish him a very happy big 5-0.

Looking Back 40 years - "Tomorrow is a Day," a play concerning family life was presented in Kaegebein School Tuesday, January 30, 1962 at the combined meeting of the Kaegebein/Huth PTAs and directed by Betty Beach. Cast members included Alice Doerr, Mrs. Don (Kitty) Zoeckler; Vivian Grossman, Beth Beach, Mrs. Dale Gwin, Mrs. John Lautz, Fred Prosser, Trey Elgar and John Barrus.~~~~The possibility of an annual international music festival locating on the Island was made known here for the first time when the 1962 Philharmonic Achievement Drive was under the direction of Mrs. Roswell (Margaret) Pfohl and Mrs. John B. (Isabel) Allen.

Looking Back 30 years - Pete Hayes and family were running Helf's on Grand Island Blvd. and advertising 59 cent "Treasure Chests" with a free gift tucked in with the hamburg, French fries, and soft drink. Daughter Jodi "Hayes" Dodd remembers her "cous" Ross Kaiser making furniture out of milk crates while working for her father. Helf's, by the way, was opened as The Clown House and is now known as the Islander Restaurant.~~~~Among Webelos Cub Scouts receiving awards at the January 28, 1972 Pack 423 meeting were David Doebert and Greg Lewis.~~~~Cub Pack 452's Pinewood Derby winner was Den 2 member Arnold Jonathan whose car came in first in a field of 50 in the William Kaegebein School. Charles Huff and Russell Certo took 2nd and 3rd respectively.

Looking Back 20 years - Chamber officers in 1982 were President Robert Bonsack, First Vice President John McCarthy, Vice President Paul Harper, Secretary Nancy Job and Treasurer Reginald Schopp.

The Sidway School Reunion Committee (1937-63) is looking for Brenda Youngs, Kathy Beam, and Theda Lockwood. If you have information, please email me.

The engagement of Erin Alyssa Slotiuk to Russell Franklin Mesmer has been announced by her parents, Nathaniel and Janel Slotiuk. Mr. Mesmer, the son of Robert and Joy Mesmer and the bride-to-be are planning a June 2003 wedding.~~~~Joseph and Christine "Lascelle" Boos are the proud parents of a baby girl, Alexis Renee Boos, born November 8, 2001 weighing seven pounds, six ounces. Isle grandparents are Rick and Karen Lascelle.

Attention, Teddy's Islettes members, 1961-1987! A new practice schedule and new pictures have been added to the Teddy's Islettes page. We will practice 12:30 p.m. Saturday in the Middle School gym.~~~~Grand Island Little League will hold baseball sign-up on Saturday, February 2 and Saturday, February 16 from 11 a.m. to 2 p.m. in the Grand Island Memorial Library. For more information, check the Grand Island Little League page.

Don't forget this Saturday's Winter Fest 2002, sponsored annually by the Town Recreation Department. The fun day begins at 10 a.m. and runs until 3 p.m. at the Nike Base, 3278 Whitehaven Road near West River. Click Recreation Department Page for complete details - and think snow!


January 17, 2002
Happy big 6-0 to former resident Boyd "Billy" Williams, now residing in Venice, Florida with his wife, Donna. Bill turns 60 tomorrow so why not click his name and send him an e-mail greeting.~~~~Happy birthday to Nicholas Kingston (18 today), Deane Long (today), Pat Smith and Bill Stewart (tomorrow), Travis Mikulski (4 on Saturday), Denise Allan, Mary Kremer-Hartrick, Julie Meyer and Peter DeGlopper (all celebrating on Saturday), Chelsea DeGlopper (her 14th on Saturday), Andrew Masiello (6 on Sunday), Abram Morgan (a teenager on Sunday), John Gast, Don Kutzbach, Fran Burrows, and Bob Aronica (all on Sunday), Josh Lange (his 21st on Sunday), John Thomas, Gale Sander, Sharon (Dinsmore) Herrald, B. J. Revill and Mary Cooke (birthday cakes on Monday), Jack Gorman (6 on Monday), Margie "Rall" Hunter, Amy Morgan, Jamie Mangus, Kurt Lorence and Carol Hamlin (all on Tuesday), Bev Thomas and Joan Raab (Wednesday), Patricia Carminati (Sweet 16 on Wednesday), and Stephanie McMahon (Sweet 16 this week).~~~~Happy birthday to Mackenzie Hassan and Terry Benton who are bothcelebrating birthdays this weekend. Don't miss their picture. Just click Islanders.



Congratulations to our Grand Island Vikings. The Boys Swim Team outscored North Tonawanda in a close 96-90 meet.~~~~The Boys Basketball team beat Ken-West 69-57. Bryan Brown led the scoring with 24 points and Jon Steele added 18. The boys also beat North Tonawanda 58-47 (Brown, 17 points).~~~~The unbeaten Varsity Vikings Girls Basketball team suffered its first loss in a close one against Ken-West, 29-28. Leading the scoring were Val Gasbarro and Jamie Dougherty with 9 apiece. Victory to the tune of a 55-44 score was the name of the game when the girls met North Tonawanda this week. Sally Head led with 16 points and Val Gasbarro added 15.~~~~Grand Island's Hockey Team had a 7-3 victory over St. Joe's last week.

Alicia Tutwiler, former Viking swim star, won the 100 (58.99) and 200 (2:10.36) free stylefor her Buffalo State team in a 124-88 loss at Cortland.

Our sincere sympathy to the families of Laura T. Amannn, Bill Marshall and Roger F. Burl,who passed away this past week. Click for complete Death Notices.

Looking Back 50 years - Grand Island organizations pledged $1045.45 for Centennial operating expenses when they met in January 1952. Merton McElroy, named temporary chairman, appointed a nominating committee of six to select 15 candidates to act as a Board of Directors of the Grand Island Centennial Inc.~~~~Betty and Carlton "Joe" Killian moved into their new home on East River Road on Sunday, January 20, 1952.~~~~Grandyle Village residents Gert and Chris Cotter, Hank and Ann Boehm, MaryEllen and Art Hau, Velma and Laverne Harding and Bill and Betty Wheeler, the wives of which were members of the Sitting Hens Club, met at Mesmer's Supper Club in honor of Andrew and Helen Sunderland who were moving from the Island.

Looking Back 40 years - When Dick Morgan's boat lift floated down the Niagara on January 23, 1962, deputies and the US Army helicopter from the Missile Base in Sanborn, NY were dispatched to the river due to a Buffalo resident's attempt to rescue the "run-away" Grand Island dock. The man made it to shore safely, but empty-handed. The report was from the pages of the January 25, 1962 edition of the Island Dispatch.

Looking Back 30 years - A brand new YWCA "Mom's Club" was formed on Wednesday morning, January 19, 1972 in Trinity UM Church. The following officers were chosen from the 30 women who attended: President Ella Gisman, Vice President Barb Brennan, Treasurer Gloria Worley and Carol Berlinger, Hospitality.~~~~John Podlucky with 22 points, led the Varsity Vikings Basketball team to a 58-50 win over Iroquois on Friday, January 21, 1972.~~~~The Recreation Department was offering Free Play For Girls, including floor hockey, at Huth Road and Kaegebein elementary schools on Saturday afternoons.~~~~The New York Telephone Company, at 2:01 a.m. January 22, 1972 activated its new electronic communications center at 1717 Baseline Road. The new telephone office, which would allow Isle customers to dial long distance without having to give their telephone number to the operator, "is one of the most advanced in the world."

The Sesquicentennial Committee is still accepting patron ads (and other advertising) for its Historic Program Book. See our Sesquicentennial Page for information on how your family or business can be included in this keepsake publication.

Teddy's Islettes Reunion group will practice 6:30 p.m. Friday, January 18 in Miss Cathy's Dance Studio. There is no Saturday practice this week.

We have added a new page to our Grand Island e-News titled "Island Memories" and you can be a part of it. Just click Island Memories to read our first entry from former resident Mike Stefik who remembers the soft ice cream at The Clown House in the 1950s.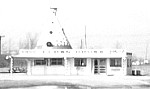 The Erie County Sheriff's Substation, Grand Island Police Dept., Grand Island Animal Control Officer and Erie County Legislator Charles M. Swanick are officially in new quarters at 1858 Whitehaven Road following a ribbon cutting on Wednesday afternoon.~~~~Children and others will be enjoying a long weekend as schools are closed Monday in honor of Martin Luther King Day.


January 10, 2002
Heading up the birthday list and wished a great day is Judy Link who turns the big 6-0 on Monday. 1942 was a very good year!!!~~~~Roll on the drums! Earl and Rita's boy is turning 50 on the 16th. Happy big 5-0 to Earl DeGlopper Jr..~~~~Happy birthday to Peter Fabiano (his 30th today), Derrick Schutrum (6 today), Liz AuClaire (cheers tomorrow), Susan Head (10 tomorrow), Nicole Fischer and Valerie Paris (13 on the 13th), Tracey Bryan (Happy Monday!), Adam Mazenauer (his 18th on Tuesday), Monica Greco (Sweet 16 on the 16th), Bryan Funk (16 on Wednesday), Amber Malaney (20 on Wednesday) and Phil "Felix" Grycel (his 83rd birthday on Wednesday).

Grand Island High School graduate Shawn Haseley, with 13 points, led the Buffalo State Bengals to a 75-54 win over Hilbert College in a Buffalo State tournament over the weekend. The win gave the Bengals the title of the Buffalo State/Holiday Inn Men's Basketball Invitational.~~~~Among the high rollers of the week at Island Lanes was Dan Hartman who bowled a 280 (638) in the Thursday Night Labatt's Men's League.

Our sympathy to the families of Lt. Col. (Retired) Ronald B. Wetterau and Eileen C. Perkins who passed away last week. For further information click Death Notices.

~~~~John R. Schuler, a former commodore and member of the Buffalo Launch Club, died on January 5, after a brief illness. He was 64.

Looking Back 50 years - A new policy went into effect for the Island Dispatch on January 10, 1952, when Publisher George Pagan began printing it weekly and for the first time on a cylinder press. The Dispatch, first published by Ollie and Dorothy Howard, had previously been delivered every other week since its inception in March 1944.~~~~Sidway students and their teachers began visiting the Grand Island Memorial Library in the basement of the old town hall on Thursday and Friday afternoons. Chosen in abc order, fifth graders Gary Bartlett and Shirley Benton were the first to serve as assistant librarians for their class in January 1952.~~~~New Cubmaster Lloyd Brockwell was introduced at the January Cub Pack #75 meeting in the Sidway School gym when Cub Scouts made Indian headdresses and performed skits. Barry Hamilton, John Gast Jr., Galen Young and Donald Flessing were welcomed into Pack #75 as Bobcats.~~~~John Hall, Jerry Livingston and Diane Hamilton (Adams) had major parts in the Christmas play, "The Legend of the Snowman," produced on the Sidway School stage in December 1951.

Looking Back 30 years - Grand Island officially becoming a first class town as of January 1, 1972.

Congratulations to our sports teams! The Grand Island Vikings Boys Basketball Team beat Niagara Wheatfield 54-52 when Chris Martello scored in the last four seconds of the game. Bryan Brown led the team with 18 points.~~~~The Grand Island Vikings Boys Swim Team recently beat Lew-Port 88-11.~~~~Final score for the Girls Basketball team's recent game against Niagara Falls was 49-47. Lead scorer Val Gasbarro (21) tied the game on a pair of free throws, and then won it on a short jumper with 14 seconds left. Sally Head chipped in 18 points.~~~~Grand Island Boys Bowling Team member Geoff Crossley bowled a 280 in a recent Niagara Frontier League meet.~~~~Sally Head led the Girls Basketball Team with 17 points as they beat Kenmore East 46-36 on Tuesday and the Boys Basketball team lost to Ken-East 40-39.~~~~Bryan Brown (18) and Mike Feathers led Grand Island over Tonawanda, 65-61 in a non-league game this week.

Former Grandyle Village resident Paul Stefik recently called me on the phone to reminisce a bit about the Island's Centennial Pageant, "Grand Old Island" which he wrote and directed back in 1952. Paul, now 87-years-old and living in Sun City, Arizona, also wrote the words to the song of the same name.

If you missed last week's edition of the Grand Island e-News, you may want to look back on "Year 2001 In Review." Just click "Year 2001"

Former members of Teddy's Islettes (1961-87) are reminded that the reunion group meets at 12:30 p.m. this Saturday in the Middle School gym.

Our Isledegrande.com team here in the GIECOM office has put together a great list of prizes for the parents of the Grand Island's First Sesquicentennial Baby born in 2002. We're excited about the contest and are asking everyone to let friends and relatives who may possibly have or are about to have the winning baby, know about the contest.


January 3, 2002
Best wishes to Holly Marie Smith who became the bride of Daniel Howard Jaquith of Kirkville on Saturday, December 29th in the United Church, Canandaigua. A graduate of Lebanon Valley College, Annville, Pennsylvania, Holly is a teacher in Ithaca Community Childcare Center and has a master's degree from Florida International University.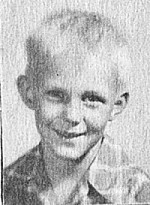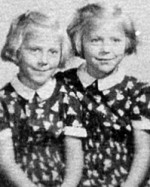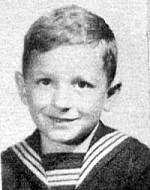 These four little kids were attending Charlotte Sidway School when their photos were taken in 1949 and they are all celebrating special birthdays. From left to right are Dick Robinson who had quite a birthday bash in Florida on December 22nd, Peggy Boettcher Fuller and her twin sister Kathy Boettcher Stisser who were born on January 5th and Eric Reimann who will celebrate on January 7th. A very happy birthday to my former schoolmates.~~~~ Others wished the best on their day are Sarah "Zilliox" MacNeil (her 21st today), Mike Peters (20 today), Hanna Panzica (4 tomorrow), Joseph Peter Kuszczak (2 tomorrow), Justin Long (20 tomorrow), Ellen Martin and Lynn Vaine (tomorrow), Hollis Busch (cheers tomorrow), Jonathan Figler (a teenager on Saturday), Fran Clarke (her 80th birthday on Sunday), John Bidell Sr. and Jackie Foote (Sunday), Sandra Less and Kathy McNulty (celebrating milestones on Sunday), Kyle Joseph Podgorny (two on Tuesday), Betsy Tranter (a big one on the 8th), Maggie Rustowicz (5 on Tuesday), Lee Randolph (Tuesday), Karen Raepple (Wednesday), and Jeff Sipos (18 on Wednesday).

Our sincere sympathy to the families of Jeannette M. White-Holland, Erwin F. Schulz, Rose Mendola and Mary Bates who died recently. For further information click Death Notices.



Sally Head, a senior at Grand Island High School has been named to the Niagara Frontier League First team and to the "Coaches All- WNY" Second Team. Jen Breier has been named to the Niagara Frontier League Second Team and Michelle DelZappo received Honorable Mention for the Niagara Frontier League. Congratulations, girls!

Looking Back 50 years - A special meeting was held in the Buffalo Launch Club January 3, 1952 for all organizations to consider a Grand Island Centennial celebration.~~~~Maury McFee (Davidson), newest member of Leader Marion Robertson's Brownie Troop 221 was elected its president. Other officers chosen were Vice President Marianne Shear (Tranter), and Treasurer Kathy Boettcher (Stisser).~~~~The town highway department's truck on which a new plow was soon to be mounted was equipped with fully automatic hydraulic controls, and noteworthy enough to be mentioned in the local paper.~~~~Members of St. Martin-in-the-Fields parish and special guests attended the dedication of their new church on January 6, 1952.

Looking Back 40 years - Winner of the Jaycees lighting contest was the Walter Maday property at 4850 East River Road.~~~~A fire Friday night, January 5, 1962 caused extensive damage to the second floor of the Buffalo Launch Club. Charter fire company member Cyril Diebold remembered the 1930 fire that destroyed the original BLC. Kenmore firefighters came by ferry with equipment to fight that fire.~~~~"Skip" Helbock was the proprietress of the Golden Thimble in the Grand Island Plaza.~~~~Grand Island was equipped to receive water from the Niagara County Water District and was to be billed for a minimum of 200,000 gallons a day as of January 1, 1962.

Notes of cheer and get well cards are in order for Kenny Wagner who is in the VA hospital.

I received a call from David Carlson, son of the late Elaine Carlson, a very talented singer who lived on the Island with her husband and children in the 1960s. Elaine, who sang and performed in many Grand Island productions, had a long list of credits to her singing career. Her son Dave is looking for any recordings of his mother's voice. Contact Dave via email or get in touch with me if you can be of help.

A couple of my own requests are for pictures of the Beach House when it was Batsfords and also a photo of the Sidway School, the one story version, as it looked from 1937-1947. I have also been in search of a 1947 Charlotte Sidway School Yearbook to complete my set.

Happy anniversary to Sherry and John Watkins who are celebrating tomorrow in their home town of Brighton, MI, to Al and Faye Popiel marking their 49th anniversary tomorrow, and to Jean and Ken MacDonald celebrating their 40th on January 6th.

Long-time members of the Sandy Beach Yacht Club may remember Howard W. Compson, who was among the original members of the club. Compson died Sunday Dec. 23, 2001 at age 92.

Music lovers, take note. The Miami of Ohio University Men's Glee Club will perform at St. Stephen's Church at 7:30 p.m. tomorrow night (Jan. 4). For more information, click St. Stephen's News.

The Grand Island Snowmobile Club will meet on Wednesday, January 9th. For complete Club information, click Snowmobile Club.~~~~Fire Chief Skip Mrkall is requesting that all Island residents clear fire hydrants nearest their homes to help in case of an emergency.

Last but certainly not least is a mention of the auto accident my husband, Jim and Nancy Hayes were involved in on New Year's Day. Thankfully, neither was more seriously injured. Have a great weekend!


---
2001 Articles by Date:
2000 Articles by Date:
1999 Articles by Date:
---
Email your notes, announcements and corrections for this column to Teddy Linenfelser, Snail Mail to: 2098 Ferry Road, Grand Island, NY, 14072, or drop off information at 1871 Whitehaven Rd. Include your email address and phone number.
---
Other Isledegrande Pages to Visit:
| Businesses | Churches | Email Directory | Government | Groups |
| Guest Book | Please sign in! | Local Artists | New! Photo Album | Recreation | Schools | Seneca Law Suit | Town History | UsefuLinks | Weather |
| Website Design | Wildlife | Home Page |

This website is sponsored by
GIECOM.NET
1871 Whitehaven Road, Grand Island, New York, 14072-1803 USA
Copyright © 1995-2002 All rights reserved.