Grand Islanders in the News 2008
July - December
Click for 2009 Jan.-June News
Click for 2008 Jan.-June News
Click for 2007 News
Click for 2006 News
Click for 2005 News
Click for 2004 News
Click for 2003 News
Click for 2002 News
Click for 2001 News
---



Welcome, Benjamin Ryan Mackey - 2008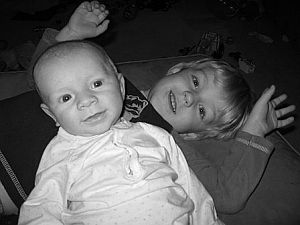 Benjamin Ryan Mackey was born on October 10, 2008 weighing eight pounds, nine ounces and was 21 1/4 inches. Proud parents are Alison Balzer Mackey (previous Grand Island resident) and Patrick Mackey, currently living in Snyder, NY. The even prouder grandparents are Grand Island residents, Ray and Judy Balzer and Gemma and Jerry Mackey of Manalapan, NJ. Ben is pictured with big brother, Jameson, 3 1/2 years old.


---



Town Clerk Pattie Frentzel - 2008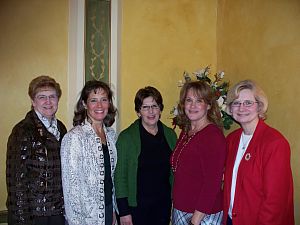 (left) Secretary Alice Magierski (Cheektowaga), Treasurer Pattie Frentzel, Vice President Johanna Coleman (Lancaster), President Dawn Izydorczak (Newstead), and Past President Cathy Rybczynski (Hamburg).
Town Clerk Pattie Frentzel was recently elected to serve a second two-year term as the Treasurer of the Erie County Town Clerk's Association. Pattie also serves as the vice president of the Erie County Tax Collectors and Receivers Association and as the District #1- Board of Director for the New York State Tax Collectors and Receivers Association. District #1 covers Erie, Genesee, Niagara, Orleans and Wyoming counties.


---



Alice E. Gerard - 2008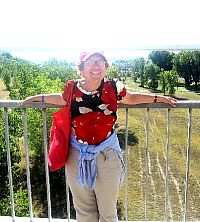 Click photo for full view
Island resident Alice Gerard spent much of the summer of 2008 participating in a 500-mile walk from Chicago, Illinois, to Saint Paul, Minnesota. The trip that started on July 12 and ended August 30th, was organized by the Chicago-based group, Voices for Creative Nonviolence. During the walk, Alice traveled through cities and rural areas, mainly in Wisconsin. The group gave 20 presentations along the way, and walkers stayed with host families, at churches, or camped out. Even though it is now winter, Alice can still be seen walking on Grand Island's roads and bike paths. See http://www.alicesgrandadventures.blogspot.com or http://www.closethesoa.blogspot.com/


---



Welcome, Lucia Suzanne Roesch - 2008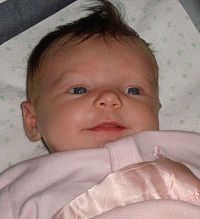 Gregg and Nicole (Dee) Roesch welcomed Lucia Suzanne Roesch into the world on November 11, 2008. Lucia, who weighed in at nine pounds, five ounces, is the granddaughter of Isle residents Ilene and Bob Dee and Carol and Gary Roesch. Gregg and Nicole, born and raised on the Island, now reside in Palm Beach Gardens, FL.


---



Dan Schmidt Remembered - 2008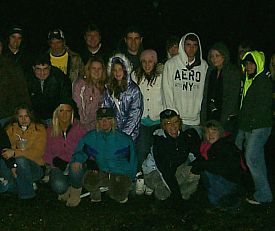 Click photo for full view
Compassionate Friends Worldwide Candle Lighting is held annually around the world on the second Sunday in December in remembrance of children who have been lost at any age for any cause. About 35 family members and friends gathered on Sunday, December 14, 2008 at the Whitehaven overlook in remembrance of Island resident Dan Schmidt. The group sent candles floating down the West River to honor him and his love of the Niagara River. See www.compassionatefriends.org or American Foundation of Suicide Prevention


---



Holmes - Ervin Wedding - 2008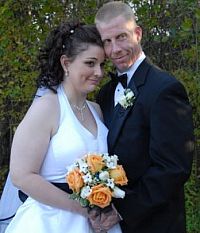 Click photo for full view
Robert Ervin and his bride, Sara Lynn Holmes, were married on Friday, October 31, 2008 at Trinity United Methodist Church on Grand Island, New York. Heather Landroche, sister of the bride, served as Maid of Honor with Bridesmaids Erin Wilson, sister of the bride; and Danielle Goodman, a friend of the bride; and Junior Bridesmaid Stefani Rhodes, niece of the bride. Mark Alan Landroche, brother-in-law of the bride, was best man, and William Derwin and Richard Lozo, uncles of the bride, served as Groomsmen.
The bride is the daughter of Jo Ann Holmes and the late Dennis B. Holmes, of Grand Island, New York. The groom is the son of Melvin C. Ervin of Oklahoma City, Oklahoma and Yvonne Harris of Georgetown, Indiana.
After a Halloween themed reception at Banchetti's By Rizzo's, the couple will reside in Lewisville, Texas.


---



Erin M. Dunbar - 2008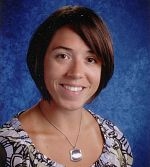 Erin M. Dunbar, a Grand Island Senior High School graduate, Class of 1998, is the recipient of the Teacher of the Year Award at Wakefield Elementary School in Raleigh, NC (Wake County Public School System). She is a 3rd grade teacher there after being recruited just after her graduation from SUNY Potsdam. The "class clown" uses some of her humor to capture the students' attention, but honestly loves her life within her classroom. Erin is the daughter of Mary A. Dunbar-Daluiso.




Kristyn Brown Donates To Wigs For Kids - Nov. 2008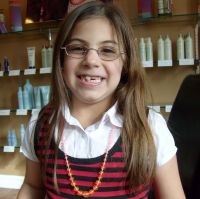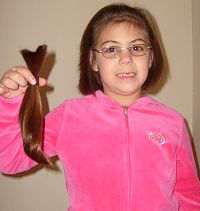 Kristyn before and after.
Kristyn Brown let her hair grow as long as possible, so that she could donate it to Wigs For Kids in Rocky River, Ohio. She recently had her hair cut at Beau Cheveux on Niagara Falls Blvd. in Niagara Falls. Kristyn is the daughter of Danielle Soluri and is a second grade student at Kaegebein Elementary School.
Wigs For Kids is a non-profit organization that helps children experiencing hair loss from chemotherapy and alopecia to live a regular and fun life as a kid. Hair donations are used to produce custom-made wigs for the child for at no charge (average price for a wig is $1800).




George & Penny Panepinto 50th Wedding Anniversary - Nov. 2008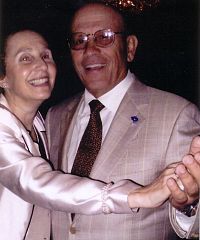 George J. Panepinto and the former Penny (Annette) Zarbo celebrated their 50th wedding anniversary with a family concelebrated Mass at St. Stephen's R.C. Church followed by a gathering of family and friends in the church Narthax. This was followed by a family celebration at E. B. Greens Steakhouse, Buffalo, NY. The Panepintos were married on November 22, 1958 in Holy Angels R.C. Church, Porter Avenue, Buffalo.
Long time Island residents, Penny and George are parents of eight children, and 18 grandchildren.
George continues to serve as president of Pinto Equipment, Inc. of Buffalo, NY, a heavy equipment contractor. Penny is a retired officer of Pinto Equipment, Inc.




Mark Larry Rings Stock Exchange Bell - Nov. 2008
Mark Larry, 22, a student at St. Bonaventure, had a once in a life time opportunity on Tuesday, November 25, 2008. He accompanied St. Bonaventure University president, Margaret Carney, in ringing the closing bell at the New York Stock Exchange. Mark, is a finance major, rang the bell with the University president in celebration of St. Bonaventure's 150th anniversary.




Nick Masiello - Nov. 2008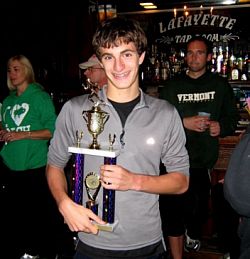 Nick Masiello accepts his award after winning the Buffalo race
Nick Masiello won the "Making Tracks for Family 5K run" held Saturday morning, November 15, 2008 in Buffalo. Nick took first place overall beating out the competition of 150 runners. He was the number two runner for the Grand Island High School Varsity Cross Country Team and competed in the State Championships.


---



Bullock - Fiddler Engagement - 2008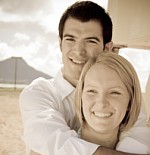 Click photo for larger view
Karen Bullock of Grand Island and Mark Bullock of Lewiston are proud to announce the engagement of their daughter, Jennifer, to Scott Fiddler, son of Lynne and Scott Fiddler of Williamsville.
Jennifer graduated from Grand Island High School in 2001 and earned a Bachelor's Degree in Education and Special Education at St. Bonaventure University. She is currently pursuing her master's degree in Education Technology at Ashford University. Jennifer is a sixth grade teacher on Oahu, Hawaii.
Scott graduated from Clarence High School and Buffalo State College with a degree in Earth Science. He is currently pursuing his graduate degree at the Gemological Institute of America. Scott is employed at The Wedding Ring Shop on Oahu, Hawaii.
Following a private ceremony on the beach in Hawaii, the couple plans an August 2009 wedding including family and friends on Grand Island.




Joseph J. Stefaniak Finally Recognized For Heroism - Nov. 2008
Legion of Honor recipient Joseph "Little Joe" Stefaniak, an 88-year-old Army veteran, was recognized at Grand Island's Veterans Day service Tuesday, November 11. See Buffalo News story by Lou Michel.


---



Vicki Harnden - 2008
Vicki Harnden, a Grand Island resident and independent consultant with Tastefully Simple, Inc., is now a Senior Team Manager with the national direct seller of gourmet foods. Vicki earned the promotion through sales achievements and by adding new consultants to her team. The promotion entitles her to a variety of benefits such as commissions, bonuses, allowances and more. The benefits of promoting encourage consultants to develop their businesses, says Tastefully Simple Inc. founder and CEO Jill Blashack Strahan. Consultants also are encouraged through an array of fun and meaningful incentives, she says. "We really focus on supporting and encouraging our consultants," Blashack Strahan says. "We are proud to recognize Vicki for outstanding efforts and success." For more information about Tastefully Simple products, taste-testing parties or the business opportunity, contact Vicki at 773-3138.


---



Kathy Yensan - 2008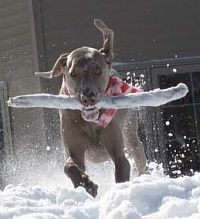 Click photo for larger view
Island resident Kathy Yensan and her husband, John, are the owners of a 2 1/2-year-old Weimariner named Sophie. Kathy entered several photos of Sophie in a "Tri-State Weimaraner Rescue Inc." photo contest where 400 other pictures of weimariners were entered. Judging the contest was the famous photographer, William Wegman, "known for his work photographing weimariners "and for teaching with them on Sesame Street." Kathy's photo, "Winter Fetch," won a 3rd place in the candid category. See www.tristateweimrescue.org for her entry. The $5 entry fees were donated to the Tri State Weimariner Rescue Association, an organization that finds homes for weimariners. Kathy was a "grand prize" winner in the 2007 contest.


---



Lisa Boulden - 2008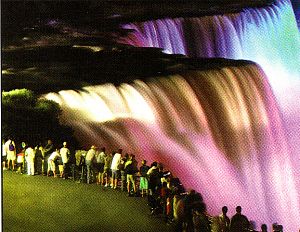 Lisa Boulden's photograph of Niagara Falls, USA was published in AAA's November/December issue of Going Places, under "TopShot" Travel Photography Contest. Lisa, a Fairview Court resident, has contributed several beautiful photos to Isledegrande.com over the years.


---



Dante Bonaquist Receives Penn State Award - 2008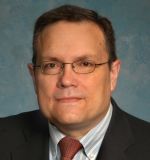 Grand Island resident Dante Bonaquist, senior corporate fellow and chief scientist, recently received the Penn State Alumni Association Alumni Fellow Award. Bonaquist is located at the Praxair Technology Center in Tonawanda. The Alumni Fellow Award is given to Penn State alumni who are leaders in their professional fields. Bonaquist was honored for his work in hydrogen and energy technology and ceramic membrane development programs. Since joining Praxair in 1980, Bonaquist has held various technical and managerial positions in engineering and R&D. He has also consulted on technology and policy matters affecting the future of energy production for the U.S. Department of Energy, the U.S. Senate, U.S. House of Representatives, and the states of New York, Connecticut and Texas. He has a bachelor's degree in chemical engineering from Penn State University and is an inventor or co-inventor on 111 U.S. patents.
The Praxair Technology Center in Tonawanda, N.Y. is Praxair's largest engineering and research and development center worldwide. Praxair, Inc. (NYSE:PX), based in Danbury, Connecticut, is the largest industrial gases company in North and South America, and one of the largest worldwide, with 2007 sales of $9.4 billion. The company produces, sells and distributes atmospheric and process gases, and high-performance surface coatings. Praxair products, services and technology bring productivity and environmental benefits to a wide variety of industries including aerospace, chemicals, electronics, energy, food and beverage, healthcare, manufacturing, metals and others. More information on Praxair is available on the Internet at www.praxair.com.


---



Cheryl Webb - 2008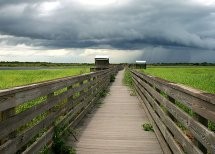 Former resident Cheryl Webb is an avid photographer. Though her Florida State Parks Photo Contest entry did not win, it was published in the Manatee River News. See Florida State Parks Contest
See also Manatee River News. Cheryl, who attended Kaegebein Elementary and the middle school, is a resident of Bradenton, Florida.


---



Pizur - Ortolano Engagement - 2008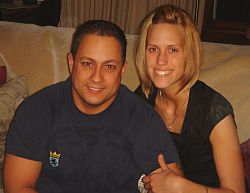 Thomas and Leanne Elise
Martin and Carol Pizur of Grand Island are proud to announce the engagement of their daughter, Leanne Elise, to Thomas J. Ortolano Jr., son of Thomas Ortolano Sr. and the late Sandra Ortolano of Buffalo. Leanne graduated from Grand Island High School in 2001 and earned a Bachelor's of Science Degree in Nursing from D'Youville College. She is continuing her education working towards a Masters Degree as a Nurse Practitioner. Leanne is employed as a registered nurse at Roswell Park Cancer Institute. Her fiancé graduated from Bennett High School and is employed by New York State as a court officer in the 8th Judicial Erie County Court System. The couple is planning a May 2009 wedding.


---



Kelly Carter - 2008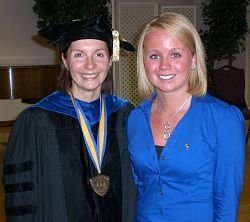 (left) Dr. Donna Kowal, Alpha Chi Faculty Sponsor, and Kelly Carter
Kelly Carter has been inducted into Alpha Chi (New York Omicron Chapter). Alpha Chi is a national honor society for university students who maintain a cumulative average in the top 10% of their class. This is the highest academic award a student at SUNY Brockport can achieve. Kelly is a 2005 graduate of Grand Island High School and will be graduating from SUNY Brockport in May, 2009.


---



Al Endres
Connecticut State Hockey Championship - 2008
Al Endres, a Fourth Form (10th grade) student at Canterbury Prep School in New Milford, CT, is a member and goalie for its travel hockey team (Mid Fairfield Blues AAA U16). Mid Fairfield Blues won the Connecticut State Hockey Championship Sunday, November 2, 2008 in Northford, CT. by beating the Connecticut Wolves 6-5 in a shoot out. The game was tied 5-5 after regulation play and remained tied after 2 overtime periods. A 5-player shoot out ensued to determine the champion. Goalie Al Endres stopped 3 of 4 Wolves' shooters in the shoot out to claim the championship. Endres was awarded the game puck for the victory. Endres and Mid Fairfield moves on to the North East regionals November 14-16, 2008 in Portland Maine. They will face the Rhode Island, New Hampshire, Maine and Vermont Champions. The winner of the regionals moves on to the National Championships in Dallas, TX in April 2009.


---



Welcome, Clare Brigid Conboy - 2008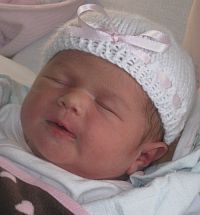 Click photo for larger view
Clare Brigid Conboy, the daughter of Karen and David Conboy, was born on October 16, 2008 weighing eight pounds, two ounces and measuring 20.5 inches long. She was welcomed home to Park Place by her sister Sarah, her brother David and her 15-month-old niece, Hailey Marie.


---



Al Endres - 2008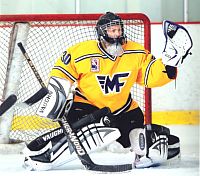 Click photo for a larger view.
Al Endres, son of Mike and Terry Endres and a Fourth Form (10th grade) student at Canterbury Prep School in New Milford, CT, has attained "High Honors" distinction for the first marking period ending October 18, 2008. Al's GPA was 3.5.
The travel hockey team (Mid Fairfield Blues AAA U16) that Al plays goalie for in Connecticut is the first seed for the Connecticut State Hockey Championship tournament being held in New Haven CT on November 1-2, 2008. The Blues finished first in the CHC standings with a league record of 10 wins, 1 loss and 1 tie. The team's overall record for the season is 23 wins, 3 losses and 1 tie. They are currently ranked 14th in the US out of 132 ranked AAA teams. If the Blues are successful in the Connecticut State Tournament, they will move on to the New England Regionals in Portland, Maine on November 14-16, 2008.


---



Jason Weis - 2008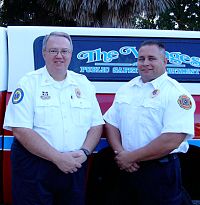 (left) Gail Lazenby and Jason Weis
Click photo for a larger view.
Jason Weis, former Grand Island fireman is now a Florida certified paramedic and has been promoted to the rank of lieutenant in The Villages Public Safety Department (Fire-Rescue). Jason is involved in an eight-week orientation as a new medic. After gaining field experience with a paramedic preceptor, Jason will undergo written and oral testing with the department's medical director, Dr. John Geeslin, and training officer, Capt. Gail Lazenby. Jason's medic certification came after a 12-month training program of nearly 1400 classroom and clinical hours capped off with the Florida licensing exam. Jason had previously tested for a lieutenant's position and, having qualified was appointed when a vacancy in the Department became available. Jason has been assigned to Villages station #43 and will oversee the crews on Engine 43 and Rescue 43. Lazenby, a former Island teacher and Grand Island Fire Co. Board Chairman, is a captain with the VPSD and is responsible for EMS, training, and quality assurance. Jason joined the department a little over four years ago and was joined by brother-in-law Jeff Loder, also a former GIFC firefighter, about a year later.


---



Garten & Sturtz Run Marathon - 2008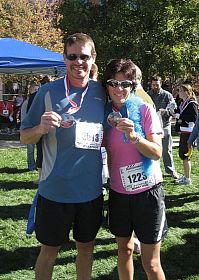 Jeff Sturtz & Amy Garten
Click photo for a larger view.
Island residents Amy Garten and Jeff Sturtz traveled to Columbus, Ohio to race in the Nationwide Columbus Marathon on Sunday, October 19. Amy qualified for the Boston Marathon by placing 26th out of 166 women in her age group with a time of 3:50:23. Jeff became injured during the race but continued on and finished.


---



Chelsea DeGlopper Escapes Apartment Fire - 2008
Chelsea DeGlopper, daughter of Peter and Kimberly DeGlopper, escaped injury and was assisted out of her apartment along with other University of Rochester students living in the building when a fire broke out at 4 a.m. Friday, October 17. The second and third floor of the building were destroyed while the first floor suffered smoke and water damage. The University of Rochester arranged for dorm rooms for the girls. Chelsea returned to school Monday. "We owe a great deal of gratitude to the City of Rochester firemen first and foremost along with thank yous to the other tenants, neighbors and the person driving by who dialed 911," her father said.
Chelsea was ranked second scholastically in her 2006 Grand Island High School graduating class.
See Rochester Fire.

---



Fund Set Up For Weczerek Family - 2008
Friends of the late Timothy Weczerek have set up a fund for his four children at the M&T Bank. Donations may be made to the "Weczerek Children's Fund," for Anthony, Frankie, Justin and Kaylee.


---



Doug Smith Stars In "Tuesday With Morrie" - 2008
The Niagara Regional Theatre Guild will present "Tuesdays With Morrie" October 24th through November 1 at the Cardinal O'Hara Performing Arts Center, 39 O'Hara Rd., Tonawanda, NY 14150. The production stars Island resident Doug Smith. Performances are scheduled for Friday and Saturday evenings at 8 p.m., and Sunday, October 26th at 3 p.m. For ticket reservations call 284-6358 or visit www.niagaratheatre.com.


---



Jeff Loder, Jason Weis - 2008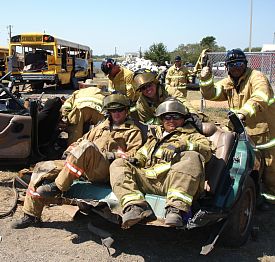 (left front) Jeff Loder and Jason Weis
Click photo for a larger view.
Former residents Jason Weis and Jeff Loder, both residing in Spring Hill, FL, are shown during their participation in a 40-hour technician level extrication course. The former Grand Island Fire Company members have worked for the The Villages fire department for several years. They have recently completed five 40-hour classes for the department's special operations team.


---



Welcome, Sarah Mason O'Banion - 2008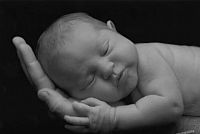 Sarah Mason in her Daddy's hand
Welcome Sarah Mason O'Banion, born on September 26, 2008 weighing eight pounds, three ounces and was 20 inches long. She is the daughter of Trey and Brandi (Salt) O'Banion of Nashville, TN. Sarah Mason is the great great granddaughter of the late Joseph and Sarah Watkins and the great granddaughter of James and Gloria Watkins of Staley Road. Sarah is the granddaughter of Sandra Watkins of Hilton, NY, and the late Gary T. Salt.


---



Welcome, Adrianna Victoria Marinucci - 2008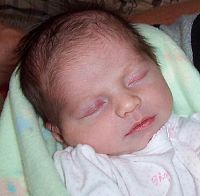 Adrianna Victoria Marinucci was born on August 31, 2008 weighing seven pounds, three ounces. She is the daughter of Mark and Rachel Marinucci. Proud grandparents are Dave and Vicki Wilkinson and Bob and Elaine Marinucci. Adrianna Victoria's proud great grandparents are Skip and Joan Fred. All are Grand Island residents.


---



MaryElisabeth Rustowicz Donates To Locks For Love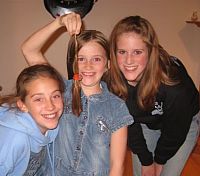 MaryElisabeth Rustowicz (center) with her sisters, Maggie (left) and Katie
Click photo for a larger view.
MaryElisabeth Rustowicz, daughter of Kevin and Maura Rustowicz, has finally cut her hair to benefit "Locks of Love." Her sister, Maggie, has donated twice and her older sister, Katie, has donated three times. Maggie is also planning to donated again for the Connor Middle School Bald for Bucks project in the spring! See Locks Of Love for further information.


---



Joe Ognibene - 2008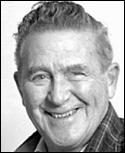 See "Niagara Gazette" story (Sunday, September 28, 2008)


---



William Person - 2008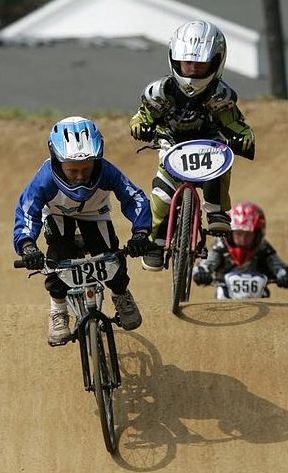 William Person of Grand Island won the 6-year-old rookie main event at the NBL BMX (Bicycle Moto Cross) National held on Sunday, September 21 at the Action Sports facility in Woodward PA. In transferring to the championship, William competed against riders from Maryland, Pennsylvania, New Hampshire and Maine. Locally, William races with his brother, Ethan, at the Southtowns BMX track in Hamburg, NY. The sport of BMX, originating in the late '60s with California kids on Schwinn bicycles imitating motocross riders on vacant lots, made its exciting debut at the 2008 Summer Olympics in Beijing.


---



Allie Weiser - 2008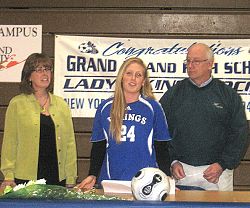 Allie Weiser, a Grand Island High School graduate, Class of 2008, is attending Long Island University/CW Post Campus. Allie, who was the GIHS Girls Soccer Team's star goalie, has had a very good pre-season, winning the starting goal keeping job. The team is 6 - 0 and ranked 6th in the Nation and #1 in the East. They currently have the longest winning streak in the Nation at 20 games dating back to last season. See Long Island University Soccer for the story. Allie is the daughter of Trisha and Ray Weiser.


---



Alexandra Davis - 2008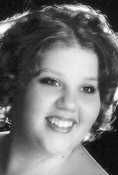 Alexandra Davis, a Grand Island High School graduate, Class of 2008, was featured in the Buffalo News "Class act /An outstanding young Western New Yorker" on Sunday, September 14, 2008. See "Buffalo News" for the story. Alexandra is the daughter of Brad and Julie Davis and the granddaughter of George and Barbara Davis, all of Grand Island.


---



Ian Cameron On Good Morning America - 2008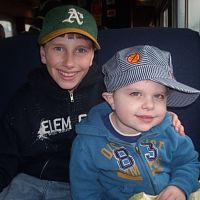 Four-year-old cancer survivor Ian Cameron has been featured in many local TV news stories and publications in his short life. On Thursday, September 11th, Ian will be seen on the "Everyday Hero's Award" show on station Buffalo 49 at 8 p.m. His friend J.T. Robertson is being honored for collecting 14,000 pop cans that were recycled in order to provide a two-hour ride on the Arcade & Attica Railroad for disadvantaged youth on "Make A Difference Day." Ian will be shown with J.T. on a play date at Women's & Children's Hospital. Ian's next appearance will be on September 16th on "Good Morning America." The Cameron family was asked to share their thoughts on how important J.T. Roberston's efforts are to them. J.T. is now working on getting a handicap train at the historical Arcade & Attica Railroad for children such as Ian. J.T.'s award came with a $10,000 grant donated by Paul Newman that creates volunteer opportunities for young people via the United Way of Cattaraugus County, Olean, N.Y.


---



Welcome, Madelyn Renee Forbes - 2008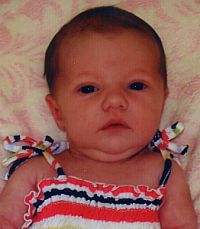 Madelyn Renee Forbes was born August 20, 2008 to proud parents Michael and Erica Forbes. She weighed in at six pounds, 15 ounces and was 20.5 inches long. Proud grandparents are Keith and Ingrid Kinney and Tamey and Mike Henderson. Madelyn is also the granddaughter of the late David Forbes.


---



Welcome, Sean Patrick Higgins - 2008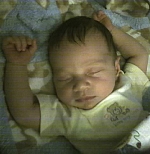 Sean Patrick Higgins was born August 14, 2008 weighing seven pounds, five ounces and 19 ½ inches long, Proud parents are Kristen Homa and Patrick Higgins of Grand Island. Proud grandparents are Joanne and Kenneth Homa and Joseph Higgins, all of Grand Island, and Arleen Fil of Tonawanda.


---



Welcome, Charlotte Ann Tower - 2008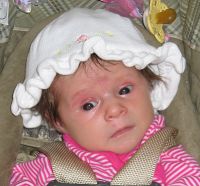 Darren and Erin (Fred) Tower of Colorado Springs, CO are happy to announce the birth of their daughter, Charlotte Ann Tower, born August 7, 2008, weighing eight pounds, three ounces. Proud grandparents are Skip and Joan Fred of Grand Island and Bob and Debby Tower of Berkshire, Vermont. Charlotte is also the great-granddaughter of Norma Fred of Grand Island.


---



Martin - Carlino Engagement - 2008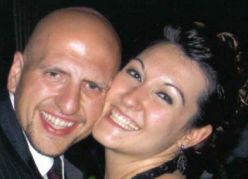 Mr. Peter Martin of Grand Island and Ms. Tara Martin of East Aurora announce the engagement of their daughter, Miss Ariel Martin, to Mr. Salvatore Carlino, son of Mr. and Mrs Gluseppe Carlino, of Depew, New York. An October 18th wedding is planned. The couple plans on traveling to Sicily for their honeymoon.


---



O'Donnell - Rein Wedding - 2008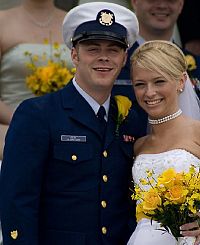 Click photo for larger view
Laura O'Donnell and Nicholas Rein were married June 7, 2008 at St. Stephen's R. C. Church on Grand Island. They honeymooned in St. Petersburg, Florida. Laura, the daughter of Grand Island residents Colleen and Bob O'Donnell, is a stylist at Capello's Salon in Williamsville. Nicholas is an engineer in the US Coast Guard and the son of Debbie and Bob Rein of Jamestown. Mr. and Mrs. Rein are currently residing in Niagara Falls.


---



Sculptor Neil Tetkowski - 2008
Sculptor Neil Tetkowski opens his newest ceramics exhibit - Tetkowski MYTHOS - from September 4 through October 5, 2008 at the HPGRP Gallery at 32-36 Little West 12th St., Second floor, New York, NY. See Sculptor Neil Tetkowski
The following is a quote from Neil, posted in the catalog about the show:
" I grew up on an island a few miles upstream from Niagara Falls. My "hometown" is a small town. The community is embraced by a silent, yet forceful presence of water. Islands are isolated in some way from the very thing they are connected to. So are the people who live there. For fifteen years I've been living in Manhattan, also an island about the same size as Grand Island, New York. The bridges and tunnels are not the only things that remind me that I'm living on an island."


---



Islander Injured In Industrial Accident - 2008
Gregory F. Lambert of Grand Island was severely injured while working a construction job at the Wilson High School. See "8/21/08 Niagara Gazette Story".


---



Welcome, William Avery Bermel - 2008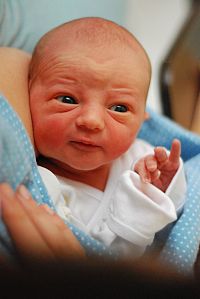 Robert and Valerie (Demmin) Bermel of Shaker Heights, OH are happy to announce the birth of their son, William Avery Bermel, born June 2, 2008, weighing seven pounds, seven ounces. He joins big brother, Christian, 2 ½ years old. Proud grandparents are Tim and Alice Demmin of Grand Island and Paul and Jan Bermel of East Amherst. William is also the great-grandson of Joan Loeswick of Tonawanda.


---



Welcome, David Thomas Michaud - 2008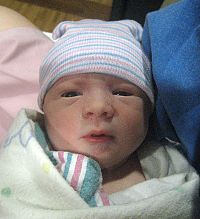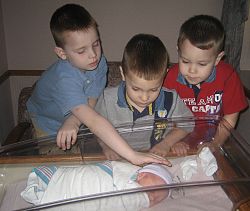 Paul and Jamie Michaud (GIHS class of '95, Orchard Park class of '97 respectively) are proud to announce the birth of David Thomas Michaud, born on August 12, 2008 weighing six pounds, 13 ounces. David joins his older brothers, (left to right) Paul Guy, James, and Andrew. Proud grandparents are Guy Michaud of Grand Island, Priscilla Schad of Williamsville and James and Delores Leith, formerly of Orchard Park.


---



Cox - Smith Engagement - 2008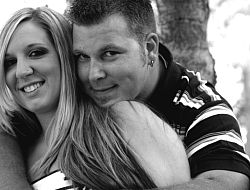 Former Islander Bryan Smith and Christina Cox are engaged to be married on Saturday, August 30, 2008 in Malibu, CA. Parents of the groom are Karen and Barry Smith of East River Road and parents of the bride are Pamela and John Cox of Simi Valley, CA. A reception will be held at the Calamigos Ranch in Malibu following the ceremony.




Lois Gibbs, Love Canal Activist, Mother of the Superfund … and Island Girl - 2008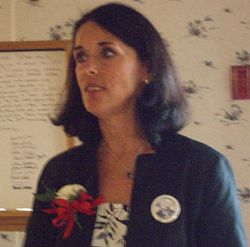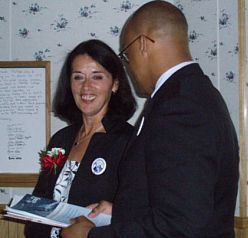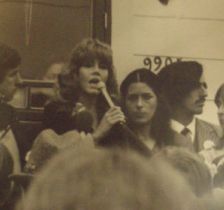 (left) Lois at VFW evening reception - Lois and Antionne Thompson at reception - Older File Photo

By Christine Arent Stange
August 1, 2008 . . . Lois Gibbs whose name is synonymous with fighting environmental chemical contamination by demanding accountability from industry and government visited Niagara Falls today on the eve of the 30th Anniversary of the State Health Department's declaration of Love Canal emergency. I have personally followed the career of Lois Conn Gibbs for the past 30 years. Her story is remarkable. It illustrates a lust for knowledge, commitment and perseverance. Rarely mentioned, is that Lois was raised on the Island and as a fellow classmate, she graduated from Grand Island High School in 1969. My memory of her running up the stairway to her next class, always quiet and non-assuming is what spurred my riveted attention to the birth of her fame thirty years ago. I remember being glued to the television news as she found her public voice as a young mother demanding answers for the a magnitude of birth defects and disease in her Niagara Falls neighborhood. Her transformation from a gentle, non-rebellious high school student to activist holding Environmental Protection Agency Representatives hostage was an amazing real life drama. Lois, as the President of the Love Canal Homeowners Association, succeeded in her quest to secure government accountability of the effects of contamination in October 1980 as President Carter visited Niagara Falls to sign the appropriation bill that provided funding for permanent relocation for all 900 Love Canal families that wished to leave. With the immediate crisis of the Love Canal behind her, Lois emerged a changed person. During the years of her fight to secure government and industrial accountability relevant to the Love Canal calamity, she had received communication from others with similar concerns across the nation. She realized that her life's mission, spurred by the toxic waste of Love Canal, would be to assist communities throughout the country and the globe in their own quest to fight environmental contamination. In 1981, as a single parent of two children, she left Niagara Falls with $10,000 for the nation's capital. Her goal to create a national organization to assist other communities dealing with environmental contamination was lofty. She relates that even her mother doubted her ambitions stating "you're forgetting that you're just a housewife with a high school education." Lois ignored the warning and in 1981 she formed the Center for Health, Environment and Justice based out of Falls Church, Virginia.
As I picked up the morning edition of the Buffalo News featuring a front page story on Lois' return to the Love Canal community, I decided to attend her on site meeting. Approaching the crowd gathered at the corner of Colvin Blvd. and 99th Street near the site of where the Homeowners Association Headquarters once stood, I was greeted by a former resident and offered a pin denoting the 30-year anniversary of the Love Canal Declaration of Emergency. It depicted a mother with a child in her arms running from the canal area and was imprinted with "Preventing Harm, Join The Journey." I immediately pinned it on my shirt. Looking around me, I saw extensive TV News coverage but more importantly I saw many past residents attentively listening to Lois whose words were no less powerful today as they were when she led them from harms way three decades ago. She encouraged past Love Canal residents to push for more definitive and comprehensive health studies, not only for themselves but for future generations. She told them of her plans to proceed to Albany and request these studies on their behalf. It had been nearly 30 years since she left the Niagara Falls community but she had not forgotten their continued concerns. Even now there was a vivid and burning connection between these individuals who had been through the fight of their lives so many years ago. As we proceeded on a walking tour down the barren periphery of the fenced in canal dump site, Lois described buildings that had once occupied the neighborhood, most notably the 99th Street School that had been built directly over the dump and whose grounds oozed a toxic chemical cocktail from the soil on which their children played. Residents pointed out trees still standing in what had once been their yards and concrete driveway entries that had once led to their homes. The recollection was heartbreaking even now but nothing compared to their account of birth defects and childhood fatalities attributed to this environmental hazard. The promenade down 100th Street was a moving experience that connected the past to the present. Lois stressed the importance of educating our children on the perils of toxic waste, noting that some textbooks now make mention of the Love Canal uprising as a historical event. I had made a point of taking my own sons down the streets of the barren Love Canal neighborhood several years ago. Even as youngsters they appreciated the vastness of disruption that had occurred in people's lives as a result of the relocation process. The neighborhood lots are significantly more overgrown now making conceptualization of a thriving community more difficult. For this reason, Lois' plea for education of our youth carries more weight than before. One reporter speaking with a child of the Love Canal noted that the fenced in area directly over the canal looked park like. She noted his naive observation with disdain giving him her account of having a sibling miscarried at near term and attributed to the toxic chemicals that to this day bubble beneath the clay soil cap. I was able to personally speak with Lois conveying my admiration as a health care professional and as a mother for her life long mission. Although her story has been told many times before, it hasn't been accounted for her hometown audience here on Grand Island. Over and beyond the important scientific and political impact of Lois' work there is something much more basic but equally noteworthy. It's the fact that everyone, even the quiet, young lady in the button up cardigan sweater running up the High School stairs has a voice within that can be persuaded to speak out loudly for a just cause. Lois Gibbs has done exactly that and has made her hometown proud.
Lois has relentlessly continued to advocate for over 10,000 grassroots organizations dealing with environmental contamination issues. As Executive Director of the CHEJ, she speaks to communities nationwide and internationally regarding the effects of toxic chemicals on the population. Her many awards include the 1990 Goldman Environmental Prize, Outside Magazine's "Top Ten Who Made A Difference Honor Roll" in 1991, the 1998 Heinz Award, the 1999 John Gardner Leadership Award from the Independent Sector, and in 2003 Lois was nominated for the Noble Peace Prize. She has received an honorary Ph.D. from the State University of New York (SUNY), Cortland College and another from Haverford College in May 2006. She also sits on numerous Boards and Advisory Committees. She lives in Virginia with her husband and one of her four children.


---



Inlite, National Battle of Bands Champions - 2008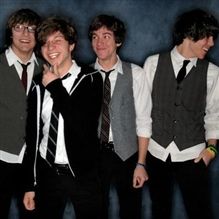 (left) Nick Kelly, Jordan Dixon, Griffin Smith, and Josh Little. Not pictured is Lee Becker

The National Grand Prize winner of Supernova's Out of the Garage series (Bands Championship) is Inlite of Grand Island, NY! Members of the band are Grand Island High School students, Nick Kelly (bass guitar), Griffin Smith (lead guitar), Jordan Dixon (lead vocals/rhythm guitar), Josh Little (drums) and Lee Becker (synth/keyboard). The boys won a trip to Miami to play in a music festival. Isledegrande.com and the Grand Island community salute these topnotch student musicians for not only this national recognition, but also for their spirit of giving, especially to the Relay For Life event this year. "Inlite, we are very proud of you."


---



Marc Scibilia Concert - 2008


Marc Scibilia will present a Concert at 5:30 p.m. Saturday, August 23 at St. Timothy Lutheran Church, 1453 Staley Road, Grand Island. This is an outdoor concert, weather permitting. Hotdogs, chips and drinks will be available for dinner on the lawn. Bring lawn chairs and blankets. A bonfire will follow immediately after the concert. Free will offering gladly accepted.


---



Islanders On Dean's List - 2008
The following Island residents have attained Dean's List status at local colleges:
Canisius College Spring Dean's List
Erin Dent, Josal Diebold, Natalie Fischer, Cory Gallagher, Lindsay Henderson, Matthew LaLonde, John LoFaso, Dianne Maerz, Matthew MacKenna, Jena Playfair, Pooya Rostami, Kevin Sobol.
Niagara County Community College Spring Dean's List
Ronald Corp, Carlos Darby, Christopher Dayton, Colleen Gorecki, Michelle R. Hippert, Ingrd M. Jones, Hui-Ching Ko, Allison Kulak, Andrew Lang, Andrea McGuire, Mary Mohr, Tina Rott, Lindsey Samland, Jeffrey Stange.
University at Buffalo Spring Dean's List
Julie Amato, Lindsay Bartkowski, Kelly Beatty, Garrett Carlson, Kiel Clarke, Lauren Culp, Brian Dolan, William Greene III, Justin Helman, Carly Jo Hudson, Karen Hutzler, Jihye Kim, Ryan Kucharski, Jennifer Lombardo, Matthew Masse, Calvin Meaney, Lucas Mesmer, Andrea Monaco, Agnieszka Mrowka, Torey Nole, James Poupalos, Yasmin Raza, Melanie Rodgers, Karalyn Rossi, Nicholas Shemik, Ajit Singh, Robert Sugar, Kayla Szykowny, Sarah Tanbakuchi, Daniel Victor, Erin Waite, Sarah Wojtylak and Sarah Mye


---



Giovanna Andolina - '42nd Street' - 2008
See "Giovanna Andolina" for the July 24, 2008 Buffalo News article by Paul Westmoore


---



David McMichael Attains Eagle Scout Rank - 2008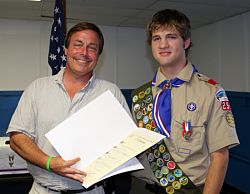 Click photo for larger view
David McMichael of Boy Scout Troop 254 was recognized as an Eagle Scout at a Court of Honor Ceremony July 20th. David's Eagle Project involved directing 15 volunteers and fellow scouts in the planting of over 80 trees and saplings at the Penn Dixie Fossil site in Hamburg. New York State Assemblyman Sam Hoyt was on hand to present Dave with a special citation for his achievement. Dave, the son of Dennis and Barbara McMichael, is a senior at Grand Island High School and is seeking an appointment to the United States Military Academy. He plans to study mechanical engineering.


---



GI Dance Center Students Excel At Competition - 2008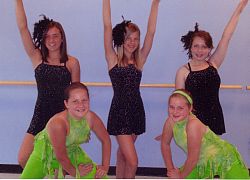 (top left) Danyelle Redmond, Jordan Davis, Emily Bolles; (front) Elaina Bolles, Amanda Jelonek. Not pictured: Rebecca Slowinski
Click photo for larger view
Grand Island Dance Center located at 3432 Wallace Drive, got great reviews at the Studio's first ever dance competition. Two groups took part in the "Summerdanse Competition," held at Maryvale High School. A jazz class with students Elaina Bolles, Amanda Jelonek and Rebecca Slowinski were awarded 3rd with a high Silver score. Students Emily Bolles, Danyelle Redmond and Jordan Davis competed with a tap number and were awarded 2nd with a Gold score. GI Dance is very proud of the students who took part.
Grand Island Dance Center is busy getting ready for fall classes and will hold Open House at the studio from 6-8 p.m. on Friday, August 8 and from 10 a.m. to noon on Saturday, August 23.
According to studio owner Miss Rachel, the open houses are for anyone who wants to register, anyone with questions about dance or even people who are just curious about how dance classes work. Everyone is welcome! "We have some great new programs in place for the upcoming season, such as adult tap, modern dance workshops, college classes and even musical theater," a spokesman for the studio said this week. Call Miss Rachel, 773-1075 for further information.


---



Leon D. Carr Disc Golf Tournament Fundraiser A Success - 2008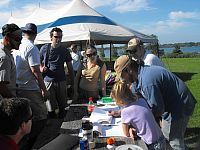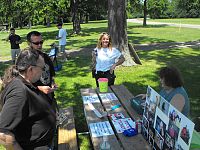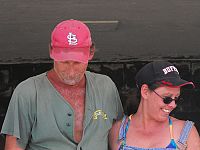 (left photo) Forty-two players participated in the Leon D. Carr Disc Golf Tournament on July 5, 2008 at Beaver Island State Park's Blue Heron Disc Golf Course. Bill Tedesco, volunteer tournament director, right, and Paul Stephens, left foreground, assistant director, register the players. Both are members of the Niagara Region Disc Golf league. About 600 people attended the fundraiser that followed.
(center photo) Diane Gurbacki, seated, and her daughter, Isabelle, standing, help out with tickets for food and the Chinese auction and raffles at a table that also included photos of Leon D. Carr and family, as well as souvenirs and T-shirts for the Leon D. Carr Memorial Disc Golf Tournament and Fundraiser. T-shirts and CDs are still available. For more information, visit www.leondcarr.com.
(right photo) Mark and Kay Morris, won first prize in the Leon D. Carr Memorial Disc Golf Tournament. The pair won a cash prize of $360 and donated a generous portion of their winnings back to the memorial fund.
Click photos for larger view
The Leon D. Carr Disc Golf Tournament held July 5 drew people from as far away as Florida, Georgia, Indianapolis and Canada to boost the success of the Grand Island fundraiser.
The tournament, also known as the Redbone Classic, was held at Beaver Island State Park in memory of Leon Carr, 29, a Village Inn chef who died this past February following a snowboarding accident. The tournament raised funds to help the family with medical and funeral expenses and to establish a scholarship in Carr's memory at Erie Community College, where he graduated with honors. Organizers also plan to fund skiing and snowboarding safety classes and add to recreation opportunities on Grand Island.
"Honestly, everything just came together," said Kristina Kurpiewski, one of the fundraiser organizers. "There were plenty of people to help," she said.
"We are going to be able to do much more than was expected," said Amanda Carr, Leon Carr's sister-in-law.
Kurpiewski said in coming years, organizers would like to support several additional causes.
"We would like to support ECMC's trauma unit and families who go through similar trauma," she said. She and Amanda Carr said ECMC was wonderful to the family and friends of Leon Carr.
The two women pointed out that health insurance companies don't always cover a counselor to be on call for families during catastrophic illnesses and medical emergencies.
"We also talked about working with organ donation groups," such as Upstate New York Transplant Services, or UNYTS, Kurpiewski said.
Amanda Carr estimated that between 500 and 600 people attended the fundraiser, which began with the disc golf tournament and continued throughout the day with 50-50 raffles, a Chinese auction, live bands and family activities.
"It was more a family-oriented event ... everybody brought their children," she said. People played volleyball, horseshoes and other sports, while others enjoyed the music, food and conversation. Rico Slaiman volunteered his time to be DJ, and two local bands played.
"The weather was beautiful and everybody had the general feel of coming together for the right reason - to celebrate Leon," Amanda Carr said. "Leon was very particular about people not just sitting at home ... Everybody was there. ... It was amazing."
Prizes and auction items included numerous ski packages from Holiday Valley. "We started off with something big" to build on, said Amanda Carr. Other prizes included: A helicopter ride for four over Niagara Falls from Rainbow Tours, a signed hockey stick and jersey from Buffalo Sabres right wing Jason Pominville; tickets to this year's Bills-Dolphins game; a golf package including lessons, a golf club, glove and balls; iPod shuffles; a camping weekend from the KOA on Grand Island; and a signed baseball from Chicago White Sox first baseman Paul Konerko.
The top four winning doubles teams in the disc golf tournament are:
• First prize: Mark and Kay Morris
• Second prize: Bob Klug and Chaz Bulera
• Third prize: Sascha Stopa-Chavez and Karen Cross
• Fourth prize: Gary Carr and Erin Carr, Leon Carr's father and brother.
Amanda Carr thanked the many volunteers, attendees and area businesses who helped make the event a success – and said plans are already under way for the second annual Redbone Classic. "We've already got the next generation of kids to take over," she said, adding that her two children, Brett, 4, and Cheyenne, 7, are ready to help.
For more information, visit: www.leondcarr.com.


---



Coach Masters Inducted in NYS Hall of Fame - 2008


Gene Masters' love for coaching and his dedication to young athletes for 44 years has earned him a spot in the New York State Public High School Athletic Association (NYSPHSAA) Hall of Fame. Masters' significant contributions to high school athletics in New York State have separated him from his colleagues in the field of coaching. He is one of six individuals who have been selected for induction into the 2008 class of the NYSPHSAA Hall of Fame.
Coach Masters did more than just win. He raised the bar for coaches and all athletes who played for him through his high standards of discipline, physical conditioning, commitment and competitive fire. Masters' coaching career began in Brocton High School (1957-1962). In 1963 he became the varsity football and baseball coach at Grand Island High School in the first year of its existence. As baseball coach, his teams won over 400 games which included 10 league titles and five sectional championships. Masters is known most for his football coaching career. He began his first varsity season in 1966 and had only two losing seasons. Masters won more football games than any other public high school football coach in Section VI and WNY history. His career 248 wins, 107 loses, and 7 ties rank number one in Section VI and presently sixth in the state. His teams have recorded 19 championships, 10 play-off appearances, and nine trips to Ralph Wilson Stadium.
In 1978 and 1989, Masters was named "Coach of the Year" and has been regarded as the "Dean of Football Coaches". He continued his career at Grand Island until he retired in 2000. He passed away in 2001 but his outstanding achievement and contribution to WNY sports lives on. Coach Masters is truly a legend in the history of WNY coaching.


---



Barr - Nowak Engagement - 2008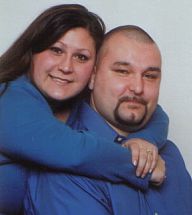 Mr.and Mrs. John Barr of Roanoke, Virginia (formerly of Grand Island) are proud to announce the engagement of their son, Thomas John Barr, 27, of Grand Island to Lori Marie Nowak 27, of Depew. An August 2009 wedding is currently in the works. The couple became engaged on June 21st, in Hershey PA.


---



Welcome, Ian Franklin Mesmer - 2008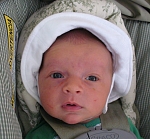 Proud parents, Russell and Erin Mesmer, announce the birth of their son, Ian Franklin, who was born on June 5, 2008 weighing eight pounds, 10 ounces and 20 ¼ inches long. He is welcomed by his older brother, Sean, and grandparents, Nathaniel and Janel Slotiuk, and Robert and Joy Mesmer, all of Grand Island. Russ is a 1995 graduate of Grand Island High School.


---



"BA" Tournament Winners - 2008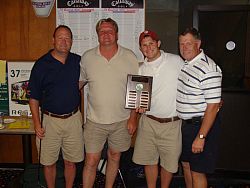 Click photo for larger view
Pictured are the winners of the second annual "BA" Open Golf Tournament held Thursday, July 3rd at Beaver Island Golf Course to benefit AROCC. They are (left) Mel Passarelli (Nashua, NH), Paul Pearson (Grand Island, NY), Adam Passarelli and Rod Passarelli, both of Carmel, Indiana. According to Mel, "What is significant, is BA (Bill Aydelotte) grew up across the street from Rod and I and we have been best friends since grade school. He would have loved knowing we won." More information on the tournament will be posted as it becomes available.













---
Other Grand Island Pages to Visit:
Churches | Email Directory | Government | Groups
GIHS Grad List | Guestbook | Please sign in! | Local Artists | Photo Album | Town History | Useful Links
| Website Design | Wildlife | Isledegrande's Home Page | GIECOM.NET'S Home Page
Please Email News Releases to Teddy Linenfelser, Thank You.

This website was created and updated weekly since September of 1997.
Our sponsor is GIECOM.Net Inc., "Grand Island's E-Commerce Network",
providing Webhosting to the Grand Island Community.
If you are interested in participating as a sponsor, please email.
1871 Whitehaven Road, Grand Island, New York, 14072-1803 USA

GIECOM.Net Inc. is owned by deSignet International
a "World Class Jewelry Manufacturer and Retailer"
Store Hours: Monday & Thursday 8 am - 7 pm
Tuesday, Wednesday & Friday 9 am - 5 pm
Saturday 9 am - 2 pm, and by Appointment