Grand Islanders in the News 2006
Click for 2007 News
Click for 2005 News
Click for 2004 News
Click for 2003 News
Click for 2002 News
Click for 2001 News
---



Paul Leuchner - January 2007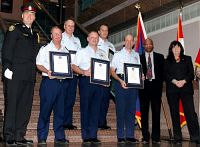 Toronto Police Chief Bill Blair, Toronto Police Services Board members Hamlin Grange and Judi Cohen present Partnership Citation to U.S. Coast Guard Air Wing front: Bob Bialkowski, Bob Fratangelo, Bob (Goose) Hampton rear: Paul Leuchner, Jim Mazel (Photo Courtesy of Toronto Police Service)
Click photo for larger view
The United States Coast Guard Air Station Detroit, on October 29, 2006, was given recognition for its on going Homeland Security Missions that support several Law Enforcement Teams along our international border.
The Toronto Police Services Board honored six of Air Station Detroit's crews during its annual awards ceremonies at police headquarters for their selfless devotion to duty while participating in these missions. LT Jim Mazel, Auxiliarist Bob Bialkowski, Auxiliarist Paul Leuchner of Grand Island, NY, Auxiliarist Bob (Goose) Hampton, Auxiliarist Dave Cidale, and Auxiliarist Bob Fratangelo were awarded the Toronto Police Service "Partnership Citation."
For complete story, click Homeland Security Missions.


---



Welcome, Jayden And Evan Raffa - December 2006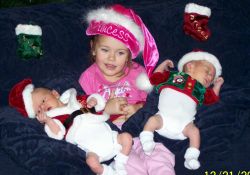 Twins were born to Danielle (Bennett) Raffa, a 1997 GIHS graduate and her husband, Michael Raffa on December 16, 2006. Jayden (right) weighed in at six pounds and Evan's weight was four pounds 11 ounces. They were welcome home by big sister, Kayla Michelle, 2 ½. Danielle and Mike are currently stationed in New Mexico with the U.S. Air Force. Proud great grandmother of the twins is Patricia Bennett of Grand Island and grandparents are former Island residents Patricia and William Wilson of Pembroke NH.


---



Welcome, Allyson MaryLou Wolgast - December 2006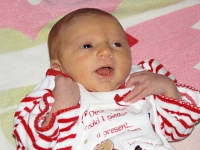 Click photo for larger view
Allyson MaryLou Wolgast was born on December 20, 2006 to Dustin and Karen Wolgast of Henrietta, NY, formerly Grand Island. Allyson MaryLou, who weighed in at six and one half pounds and is 20" long, joins sisters Madison, 8 and Sarah, 6, and is the granddaughter of Sandy Wolgast of Grand Island and David Wolgast of Tonawanda.


---



Emily Smith Joins NYC Eyewitness News Team - December 2006


Emily Smith, who grew up on Grand Island, recently joined the Eyewitness News team at New York City's flagship ABC station WABC, Channel 7. Emily is the Long Island based correspondent in the #1 television market in the United States.
Emily attended St. Stephen School, Cardinal O'Hara High School, and received a BA degree from St. Bonaventure University, where she received the Bob Koop Award for Journalism Excellence. Her broadcast career began as a radio reporter/anchor at WBEN in Buffalo. She has worked at television stations in Elmira, Buffalo and Rochester, reporting, anchoring and producing. In September Emily accepted the position at Disney owned WABC, where "Live with Regis and Kelly" is broadcast from. Emily says that the loving support of her parents (John & Vikki Smith) and siblings have kept her on track. She says she has also been inspired by her grandfather, "Papa" George Smith's example of hard work and determination leading to success.


---



Anna Quider Awarded Marshall Scholarship - December 2006


Anna Quider
Photo by Darrell Sapp, Post-Gazette
Anna Quider, 22, a senior majoring in astronomy and physics at the University of Pittsburgh, has been awarded the Marshall Scholarship. Anna plans to seek her PhD in Astrophysics Research at the University of Cambridge. This is a high honor, only received by about 40 United States citizens annually. A Proclamation in Anna's name was presented at the December 18, 2006 Grand Island Town Board meeting.
The Marshall Scholarships were established by the British government in 1953 as a gesture of thanks to the people of the United States for the assistance received under the Marshall Plan following World War II. In addition to intellectual distinction, the awards honor people who are likely to become leaders in their field and to make a contribution to society.
Financed by the British government, the scholarships provide an opportunity for outstanding American students to continue their studies for two to three years at a British university of their choice.
In addition, Anna's list of achievements are certainly worthy of mention:
• Chambliss Student Achievement Medal (2006)
• American Astronomical Society national award for exemplary research by one undergraduate student poster presenter Gerald Bloomfield Memorial Award (2006)
• National Society of Physics Students scholarship recognizing one undergraduate student for enthusiasm, leadership, and academic excellence in physics Barry M. Goldwater Scholarship (2005)
• National Congressional scholarship recognizing outstanding undergraduate science and mathematics researchers Halliday Award (2005)
• University award for the outstanding undergraduate physics researcher Academic Achievement Award (2004)
• University award for the academically outstanding undergraduate sophomore/junior physics student Chancellor's Scholarship (2002)
• Highest merit scholarship for entering freshman at the University of Pittsburgh; 1 of 10 awarded.
Anna is a member of the Grand Island High School Class of 2002.
Click for the December 21, 2006 "Buffalo News Story" by Mary B. Pasciak.


---



Joanne Carr - December 2006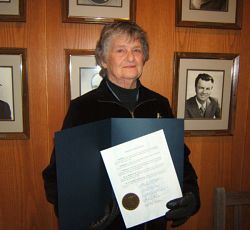 Click photo for larger view
Joanne Carr has been a charter member of the Town of Grand Island's Commission for Conservation of the Environment since its inception over 32 years ago, serving as its chairman from time to time. She retired from the commission on November 6 and was recognized by the town board with a proclamation declaring December 19, 2006 as "Joanne Carr Day" on Grand Island, NY.
Joanne took charge of the Arbor Day tree plantings at the elementary schools for many years and assisted in sending various students to an environmental camp through Buffalo State College. She has been active in the effort to promote recycling on the Island and helped plan and plant the trees and flowering plants in the Town Commons, along with other Island residents.
Always an idea person, she has promoted the ideas for several key town projects, and pointed out the opportunity for a state grant to get sidewalks for the town center.
Community minded since moving to Grand Island 55 years ago, she took part in the Island's Centennial pageant in 1952, served as a Girl Scout leader, Cub Scout den mother, school reading assistant, and a member of the Mothers' Safety Patrol when Kaegebein School opened in 1953. She served on the Democratic committee for many years, and was endorsed by that party to run for the town board in 1973. She did not win that race, but set a precedent as the first female to enter the Island's town board election process.
Joanne also ran a family business, the Carr and Family store on Grand Island Boulevard, selling plants, health food and crafts, in the 1970s. For several years after her son, Michael, opened the Village Inn, Joanne baked the pies and many desserts and later passed her recipes along to her daughter-in-law, Christine Carr, who continues to bake for Mike's restaurant in Ferry Village. Joanne also found time to sing in the choir at St. Martin-in-the-Fields Church. She and her husband, Bob, moved to Grand Island in 1951 and raised six children here.


---



Kourtney Hoppel Sings With BPO - December 2006


Kourtney Hoppel, a 6th grader at Connor Middle School, had the opportunity to perform with the Buffalo Philharmonic Orchestra on Sunday, December 10, 2006 at Kleinhans Music Hall. Kourtney, a member of the Presto Amherst Bel Canto Choir, performed in the Wendy's Family Series for The Polar Express. The Amherst Bel Canto Choir is comprised of students in grades 4-12 and is led by Choir Director Sue Faye Allen. The Choir performed with Leonard Rowe, a world renowned Baritone, as he narrated and sang the story, The Polar Express, under the direction of BPO Resident Conductor Robert Franz. The Choir then performed the song Santa Dear and led the finale which was a Christmas Sing-a-Long.
The Amherst Bel Canto Choir will also be joining the BPO again in April 2007 as they perform Peter and the Wolf and Lion King. For further information on this concert, contact the BPO.


---



Alissa Bailey Wins Fall Fest Twirling Competition - December 2006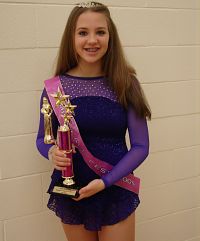 Click photo for larger view
Alissa Bailey, 14, traveled to Cambridge, Ontario to compete in the Miss Fall Fest Twirling competition on December 3, 2006 and was crowned Miss Fall Fest in the Beginner age 13-15 category. The pageant including modeling, solo twirling and X-strut. Alissa was awarded a trophy, tiara and sash for her win. She also brought home a first place medal in open solo. Her solo coach is Mrs. Kelli Russell, a nationally renowned baton twirling instructor. Alissa is also a member and assistant teacher of the Islettes Elite Baton Corps under the coaching of Miss Heidi Sue Mumm.
A freshman at Grand Island High School, Alissa is an active member of the Spotlighters Drama Club, Art Club and is appearing in the ensemble of 'Beauty and the Beast' in February. She takes dance from Grand Island Dance. Alissa enjoys art and had an active role in the set design and construction for the play, Voices from the High School. She is a member of the Islettes National team and will be traveling to South Bend, Indiana in July 2007 to compete in the national baton twirling championships in both team and solo events.


---



Welcome, Isaac Karmi Wahl - December 2006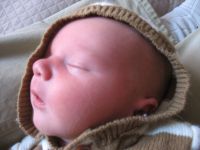 Click photo for larger view
Isaac Karmi Wahl was born on October 26, 2006 in Washington Hospital Center, Washington, DC weighing seven pounds, ten ounces and 20 inches long. His parents are Gregory and Abby Wahl of Washington, DC. Greg is a Grand Island High School graduate, Class of 1995. Proud grandparents are Michael Kite of Sanford NC; Becky Bloomfield of Apex NC; and Chuck and Sue Wahl of Grand Island NY.




Sally Head - December 2006
Sally Head has been named the winner of the Western New York Mensa Society's 2006 Scholarship Essay Contest. According to Mensa, her essay, which described her plans and goals for life, set her apart as an exceptional individual who is certain to have a positive impact on her future endeavors. An Island resident and Notre Dame graduate, Sally is a member of the Grand Island High School Class of 2002 and served as president of her class.




Jill Endres - University of Rochester Swim Team - November 2006
Jill Endres was part of the University of Rochester Women's swim team record breaking, 200-yard Freestyle relay on Friday, December 1, 2006 at the Liberty League Swimming Championship at the University of Rochester. Jill's split time of :25.16 was the teams best in the relay and a career best for Jill.
Jill is a member of the Grand Island High School Class of 2005 and daughter of Mike and Terry Endres. Click "Jill Endres" for complete story.




Taylor Firth Qualifies For US National Figure Skating Championships - November 2006
Grand Island's Taylor Firth, 15, placed second in the Eastern Sectional Figure Skating Championships November 14-18, 2006 and will now compete in the Championship Ladies competition at the U. S. National Figure Skating Championships in January 2007. For the complete story, click http://www.chautauquaice.com/press/news.asp#. See also http://www.xcelventures.com/afsc/2007%20ESEC/Eastern%20Sectional%20Photos.pdf and scroll down to "Senior Ladies" where Taylor is shown on the right.




Krystin Hoppel, People to People Student Ambassador - November 2006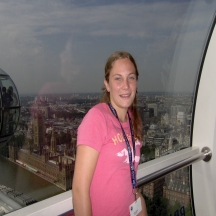 Krystin at the London Eye, world's largest Ferris wheel.
Krystin Hoppel, a freshman at Grand Island High School, recently returned from the British Isles as a Student Ambassador for the People to People Organization. Krystin was chosen to represent this area along with 31 other students this past summer in the 50th year of the program's existence.
Former President Dwight D. Eisenhower founded People to People International in 1956 to promote world peace through increased understanding between the citizens of the world. He felt that it was the citizens and primarily the youth who would do more to promote peace than any government could.
The tour of the British Isles included activities such as meeting with a Member of Parliament, London's main attractions, and a two-day home stay with a British family to experience their way of life. The tour also included stops in Scotland, Ireland and Wales where the student participated in a "Full On experience" where they rappelled down a castle turret 70 feet.
For further information on the People to People Student Ambassador Program, visit www.studentambassadors.org or call 1-800-669-7882.




Former Islander Is New Head Coach Of Herkimer CCC Lacrosse Team - November 2006



Coach Rich Dommer
1997 Grand Island High School graduate Rich Dommer has just been named head coach of Herkimer CCC men's lacrosse team, the Generals. When attending Herkimer, Rich was named the 1999 NJCAA National Attackman of the Year and was a First-Team All-American. He went on to play lacrosse at Adelphi University, where he received a bachelor's degree in physical education and health studies and a master's degree in sports management. At Adelphi, Dommer was the captain of the 2001 NCAA Division II championship team. That same year, and in following years, he was named to the Dean's List and Presidential Honor Roll. While working on his master's degree at Adelphi, Dommer was an assistant coach. He was a professional lacrosse player with the Toronto Rock Lacrosse Organization in Ontario, Canada, where he was a National Lacrosse League World Champion. He also served previously as an assistant coach for the men's lacrosse team at Herkimer CCC in 2004. Rich's proud parents are Beth and Mike Dommer of Gregory Place.


---



Rayhill Earns MVP Honors at ECAC Northeast Bowl Title Game - November 2006

Tom Rayhill holds his MVP plaque flanked by his parents, Donnette and Mike Rayhill
Click photo for larger view
The Rensselaer Polytechnic Institute Engineer Football team defeated the SUNY Cortland Red Dragons 26 - 7 in the Eastern College Athletic Conference (ECAC) Northeast Bowl Division III title game played at Cortland's Stadium Complex on Saturday, November 18, 2006. The heavily-favored Cortland team came into the bowl game with a 9 - 1 record but was shut down by the RPI defense. RPI junior defensive linebacker Thomas Rayhill from Grand Island was named Most Valuable Player of the game with 11 tackles including 9 solo tackles. The Engineer defense forced 7 turnovers including 5 interceptions. Cortland's only score came on an 85-yard kickoff return. The win gives RPI Engineers a perfect 7 - 0 record in ECAC bowl games.
The RPI defense is credited with the football team's final two wins of the season. Last week, RPI defeated their arch-rival, Union College, 24 - 19 in a see-saw battle to earn the right to play in the ECAC Northeast bowl game this past Saturday (Nov. 18, 2006). Tom had a key interception in the end zone to thwart a Union drive in the fourth quarter of that game.
Tom is a 2004 graduate of Grand Island High School. He is joined on the RPI team with two other Grand Island High School 2004 graduates, Doug Ingraham (Defensive Line) and Dave Dillen (Offensive Line).


---



Jill Endres - November 2006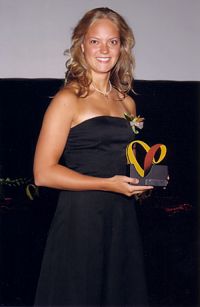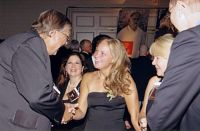 Click photos for larger view
Jill Endres of East River Road has been awarded the National Youth Volunteer Award through Thrivent Financial for Lutherans for 2006. She received her award in August in St. Paul, Minnesota. Each year, Thrivent Financial recognizes members in each of four categories: Youth/Young Adult, Families with Children, and Adults and Retired. The recognition is the organization's highest community service award. Nearly 100 members were nominated for this award. Each recipient receives $2,000 from Thrivent Financial to donate to charities of their choice.
Jill has been and still remains active volunteering at Camp TeBeCe, a boys and girls summer camp that helps inner city children. She has also been a participant in Ride for Roswell, Loop for Lupus, and more recently, she has become involved with the Thrivent Builds with Habitat for Humanity. "It's cool to volunteer, build a home and create fellowship with people just like you," Jill said.
Jill served as youth director for the Thrivent Niagara Falls Chapter in a position that opened her eyes to a community in need – and what she could do to help.
A sophomore at the University of Rochester where she is a double major in English and Psychology, Jill is a member of the women's swim team, and plays flute at The Eastman School of Music.
Jill has awarded her grant to the following two organizations: $1,000 to St. Timothy Lutheran Church where she and her family are active members, and $1,000 to VH1 Save the Music Foundation.
The daughter of Mike and Terry Endres, Jill has one sister Katie, 17 and one brother Al, 13.


---



Abram Morgan - November 2006


Grand Island High School Senior Abram Morgan has been selected to receive the Brotherhood Award from the National Conference of Community and Justice (NCCJ). The award, to be presented on January 18, 2007 at a Buffalo Convention Center luncheon, is given to those young people in the community who have performed exemplary acts which promote Sisterhood & Brotherhood in the Community. This year marks the 54th year in which the NCCJ has presented the awards to deserving youth in the community.
At Grand Island High School, Abe is active in Advance Placement education, Master Minds, band, choir and the annual Corporate Bowl. Outside of school he has worked with the REACH work camps through Trinity United Methodist Church, Ridge Council Order of DeMolay and The Gay and Lesbian Youth Services of Western New York. The National Conference for Community and Justice (NCCJ), founded in 1927 as The National Conference for Christians and Jews, is a human relations organization dedicated to fighting bias, bigotry and racism. NCCJ promotes understanding and respect among all races, religions and cultures through advocacy, conflict resolution and education.


---



Welcome, Savannah Jane Samplinski - November 2006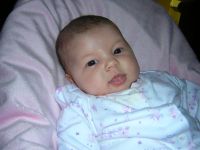 Steve and Amy Samplinski are proud to announce the birth of their daughter, Savannah Jane Samplinski. Savannah was born on September 27, 2006 at 10:03 a.m. and weighing eight pounds, three ounces and measuring 20 3/4 inches long. She was welcomed home by her siblings, Trevor, Grace and Mitchell. Proud grandparents are Lee and Barbara Pelczynski and Tip and Ann Samplinski, all of Grand Island.


---



Eugene F. Pigott Jr. - 2006
Island resident Eugene F. Pigott Jr. is now Erie County's first judge since 1985 to serve on the State Court of Appeals, the state's high court in Albany. Click Eugene F. Pigott Jr. for the November 18, 2006 story in the Buffalo News.


---



Author Thom Hatch To Be Featured On History Channel - November 2006


Author Thom Hatch
Former Island resident and writer Thom Hatch will appear as an on-screen expert commentator in a documentary titled "Indian Warriors: the Untold Story of the Civil War," which will air on the History Channel during prime time on November 26th. Thom has had excellent reviews for all of his books in everything from national magazines to major city newspapers. Among his credits are The Blue, the Gray, and the Red: Indian Campaigns of the Civil War, released by Stackpole Books, Clashes of Cavalry: The Civil War Careers of George Armstrong Custer and Jeb Stuart (Stackpole, 2001), and Black Kettle: the Cheyenne Chief Who Sought Peace but Found War, published by John Wiley & Sons and winner of the prestigious 2005 Spur Award from the Western Writers of America.
Thom, who spent much of his childhood here, moved from Grand Island in 1962, graduated from high school in Ohio, joined the U. S. Marine Corps, served in a combat unit in Vietnam for thirteen months, and started his writing career as a newspaper reporter in Pennsylvania. He settled in Colorado in the early 1970s, where he has been a freelance writer, mainly in film, TV, and radio, and has also been a frequent contributor to national publications. His email address is authorthom@aol.com.


---



Cards Asked For Four-Year-Old Natalie Fahrer - 2006


Natalie Fahrer
Four-year-old Natalie Fahrer has been hospitalized for much needed surgery on November 14th to remove her tonsils and adenoids and have her nose cauterized. She has had severe nose bleeds since the age of three months, and strep throat almost every three months for the past two years. Doctors did not want to operate at such a young age, with hopes of her out-growing all of her problems, which has not happened. According to Natalie's great grandmother, Floydette Gannon of Pinellas Park, Florida, Natalie gets very excited when she receives something in the mail. Floydette is hoping that a few cards (or a lot of cards) would help Natalie with her recovery. "She loves princess things. She goes to bed in a princess nightgown, parades around the house in a princess tiara, and of course was a full blown princess for Halloween (for 2 years)," Floydette said this week. "She is, in real life, my little princess! I can't be up North to help her through a scary thing for a 4-year-old, but maybe my friends could send her a little sunshine from which ever state you are in."
Cards may be sent to the following address:
Her name & address is:
Natalie Fahrer
37 Marilyn Drive
Grand Island, N.Y
14072
Natalie is the daughter of Kristine Fahrer and the granddaughter of Teresa and Dan Gormady, all of Grand Island.




Islander Carissa Bailey Crowned Miss Lancaster - 2006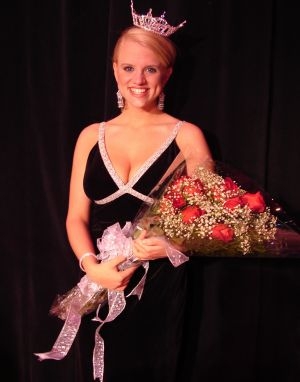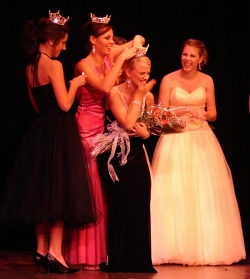 Carissa Bailey, 18, of Grand Island was crowned Miss Lancaster on Sunday, November 5, 2006. The daughter of David and Cheryl Bailey, Carissa is a freshman Music Education major at Fredonia State University with a concentration in voice. She is a member of MENC (Music Educators National Conference), ACDA (American Choral Directors Association) and RAC (Resident's Advisory Council). Miss Bailey is the vice president of her residence hall and plays intramural volleyball. She is the current Grand Island Youth Ambassador and a graduate of Grand Island High School's class of 2006 where she was involved in many clubs and organizations. She is a winner of the Erie County Music Educators Association scholarship and several other music and theatre related scholarships.
Miss Lancaster is a scholarship program that is an official preliminary for the Miss America competition. Carissa will compete for the title of Miss New York next June and the victor in the state contest will vie for the Miss America crown.
The pageant consisted of a 12-minute interview in front of seven judges, a two-minute talent presentation, swimsuit competition, an on-stage question on current events and an evening-wear competition. Carissa's talent is Broadway vocal. She sang and performed Not for the Life of Me from the musical Thoroughly Modern Millie.
The Miss America Organization encourages young women who participate in the program to become involved in their communities and to speak out on issues of concern to them. Carissa's platform is Music Education: building success in schools, communities and life.
As Miss Lancaster 2007, Carissa was awarded a $1,000 scholarship as well as many other fabulous prizes including the crown, sash, photo shoot and clothing (evening gown and bathing suit) for use at the state pageant.
Charlotte Booth, 18, also an Island resident, was named 4th runner up at Miss Lancaster Scholarship Pageant.
For more photos and information on the Miss Lancaster Scholarship Program click http://www.misslancaster.com/.




Sheri Cooney Fundraiser A HUGE Success - 2006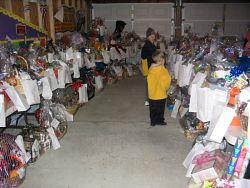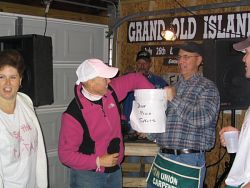 (Right) Sheri and brother-in-law John Podlucky pick door prize winners.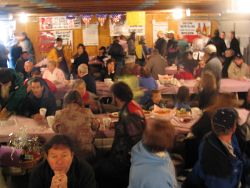 Click photos for larger view
The Grand Island Community came together to help a fellow Islander on Sunday, October 29, 2006. Sheri Robinson-Cooney has breast cancer and will be unable to work for at least six months as she fights this horrible disease. To help Sheri focus on getting well and not six months or more of lost wages, a successful fundraiser was held at the Grand Island Rod & Gun Club. Over 200 items were donated for a raffle and Sabres memorabilia, a motorcycle, sports tickets and jewelry for a silent auction. Approximately 350 people enjoyed each other's company, Burt Borden's chowder and a special day for Sheri.




Chris Wozniak, Creator Of Theater Poster - 2006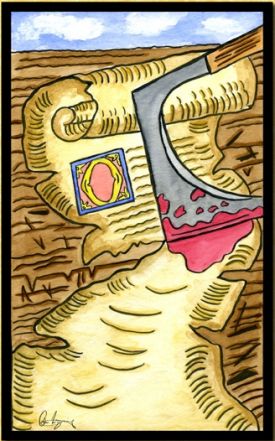 Click photo for larger view
Grand Island artist Chris Wozniak designed and illustrated a poster for The Towne Players of Tonawanda production of "A Man For All Seasons." The play, by Robert Bolt, to be performed November 15-19 at the Vestry of Advent church, Delaware Road at Delaware Avenue in the Village of Kenmore. Click www.towneplayers.com.
Chris is a member of the Grand Island High School Class of 1999.

---



Mackenzie Renee Hassan - 2006


Mackenzie R. Hassan
Mackenzie Renee Hassan was inducted into the Kappa Delta Pi International Honor Society in Education, Alpha Alpha Beta Chapter during a ceremony held at the Castellani Art Museum at Niagara University on November 8, 2006. Kappa Delta Pi elects those to membership who exhibit the ideals of scholarship, high personal standards, and promise in teaching and allied professions.
A reception for the inductees, family and friends followed the ceremony.
Mackenzie, a graduate of Grand Island High School, Class of 2001, is the daughter of Mark and Diane Hassan of Grand Island.


---



Jason Vandusen - 2006
Family friend, Nancy Anderson, would like to let everyone know that Jason Vandusen is now home. He still has to return to the hospital three times a week for rehab. He is progressing slowly and still has a long road ahead of him. Basically, Jason must learn everything all over again. He is playing lots of board and card games, walking his neighborhood, going through photographs and watching movies to keep his mind thinking.
Jason also likes to scratch lottery tickets and receive cards. Friends may send greetings and a lottery ticket to Jason Vandusen at 112 Old Carriage House Lane, Grand Island, New York 14072 or e-mail a note to Jason or Sandy at syracusl@adelphia.net.
Nancy would like to thank everyone who has supported the fundraising activities for "Hope for Jason"!




Welcome
Nikolas Joel Massaro - 2006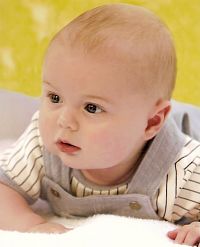 Jason and Jodi Massaro of Deerfield Beach, Florida are happy to announce the birth of their first child, Nikolas Joel Massaro, on May 17, 2006. Nikolas weighed in at seven pounds, ten ounces. Proud grandparents are Pat and Joe Massaro of Grand Island and Terry and Cheryl Pouch of Coconut Creek, Florida. Jason is a Grand Island High School graduate, Class of 1994 and a sergeant with the United States Marine Corp, 1996-1999.




Welcome
Cheyenne Autumn Claus - 2006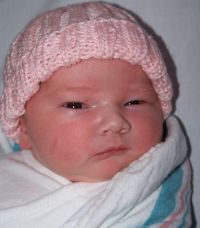 Kelly and Fred Claus are happy to announce the arrival of their third child, Cheyenne Autumn Claus who made her entrance into the world by emergency C-Section at 8:23 a.m. Wednesday, November 1, 2006. Proud grandparents are Ann and Leo Staie of Niagara Falls, the late Donald R. Claus, and Floydette and Robert Gannon of Pinnellas Park, FL. The baby girl weighed in at nine pounds 1.5 ounces and is 22 inches long. She has a sister, Mikayla, 7, and a brother Jayce, 5.


---



Nicole Dee Hoffmann - 2006


Nicole Dee Hoffman
On October 21, 2006 former Grand Island resident and NASCAR employee Nicole (Dee) Hoffman participated in the inaugural eight hours of Daytona, a race sanctioned by the new MOTO-ST Series. The series kicked off its first ever event at Daytona International Speedway, and was recently formed solely for production-based, four-stroke, twin cylinder motorcycles ridden in longer distance events (endurance races).
The team of Nicole (Dee) Hoffman, Mark Crozier and Steven Breckenridge won the ST class on a 2005 Suzuki SV650. Riding for Jostens, Inc./TeamHurtByAccident.com, the ST class was the greatest battle of the three classes represented. Only seconds separated the top three teams for the entire 8-hour event, which ended under the lights at the famed Speedway. The field of 35 teams was comprised of riders all across the world, making this event one for the Daytona history books.
Nicole will join the same teammates under the TeamHurtByAccident.com banner for the 2007 season, running all events in the MOTO-ST Series.
Grand Island resident John Simon of Grand Island Sales & Service is on his way down to Florida with a special delivery of sponsored Sunoco fuel for the team!




Anstett - Marston Engagement - 2006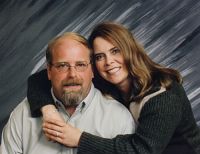 Click photo for larger view
Mr. and Mrs. Wayne Anstett of Grand Island would like to announce the engagement of their daughter, Susan Anstett, to Peter Marston, the son of Mr. and Mrs. Peter Marston, also of Grand Island.
Peter is the owner of Marston Power Equipment on Grand Island Boulevard and Susan is the director of finance for Leisure Living. A November 2006 wedding is being planned.




Santa Lucia - Dersa Engagement - 2006



Click photo for larger view
Former Island resident Roxanne Santa Lucia is engaged to be married to Mike Dersa of Birmingham, Michigan. Roxanne is a Grand Island High School graduate, Class of 2000 and earned a BBA in Automotive Marketing from Northwood University, Midland, MI in 2004. The daughter of Sal and Marianne Santa Lucia of Grand Island and Bonita Springs, Florida, Roxanne is the finance manager at Les Stanford Chevrolet in Dearborn, Michigan.
Mike is the son of Sue Vernier of Michigan and general manager of Jim Fesard Automotive Group.
An August 2007 wedding is planned in Michigan.




Recognize Mr. Clean? - 2006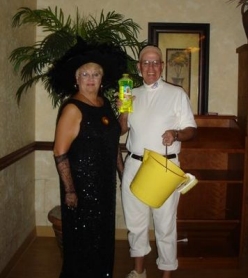 Thanks to daughter, Debbie El Houssieny, who sent in this photo of Mr. Clean, none other than retired Grand Island Assessor, Jim Milne and the glamorous witch, his wife, Kay. The Milnes are enjoying winter in Florida at the Villages.


---



James Sharpe President Of Newly Created "Dollars For Scholars" - 2006


James R. Sharpe
Believing that every student desiring a postsecondary education deserves the means to achieve it, dedicated residents from Grand Island have formed a Dollars for Scholars® chapter with the help of a $2000 start-up grant from the AXA Foundation, the philanthropic arm of AXA Financial. Island resident James Sharpe is serving as chapter president.
Dollars for Scholars, a program of Scholarship America®, has a national network of more than 1,200 grassroots scholarships foundations in 40 states and the District of Columbia that raise funds to support local students. In 2005, Dollars for Scholars chapters awarded almost $29 million in scholarships to over 35,000 students. Scholarship America is the nation's largest nonprofit, private sector scholarship and educational support organization, and has distributed more than $1 billion to over one million students since 1958.
"Grand Island Dollars for Scholars chapter hopes to award at least $2,000 in scholarships to local students in its first year. The number of scholarships awarded will increase as additional funds are raised," said Mr. Sharpe.
"Receiving the start-up grant money for AXA will help us provide additional scholarships during this first year of our operation," he added.
"AXA is proud to help the formation of the new Grand Island chapter since it allows us to invest in the community in such a profound and lasting way," said Louis Nuchereno, Buffalo Branch Manager for AXA.
Those interested in making an investment in the future of local students are asked to contact James Sharpe at (716)773-2279.




Jane Cooke - 2006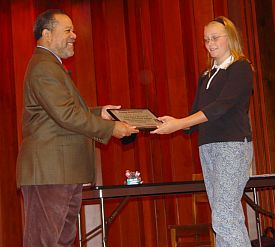 Click photo for larger view
Jane Cooke is shown accepting a first place certificate from award-winning children's book illustrator Jerry Pinkney for her essay and illustration celebrating her family history and traditions. Jane was invited to the Buffalo and Erie County Central Library's Mason Auditiorium on October 4 to hear Mr. Pinkney speak about the creative process he uses for his illustrations. The Grand Island Memorial Library participated in this national contest last winter when Jane wrote and illustrated her essay, "Big Fun in a Big Family." In addition to being able to hear and meet Jerry Pinkney, Jane received a set of five autographed books. This national contest was sponsored by Ingram Library Services and Penguin Young Readers Group. Jane is a 6th grader at Veronica Connor Middle School.




Lee Tetkowski - Oct. 2006



Lee Tetkowski, New York State co-chair of the statewide League study of Charter Schools, gave a presentation on Saturday, October 21, 2006 on the pros and cons of the Charter Schools Law for the Chautauqua County League of Women Voters. Lee's daughter, Mira Berkley, a member of that League, was the tech assistant in showing the power point information. Lee and Mira had used e-mail to send and edit and plan the presentation.




Welcome
Taylor Felicia Duscher - 2006



Click photo for larger view
Scott and Kimberly Duscher are the parents of a baby girl, Taylor Felicia Duscher, born Monday, October 9, 2006. Taylor Felicia weighed in at eight pounds, two ounces. Proud grandparents are Blake Roggow of North Tonawanda; Cathy and Tom Thomas of Grand Island; Mike and Katrina Duscher of Phoenix, Azizona; and the late Felicia Roggow. Taylor is the great grandchild of Mary and Norm Parisi of Grand Island and Janet and Robert Gross.


---



GLP Free Manufacturing Corp. Featured In Buffalo News - 2006
Isle residents and Isledegrande.com advertisers Joan Pedlow and Susan Daubney of GLP Free Manufacturing Corp. were featured in the Wednesday, October 18, 2006 edition of the Buffalo News in an article written by Janice Okun. Our own office staff has enjoyed all kinds of baked goods from GLP Free Manufacturing Corp. and we can attest to the delicious items Joan and Susan are producing right here on Grand Island for the food market across the nation and including Orlando's Disney World. Click "Food That's Free" for the story, and be sure to visit their website.




Rus Thompson for the 144th Assembly - Oct. 2006



by Rus Thompson
I am the candidate challenging the 14-year incumbent Sam Hoyt, for the 144th New York State Assembly, which covers Grand Island, most of North Buffalo and the West Side. For those who are unfamiliar, just as the legislative branch of the federal government is separated into the Senate and the House of Representatives, the legislative branch of New York State government is separated into the Senate and the Assembly. Though these two houses have 212 members statewide, the Brennan Center for Law & Justice has again named it "the most dysfunctional legislature in the country," due in large part to what I refer to as the "three men in a room" problem.
Sheldon Silver heads the Democrat-controlled Assembly, Joe Bruno heads the Republican-controlled Senate, and together with the Governor, these three men control virtually every piece of legislation, and every dime of the state's out of control spending. Shelly Silver directs Assembly members to vote as he sees fit, and if they don't, like a mafia boss, he withholds pork funding (money for pet projects within an Assemblymember's district), campaign funds for re-election, and he pulls committee seats. Under Shelly Silver's direction, Medicaid fraud is estimated to be as high as 40%; over 700 self- appointed "Authorities" have put us in over $80 billion of legislatively approved debt; and unfunded mandates, or things Albany requires WNY to pay, without providing the means to pay for them, has doubled to the tune of $115 billion in just 12 years. It's no wonder WNY is the highest taxed area in the entire nation, as the debt is $5000 for every man, woman and child. Albany controls two-thirds of our local budgets. Albany has taken control out of the hands of local governments, leaving them to scramble to find new sources of revenue, continually draining the private sector. For this reason, businesses leave, creating a 0% job growth rate, while government has grown by 40% since 2001.
Shelly Silver and downstate politics are a huge source of problems here, yet Sam Hoyt votes with Shelly Silver 97% of the time. Hoyt and Silver are all about high taxes and big government; I am about targeting the massive waste, fraud and abuse, holding people accountable, and fiscal responsibility. Sam Hoyt has stated publicly that he intends to lead the charge in ensuring same-sex marriage becomes legal. Elliot Spitzer has the same idea, and together, we can expect legislation in place this coming year, as it is due to be voted on in the next legislative session.
I believe that government didn't give us marriage to begin with, so it should stay out of the business of redefining it. Since gays would be entitled to the same benefits as heterosexual married couples, there would be an instantaneous mountain of debt the state and you as a taxpayer will be charged, as a result. It's crucial to get spending and Medicaid fraud under control before adding a whole new group of beneficiaries to your money. Looking at the bigger picture, we have to consider the civil liberties issue. When a minister refuses to marry a gay couple, is he then subject to fines or imprisonment? As a public health issue, promoting lifestyles or agendas in the midst of an epidemic with no known cure is extremely irresponsible at best. Few gays really prefer marriage, and promoting the associated behavior as acceptable leaves whole generations susceptible to disease. In addition, the biblical view holds this behavior as reprobate, and to ignore its tenets is to violate the belief system of another much larger segment of the population that opposes it.
"Politics" can be a nasty word, and though much of it comes from social issues, or matters of principle, most people prefer to avoid it altogether. And who can blame them? But when voters rely on their parties to make the decision for them, but their parties are making poor choices, we say voters are "going to the polls with the blinders on." The 144th district has been gerrymandered, or legislatively "arranged" in such a way as to give my Democratic incumbent opponent a three to one advantage over any challenger. Also, I can't possibly match Sam Hoyt's $160,000 war chest, which he has built through donations from special interests that directly oppose reform. At this point, I am unsure if you will even receive a mailing from me. Voting is not a horse race, but rest assured, betting on the "sure thing" is a bigger gamble, and will lead to more financial ruin for the good people of Western New York. I can only strongly urge you to not be misled by flashy taxpayer-funded mailings, to vote your conscience, and vote for Rus Thompson, the Conservative and Republican endorsed candidate for the State Assembly. I will properly represent you with an uncompromising commitment to Real Reform.


---



Fundraiser For Backland Family - 2006
Friends of the Late George Backlund are sponsoring a fundraiser for his family from 1-5 p.m. Sunday, October 15 at the Charles N. DeGlopper Memorial VFW Post 9249, 2121 Grand Island NY. The afternoon will feature music, prizes, raffles and a Chinese auction. Food donations and baskets for the raffles are welcome. For more information contact either Sue or Steve at 773-6343.




Lee Tetkowski, Weavers' Guild Winner - 2006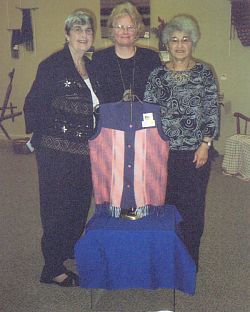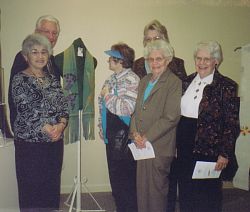 (left) Marge Egan was in charge of hospitality, Cathy Steffan was co-chairman and Lee Tetkowski was a member of the planning committee for the Weavers Guild's "Artistry Of Fiber" Show.
(right photo) From left are Norm Gibbon, Lee Tetkowski, whose award winning liturgical stole is pictured, Karoline Kupka, Nancy Hayes, Elizabeth Prast and Gladys Gibbon who joined Mrs. Tetkowski at the show on Sunday.
Click photos for larger view.
Grand Island was well represented in the Weavers' Guild of Buffalo. Cathy Steffan, Marge Egan and Lenore (Lee) Tetkowski worked on the planning of the current exhibition at the Amherst Museum, titled "The Artistry of Fiber." Several Islanders attended the opening reception on Sunday, October 1st and witnessed the presentation of the awards. Lenore received one for "Best Accessory" for the silk liturgical stole (pictured right), commissioned by a friend. Former Islander, Joyce Rose, received "Best in Show." People's Choice is still to be decided.
The Amherst Museum is located at 3755 Tonawanda Creek Road, Amherst. Hours are Tuesday through Friday from 9:30 am. to 4:30 p.m. and Saturday and Sunday from 12:30 p.m. to 4:30 p.m.
A presentation titled "A Tapestry of Hope: Fiber Art, Education, and Healthcare," will be given at 2 p.m. Sunday, October 8, 2006 at the Museum by Ginny Lohr, a show juror. Island residents are invited to come out and see the varied exhibit of fiber art.


---



Fundraiser For Assembly Candidate Rus Thompson - 2006
A fundraiser is being held from 6-8 p.m. Tuesday, October 10, 2006 at the Brick Oven, Grand Island, for Grand Island resident Rus Thompson, candidate for the Assembly. It will be held on the outdoor patio, therefore those attending are urged to dress accordingly. Pizza, wings and refreshments will be provided, and there is a cash bar. Minimum donation is $20/person, $30/couple and $40/family. The Brick Oven is located at 2375 Grand Island Boulevard, in the plaza across from Martin's Fantasy Island. All are welcome.
Rus is the Republican and Conservative challenger to Sam Hoyt of the 144th State Assembly, which represents Grand Island, most of North Buffalo, and most of the West Side. Contributions may be made payable to Friends of Rus Thompson and sent to 130 Tracey Lane, Grand Island, NY 14072, or payment may be made at the door.




Benefit For Sheri Robinson-Cooney - Oct. 2006



Forty-four-year-old Sheri Cooney, a life long Island resident and devoted mother of four, was recently diagnosed with a very aggressive form of breast cancer. She has had two surgeries and will require a third. Currently she is undergoing a lengthy course of chemotherapy. Surgery and chemo have prevented Sheri from working for several months and she will not be able to work for several more months.
A benefit for Sheri Robinson-Cooney is being held from 1-4 p.m. Sunday, October 29, 2006 at the Grand Island Rod & Gun Club, 1083 Whitehaven Road. Donations are $20 per person, kids under 5 free or $50 for family rate. Admission includes food, beer and soda. Bring the whole family. The committee is accepting baskets and raffle items of all types. Contact Dana Robinson, 775-1322 or Kathy Yensan, 775-0472.




SPC Ryan Woodring - Sept. 2006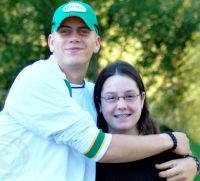 Click photo for larger view.
SPC Ryan Woodring is currently home on a two-week leave from Afghanistan where he has been serving with the United States Army, 10th Mountain Div. out of Fort Drum, NY for the past eight months. Ryan is shown with his sister, Emily Dauphin. They are the children of Karen Sorbello of Baseline Road. "I think I've gotten my first good night's sleep in about eight months knowing he is home safe and sound even if it is only temporary!" Karen said this week.
Currently on leave here on the Island, Ryan, who enlisted in the U. S. Army almost two years ago, returns back to duty on September 9th for another four months before his unit deploys back to Fort Drum.




Benefit For Jason Vandusen Planned At Island Lanes - September 2006
Artie and Mary Mallwitz and Aimee Anderson will host a fundraiser for Jason Vandusen on Sunday, October 29, 2006 beginning at 1 p.m. at the Island Lanes, Whitehaven Road. Offered for a $15 fee per person will be three games of bowling, pizza and pop. Tickets are available from Artie or Mary at Island Lanes or contact Aimee Anderson at 909-4543.




JoAnn Vanderheite - Sept. 2006



JoAnn Vanderheite will hold her 11th annual October sale of wreaths, arrangements and gourd art in her garage at 1635 West River Road from 9 a.m. to 3 p.m. Saturday, October 14th - rain or shine. For a sample of her work, click Wreaths/Arrangements/Gourd Art.




Carrie Anne Vieceli Taking Part In Leukemia/Lymphoma 5k "Light the Night Walk" - Sept. 2006



One-year breast cancer survivor Carrie Anne (Badame) Vieceli, GIHS Class of 1993, now living in Vancouver, BC, will participate in the Leukemia & Lymphoma Society's 5K "Light the Night Walk" on Saturday, October 14, 2006 in honor of her sister, Erin Badame of Grand Island, and her aunt Barbara Ahlstrom of Lockport, both lymphoma survivors, and her friend Marjorie, a leukemia survivor, as well as all individuals who are battling blood cancer. Those who would like to sponsor Carrie Anne's walk may make a donation through her website at http://www.active.com/donate/ltnvan/1997_cavieceli.
"On behalf of all who are battling blood cancers, I sincerely thank you in advance for your generous donation!" Carrie Anne said this week.




Patti Merritt - WNYKidneyConnection.org - September 2006
By Patti Merritt
One year ago a living kidney donor saved my sister. Her kidneys had stopped working and she was on dialysis to stay alive. Family and friends had volunteered to be kidney donors, but none were able to do so. The average wait for a kidney from the national waiting list is four years. It is very difficult to stay healthy for four years while on dialysis. Many people can no longer work, develop other health problems, and thousands die each year.
Isledegrande published a letter to the editor about my sister's need. I reached out to the community to ask people to consider organ donation. Most of us can only donate after our death, but many thousands of people are living kidney donors. Their selflessness and generosity saves lives. I began to receive emails almost immediately. Since Nora is a teacher, her former students, parents of former students, as well as former classmates and neighbors contacted us. Thanks to the generosity and compassion of one of these people, Nora received a kidney. She has returned to full health and is back to teaching at Connor Middle School. It is difficult to put into words how grateful we are.
There are over 300 people in Western New York waiting for this chance at life. The WNYKidneyConnection (www.wnykidneyconnection.org) website is an exciting new venture I started with three friends. We want to increase the number of kidney transplants in our community. The site allows potential donors to connect with people in need. If someone wants to donate a kidney, there is contact information for the local transplant centers as well. Users can download an organ donor card. If you are on the waiting list for a kidney in Western New York, or if you are interested in learning more about kidney donation, please go to this site. You can help save a life.
Editor's Note: For an article that appeared in the Buffalo News by Henry L. Davis, click "Hope from the Internet."




Welcome, DeVonte' Mali'q Johnson - 2006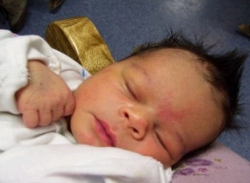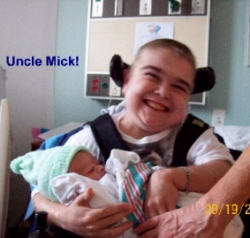 Baby DeVonte' is shown being held by his uncle, Michael Dinsmore.
Announcing the birth of Grand Island's newest resident, DeVonte' Mali'q Johnson! He weighed in at seven pounds, four ounces, and was 20 inches long on September 18, 2006 at 10:01 p.m. New parents are Destiny Chambers of Grand Island and Dwayne Johnson of Buffalo. Grandparents are Judi (Jeff) Dinsmore of Grand Island, and Charles (Tami) Chambers of Niagara Falls. Great grandparents are Jack and Ginny Tornabene of Grand Island, Diane Dinsmore, Lyle Dinsmore and Kathy Barton Of Grand Island, and Wanda Mingo of Buffalo. The baby's great great grandmother is Anne Scott of Tonawanda. DeVonte' was also welcomed home by his uncle, AJ Chambers.




Sunday Fundraiser For Jason Vandusen - September 2006
A benefit for Jason VanDusen (Hope For Jason) is planned for noon on Sunday, September 24, 2006 to help defray medical bills. Jason, injured in an automobile accident August 12 and without health insurance, is slowly making progress in ECMC. The fundraiser is being held at Fat Bob's Smokehouse on Virginia Street in Buffalo. Tickets are $10 and include food and beverages (non-alcoholic). For tickets or more information, contact Brian Kopf or Jason's stepsister, Ashley O'Brien.




Praxair Promotes Dante Bonaquist - 2006



TONAWANDA, NY, September 19, 2006. . . Praxair, Inc. has named Dante Bonaquist a senior corporate fellow and chief scientist in the industrial gases company's research and development (R&D) organization. Bonaquist is located at the Praxair Technology Center in Tonawanda. In his new position, he will continue to direct hydrogen and energy technology and ceramic membrane development programs. He will also direct the identification and evaluation of developing technologies worldwide.
Since joining Praxair in 1980, Bonaquist, a Grand Island resident, has held various technical and managerial positions in engineering and R&D. Most recently, he served as director of process and systems R&D. He has a bachelor's degree in chemical engineering from Pennsylvania State University and is an inventor or co-inventor on 110 U.S. patents.
The Praxair Technology Center in Tonawanda, N.Y., is Praxair's largest engineering and research and development center worldwide. Praxair, Inc. (NYSE:PX), based in Danbury, Conn., is the largest industrial gases company in North and South America, and one of the largest worldwide, with 2005 sales of $7.7 billion. The company produces, sells and distributes atmospheric and process gases, and high-performance surface coatings. Praxair products, services and technology bring productivity and environmental benefits to a wide variety of industries including aerospace, chemicals, electronics, energy, food and beverage, healthcare, manufacturing, metals and others. More information on Praxair is available on the Internet at www.praxair.com




Welcome, Lukas Mikael Adevag Guagliano - 2006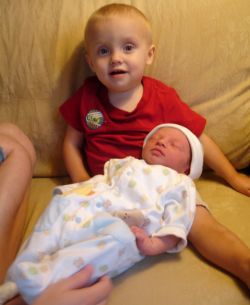 Lukas Mikael Adevag Guagliano was born August 23, 2006 to Joel and Sofia Guagliano. Lukas weighed in at six pounds, three ounces and has a big brother, Martin, 1. Proud grandparents are Rose-Marie Adevag of Falkoping, Sweden, Sverker Hansson of Kinnarp, Sweden, and Island residents Frank and Jean Guagliano. Lukas is the 11th grandchild for Frank and Jean, and his daddy is a member of the Grand Island High School Class of 1984. Joel and Sofia and children are living in Arlington, Virginia.




Welcome, Julia Marie Bielec - 2006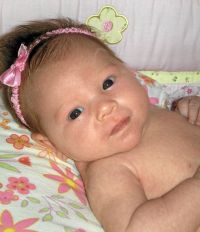 Julia Marie Bielec was born July 29, 2006 to Island residents Greg and Angela Bielec. Julia Marie weighed in at seven pounds, seven ounces and has two big brothers, Blake and Brian Bielec. Proud grandparents are Paul and Debi Bielec and Sal and Marianne Santa Lucia, all of Grand Island




Sharon, Lauren, Bob Priest Perform In Local Theaters - 2006
Three members of the Priest family open on area stages this weekend. Sharon and Lauren may be seen in a production of Stepping Out at the NACC in Niagara Falls. It is the story of a community dance group and the assorted "characters" who come together to put on a show for charity. Sharon also choreographed all the tap dances in the show. Stepping Out runs Friday and Saturday at 8 p.m. on September 15-16, September 22-23 and September 29-October 1st weekends ending with a Sunday show at 2:30 p.m. Oct. 1.
Bob Priest can be seen as Officer Harbison in South Pacific which runs the same weekends at Lancaster Opera House. Try and make one or both shows and support local talent.




Kevin Facklam - 2006



Former Island resident, Kevin Facklam, is raising funds for "Jack's Team," a Melanoma Research Fund, in memory of his father, Paul M. Facklam Sr. who died at 59 years old in February 2005.
"My story (I'm told by experienced runners that all runners have a "story") is quite simple you see, and it begins with the 2005 NYC marathon in which my friend, Stephanie Kleban, completed in honor of my father. Stephanie fundraised for "Fred's Team" which supports Memorial Sloan-Kettering Cancer Center . Stephanie encouraged me to train for a marathon, for which I begrudgingly obliged at first, but quickly embraced after I found that I could raise money for "Jack's Team" (Jack H. Marston II Melanoma Research Fund) and honor my father.
"Consider supporting my fundraising and increase your awareness of this horrible disease. My fundraising website is at http://www.active.com/donate/jacksmarathonteam/kevinfacklam."
Kevin is a member of the Grand Island High School Class of 1988 and graduated from Fredonia four years later. He has been living and working in Chicago since. He would appreciate support from his old friends on Grand Island.




Second Annual Wienee Palooza - 2006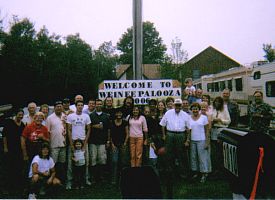 Click photo for larger view.
The Second Annual Wienee Palooza took place at Don Hoover's house on Alt Blvd. on August 27, 2006. The honored guests attending this year were Norman and Jeanette Courey. The event is held in memory of their son, Peter Courey who passed away July 25, 2005. A candle burned through the day and evening by an 8 x 10 portrait of Peter. Attendees feasted on hot dog chili, stewed hot dogs, cheese macaroni and hot dogs, hot dogs and sauerkraut, hot dogs wrapped in crescent rolls and more. Everyone also participated in a toast to their friend and son, Peter. Nancy Anderson had everyone bring some canned goods to donate to the Neighbors Foundation of Grand Island and a raffle raised $120 to be split between the Neighbors Foundation and Hope For Jason.




Colosi - Cronin Wedding - 2006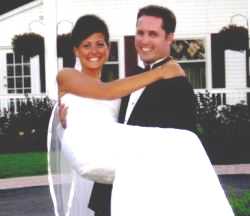 Click photo for larger view.
Rachelle Colosi was united in marriage to Daniel Cronin on Sunday, August 13, 2006. The bride is the daughter of Dr. Russell and Patricia Colosi of Grand Island. The groom is the son of Gene and Donna Cronin of St. Augustine, Florida.
The wedding and reception were held at the Avanti Mansion in Hamburg, NY and the ceremony was officiated by Pastor Steve Lamarco of Whitehaven Road Baptist Church, Grand Island.
Rachelle graduated in May from Daemen College with her masters in physician assistant studies. Dan has been practicing as a physician assistant in orthopedic surgery for four years in Manhattan. The couple has relocated to Charlotte, North Carolina where they are both practicing physician assistants.




Paul Long Jr.
Faces The End of Summer Vacation - September 2006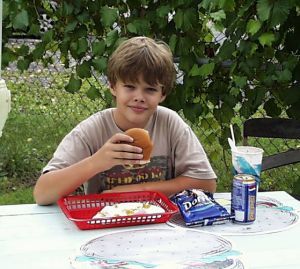 Mary Stewart Photo
Paul "Buck" Long is shown enjoying the last of his favorite lunches at the Village Hot Dog Stand on Sunday, September 3, 2006. With summer vacation just about over, Paul was looking forward to being among the new students entering the sixth grade at Veronica E. Connor Middle School.




Island Kids In Niagara County Performance - 2006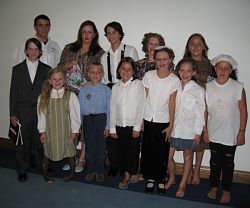 Islanders taking parts in the play, Annie Jr., are (left front) James Rustowicz (Drake), MaryElisabeth Rustowicz (orphan), Brian Wynn (officer), Erin Dugan (Servant), Emily Wynne (servant), Maggie Rustowicz (servant), Sabrina Lemme (orphan); (second row) PJ Lemme (Daddy Warbucks), Rachel Olzewski (Miss Hanagan), Adrian Tanguay (rooster), Katie Rustowicz (lily) and Grace Olzewski (orphan).
Click photo for larger view.
A large group of Island children took part in the play, Annie Jr., produced by the Niagara Home School Association on Friday, September 1, 2006. Directing were Megan Spencer, a Kenmore West High School student and Brittney Ziarnowski who is home schooled. The production, including scenery, stage crew, and directing, was done completely by the students.




Fundraiser For Chris Schorb Friday Night - 2006
A fundraiser will be held at the VFW Post 9249 from 7-11 p.m. on Friday, September 1, 2006 for 1988 Grand Island High School graduate Chris Schorb, son of Brian and Judy Schorb of West Oakfield Road. Chris, who has no health insurance, was the victim of two grand mal seizures in March and at that time a "mass" was discovered, and he was diagnosed with cancer, a stage-three brain tumor.
Former school friends are hosting the benefit on September 1st that will feature food, raffles, auctions and entertainment. Financial donations may be made by using PayPay at Chris' website, "www.goodtimekidfund.org."
Chris co-founded Knowmatic Tribe Soundsystem and GalaxieNYC, two companies involving music and humor.




High School Senior Abe Morgan Tells His Story,
"No More Secrets" As It Appeared In the Buffalo News - August 2006
Seventeen-year-old Abram Morgan, the son of Steven and Amy Morgan of Grand Island, is entering his senior year at Grand Island High this week. He has written his own story, "No More Secrets," which was printed in the Sunday, August 27, 2006 edition of the Buffalo News. Click for "Abe's Story".




Madison Green's Giant Sunflower - August 2006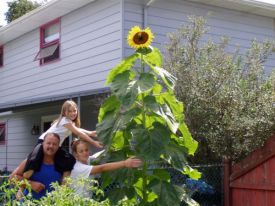 Click photo for larger view.
Madison Green, 8, grew this sunflower from seed in her yard on Ransom Road. Shown with Madison are her dad, Scott, and her sister, Morgan, right. Madison will entered the 3rd grade at Huth Road School next week.




Nancy and Joe Samrany Celebrate 50th Anniversary - 2006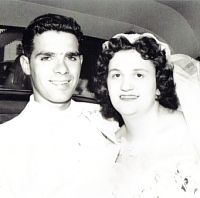 Click photo for larger view.
Joe Samrany and Nancy Scheelar were married September 1, 1956 in Sacred Heart Catholic Church in Buffalo, NY. The couple moved to Grand Island as newlyweds and raised their four daughters here. They are Cheryl Calire of Lancaster and Ann Marie Stewart, Lisa Podlucky and Paula Miller, all residing on Grand Island. Mrs. Samrany is a former Grand Island town clerk, elected for several terms.




Becker - Myers Wedding - August 2006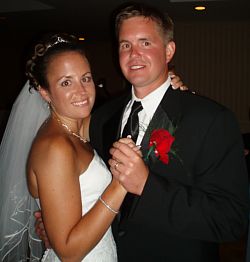 Click photo for larger view.
Mandy Becker and Jason Myers were married in the Town of Youngstown on July 8, 2006. The bride is a 1997 Grand Island High School graduate, and the daughter of Don and Kathy Becker of Grand Island. The groom is the son of Gary and Kate Myers of Youngstown. The couple celebrated their reception at the Grand Island Holiday Inn, and enjoyed a honeymoon on the island of St. Lucia. The groom is a counselor with the Buffalo Schools, and the bride is a Spanish teacher at Grand Island High School. The new Mr. and Mrs. Myers are at home in Niagara Falls.




Melissa Rayhill Receives White
Coat at UB Medical School - August 2006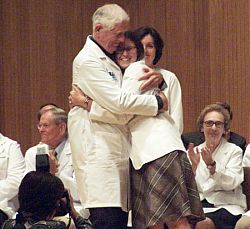 Click photo for larger view.
Melissa Rayhill received her White Coat at a ceremony on Friday, August 11, 2006 at the University at Buffalo School of Medicine and Biomedical Sciences from her grandfather, Dr. Edward A. Rayhill. The White Coat Ceremony is a symbolic rite of passage for beginning medical students to help establish a psychological contract for professionalism and empathy in the practice of medicine. The event emphasizes the importance of both scientific excellence and compassionate care for the patient. This ceremony is a tradition shared by medical students across the country. Melissa is a 2001 graduate of Grand Island High School, a 2005 graduate of Boston University and the daughter of Donnette and Michael Rayhill. Her grandfather, Dr. Edward Rayhill, is a retired family physician and the founding Medical Director of the Grand Island Fire Company.




Kim Ludwig - "Boys Will Be Boys" -
Photo Chosen For Kodak Screen in Times Square - August 2006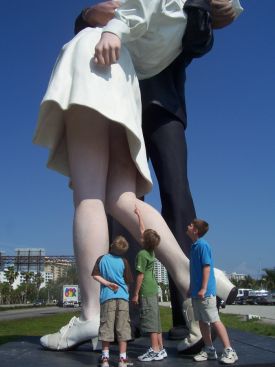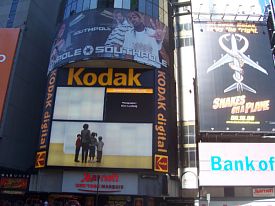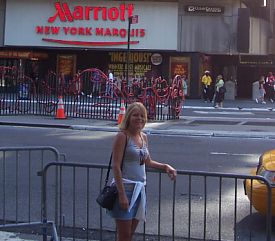 (left) The photograph displayed at Times Square; (center) Kim's name in lights in Times Square; (right) Kim in front of the Kodak screen at Times Square.
Click photos for larger view.
Kim Ludwig of Meadow Lane who has submitted some of the most beautiful photos to the Isledegrande.com pages, had a photo selected to be shown on the Kodak screen at Times Square in New York City. Kim's photo, "Boys Will Be Boys," was up on the screen on Sunday, August 13, 2006 for the entire day. Her husband, Mike Ludwig, took her to the city "to see it in person and take pictures!" The picture is of their three boys, Scott, Cory and Tyler, while vacationing in Sarasota over Easter vacation. "Instead of my boys posing for your typical "touristy" shot, they couldn't resist looking up the statue's skirt, so of course, I just had to get a shot of that," Kim said. "Needless to say, I was thrilled when Kodak.com loved the photo and chose it over many entries. Now that's what I call a "Kodak Moment!" she said.




Shelagh Korman
Grand Island Residents Rally in Support of their Own
Friends and Family organize a benefit to assist an ailing neighbor - August 2006



Grand Island, NY - - Shelagh (pronounced 'Sheila') Korman, a long-time Island resident, has been diagnosed with stage- three bone cancer. This multiple myeloma has invaded 70% of her bone structure. Shelagh has commenced a chemotherapy treatment program at Roswell Park Cancer Institute. The uninsured portion of her chemotherapy treatment is in excess of $1,500 a month. This expense, coupled with the loss of income suffered when her husband, Don, had to take Family Medical Leave to care for Shelagh, has resulted in mounting bills and dwindling financial resources.
Shelagh's neighbors, friends and family are planning a very special benefit for her from 1-5 p.m. Sunday, September 17, 2006 at the Grand Island VFW Post located at 2121 Grand Island Boulevard on Grand Island. All proceeds from the benefit will go directly to defray the enormous cost of Shelagh's treatment and care.
The benefit will feature live entertainment, food and drinks, a 50/50 raffle along with several exciting auctions. A Chinese Auction will be conducted for themed baskets such as 'Lotions and Potions,' 'Back-to-School,' 'The Pampered Pet,' and more. A silent auction will also be featured as well as a live auction that includes a week's stay in an ocean-front condominium in the beautiful resort town of Tybee Island, Georgia and valued at over $700!
Tickets are $20 and are available at the door the day of the benefit, or by contacting Evelyn Swarts at 773-7385. Children age 10 and under are free. Donations by cash or check in any amount are also deeply appreciated. Checks may be made out to 'Shelagh Korman Benefit' and dropped off at any M&T Bank branch or mailed to c/o Evelyn Swarts, 2535 West River Rd., Grand Island, NY 14072.




Genna Baldassarre's Giant Sunflower - August 2006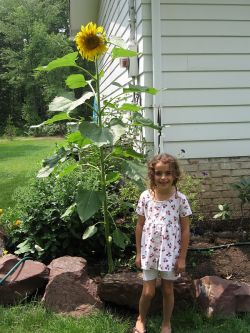 Click photo for larger view.
Genna Baldassarre is shown standing in front of her sunflower that she started growing in Mrs. Pam Susczynski's first grade class at Sidway Elementary School in June. She brought it home at only three inches tall. Genna was very excited to have it grow so much taller than she is!




Firth Sisters Attending Pre-Olympic "Skate Chautauqua" - August 2006
Olympic champion Sarah Hughes attended Skate Chautauqua in her goal to enter the Olympics, as did world champion Kimmie Meissner. And this week Grand Island sisters, Taylor and Chelsea Firth have made the grade and are doing the same. For the August 16, 2006 Buffalo News story, click "Firth Sisters."
For results of one of the Firth sisters' most recent competitions, click "Erie Invitational 2006."



Kara Louise Duyster - 2006



Kara Louise Duysters, daughter of David and Nancy Duysters of Naples, Florida, graduated from Stetson University in Deland, Florida on May 5, 2006 with a Master's Degree in Reading Education. She is in her third year of teaching at Volusia Pines Elementary School in Lake Helen, Florida and is currently teaching second grade. Kara is living in Deltona, Florida where she purchased a house this past March.




Islander To Take Part In Charity Bicycle Ride - July 2006
Dr. G Lawrence McNally, pediatrician at Suburban Pediatrics in Williamsville, has been training for the "Get Your Guts in Gear" charity bicycle ride. This year, his wife Kathy (former Grand Islander) will be joining him on this ride. His in-laws, Kathryn and Courtney Brown are residents on Stony Point Road. He will be riding for his son and for the 300 children in Western NY with Inflammatory Bowel Disease (IBD).
The Ride for Crohn's & Colitis is a 3-day, 210-mile cycling event created to raise awareness about Crohn's disease, ulcerative colitis, and the needs of people living with ostomies (bowel pulled through to outside of body). The Ride also raises funds for research, education, patient support, and advocacy work for Crohn's disease and ulcerative colitis, and empowers those affected by the diseases.
Cyclists will pedal along the scenic roads north of Seattle from August 18 - 20, 2006 in a 3-day, 210 mile loop ride. This three-day loop will begin in Seattle's northern suburbs, the route will trace the length of Whidbey Island, across Fidalgo Island, and then through the Skagit Valley, before returning to the starting point.
Riders will average 70 miles each day and will make two overnight camping stops. The Ride will kick off with an opening ceremony, and a closing ceremony will congratulate all those who accomplished this physical challenge and pedaled to raise awareness and help find a cure for IBD. Ulcerative colitis is a chronic disease of the large intestine that causes inflammation and ulceration of the colon's innermost lining. Crohn's disease is a chronic disorder that causes inflammation of the digestive (gastrointestinal) tract. Although it can involve any area of this tract, Crohn's disease usually affects the small and/or large intestine. At least 1.4 million Americans have IBD - with that number evenly split between Crohn's disease and ulcerative colitis. IBD is primarily a disease of adolescents and young adults between 15 and 35. However, IBD can occur in people of any age, including older adults and very young children. Ten percent of those affected by IBD - at least 140,000 patients - are under the age of 18. Can you imagine over 300 children in WNY suffering like this?
Dr. McNally has a secondary reason for riding. He has noticed an increase in childhood obesity along with an increase of IBD in his pediatric practice. Through role-modeling good physical fitness for his patients he feels that he can have an influence in their exercise habits. Mrs. McNally, president of the Crohn's and Colitis Foundation of Western NY, is riding to raise awareness about the disease. She is inspired by those with the disease who were able to complete the ride with ostomies, after multiple surgeries and on many medications.




Jesse Cooke Admitted to New York Bar - 2006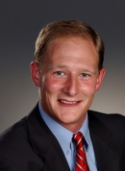 Jesse Cooke, Grand Island High School Class of 1995 and son of Island residents, Jeff and Mary Cooke, was admitted to practice law in the State of New York on June 19, 2006. Jesse graduated in December of 2005 from Arizona State University, where he concurrently earned a Masters in Business Administration from W.P. Carey School of Business and a Juris Doctorate from the Arizona State University College of Law. Jesse works as an associate attorney at Kenney, Shelton, Liptak & Nowak LLP in Buffalo. Jesse and his wife, Jill, live in Hamburg, New York. The Cooke's have a one-year-old daughter, Lily, and are expecting their second child in January of 2007.




Charlotte Booth Wins 2006 Overall Petite Model of the Year And More - 2006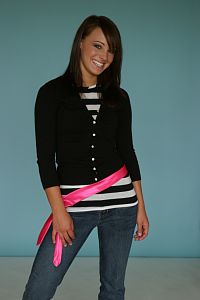 Click photo for larger view.
Seventeen-year-old Charlotte Booth, a GIHS graduate, Class of 2006 and the daughter of Lizbeth and Jay Booth, competed Sunday, August 6, 2006 in the Teen Division at the 2006 WNY Junior Model and Talent competition sponsored by Susan Makai's Personal Best at the Millenium Hotel in Cheektowaga. After competing in eight categories and being judged by WNY industry professionals, she won 2006 Overall Petite Model of the Year, first place in Photography and Smile, second place in Swimsuit and Commercial Print, and honorable mention in Runway and Jeans. Charlotte is hoping to be scouted by various agencies in order to do modeling and promotional work throughout the area and possibly further! She will co-host the 2006 America's Fair Pageant on Thursday, August 10, 2006, when she will be retired as the 2005 America's Fair Princess and pass on her crown to this year's winner.
Charlotte will compete in the fall in three Miss America Preliminary pageants as well as Miss Teen New York USA.




Rob MacNeil - 2006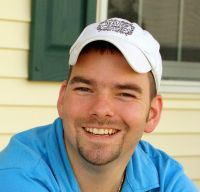 Roderick J. MacNeil graduated July 26, 2006 from the University of Phoenix with his MBA. He and his wife, Sarah, and children Madison and Aidan live on Bush Road. Rob is a graduate of the Grand Island High School, Class of 1995 and is currently employed with FedEx onsite at General Motors.




Ahrens - Lesika Wedding - 2006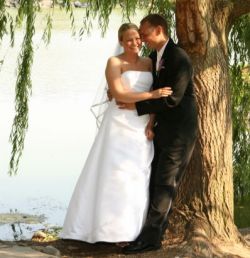 Click photo for larger view.
Danielle Ahrens, daughter of Don and Bonnie Ahrens of Grand Island, and a member of the Grand Island High School Class of 2000, and Kevin Lesika, son of Dennis Lesika and Linda Hall of Grand Island and a member of the Grand Island High School class of 1996, were married on July 8, 2006 at the Unitarian Universalist Church of Buffalo. The bride is an English teacher at Hopevale School in Hamburg, and the groom is a Survey Crew Chief at URS Corp., Buffalo. The couple is at home in North Buffalo after a honeymoon in Napa Valley and San Francisco.




Paul, And Jackie Drainville Celebrate 50th Anniversary - 2006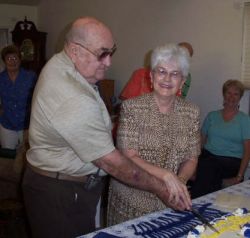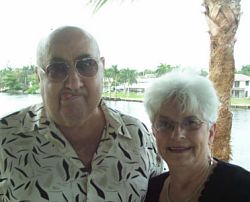 Congratulations are in order for former Grand Island residents Paul and Jackie Drainville, now residing in Port St. Lucie, Florida. The Drainvilles, who celebrated 50 years of marriage on June 9, 2006, were surprised with a visit from their children who flew in for the weekend to celebrate this special occasion. Michele (Chris) Martin, Brian and Teresa (Prusak) Drainville and Paula (Jim) McDonnell surprised Paul and Jackie when they entered the restaurant on Friday with Jackie's sister Monique Nicholson. Sons Robert and Paul were unable to attend the celebration due to prior obligations, but both visited their parents in the previous month. After dinner, everyone went back to Paul and Jackie's home to a surprise party planned by their many Florida friends and neighbors. In attendance at this party were former Grand Island residents Harry and Katie Donlon and Scott and Karen Donlon. The celebration continued on Saturday with another dinner out with their children. Those wishing to congratulate Paul and Jackie can send an email to c130a@netzero.com




Joseph Martino Receives Award From Berklee College Of Music - 2006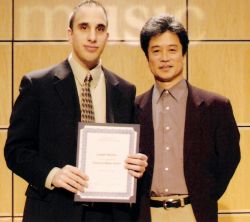 Joseph Martino (left) is shown receiving the Classical Brass Award at Berklee College of Music's Annual Spring Awards. Joseph is shown with Brass professor Tiger Okoshi.
Click photo for a larger view.
Boston, May 15, 2006. . .Joseph Martino, a 2002 graduate of Grand Island High School, was honored with the Classical Brass Award at Berklee College of Music's Annual Spring Awards. Joe was recognized for outstanding musical and academic achievement. He is the son of Robert and Elsie Martino.




Author Thom Hatch - 2006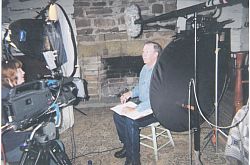 Thom Hatch - a "behind-the-scenes" look
Click photo for a larger view.
Former Island resident and writer Thom Hatch recently took a break from writing his current book for St. Martin's Press. Thom and his wife, Lynn, and daughter, Cimarron, traveled to Oklahoma from their home in Colorado for a film shoot where Thom was the consultant and expert commentator for a History Channel documentary about Indians in the Civil War. The program will air sometime during November of this year. "Black Kettle: the Cheyenne Chief Who Sought Peace but Found War" is among Thom's latest books, and won a "Spur Award" from the prestigious Western Writers of America.


---



Longtime Isle Resident Myrtle Killian To Celebrate 100th Birthday - 2006


Click photo for larger view
Myrtle Killian, who spent most of her life on Grand Island before moving to Briarwood Manor in Lockport, New York, will celebrate her 100th birthday on Sunday, July 30th with a party for friends and family. Moving to the Island as an eight-year-old in 1914, she has fond memories of the horse and buggy days, and walking 1 1/2 miles to a one-room school, even during the cold winters. Myrtle, who helped her mother clean the church (German Evangelical, now Trinity UM Church) every week, was a typical farm girl who learned to cook and can and drive the tractor.
She and her husband, Howard, were married on November 12, 1924, sharing 61 years together until he died at age 85. She and her late husband are the parents of Nan E. Nesbitt of Batavia and the late Howard R. Killian who lost his battle with Leukemia in May of this year. Both children were born in the Whitehaven Road farmhouse.
Myrtle remembers well the farm she and her husband owned on Whitehaven Road, all 23 acres of it where they raised chickens, sold brown eggs, and had hired hands to help work on the farm.
Myrtle has spent her life as a very giving person. During World War II she wrote letters to all 27 relatives who were fighting in the war. She is a member of the Grand Island Historical Society and at one time took her turn riding the Society's school tour bus, telling students all about the one-room schoolhouses on Grand Island that she attended. She is also the oldest member of Trinity UM Church. She never worked outside her home and when the time arrived, she couldn't believe that she was receiving her Social Security. A wonderful babysitter, she would stop all other activities to make the time fun for her grandchildren. Myrtle kept a diary for 70+ years, jotting down her daily activities. In her 89th year she challenged herself to read all of the Bible, a goal she did accomplish.
Myrtle moved from her Whitehaven Road home eight years ago. The Killian farm was sold and the new owner completely updated the old homestead. The subject of many local artists, the old barn was dismantled several years ago. Myrtle has continued to enjoy a sharp mind, good health and her life in general. Poor eye sight in her later years hasn't discouraged her from enjoying bingo, pinochle and crafts.
Grand Island writer Ruth Stahl wrote a feature story on Myrtle in her "Treasures" column at the time of Myrtles 95th birthday in 2001. Click Myrtle Killian Day - 2001 for Ruth's story.
At the time of her 97th birthday in 2003, Myrtle was surprised to get so many cards. How nice that so many old friends remembered her. Let's not forget her.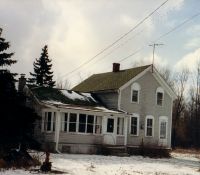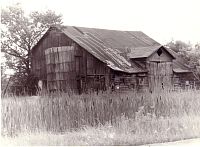 Click photos for larger view
Howard and Myrtle Killian's farmhouse on Whitehaven Road (1996) - Killian barn, photographed by the late Ted Klingel in the 1970s, and used to store hay for the winter that was sold to local residents for their horses.




David B. Anderson II - July 2006
David B. Anderson II, a GIHS graduate, Class of 2006, has been accepted to Canisius College and recently completed his orientation process. David, who will begin his studies at Canisius in the fall, will work towards a goal to become a Radiologist. He is the son of Nancy Anderson and grandson of Jean and Ralph Hoover, all of Grand Island.




Amy Morgan Featured In Buffalo News "My View" Column - July 2006



"In today's world it's not easy to be an out and proud 17-year-old gay man," Grand Island native, Amy Morgan, recently wrote of her son, Abram. The article, titled Pride weekend walk makes a mother's day, published in the July 23, 2006 edition of the Buffalo News, may be viewed by clicking "Amy's Story". Mrs. Morgan has had her written work published on several occasions including a previous submission to the "My View" column and in the Rosebud Magazine.




Samplinski E-Mail Announcing Son's Birth Arrives A Year Late - 2006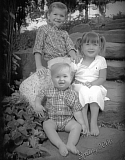 Click right photo for larger view
When Steve and Amy Samplinski emailed a picture of their newborn son, Mitchell Stephen, (left) last year, they never expected it would take over a year to arrive at Isledegrande.com. Their AOL service provider has taken the blame. The photo on the right, taken recently, is of one-year-old Mitchell and his brother and sister, Trevor, 5, and Grace, 3.




Welcome, Mitchell Stephen Samplinski - 2006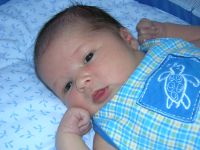 Editor's Note: This announcement of the birth of Mitchell Stephen Samplinski arrived at Isledegrande.com one year late. Scroll up for story.
Steve and Amy Samplinski are proud to announce the birth of their son, Mitchell Stephen Samplinski, born May 28, 2005 at 10:13 a.m. weighing ten pounds, eight ounces and measured 21 1/2 inches long. He was welcomed home by his siblings, Trevor and Grace. Proud grandparents are Lee and Barbara Pelczynski and Tip and Ann Samplinski, all of Grand Island.




Rob Meyer - July 2006
Butch and Julie Meyer of Grand Island are proud to announce that their son, Rob, has been accepted into the U.S. Border Patrol. He will leave for the training academy in New Mexico on July 9. After graduation on November 21 he will be stationed in Tucson, AZ. Rob is the grandson of Bill and Margaret Diefenbach and Bob and the late Marie Meyer.




Jeannie Dickinson, Barbara McManus Chair National Prader-Willi Syndrome Conference - 2006



Click photo for larger view
Jeannie Dickinson of Grand Island and her mother Barbara McManus are chairing the 28th National Prader-Willi Syndrome Conference. More than 600 attendees are expected at the conference being held at the Holiday Inn, Grand Island July 19-21, 2006. The annual meetings of the New York State Prader Willi Alliance will also be held at the same time. Over 100 children 0-9 years of age are expected with many of the children in need of 1:1 care. Volunteers are desperately needed in the children's room! The Buffalo Zoo will provide a Puppet Show from People Inc. and Solid Gold Entertainment of Grand Island has graciously donated four hours of music for the Gala Dinner. Those 16 and over and interested in volunteering any or all of the hours from 7:30 a.m. to 5:30 p.m. July 20-21 are asked to contact Jeannie at (716) 773-3076 or go to WWW.PWSAUSA.ORG and click on this year's conference page. There is a volunteer application there that may be filled out on line.
Jeannie and Tom Dickinson's daughter, Jessika, 14, was born with Prader Willi Syndrome which is a genetic disorder. The defect causes those with Prader Willi Syndrome to have an insatiable appetite. If left undetected the life span of those with PWS is cut very short. Right now the average life for someone with Prader Willi Syndrome is 26. "In Western New York we only have around 25 known cases," Barbara said. The syndrome affects 1 in 10,000-12,000 people.


---



Sonja Miller - Women In Business Effective Leadership Award Recipient - 2006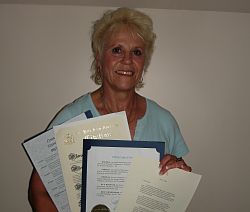 Sonja Miller, immediate past president of the Grand Island Business and Professional Women, received the first ORT, Inc. Annual Women in Business Effective Leadership Award to be given each year to a Grand Island BPW member.
The Award was presented at the BPW chapter's June meeting by Dr. Sherry Bradford of Grand Island, owner of Oncology Research Therapeutics, Inc. (ORT) in Baird Research Park, Amherst, NY.
Dr. Bradford said that each year the Women in Business Effective Leadership Award will acknowledge a woman who has provided outstanding contributions and support for women in the developing of professional skills.
"A strong and learned, self-motivated woman is the single greatest contributor to empowering other women," Dr. Bradford said in presenting the Award. "And ORT wants to acknowledge those women who have persevered in the face of seemingly unbeatable odds and have now joined the ranks of the incredibly successful."
Sonja Miller has been a Grand Island resident all of her life and has been president of the Grand Island Business and Professional Women for many years.
She is a full professor at Erie Community College teaching Hematology, the study of blood and related fields, in Medical Technology Department at ECC. She has a masters degree in Medical Technology from the State University of New York at Buffalo.
Ms. Miller received the 2005 Sara Marie Cicarelli Award for Clinical Laboratory Scientist of the Year from the American Society for Clinical Laboratory Science-NY. Her nomination by the Niagara Frontier Chapter of ASCLS-NY cited Ms. Miller's dedication to teaching, her activities mentoring students, and her interest in fostering continuing education.
In presenting the Award, Dr. Bradford said that as a young woman, she was a student of Sonja Miller's at ECC.
"I don't believe that Sonja ever realized the impact she had on me in staying in the medical field and in furthering my career," Dr. Bradford said. "She was a true leader in every sense of the word."
Dr. Bradford founded Oncology Research Therapeutics (ORT), a WNY-based oncology company in 2002. She holds a Ph.D. in Medical Biochemistry and is the inventor of the over 20 patents her company holds. ORT is the parent company of five companies in Europe, Canada, the Caribbean, as well as the USA.


---



Barker - Timmerman Engagement Announced - 2006


Click photo for larger view
Mr. and Mrs. Gregory Barker of Grand Island would like to announce the engagement of their daughter, Anne Barker, to Sgt. Ryan Timmerman, son of Mr. and Mrs. Richard Timmerman of Colo, Iowa. An April 14, 2007 wedding is planned.


---



Alicia Sommer - 2006


Alicia Sommer, daughter of Becky and Rich Stufkosky and Kevin and Debbie Sommer, will attend Yale University this summer for a Exploration Program. The mission of this program is to create a dynamic environment of intellectual inquiry, responsible decision-making and spirited adventure. At its heart, Exploration inspires students to challenge themselves, discover the world of people and ideas, and experience the joy of learning. A full schedule on a daily basis is recognized. It's very much like going away to school where Alicia will be living on campus, attending classes and surrounding herself first hand with the college experience. Weekend trips to universities such as Brown, Columbia and Harvard are just a few places that Alicia will be enjoying this summer. She will have the opportunity to take full advantage of Yale's academic, athletic and residential facilities as well as engaging in challenging courses and seminars.
Alicia, who will be a junior this fall at Grand Island High School, plans on pursuing her dream of becoming a pediatric oncologist and she is hoping that this experience will help in her quest for this dream.




Welcome, Maria Regina Pawelczyk - 2006



Click photo for larger view
Maria Regina Pawelczyk was born at 4:40 p.m. June 8, 2006 to Island residents John and Siobhan Pawelczyk. Maria has a one-year-old brother, Joseph. All are home and doing well.


---



Czapla - Marples Engagement Announced - 2006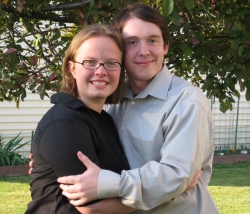 Helen and James Czapla of Grand Island and Sally and Lynn Marples of Duxbury MA announce the engagement of their children, Anna Czapla and Thomas Marples. The wedding will take place on July 7, 2007 at St. Stephen's Church on Grand Island. Anna and Tom are currently attending law school together at the University of Minnesota Walter Mondale School of Law.




Tracy Roesch-Williams - June 2006
Tracy Roesch-Williams, GIHS Class of 1984, took part in the "Rock and Roll Marathon" in San Diego, California on June 4th. Tracy, who finished in 5 1/2 hours in the mid area of the pack, ran for the Team in Training for the Leukemia and Lymphoma Society. The "Rock and Roll Marathon" raised over $12 million. Tracy and her husband, Bobby, who ran the last 6 miles with her, reside in Anchorage, Alaska. Click for Tracy's Photo.




Kara Dudley - 2006


Kara Dudley (left) is shown with singer Lisa Loeb.
Connor Middle School 8th grader Kara Dudley was one of 10 girls chosen by the "Music Is Art" Festival and Daisy Rock to receive guitar/song writing lessons with singer, songwriter, Lisa Loeb, and local Indes group, "The Juliet Dagger," in a private recording studio in Buffalo. Kara submitted an essay on why she should be chosen and she was selected. "Music Is Art" is a privately funded organization dedicated to keeping the Arts in education alive in Buffalo public schools through financial, material donations, mentoring and instruction from the private sector. The "Music Is Art" festival, portraying Buffalo talent, dance groups, and local bands, took place June 10-11, 2006. It was a separate event held during the Allentown Festival. To top of the weekend, Kara and the girls were given the honor of performing with The Juliet Dagger Band on stage at the Festival! What a weekend it was!
Kara is the daughter of Mike and Lisa Dudley of Baseline Road.
Click www.themusicedge.com for more information on "Music Is Art."




Gibson - Johnson Wedding -2006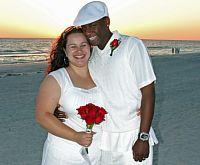 Click photo for larger view
Grand Island residents Joelle Gibson and Edward Johnson were married on May 13th, 2006 at sunset on the beach in Sarasota, Florida. After a honeymoon in Orlando, the couple now resides in Tampa, Florida. Joelle is the daughter of Robin and Reid Gibson of Grand Island. Ed is the son of former Island resident Edward Johnson, now residing in Oregon.




Welcome
Jaimen Reed Wright - 2006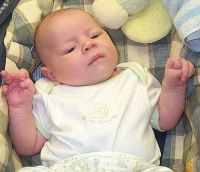 Jaimen Reed Wright was born on April 28, 2006 to Karen and Reed Wright. The baby boy weighed in at eight pounds, 11 ounces and was welcomed home by his brother, Alexander Ian, 2 1/2. Proud grandparents are Quinn and Vicki Wright of Buffalo, Ron and Judy Blain of North Tonawanda and Carlton and Lynn Schutt of Grand Island. Jaimen Reed is also the great grandson of Charles and Ann Smilinich of Holland, NY. Lifetime residents of the Island, Karen and Reed and their family recently moved to 56 Cardinal Lane.


---

Joseph Pasqualichio Awarded COHEAO Scholarship - 2006
WASHINGTON, DC --- Joseph Pasqualichio, a student at the University of Pittsburgh, has been awarded a scholarship from the Coalition of Higher Education Assistance Organizations (COHEAO).
After graduation, Joe plans on helping "…our nation in the fight against domestic and international terrorism." While still in college, he assists other students as a mentor to freshman engineering students and as a supplemental instructor for chemistry for engineers and he strives to make the University a better place.
"COHEAO is proud to offer this scholarship to Joseph Pasqualichio. His essay was a compelling, well written testimonial to the importance of higher education," said Carol Tiffany, Chair of COHEAO's Scholarship Committee. "But what impressed the Committee most was his goal of giving something back to society."
Joe was elected president of the University of Pittsburgh Student Government last November and will hold a seat on the University's Administrative Senate Council which is a very important forum for representing more than 17,000 undergraduate students. He is a Grand Island High School graduate, Class of 2002.




Jason Weis, Jeff Loder, Florida Firefighters - 2006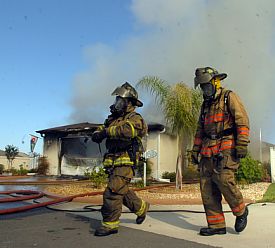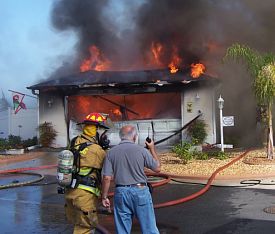 Click photo for larger view
Former residents Jason Weis and Jeff Loder, who are living in Florida with their families, are members of the Villages Fire Rescue Department in Lady Lake, Florida and for the first time since leaving the Grand Island Fire Company, fought a fire together. Former Island resident and Connor Middle School teacher Gail J. Lazenby serves as training officer for the same company and also responds to calls when he is off duty from his regular position with the Department.




Marla Crawford, WBEN Educator Of Year - 2006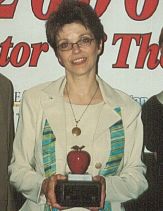 Click photo for larger view to show (left) John Zack, Mrs. Crawford and Susan Rose
Grand Island resident Marla Crawford has been named Educator of the Year for 2006 through the WBEN radio station's year-long competition.
The following essay was submitted to WBEN to nominate for recognition, Mrs. Crawford, for her contributions to her 2nd grade class at St. Matthew Lutheran School in North Tonawanda and to the entire school. Mrs. Crawford was chosen as one of the twelve finalists from all over Western New York who were in the running for the 2006 WBEN Educator of the Year, and were honored Monday, May 22, 2006 at a reception dinner at Harry's Harbour Place Grille. The educator of the year contest, sponsored by the Bank of Akron, Jim Culligan Auto Place and Daemen College, recognizes educators for the impact, magnitude and difficulty of nominee's accomplishments and achievements.
Nominated by Mr. Jim Gentzke, parent of a student in Mrs. Crawford's second grade class, he wrote in his essay: "She does everything for the children and works tirelessly for all our students, not just her class. She started and runs the "Brainiacs Club" where after school she provides extra classroom time for her class. The day's lessons are reinforced and the students learn more. Casual and Fun, the kids hang out with their friends and ask to go to this! She also started and runs the "Readers Theatre," open for all 2nd and 3rd graders, and designed to promote reading. She adds artistic and theatre aspects, further enhancing their education. Casual and Fun, they are excited to go to this and also ask to do so. Their reading ability goes up; they act out parts, create artwork and get to dress up in costumes made by them.
She is not in this for the money, but rather her genuine love for the children and compassion for her job. She gives 110%, never complains or takes her job lightly and never expects anything in return. Totally unselfish, her professionalism, optimism and dedication are all priceless and deserving of Educator of the Year," wrote Mr. Gentzke.
All twelve educators of the week are eligible to receive a $50.00 savings account from the Bank of Akron and an oil change from Jim Culligan Auto Place.
The grand prize for the WBEN Educator of the Year is a trip for two to central Florida via AirTran and accommodations at Sunsplash Vacation Homes and a three credit hour class from Daemen College.




Natalie Baldassarre Plays Piano For Composer Martha Mier - 2006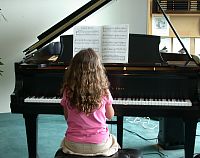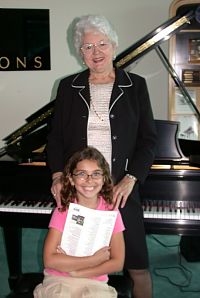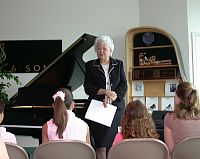 Click photo for larger view
Kaegebein Elementary School 4th grader Natalie Baldassarre, 10 had the privilege of playing piano for well recognized piano composer Martha Mier on Friday June 2, 2006 at Denton Cottier & Daniels Inc., Getzville. Natalie played one of Martha's own pieces, "Bazaar in Morocco." Natalie has been playing piano for four years and is studying with Laurie Jircitano in Niagara Falls, a member of the Music Forum for Piano Teachers of Western New York. Several other students whose teachers are members of the Music Forum of Western New York also played. Natalie is in 4th at Kaegebein and plays flute in the school band, and continues with her studies on the piano as an extra instrument. Natalie is the daughter of Kim Schopp of Grand Island and Italo Baldassarre of Niagara Falls.
American pianist, teacher and composer Martha Mier is a piano teacher in Lake City, Florida. She graduated from Florida State University where she was a member of Sigma Alpha Iota, the national honorary music fraternity. Besides her teaching, Ms. Mier has been active in church music and as a professional accompanist. She is a member of the Music Teachers National Association, the Florida State Music Teachers Association and the National Guild of Piano Teachers.
Ms. Mier presents workshops for piano teachers and is in demand as an adjudicator. Many of the solos and collections she composed were chosen for the 1998-2000 National Federation of Music Clubs' Junior Festival Bulletin. Her educational piano music for students on all levels has made her one of today's most popular composers. Students in the United States, Australia, Canada, Europe and Japan enjoy playing her music, including the popular Jazz, Rags & Blues series and the Romantic Impressions series.


---

Tucker Coryn Farm Credit Scholarship Winner - 2006
Tucker Coryn is one of three recipients of a Farm Credit of Western New York $2,000 scholarship for the 2006-2007 academic year. The credit and financial services cooperative awarded the scholarship based on Tucker's interest in agriculture, extra curricular activities and essay describing the greatest challenge facing agriculture and what producers must do about it. Tucker is a senior at Grand Island High School where he is active in track, wrestling and National Honor Society. He will pursue a dairy cattle management degree at Cornell University.


---



JoAnn Vanderheite Chosen To Take Part
In 36th Annual 100 American Craftsmen Festival - 2006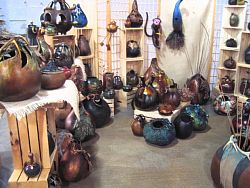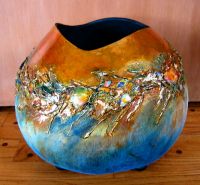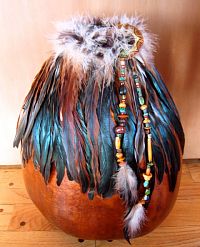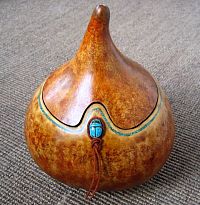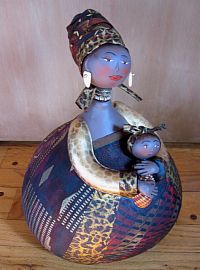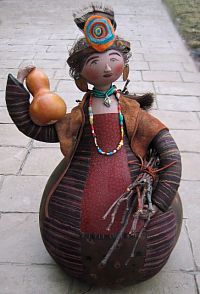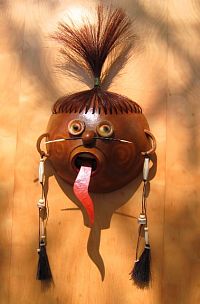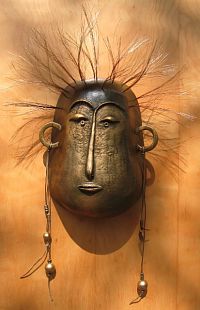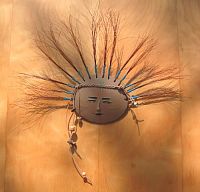 Photos show just a small portion of JoAnn Vanderheite's work to be displayed at the Festival June 2-4.
Click photos for larger view
JoAnn Vanderheite of Grand Island, N. Y. has again been chosen to show her artistic guards, figural containers and masks in the 36th Annual 100 American Craftsmen Festival being held from June 2-4, 2006 at the Kenan Center, 433 Locust St., Lockport, NY. This is the third time the art work of this longtime Island resident and former art teacher has been accepted for this strictly juried show and sale.
Click http://kenancenter.org/arts/craftsmen.asp for complete information on the "100 American Craftsmen Festival."




Carissa Bailey, Heidi Sue Mumm Honored By International Society - 2006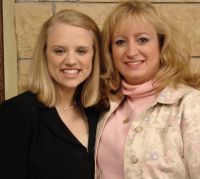 Two Grand Island residents were honored by Delta Kappa Gamma Society International, the Gamma Delta Chapter, at a reception on May 24, 2006 in North Tonawanda.
Carissa Bailey was selected as the recipient of a financial grant to assist in her pursuit of a degree in education by the organization. Carissa is a high school senior at Grand Island and an active member of the concert choir, choir, orchestra, jazz choir, and Madrigals and she holds the position of president in both concert choir and orchestra. She was selected for the All State Women's Chorus for two consecutive years and has received a music scholarship from the Erie County Music Educators Association. She is the president of the Spotlighters Drama Club and a regional representative for Region 12 DECA. Carissa is currently Grand Island's Youth Ambassador through which she received a generous scholarship. Attending Fredonia State University this fall, she will pursue a degree in Music Education.
Heidi Sue Mumm was initiated into the society the same evening. Miss Mumm is a teacher at a St. John Lutheran in Wheatfield where she coaches an award winning school cheerleading squad, an elementary spirit squad and is the assistant basketball coach for the elementary girls' team. She has been named a life-time member of the PTA (1999), inducted into the New York State Twirling Hall of Fame (2000), two time recipient of Who's Who Among American Teachers and named WKBW Educator of the Week (2003-2004). Heidi is also the coach of Grand Island's own Islettes Elite Baton Twirling Corp since 1987. She is an active member of Trinity United Methodist Church where she has taught bible school for more than 20 years guiding pre-k and kindergarteners in religious education.
Delta Kappa Gamma Society International is a professional honorary society of women educators. The Society promotes professional and personal growth of its members and excellence in education. Established in 1929, Delta Kappa Gamma has attained major objectives in improving opportunities for qualified women employed at every level of education as well as in advancing the status of women educators. The purpose is to Unite, Honor, Advance, Initiate, Endorse, Support, Endow, Stimulate and Inform.




Brian Kopf Is NU Graduate - 2006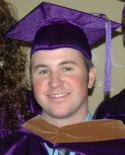 Brian Kopf graduated Cum Laude from Niagara University Sunday, May 21, 2006 with a degree in Business/Commerce. Brian earned Dean's List status for eight consecutive semesters. His future plans may include graduate school in the fall. Brian, the son of Bob and Mary Kopf, is a 2002 graduate of Grand Island High School.


---

Susan Braun - Ride For Roswell - 2006
I joined in my first Ride For Roswell last year and enjoyed it very much. I raised nearly $400 for Roswell Park and am looking forward to participating again on June 24th. I would very much appreciate it if you would consider sponsoring me as I ride this year (biking the 33-mile route) to raise money for Roswell Park Cancer Institute.
Please accept my thanks and appreciation if you've already donated on my behalf. I am tantalizingly close to the $1,000 mark and need to raise only about $150 more to make that goal! If 15 people give $10 each, I'm there! Thanks for taking the time to consider any size donation!
Many of us have connections with Roswell. Some of us, and our family members, have been treated there. Anyone who has had contact with Roswell knows how different it is from most any other hospital.
I also have a bit of a personal stake in this. Following all my medical issues of last year, my doctor is of the opinion that I am now at an increased risk for two forms of cancer. So for me, and many others, I would like to do all I can to support Roswell, which has been a tremendous resource for our community with a reputation that goes far beyond Western NY.
Your tax-deductible contribution is greatly appreciated. It is faster and easier than ever to support this great cause - you can make your donation online by simply clicking on the link at the bottom of this message. If you would prefer, you can also send your tax-deductible contribution to the address listed below. Or you can send it to me and I will hand in prior to the Ride (cash or check). Whatever you can give will help -- it all adds up! Thank you for your support and I will keep you posted on my progress!
Sincerely,
Susan Braun (1787 Staley Road, Grand Island, NY 14072)
To donate online:
http://register.roswellpark.org/site/TR?px=1079605&pg=personal&fr_id=1220
(not all of my donations have been credited yet, so the dollar figure is a little off at the moment).
To send a donation:
Make all checks payable to:
(Please note rider name in your check memo field)
Ride for Roswell
P.O. Box 644
Buffalo, NY 14240



---

"Gibbous" Wins 1st Place In NU Band Competition - 2006
A first ever "High School Rock Band Showcase" was sponsored by the Niagara University on April 21, 2006 with proceeds of $1,600 going to the American Cancer Society's Relay For Life. Entering the competition were eight bands including Grand Island's Gibbous, made up of Grand Island High School students Ellen Cameron, Stephanie Cartwright and Marc Gerfin. Judges awarded first place to the Grand Island band. Their prize was a $300 gift certificate from Jackson Music. Click "Rock Band Showcase Winners" for the Buffalo News story of April 30, 2006 by Paul Westmoore.


---



Ian Clark - Hewitt Sports Awards Nominee -2006



Grand Island High School senior Ian Clark, will be among 18 student-athletes representing nine area high schools at the 41st annual Tom Hewitt Sports Awards Dinner being held at the Niagara County Community College at 6 p.m. May 7, 2006. Two $2,000 scholarships will be presented to the top male and female candidates, as determined by a panel of judges. The award is named for the late Niagara Gazette city editor.
Ian is a NYS Scholar Athlete Award winner, recipient of the Top Biology Student Award, and received Clarkson University's High School Achievement Award. A member of the National Honor Society, he scored a 2,100 on the SAT. He is a member of the varsity volleyball team, as well as the indoor track team and serves as captain of the outdoor track team. He also plays in the Grand Island High School Concert Band and is active with Relay for Life. Ian has assisted with hospitality at church, volunteered at the Rock and Geo show for the Buffalo Geological Society and is a member of the Antique and Classic Boat Society. He plans to attend college in New York or Pennsylvania where he will study mechanical engineering in the fall. Ian is the son of Diane and Steven Clark.


---



Rebecca Fetzer - Hewitt Sports Awards Nominee -2006



Grand Island High School senior Rebecca Fetzer will be among 18 student-athletes representing nine area high schools at the 41st annual Tom Hewitt Sports Awards Dinner being held at Niagara County Community College at 6 p.m. May 7, 2006. Two $2,000 scholarships will be presented to the top male and female candidates, as determined by a panel of judges. The award is named for the late Niagara Gazette city editor.
Rebecca, the daughter of Larry and Anne Fetzer, plans to attend college and study pharmacy and obtain her Doctorate of Pharmacy degree. Click "Student of the Month" for Rebecca's accomplishments.




Welcome, Kaden Scott Gallagher - 2006



Click photo for larger view
Kaden Scott Gallagher was born on April 22, 2006 to Amy and Paul Gallagher. The baby boy, born in North Adams, Massachusetts at 2:04 p.m., weighed in at six pounds, 0.7 ounces and was 20 inches long. He was welcomed home by big sister Destiny Jordan, 8 and Teyah Sierra, 6. Proud grandparents are Scott and Dorothy Bennett of Grand Island. Equally proud are the baby's aunt and uncle, Korey and Kassie Bennett and her great grandma, Patricia Bennett, all Grand Island, NY.




Buffalo Banker Karen Conboy Completes
American Bankers Association National Compliance School - April 2006



Buffalo, NY, April 2006 . . . Karen Conboy, an Assistant Vice President for Information Security Compliance at M&T Bank, recently completed the American Bankers Association National Compliance School held April 1-7, 2006 at the Emory Conference Center in Atlanta, GA.
"The training I received at the ABA National Compliance School allows me to contribute to M&T Bank's compliance programs and ensure effective business initiatives. It also helps M&T to better serve our customers," said Conboy. "Since compliance regulations affect all aspects of banking, it's my job to help ensure that M&T has the most up-to-date information and training necessary to adhere to the regulations that affect our customers."
Held on the campus of the Emory University at the Emory Conference Center and Hotel, the ABA National Compliance School is the leading educational forum for bank regulatory compliance professionals. The ABA National Compliance School is a highly regarded program that develops technical skills and strategies for success in the regulatory compliance arena. ABA National Compliance School students represent a wide variety of financial institutions as well as employees of state and federal regulatory agencies and other financial services organizations.
Each year, bankers participate in a curriculum of more than 20 courses and enjoy networking opportunities with close to 300 fellow students. Since its inception more than twenty-eight years ago, financial institutions, regulators and other compliance professionals have relied upon the ABA National Compliance School to instill an essential technical understanding among compliance officers and staff. Karen Conboy has been with M&T Bank for 18 years. Recently she joined the bank's Information Security area as a Compliance Specialist. Prior to this, she served as a Compliance Specialist for M&T's Consumer Lending Division. Karen resides on Grand Island with her husband, David, and son, David. Her daughter, Sarah, is currently serving in Balad, Iraq with the US Army.




Philip Razem To Run Marathon For Roswell Park Cancer Institute - 2006



Click photo for larger view
SUNY Fredonia graduate student and former Grand Island resident Philip Razem will be running an Ultra-marathon (31.1 miles) in Toronto, Ontario on May 6th to benefit Roswell Park Cancer Institute. A GIHS graduate, Class of 2001, Phil has been and will continue to collect donations from sponsors for the providence of quality and heartfelt care to children and adults affected by cancer. More than 1,500 Americans will die from cancer today and 1 in 3 people will develop cancer in their lifetime. Individuals and businesses interested in contributing to Razem Runs For Roswell are asked to contact Phil at (philiprazem@yahoo.com) or donate online at www.teamcure.com. No donation is too small!




Menu, Basket Raffle Donation UpDate
"Jazz for Christine" To Benefit Christine Ryshkus - April 21, 2006



"Jazz for Christine," a benefit for Christine Ryshkus, takes place 7-10 p.m. Friday, April 21, 2006 at the Buffalo Launch Club, 503 East River Road. The $25 admission ticket will include beer, wine, coffee, chicken wings, roast beef, and a chocolate fountain with fruit and other treats for dipping. The drop-off time for baskets donated on the night of the event is 6-6:30 p.m. (earlier than previously posted) at the Buffalo Launch Club.
Contributions in the form of a check in any amount may be made out to Christine Ryshkus and mailed to Friends of Christine, P. O. Box 103, Grand Island, NY 14072.
Click "Jazz for Christine" for further information.


---

Sharon Priest - 2006
Grand Island resident Sharon Priest may be seen in the upcoming world premier performance of Here We Sit, an original production being presented at Ghostlight Theatre in North Tonawanda. It was written by L. Don Swartz who also directs the show. "If you have ever been on stage or in an audience you will relate to the comic events of this new comedy," a spokesman for the production said this week. "Don't miss the opportunity to see one of Grand Island's own in this premier run starting May 4, 2006 and running until May 21," she said. Call the theatre at 743-1614 for details and reservations.


---

Scott Driess III - 2006
April 10, 2006 . . .Scott Driess III has been working on a clean-up project that not only should make us all happy but also should encourage everyone of us to get outside in our neighborhoods and do the same. Every weekend morning Scott and his daughter, Shannon, 8, along with the family dog, go for walks along the Beaver Island Parkway from Fix Road to the park entrance and return home with 3-5 bags of garbage! They pick up beer bottles, water bottles, wine bottles, pop bottles, beer boxes, paper bags and more. Scott, who last week claimed that the Parkway is "clean," has been named "Enviro-Man" by his wife, Michelle, and family. A tip of the hat to the Driess family who also cleans up in the Niagara River when they go Kayaking around the Island.




Community Bringing Island Together For Benefit Of Christine Ryshkus - 2006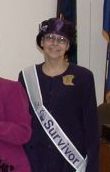 A benefit themed "Jazz for Christine," is being held for Christine Ryshkus, and sponsored by "Friends of Christine," to help defray her mounting medical expenses. The gathering of friends and members of the community will take place from 7-10 p.m. Friday, April 21, 2006 at the Buffalo Launch Club, 503 East River Road. Local clubs helping with arrangements are the Rotary Club, Zonta Club, River Lea Quilters Guild, and Christine's "First Tuesday" Book Club.
Members of Dr. David Johnson's Grand Island Jazz Workshop have volunteered to play during the event.
Featured will be a basket raffle and donations would be greatly appreciated. To do so, call 773-2273 or 432-9495 or bring your donation to the Launch Club at 6:30 p.m. on Friday, April 21st.
Tickets at $25 will include beer, wine and snacks and are available from members of the above groups or by calling 773-2273 or 432-9495. Tickets will also be available at the door.




Kathy Brown McNally - 2006
Former Island resident and GIHS graduate, Class of 1976, Kathy Brown McNally is president of Crohn's and Colitis Foundation of America, WNY Chapter. Crohn's and Colitis holds support groups for adults or parents whose children are effected by IBD (Inflammatory Bowel Disease). CD is a chronic auto-immune disease that requires a lifetime of health issues, flare ups and medications.
Kathy's son, Kyle, has Crohn's Disease. Diagnosed at the typical age of 18, he required many months of hospitalizations and surgery. He is now 22 years old.
"I got involved because my son was so ill and at 6'2" he weighed 114 pounds. I turned to the local chapter of CCFA for support and information," Kathy said. "I really liked what they had to share, found them to be very supportive and informative. I got involved with our walk and with advocacy in Washington and they asked me to be president in October of 2004," she said. In November 2005, she was honored at the National Meeting for Volunteer Chapter President of the Year.
Citizens like Kathy McNally are trying to make this organization visible to the community and let people who are suffering with this disease know that there is a support system in place. There are over 250 children from as early as months old to 18 being treated in the Buffalo area. "This, you can only imagine, means a traumatic childhood for kids with many, many procedures, surgeries, meds," Kathy said.
Support groups are held from 7:30-9 p.m. on the 4th Tuesday of the month except July, August, and December at the Foundation office, 2714 Sheridan Drive. The next meeting is Tuesday April 25th, 2006.
Kathy, whose parents, Courtney and Kathryn Brown, still reside on the Island, is serving as secretary for her Grand Island High School Class of 1976 thirtieth reunion committee.
For further information about Crohn's and Colitis Foundation of America, WNY Chapter, call 833-2870.




Tracy Roesch Williams - Running For Leukemia/Lymphoma Society - 2006
Former Island resident and GIHS graduate, Class of 1984, Tracy Roesch Williams will attempt to run 26.2 miles on June 4, 2006 for the benefit of Leukemia & Lymphoma Society. Tracy is participating in The Leukemia & Lymphoma Society's Team in Training Program for her participation in San Diego's Rock n Roll Marathon. Her fundraising goal is $4,300. Click for "Tracy's Letter."




Chris Wozniak - 2006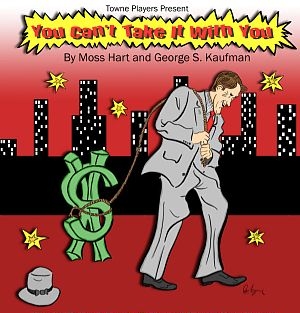 Click photo for larger view
Grand Island artist Chris Wozniak designed and illustrated a poster for The Towne Players of Tonawanda production of "You Can't Take It With You."
The play is being presented on Saturdays March 31st to April 8th. Ticket prices are $8 for seniors citizens and $7 for students. For times and more information, click Towne Players of Tonawanda or www.towneplayers.com


---

National Recording Artists, BluesRoot To Support
Tim Horton Children's Foundation With Island Concert - 2006
BluesRoot, a national Americana recording act with local roots, will perform Saturday, June 3, 2006 in the Grand Ballroom at the Holiday Inn Grand Island Resort and Conference Center in support of the Tim Horton Children's Foundation. BluesRoot is being presented in part by Tim Hortons Grand Island and JDM Promotions, LLC. Doors will open at 7 p.m. with the show scheduled from 7:30 – 10:30 p.m.
Tickets are $20 in advance and, if available, $25 at the door. Cash food and beverage service will be offered. Advance tickets may be purchased at Tim Hortons Grand Island, or by calling (716) 631-2023. Tickets will also be available at other area businesses displaying a tickets available poster for the event, or by logging in online at .
The Tim Horton Children's Foundation is dedicated to fostering within our children the quest for a brighter future. It was founded by Ron Joyce, Co-Founder of Tim Horton's in honor of his friend, and National Hockey League star, Tim Horton, who died in a car accident in 1974. Since 1975, the Foundation has offered thousands of children from across Canada and parts of the United States (including Grand Island, and WNY) a life changing camping adventure they will never forget.
The Foundation's largest fundraiser is Camp Day, when Tim Horton store owners donate their entire coffee sales and public donations from the 24-hour period to the Foundation.
BluesRoot, a music duo made up of longtime music veterans and Grand Island, NY residents John Moore and Art Borgeson, features a unique Americana sound based on a foundation of early blues, '50's and '60's rock 'n roll, and rockabilly. The show also includes music history insight into the old time great performers and the music styles they represented.
BluesRoot material pays tribute to mainstream artists like Elvis, Carl Perkins, Chuck Berry, Little Richard, and Roy Orbison; and the blues influences that made them, and others, great.
The duo also will play their own blues and '50's sounding rock 'n roll laced roots music from their newly re-mastered and re- released CD, "Live. Real. In the Moment." BluesRoot recently signed a three-year distribution agreement which will put this CD, and follow-up CDs, into international distribution.
John and Art grew up in the 1950s and '60s and played the music then. After a lifetime in the business world, the duo got together last year to revisit and recapture the roots music of the boomer generation.
"BluesRoot shows are more than just two guys playing music. "We create a total music experience complete with audience interaction and history of the music. We want everyone to be able to enjoy a quality night out," John said. He added, "Whether we are paying tribute to the greats, or playing our own music, we deliver songs about everyday life, our high points and our low ones as well. It's an intimate atmosphere of two guys sitting on their deck playing the music they love for their neighbors and friends."
During the 1960s John was the lead singer for various mid south based rock bands. He also has been a concert promoter working in conjunction with cities and professional sports teams throughout the northeast and mid south. Art, who grew up in Niagara Falls, NY, has been a frequent player with top name guitar legends in Nashville, Tn.
The duo features John on electric/acoustic guitar and harmonica as well as lead vocals, and Art on lead guitar and backing vocals. For more information on BluesRoot, check out www.bluesroot.net.


---



Joelle Gibson, Edward Johnson Engagement Announced - 2006
Mr. and Mrs. Reid Gibson of Grand Island, New York have announced the engagement of their daughter, Joelle Gibson to Edward Johnson, son of Edward Johnson Sr. of Oregon. A May wedding will take place in Sarasota, FL on the beach! Joelle, a member of the GIHS Class of 1997, and Ed, a member of the GIHS Class of 1995 reside in Tarpon Springs, FL.




Fawn Gross - 2006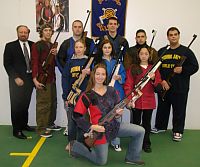 Click photo for larger view
Fawn Gross, pictured front and center, is a member of the winning John Jay Rifle Team at John Jay College in New York City. The John Jay College Bloodhounds won the Mid-Atlantic Rifle Conference (NCAA Division III) championship against Penn. State on March 4, 2006.
Fawn shot her first woodchuck (gopher) at age 5 and has been shooting ever since. However, she never entered a real competition, which is very different and takes a great deal of concentration and dedication. Fawn began competing for the first time in September at the beginning of this school year and has been training ever since. She now has the 2nd highest average on the team.
The daughter of Patti (McCaffery) LoQuasto and George Gross, Fawn is a Grand Island High School graduate, Class of 2001 and a senior at John Jay College. Click "John Jay College Rifle Team" for more information.



---



Father of War Casualty Terry Crowe Speaks Out On Iraq War - 2006
Monday, March 20, 2006 marked the third anniversary of the Iraq War. Island resident George Crowe was recently interviewed by the Buffalo News. George is the father of the late Lt. Col. Terrence K. Crowe, killed in Iraq on June 7, 2006. For his opinion on the war, click "FOCUS: THE IRAQ WAR" posted by Buffalo News reporters Jerry Zremski and Jay Rey on Monday, March 20, 2006.


---

Islander Doug Smith Has Lead In You Can't Take It With You - March 2006
Hennepin Road resident and longtime thespian Doug Smith will play the lead role of Grandpa Vanderhoff in the Towne Players' staging of the sprawling comedy, You Can't Take It With You March 31 through April 8. Times are 7:30 p.m. Fridays and Saturdays with a 2 p.m. performance on Saturday afternoons.
The production will take place in the Sheridan Parkside Community Center, 169 Sheridan Parkside, Town of Tonawanda, the new home for the Towne Players, and less than 10 minutes from the South Grand Island Bridge.
The play, about the comical collision of two families with widely varied values, won a Pulitzer Prize in 1936 and its movie version won an Academy Award two years later. St. Stephen's Parish Players produced the play six years ago, with Smith cast in the role of the displaced aristocrat, Augustus DePinna. He has played three other roles in the play, as well.
Director is Randy Rumley of Niagara County Community College, and Island resident Chris Wozniak is graphic designer. Tickets are $8 with a $1 reduction for senior citizens. Advance tickets at $5 may be purchased from cast members and through Carlo's Fair Fashion on Grand Island Blvd.
Performance schedule:
• Friday, March 31 - 7:30 p.m.
• Saturday, April 1 - 2 p.m.
• Saturday, April 1 - 7:30 p.m.
• Friday, April 7 - 7:30 p.m.
• Saturday, April 8 - 2 p.m.
• Saturday, April 8 - 7:30 p.m.


---

BluesRoot Signs International Distribution Deal For Original Music CD - March 2006
BluesRoot, a music duo made up of lifelong music veterans and Grand Island, NY residents John D. Moore and Art Borgeson, has signed a three-year, exclusive deal with Hit Music, Inc. to distribute their "Live. Real. In the Moment." CD internationally.
The CD will be available from a variety of outlets around the world including Amazon.com, Apple iTunes, HearMusic (Starbucks), Liquid Digital Media (Wal-Mart), MSN Music, MusicMatch, Rhapsody, AOL, Yahoo! Music, Tower, Virgin, Sony Connect, BestBuy.com, Target.com, Borders.com, WaldenBooks.com, CDNow.com and leading independent online store CDBaby. The distribution includes both digital downloads and physical product.
The CD will also be available on the BluesRoot website, www.bluesroot.net, and at BluesRoot shows.
Released originally in December 2005 on a local basis, the tracks on the CD were remixed, re-mastered and commercially produced in early March, 2006. The ten songs on the CD feature a unique Americana sound based on a foundation of early blues, '50's and '60's rock 'n roll, and rockabilly. The CD was recorded live without studio enhancements.
All the songs on the CD were written by singer/songwriter, John D. Moore. He plays acoustic electric guitar and harmonica, and provides the vocals as well. Art Borgeson adds electric lead guitar lines in the style of Chet Atkins and Scotty Moore.
Three songs off the CD are being featured on internet radio. John commented, "It's an odd feeling to hear your songs being played along side of tunes from Chuck Berry, Elvis, Carl Perkins, and a lot of the blues legends."
John and Art grew up in the 1950s and '60s and the songs reflect the sincerity and honesty of that era. "They are songs about real life…love found, love lost, and love unfilled," John said. He added, "We hope everyone who hears these songs can look inside and find a piece of the lyrics that they can relate to."
During the 1960s John was the lead singer for various mid south based rock bands. He also has been a concert promoter working in conjunction with cities and professional sports teams throughout the northeast and mid south. Art, who grew up in Niagara Falls, NY, has been a frequent player with top name guitar legends in Nashville, Tennessee.
BluesRoot focuses live performances on fundraisers, community events, corporate affairs and family friendly venues including professional sports facilities and entertainment parks. Booking availability and contact may be made online at www.bluesroot.net or by calling (716) 631-2023.




Thomas Rayhill - 2006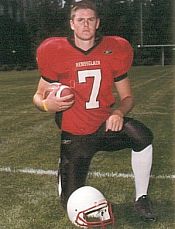 Click photo for larger view
Thomas Rayhill has been selected to the R.P.I. School of Engineering Dean's List for the Fall 2005 semester. Tom is a sophomore majoring in mechanical engineering with a minor in economics. He is also starting linebacker and longsnapper on special teams for the Rensselaer Varsity Football Team. Tom is a 2004 graduate of Grand Island High School and the son of Michael and Donnette Rayhill.


---

March 23, 2006 Benefit For Fred Korey - 2006
Hasek's Heroes will hold a benefit in honor of its executive directory Grand Island resident Fred Korey (Korhummle) 5:30 p.m. Thursday, March 23 at the Harbor Club at HSBC Arena. Donation is $25/person. Hors d'oeuvres will be served and a cash bar will be available.
Fred has been afflicted with Amyotrophic Lateral Sclerosis (ALS), sometimes called Lou Gehrig's disease, a rapidly progressive, invariably fatal neurological disease that attacks the nerve cells (Neurons) responsible for controlling voluntary muscles.
The event will raise funds for Korey and his family to help cover his medical expenses. The event, being held to show appreciation for Fred's many contributions to Hasek's Heroes and youth hockey in WNY, will include live and silent auctions. Dominik Hasek, who founded Hasek's Heroes in 2001, is expected to attend the event.
For tickets and information call Cliff Smith, 773-1275.
"Fred Korey was the person who nearly single-handedly made Dominik Hasek's vision a reality," said Ted Marks, Hasek Heroes chairman and president of Fowler's Chocolates. "Dominik wanted a legacy in Buffalo and he wanted that legacy to be providing hockey opportunities to those who could not typically have them," Marks said. "Dominik saw the need and then provided the resources while Fred provided the hard work and compassion required to make it happen. Fred is one of a kind and the program thrives because of his efforts."




Welcome
Skyler Phoenix Bennett - 2006



Click photo for larger view of baby and dad
Skyler Phoenix Bennett was born on February 27, 2006 to Kristopher and Jennifer Bennett. The baby girl, born in Honolulu, Hawaii at 9:28 a.m. weighed in at seven pounds, 4 ounces and was 20 inches long. Proud grandparents are Scott and Dorothy Bennett of Grand Island, and Donald and Janice Vance of Phoenix, AZ. Equally proud are the baby's aunt and uncle, Korey and Kassie Bennett and her great grandma Patricia Bennett, all Grand Island, NY. Skyler's dad is a Grand Island High School graduate, Class of 2000, stationed in Honolulu, Hawaii with the United States Navy.




Welcome
Paige Raelynn and Peyton Elizabeth Glor - 2006



Click photo for larger view
Paige Raelynn and Peyton Elizabeth Glor were born on January 26, 2006 to Curry and Amanda Glor, former Island residents now living in Tonawanda. Paige weighed in at five pounds, 10 ounces and Peyton at six pounds. Proud Island grandparents are Bill and Maureen Glor and Pete and Lynn Gottler.


---

St. Joseph's Collegiate Institute Academic Scholarships Awarded - 2006
Maxwell Kilb was awarded the St. Joseph's Collegiate Institute Presidential Scholarship. Christopher Collins, Nicholas D'Ettore, and Kearney Erhard were awarded the St. Joseph's Collegiate Institute Signum Fidei Scholarship for academic excellence. Stephen LoPresti was awarded the St. Joseph's Collegiate Institute St. John Baptist de La Salle Scholastic Excellence award. All are Veronica E. Connor Middle School eighth grades with the exception of Nicholas D'Ettorre who attends St. Christopher School in Tonawanda, and all scored in the highest percentile on the private school scholarship and entrance examinations. The scholarships are for the intent to attend St. Joseph's Collegiate Institute in the fall of 2006.




Jeff Loder, Jason Weis of Lady Lake, Florida Fire Department - 2006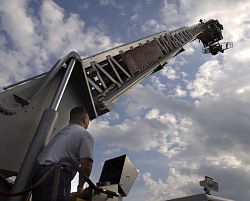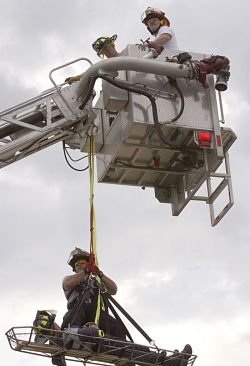 Click photos for larger view

Former Island residents Jeff Loder and Jason Weis, are training together as members of the Villages Fire Rescue Department in Lady Lake, Florida. The men and their training instructor Gail Lazenby, are former members of the Grand Island Fire Company. The picture on the left shows Jason controlling the bucket and stokes basket. On the right is Jason hanging next to the basket about 65 feet high, with Jeff in the bucket above with his lieutenant. The training included a simulated roof rescue at one of the local plazas.


---

Robert J. Lindsey - 2006
The National Council on Alcoholism and Drug Dependence (NCADD) is pleased to announce the appointment of Robert J. Lindsey, M.Ed., CEAP, as NCADD President, effective February 4, 2006.
Mr. Lindsey has been in the forefront of the alcoholism and addiction recovery services community for over 30 years as an employee assistance professional, Director of Community Relations for the Betty Ford Center, and Executive Director of a state and a local NCADD Affiliate. Mr. Lindsey holds a B.A. in Psychology, a Masters of Science in Education from St. Bonaventure University in New York, and is a Certified Employee Assistance Professional (CEAP).
"With his broad knowledge of NCADD and our mission, Bob will have an immediate positive impact on the organization," noted NCADD board chair, David Lewis, MD. "We are enthusiastic about our selection and look forward to the leadership Bob brings to NCADD as our President."
The NCADD network includes a national office in New York and 90 Affiliate offices across the country. Affiliates offer an array of programs and services in their communities including information and referral, community-based prevention, education and advocacy on behalf of people affected by alcoholism and addiction.
"It's a real honor to have been given this opportunity," declared Mr. Lindsey. "I am extremely excited for the future of NCADD, our Affiliates, and for the future of our field. NCADD has a proud history and legacy, bringing hope and help to millions over the past sixty years, while playing a critical role in the growth and development of our field. NCADD's role and mission are as critical today as they were when NCADD was founded by Marty Mann in 1944."
"Bob Lindsey has worked closely with NCADD in the past," said Mrs. Adele Smithers-Fornaci, immediate past chair of the NCADD Board of Directors and longtime advocate in the field. "The organization is now poised to forge ahead with a number of exciting initiatives in education and prevention, and Bob's knowledge and expertise will be a tremendous asset as we move forward."
As Executive Director of the New York State Council on Alcoholism and Other Drug Addictions, Inc. (NYSCADA), Mr. Lindsey coordinated the development of 12 new local councils and established the New York State Clearinghouse on Alcohol Information which included a film/video lending library and the production, sale and distribution of educational literature. While heading the Allegany County Council on Alcoholism and Substance Abuse, Inc. (ACCASA), Mr. Lindsey was responsible for strategic planning, supervision, program development, community organization, and over the span of his tenure the Affiliate grew into one of the most funded programs, per capita, in the State of New York. At the Betty Ford Center, Mr. Lindsey developed and coordinated three "Recovery Day for Women" conferences in Los Angeles, San Francisco and Orange County which averaged 740 attendees. Attendees said the program was, "empowering, reinforcing, rewarding, fulfilling, inspirational, energizing, rejuvenating, informative, exciting and positive."
Mr. Lindsey, who spent the early part of his life living with his family on Grand Island, NY, succeeds Stacia Murphy, who has served as NCADD President since 1999.




Jeffrey Stange Receives Scouting's Highest Rank - 2006



Jeffrey Stange, 17, of Troop #254 was recently awarded the rank of Eagle Scout by the National Office of the Boy Scouts of America. In completing his Eagle Scout Leadership Project, Jeff led his project team through a multi phase endeavor to benefit the citizens of Grand Island. Responsibilities of the project included assisting with the Town Hall Server Upgrade, including hardware and software installation, network connection, file transfer and database startup for server applications. An inventory of the town's computer equipment storage area was accomplished, spare parts tested and labeled and unsalvageable equipment prepared for appropriate disposal. A spreadsheet inventory of usable equipment was finalized and entered into town record. The nonfunctioning public access PC received needed service through reformatting the hard drive, installing OS, loading Microsoft Office and securing connection to the network. The final phase of the project entailed providing the Golden Age Center with six functioning PC's for the town's senior citizens. After assessing the majority of equipment on site as unsalvageable, Jeff successfully pursued donation of viable, used computer equipment that was serviced and installed at the Golden Age Center. His Eagle Scout Project provided 242 hours of volunteer effort to the Town of Grand Island.
Jeff is the son of Richard and Christine Stange of Grand Island and a senior at Grand Island High School. He is the recipient of the Baden Powell Leadership Award, the InfoTech Niagara Scholarship Award and a representative for the US Robotics Team Competition. He is an active member of the Grand Island High School Chorus, Concert Choir, Vocal Jazz, Madrigals and Dominant Force; Men's Choir. Jeff plans to attend college as a Computer Technology major in the fall.




Welcome
Dominic John Pullano - 2006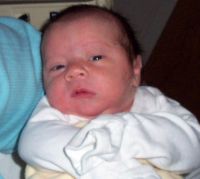 Dominic John Pullano was born on February 2, 2006 to Jennifer and Jeremy Pullano. The baby boy weighed in at seven pounds, 14 ounces and was welcomed home by his sister, Anna Sophia, 21 months old. Proud grandparents are Pat Pullano of Grand Island and Lewis (Babe) and Marge Rotella of Niagara Falls. Dominic John is also the grandson of the late John Pullano.


---



Longtime Isle Resident Irma Dworak Is 100 Years Old - 2006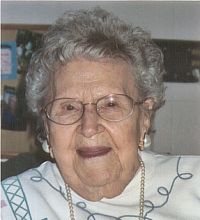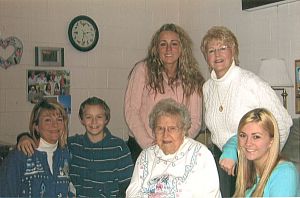 Irma is surrounded by family in this recent four-generation photo. From left are granddaughter Brenda Fike, great grandson Lenny Fike, Irma, great granddaughter Jessica Fike; (back) great granddaughter Stephanie Fike and daughter Myrna Boerschig. Missing from the photo are a grandson, Robert W. Dworak Jr., and great grandchildren Heather Henry and Keith Dworak.
Click group photo for larger view
A very happy 100th birthday to longtime Island resident Irma Winifred Westphal Dworak who was born on February 9, 1906 in Buffalo, NY.
Irma and her late husband, Bill, moved to their new home on Love Road in Grandyle Village with their son, Bob and daughter, Myrna in 1942. Irma, who continued to live in the house for over 60 years, is now residing in Fairchild Manor in Lewiston.
Among her hobbies over the years were sewing, knitting and crocheting. According to her daughter, Mrs. Dworak made all of Myrna's school clothes, including a favorite red winter coat and matching wool snowpants.
Music has been a big part of Irma's life. Most parties and celebrations included everyone singing around the piano as Irma played. She played piano for the Trinity Church Sunday School, enjoyed singing in the Grand Island Golden Age Center choir for many years, and also played the organ.
She was active in the Grand Island Home Bureau and the leader of a Grand Island Girl Scout Troop. She was among first officers of Grand Island Court 173, Order of the Amaranth formed in 1955 and served as its Matron.
A small celebration at Fairchild Manor is planned for February 9, 2006 when her family, friends and residents of Fairchild Manor will gather to wish her a very happy 100th birthday.
Birthday cards may be sent to Mrs. Dworak at the following address: Fairchild Manor (Room #211), 765 Fairchild Place, Lewiston, NY 14092.
According to a Fairchild Manor representative, 100th birthdays are celebrated on the average of once a year by its residents.




Jeremiah Crowe Hockey League Standout - 2006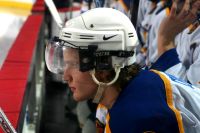 Jeremiah Crowe, who will celebrate his 20th birthday on Valentine's Day, is currently playing in the Ontario Provincial Junior Hockey League (OPJHL) for the Markham Waxers in Markham, Canada. He was traded in a cash deal in early January 2006 by the Buffalo Junior Sabres.
Of over 300 defensemen in the league, Jeremiah ranks third in goal scoring with 14 goals and 13 assists. In 49 regular season games he has accumulated only 18 penalty minutes. Jeremiah will stay with the Markham Waxers through the playoffs and return to Grand Island for the summer. The son of Judith Wedekind and the late Lt. Col. Terrence K. Crowe, he has accepted a full athletic scholarship to Division I Clarkson University where he will attend in the fall. Jeremiah is the grandson of George and MaryAnn Crowe of Long Road.


---

Anna Czapla - 2006
Anna Czapla, daughter of Helen and James Czapla of Grand Island, has been named to the Dean's List at the University of Minnesota Law School for the Fall 2005 semester. A Grand Island High School graduate, Class of 2001, she is currently in her first year of law school.




Alicia Sommer, Variety Kids Telethon Ambassador - 2006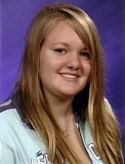 Alicia Sommer, 16, daughter of Becky and Rich Stufkosky and Kevin and Debbie Sommer, has been chosen to be a Young Ambassador for this year's Variety Kids Telethon. The money raised at the telethon benefits the Women & Children's Hospital of Buffalo, Robert Warner Rehabilitation Programs and other Western New York charities. A Grand Island High School sophomore, Alicia will represent The Make-A-Wish Foundation of Western New York.
At the age of one, Alicia was diagnosed with Stage III Neuroblastoma and was treated at what was then, Children's Hospital of Buffalo. Neuroblastoma is a childhood cancer that is very difficult to beat. More times than not, children will not make it through it. Alicia truly holds in her heart all that Children's Hospital has done for her. She credits her incredible doctors and the wonderful staff at the hospital for helping her to become a survivor of this terrible disease. Their amazing knowledge and love helped Alicia through those very difficult days. Alicia believes that we are very fortunate to have an institution so close to us to help and treat so many children with so many different illnesses.
Alicia is a very active volunteer for many organizations including Roswell Park Cancer Institute, Relay For Life benefiting The American Cancer Society, Camp Good Days and Special Times, and The Gliding Stars Association. Alicia hopes that all Grand Island residents will tune in Sunday, March 5, 2006 from 7:00 a.m. to 7:00 p.m. and will show their support for such a wonderful cause.




Welcome
Sabrina Marie Butcher - 2006



Click photo for larger view
Sabrina Marie Butcher was born January 27, 2006 weighing ten pounds, five ounces. Proud parents are lifetime Island residents Greg and Nicole Butcher. Equally proud grandparents are Cathy and Tom Thomas of Grand Island; Michael Duscher of Phoenix, Azizona; Mary and Fred Giordano of Boynton Beach, Florida; and John and Karen Butcher of Tonawanda. Sabrina Marie is the great grandchild of Mary and Norm Parisi, also of Grand Island and the late Betty and Dick McNamee.




Welcome
Christian Anthony Bermel - 2006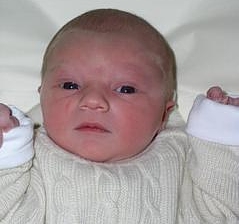 Christian Anthony Bermel was born January 22, 2006 weighing seven pounds, three ounces. He is the son of Valerie (Demmin) Bermel and Dr. Robert Bermel of Cleveland, Ohio. Proud first time grandparents are Islanders Tim and Alice Demmin and Paul and Jan Bermel of East Amherst. Christian is also the first great grandchild of Joan Loeswick of Tonawanda and Helen Bermel of Williamsville.


---

Adam Ungaro - 2006


Adam Ungaro, son of Richard and Kim Ungaro,
has been named to the Liberty University dean's list
for the fall 2005 semester. Adam, a member of the
Grand Island High School Class of 2005, was an
honor and high honor roll student throughout high school.


---

Island Students Named To NCCC Dean's List - 2006
The following Grand Island residents have been named to the Niagara County Community College Dean's List for the fall 2005 semester:
Amanda Betterson
Melinda Christie
Amy Consier
Jane Eerhart
Nicole Hauser
Cheryl Sole
Heather Szaflarski




Brian and Steve Kopf
Dean's List Honors - 2006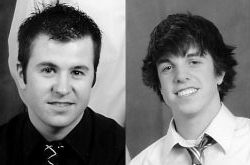 Brian and Steve Kopf
Brian and Steve Kopf have been named to the Niagara University Dean's List for the 2005 Fall semester. Brian, a senior Business and Commerce major, has maintained Dean's List status for the seventh consecutive semester. Steve, a freshman Elementary Education major, is also a member of the men's varsity tennis team.


---

Scott VeRost - 2006
Scott VeRost, director of customer service and logistics for Rich Products is one of ten recipients of its "Going the Extra Mile" prize of an all-expenses paid vacation anywhere in the world. Scott and his wife, Stacey, born and raised on the Island and GIHS graduates, Class of 1987, are the parents of Madison, Jacob and Brooke. For the Buffalo News story of January 19, 2006, click "Going the Extra Mile."


---

Kirsti Hunt Receives Excellence Award - 2006
Buffalo, NY, January 18, 2006 . . Buffalo Niagara Human Resource Association (BNHRA) announced their annual award winners for 2005. Presentations were made at the January 18, 2006 dinner meeting at Salvatore's Italian Gardens. Kirsti Hunt, of Grand Island, Director, Human Resources at the United Way of Buffalo and Erie County received the Outstanding BNHRA Chapter Leader Award. Ms. Hunt currently serves as Vice President of Membership for BNHRA. In 2005, she demonstrated a commitment to the HR profession and to the BNHRA volunteer Board of Directors by devoting much time and energy in developing a member survey, restructuring membership dues, developing a membership brochure, and continuing to grow chapter membership.
BNHRA is an affiliate chapter of the Society for Human Resource Management (SHRM), the world's largest association devoted to human resource management. Representing more than 200,000 individual members, the Society's mission is both to serve the needs of human resource professionals and to advance the human resources profession. Founded in 1948, SHRM currently has more than 550 affiliated chapters within the United States and members in more than 100 countries.




John Bonora
GI Chamber 2nd Vice President Appointed to Business Advisory Council - 2006



John Bonora - AIG - Advisor Group
Washington D. C. - The National Republican Congressional Committee announced that John Bonora has been appointed to serve on the Business Advisory Council (BAC) in recognition of valuable contributions and dedication to the Republican Party.
Bonora will serve the State of New York and is expected to play a crucial role in the Party's efforts to involve top business people in the process of government reform.
The Business Advisory Council is part of the National Republican Congressional Committee, and is dedicated to making sure that small business has a voice in Washington.
Bonora, who has long supported Republican ideals, particularly debt reduction and tax reform, will be a key member of the Council.
(Paid for by the National Republican Congressional Committee and not authorized by any candidate or candidate's committee.)


---

Patti "Yakowenko" Hughes - Kidney Donor - 2006
Former resident Patti "Yakowenko" Hughes, GIHS Class of 1980 and now living in Riverview, Florida, donated a kidney to her mother, Patty Grabowski, in December 2005. For the full story, click "Patti Hughes - Kidney Donor.
---



Barry Conway Introduces Bear-Man Products - January 2006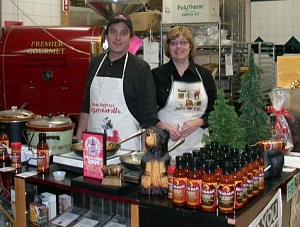 Barry Conway of Grand Island has been working on his dry rub and barbecue sauces for the last three years and has finally hit the big-time. His products are now in production at Nelson Farms, a co-packing plant in Nelson, New York and are available for purchase. Barry and his wife, Winanne, presented their product on Saturday, January 7, 2006 at Premier Gourmet on Delaware Avenue in Kenmore to great reviews. Bear-Man "Tummy Rub" and his two barbecue sauces, named "Growlin' Grizzly" and "Black Bear Boogie" are available at Adventures in Heat, Main Street, Clarence and at Premier Gourmet on Delaware Avenue in Kenmore. They will also be available at the deSignet Jewelry Store at 1869 Whitehaven Road. A web site will be up and running soon. Find three of Barry's recipes that are made with these products in this week's "Let's Talk Chow" column.




Island Firefighter Michael Dallessandro To Address Virginia Fire Chiefs - 2006



Michael Dallessandro, a writer for Fire Engineering Magazine and a life member of the Grand Island Fire Company, currently serving as chairman of the Board of Directors, has been invited to lecture Virginia fire chiefs. Members of the Virginia Fire Chiefs' Association will be featuring Mr. Dallessandro's RESPONDSMART program at their annual conference in Virginia Beach, planned for the last week of February. The RESPONDSMART program is an emergency vehicle defensive driving program aimed at reducing line of duty deaths and injuries to emergency service personnel. Motor vehicle accidents responding to emergency incidents are a leading cause of firefighter deaths in America. While at the conference Mr. Dallessandro will also be presenting a full day pre-conference workshop on improving public speaking for training officers. Fire department officers from all over Virginia will be attending the four-day conference.


---



Allie Weiser - 2006
Allie Weiser, a sophomore and the Grand Island High School Girls Soccer Team's star goalie, just returned from an Invitational Disney Showcase Soccer Tournament in Florida with teams from all over the country playing in front of hundreds of college coaches. Allie, who plays with the Rochester Jr. Rhino U-16 Elite team, is also now part of the Olympic Development Team, training several times a month in Buffalo, Rochester and Binghamton.
Allie, who has 13 shutouts to her credit for the GIHS fall 2005 season, was injured while defending her goal during the state semifinal competition in November 2005. She suffered a concussion just into the second half, but is fully recovered and now back to the soccer competition she loves.
The recent Invitational Disney Showcase Soccer Tournament was a three-game tournament and Allie's team tied the first game against a Georgia team with a 0-0 score. The second game was a win, 4-2 against an Alaska team. The final was a loss, 3-1 against a Texas team who went on to win the entire tournament. According to her mother, "It was a great experience for Allie since this was her first exposure to a National level of competition." Allie is the daughter of Trisha and Ray Weiser.




Welcome, Gianni and Hannah Polizzi - 2005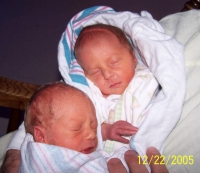 Twins Gianni and Hannah Polizzi were born December 17, 2005 to John and Susan Polizzi of Linden, NJ. Hannah weighed in at four pounds, four ounces and Gianni's weight was three pounds, 13 ounces. They are the grandchildren of Judy Polizzi of Grand Island and the late John Polizzi. The twins join a brother, Derek, of North Carolina and sisters, Heather and Michele of New Jersey.


---



Marilyn And Ray Mesmer Mark 50th Anniversary - 2006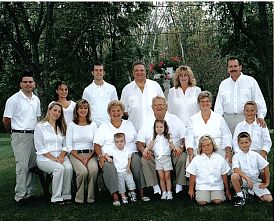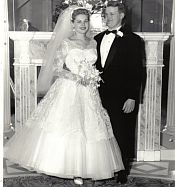 Family Photo of son, daughters, grandchildren and great-grandchildren -
(front left) Sarah MacNeil, Deanna Mesmer, Marilyn Mesmer, Aidan MacNeil, Raymond Mesmer, Madison MacNeil, Vicky Proctor, Rae-Lynne Proctor, Fritzie Proctor, and Billy Proctor; (top) Rob MacNeil, Mallory Zilliox, Jim Zilliox, Jim Mesmer, Dorothy Mesmer and Fritz Proctor. Missing from the photo is Kristin Zilliox. The photo on the right was taken on Marilyn and Ray's wedding day, November 24, 1955.
Click photos for a larger view.
Island residents Raymond and Marilyn Mesmer (Nana and Pa) celebrated their 50th wedding anniversary on Thanksgiving Day when the entire family they created got together and had a family portrait taken at Ray and Marilyn's house on Staley Road. A belated but sincere happy anniversary to Ray and Marilyn.













---
Other Grand Island Pages to Visit:
Churches | Email Directory | Government | Groups
GIHS Grad List | Guestbook | Please sign in! | Local Artists | Photo Album | Town History | Useful Links
| Website Design | Wildlife | Isledegrande's Home Page | GIECOM.NET'S Home Page
Please Email News Releases to Teddy Linenfelser, Thank You.


This website was created and updated weekly since September of 1997.
Our sponsor is GIECOM.Net Inc., "Grand Island's E-Commerce Network",
providing Internet Access and Webhosting to the Grand Island Community.
If you are interested in participating as a sponsor, please email.
1871 Whitehaven Road, Grand Island, New York, 14072-1803 USA
Copyright 1997 - 2006 all rights reserved