Grand Islanders in the News 2008
Click for 2008 July-December News
Click for 2007 News
Click for 2006 News
Click for 2005 News
Click for 2004 News
Click for 2003 News
Click for 2002 News
Click for 2001 News
---



Gary Courtney, Courtney Dempsey In Dream Wedding Finals - 2008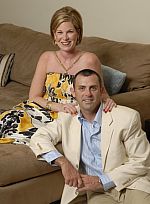 Click photo for full view
Gary Courtney and Courtney Dempsey have entered a "Dream Wedding" contest through US Magazine and are now among the final three couples with voting opening Wednesday, July 1 and running through Wednesday, July 9th. Residents and former residents wishing to "vote" are urged to see http://www.usmagazine.com/wedding-2008-finalists. Gary is a member of the Grand Island High School Class of '89.


---



Kelly Carter - 2008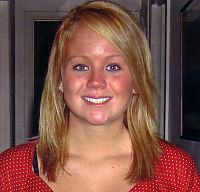 Click photo for full view
Kelly Carter is the 2008 recipient of the Albert W. Skinner Law and Order Scholarship award presented on June 7, 2008 by the Monroe County Law Enforcement at the Monroe County American Legion Post. In addition to a monetary scholarship and plaque, Kelly will be honored at a dinner in Rochester, New York in September 2008.
Kelly is majoring in criminal justice, sociology and political science at Brockport's Delta College, where she has achieved a 3.9 average for the spring semester.
Kelly is studying Irish customs, society and the Irish criminal system in Waterford, Ireland this summer.


---



Neutz - Judkins Engagement - 2008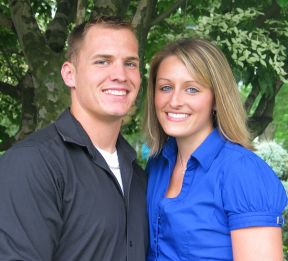 Larry and Adrienne Neutz of Grand Island announce the engagement of their daughter, Alicia Marie Neutz to Brian James Judkins, son of Jim and Mary Judkins also of Grand Island.
Alicia graduated from Grand Island High School in 2007 and is currently a radiologic technology student at NCCC. Brian graduated from Grand Island High School in 2005, is serving our country in the United State Air Force and is stationed at Langley AFB, Virginia. A wedding date has not been decided.


---



"BA" Open Golf Tournament UPDATE - 2008
In addition to the full day of golf at the "BA" Open Golf Tournament and food, drinks and laughts on July 3rd, the 2nd annual BA's golf tournament is having a raffle to also benefit AROCC. Tickets are available many places around town to win.
1. 37" Toshiba high definition TV
OR
2. A Vintage Golden Tee golf game. ( Just like you see in many establishments )
OR
3. $500.00 cash
The drawing will be held on July 3, 2008. The winner need not be present.
Tickets are only $10.00 and the proceeds go to AROCC.
Tickets are available at;
River Oaks, Say Cheese, Moose Club, River Stone (old BA's), Brick Oven, TC's, Beaver Island, Rod & Gun Club, Sandees Pub, VFW, and by calling 909-2292.
See "Previous Story for More Information.


---



U.S. Navy Ensign Joel E. Stoorza - 2008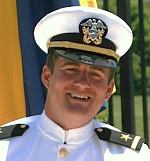 Click photo for larger view.
U.S. Navy Ensign Joel E. Stoorza, son of Joyce E. Jones, graduated from the United States Naval Academy in Annapolis, MD on May, 23, 2008 and was commissioned as an Officer in the U.S. Navy. Ens. Stoorza successfully completed four years of intensive academic, physical, and professional training, resulting in a Bachelor of Science Degree with a major in Political Science. As a graduate of the Naval Academy, Ens. Stoorza completed a four-year, total immersion program where a strong, balanced academic program, focused on the educational needs of the Navy and Marine Corps, is superimposed on a strict, professional military training environment emphasizing the development of leadership skills. Following graduation, Ens. Stoorza has been assigned to the U.S. Navy where he will begin service aboard the U.S.S. Thach.Considered one of the top educational institutions in the country, the U.S. Naval Academy was founded in 1845 and has graduated more than 60,000 men and women as Naval and Marine Corps Officers. Its graduates include 4,000 Admirals and Generals, one President, 200 members of Congress, three Governors, 73 Medal of Honor winners, one Nobel Prize winner, and 40 Astronauts.The Naval Academy currently has more than 4,000 students who comprise the Brigade of Midshipmen and who come from every state in the union.Ens. Stoorza is a 2001 graduate of Grand Island High School, Grand Island, N.Y.


---



Malaney - Tomczak Wedding - 2008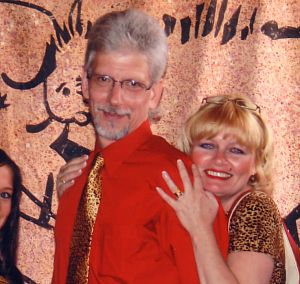 Click photo for larger view.
Former Island resident Mandy Malaney and Phil Tomczak were married at 5:30 p.m. June 10, 2008 in Las Vegas, Nevada. Mr. and Mrs. Tomczak are living in Tonawanda, NY


---



Amy Pedlow - 2008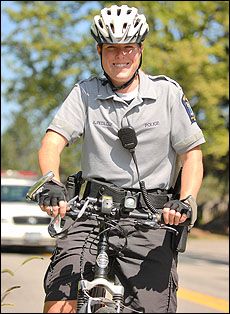 Amy Pedlow, Grand Island High School Class of '90 and current Island resident, has been selected to participate in the 2008 "Tour De Force" bike ride in September. She is currently a NYS University Police Officer at the University at Buffalo and is actively involved with the bicycle patrol unit. Amy and fellow UB Police Officer Dale Hohl were the only two law enforcement officers selected from Western New York for this event.
The "Tour de Force" bike ride was started in 2002 as a memorial to the fallen police officers that gave their lives in the September 11, 2001 attacks. The first year's ride of ten NYPD police officers and four volunteer support personnel cycled their way from the Pentagon in Arlington, VA to Ground Zero, NYC.
"The TDF has now evolved into an annual event in which we continue to ride to remember and honor our brothers and sisters who died that fateful day. In their honor, we have made it our mission to raise funds for families of all police officers nationwide who are killed in the line of duty."
Each September, law enforcement officers from around the country and abroad depart on bicycles and journey approximately 250 miles along the east coast to support this cause. Each and every rider participates in raising funds to support what they all believe is a wonderful and very worthwhile endeavor. It is the belief in their mission that brings so many participants back year after year.
This year's ride starts at the Pentagon in Arlington, VA on September 8th and will consist of approximately 150 cyclists and 20 support personnel. The ride ends on September 11th at the World Trade Center site, NYC.
The total distance of this year's course is approximately 260 miles and will surely test the strength and will of each rider. Day one will encompass more then one hundred miles, while days two and three will take us approximately seventy miles each. Day four will be a twenty mile ceremonial ride into Manhattan.
The TDF is a non profit organization. All proceeds raised are donated to the families of Police Officers killed in the line of duty.
Please consider making a donation, either personally or on behalf of your business, to this worthwhile cause. Checks may be made payable to "Tour de Force" and mailed to the following address:
Attn: Officer Amy Pedlow or Officer Dale Hohl
The University at Buffalo Police
Bissell Hall
Buffalo, N.Y. 14260
Donations may also be made on line by visiting the secure website at http://www.tourdeforceny.com/ The website will take you to a link and you must enter Amy's name. Thank you in advance for your donation and LET US NEVER FORGET.


---



Cpl. Matthew Mondoux - 2008
Cpl. Matthew Mondoux, a Grand Island native, has returned from Kabul, Afghanistan and is featured in the June 17, 2008 Buffalo News article by By Brian Hayden. See "6/17/08 Buffalo News Story".


---



Islanders Walk In NYC For Suicide Prevention - 2008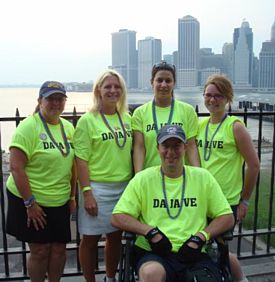 Click photo for larger view.
Laura Anderson, her sister Jennifer Peresie, and daughter, Melanie Anderson and two of their good friends, Barb Khreis and Kevin Labin traveled to New York City on Saturday, June 7, 2008 for an Out of the Darkness Overnight Walk to benefit the American Foundation of Suicide Prevention.
The goal for each was to raise $1,000.00, and the group is still working on achieving this goal with just $625.00 left to raise by the end of July. "We walked 20 miles on behalf of my brother, Dan Schmidt, who lost his battle of depression on Monday, October 15, 2007," said Laura Anderson. "The walk was an experience that we will never forget with over 1200 participants, it was truly an emotional lift to see and meet new people who share in our grief as we walked together to help support the many people out there who are suffering from depression," she said.
"We would also like to thank the many Island residents and business owners, family, friends and co-workers who donated to our team DA JA VE," Ms. Anderson said.
To make a donation, go to the website www.theovernight.org, top right, support a participant link and select NYC event and type inthe team name - DA JA VE - or last name.


---



Dana (Anello) White - 2008
Dana (Anello) White, GIHS class of 1989, is a military spouse currently living at West Point, NY. The native Grand Islander's husband, MAJ Paul White, has served two tours in Iraq in support of Operation Iraqi Freedom. Mrs. White is asking for the support of the VFW Post when she will run 26.2 miles across the streets of Washington, DC on October 26, 2008 as part of Team Fisher House in the 33rd Annual Marine Corps Marathon.
In doing so, she will raise money and awareness for The Fisher House Foundation, a unique private-public partnership that supports America's military in a time of need (often times following combat-related injuries in the war zone). "As you can imagine, a long-term stay in a military hospital, sometimes thousands of miles from home, could mean expensive lodging and long separations from loved ones," Mrs. White said. "The Fisher House Foundation donates "comfort homes" in various places across the country so that our military families can be together during extended treatment for serious injury or lengthy physical and/or occupation therapy. Think Ronald McDonald House—Army-style!" she said.
Currently, there are 38 Fisher Houses operating at 18 military bases and nine Department of Veterans Affairs medical centers throughout the nation and overseas in Germany. "A brand new facility opened at Ft. Campbell, KY, just a few months before we left last year (see picture below). But more are needed. The number of soldiers injured in combat during Operations Iraqi Freedom, Enduring Freedom and other missions continue to rise, Mrs. White said. "These brave men and women often need extensive rehabilitation, and their families need to be by their side for support and care. We need to be sure no family is turned away in this time of need."
"I am asking as many people as possible to donate $5 to this very worthy cause and help me exceed my goal of $1000. It's my very own Five For Fisher House campaign pitch!! The process is simple. Just click on the link below and follow the instructions on the upper right hand side of the page. You'll click the "Other" box and enter the amount, then follow with payment information. If you'd feel more comfortable sending in a check, that information can be found on the bottom of the page, and you can do so in support of my campaign. You'll also have an opportunity to read more about the services Fisher House provides."
See http://www.active.com/donate/FisherHouse2008MCM/danawhite


---



Cynthia Czapla - 2008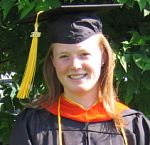 Click photo for larger view.
Cynthia Czapla, Grand Island High School Class of 2004, graduated Cum Laude from the University of Rochester in May 2008. She acquired a Bachelor of Science degree in Biomedical Engineering with a minor in Spanish. Cynthia won several awards and various other recognitions throughout her undergraduate career including being named an "Outstanding Graduating Senior" featured in Rochester Review magazine. She was president of the Society of Women Engineers and graduated as a member Alpha Eta Mu Beta that is the biomedical engineering honor society. Cynthia will be pursuing her master's degree in biomedical engineering this fall.


---



Steve Morgan - 2008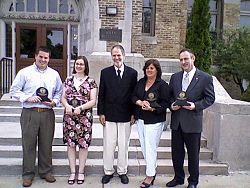 Click photo for larger view.
Grand Island resident Steve Morgan was recognized as the recipient of the Medaille College Alumni Association 2008 Community Service Award on Saturday, June 7th during the Medaille College Reunion Weekend. The accompanying photo, from left to right are all of the awardees: Steven Butler, '06 - Young Alumni Award; Stephanie Malinenko, '03 – Distinguished Career Award; Dr. Richard Jurasek, Medaille President; Jeannine Suk, Director of Counseling Services at Medaille – Distinguished Faculty Award; and Steven Morgan, '02 – Community Service Award.


---



"BA" Open Golf Tournament - In Memory Of BA Billy Aydelotte - 2008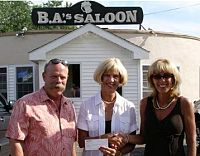 (left) Host Dale Berger, AROCC Rep. Ann O'Donnell and Nancy Aydelotte - Click photo for larger view.
The Second Annual "BA" Open Golf Tournament, dinner and auction will be held Thursday, July 3, 2008 at the Beaver Island Golf Course, Grand Island, NY.
4 person scramble
10 a.m. Registration
10:15 a.m. To The Carts
10:30 a.m. Shotgun Start
5 p.m. Benefit dinner
Proceeds of the tournament will benefit the Association For Research of Childhood Cancer. For more information and registration form, contact:
Dale Berger - 716-909-2292 - daleberger5@gmail.com
Bill Buckley - 818-437-7279 - wbuck10490@aol.com
Patty Rink - 716-775-5045 - prink52@gmail.com
See More Information.
"Swing hard, just in case you hit it!"


---



Former Resident Mitchell T. Bojarski Graduates, Is Ordained - 2008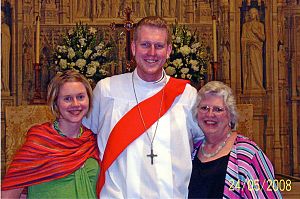 Mitchell T. Bojarski, a 1996 graduate of Grand Island High School, graduated with his Masters of Divinity from Virginia Theological Seminary on May 22, 2008. Mitchell was presented with an award for Biblical Language Study that grants him a trip to St. George's College in Jerusalem to study biblical languages for ten days. His wife, Beth, also graduated with a Masters in Theology. This is her 2nd masters degree, the first from SUNY Cortland.
Mitchell was ordained a deacon on Saturday, May 24 in the Episcopal Church at the National Cathedral in Washington, DC.
Rev. Bojarski has accepted a position at Christ Episcopal Church in Bowling Green, KY where he will be the assistant rector and college chaplain at Western KY University.
'Fr. Mitch' and Beth expect their first baby in June.


---



Tom Rayhill Awarded Prior to RPI Graduation - 2008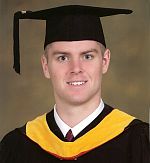 Thomas Rayhill received a Bachelor of Science degree in Mechanical Engineering with a minor in Economics from Rensselaer Polytechnic Institute (RPI), the nation's oldest technological university. Prior to the May 17, 2008 graduation, Thomas was awarded several special recognitions. Foremost among these was his induction into the most prestigious honor society at RPI, the Phalanx Honor Society. Phalanx honors student leadership, service, devotion to the university and celebrates those who have worked to better the standing of Rensselaer both on and off campus. Only twenty-four students out of a student body of approximately 7,300 were selected for this honor.
Prior to his induction into Phalanx, Tom was recognized as the Most Outstanding Defensive Player on RPI's Liberty League championship football team. He served as captain of the team his senior year. The team received the Team of the Year Award from the Rensselaer Alumni Association. Additionally, at the 2008 Senior Athlete Dinner, he was recognized as a Student-Athlete and also inducted into Olympia with thirty-one others who were the top Student-Athletes.
Tom was also recognized nationally, being inducted by the National Football Foundation into the 2008 Hampshire Honor Society. This Society recognizes football players from all collegiate divisions who are outstanding leaders and who have been committed both on the football field as well as in their educational pursuits throughout their college careers.
Tom is listed in Who's Who Among Students in American Universities and Colleges for outstanding merit and accomplishment as a student.
He has accepted employment as an engineer with Praxair in Tonawanda.


---



Schopp - Kalman Wedding - 2008

Click photo for larger view.
Grand Island residents Kim Schopp and Scott Kalman were married in West Palm Beach, Florida on Friday May 23, 2008 in an intimate beach ceremony shared by family members and a few close friends. The wedding was followed by a dinner reception at Sailfish Marina also on West Palm Beach. The Kalmans are living on Grand Island.




Lisa Boulden - May 2008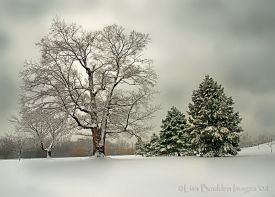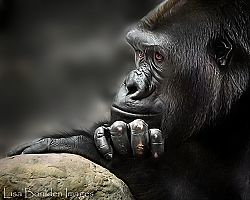 Great oak tree at the entrance to Beaver Island - Great Blue Heron photographed at Beaver Island on May 19, 2008 - gorilla at the Buffalo Zoo
Lisa Boulden Photos - Click for larger view
Lisa Boulden of Fairview Ct. had two of her photos take second place awards (oak tree and gorilla). See BetterPhoto.com Press Release




Friends Of Lynnette Bike Tour - 2008



Click photo for larger view.
The 15th annual Friends of Lynnette Bike Tour is being held on Saturday, July 12, 2008. Registration takes place at the Nike Base at 8:15 a.m. (3278 Whitehaven Rd.) and start time is 9 a.m. Advance registration by July 1 is $15 and $20 day of tour. Call 773-3321 or 773-9483 for more information.
There are two routes, 10 or 22 miles around Grand Island.
A Chinese Auction will be held with ticket sales (25 for $5) beginning at 8 a.m. and drawing starts at 9:30 a.m. Presale 6:30-8:30 p.m Friday, July 11. Proceeds to benefit American Cancer Society.
The event is being held in loving memory of Lynnette Grisanti and Billy Gugiano Jr.




Disc Golf Fundraiser Being Held In Memory of Leon D. Carr - 2008
The Leon D. Carr Memorial Disc Golf Tournament and Fundraiser will take place starting at 9 a.m. Saturday, July 5 in Beaver Island State Park.
• What: Leon D. Carr Memorial Disc Golf Tournament and Fundraiser
• When: Saturday, July 5 - Tee time: 9 a.m. - fundraiser: noon.
• Where: Blue Heron Disc Golf Course, Beaver Island State Park.
• Why: To raise funds to cover funeral and medical costs incurred by the family and to establish an annual scholarship to be given in Leon's name.
• Long-term goal: To also fund a skiing safety awareness program and to support youth activities in the Grand Island community.
• Events: Disc golf tournament, followed by raffles, Chinese auction, food and drink, 2 live bands, family activities.
The Leon D. Carr Memorial Disc Golf Tournament and Fundraiser will be held starting at 9 a.m. Saturday, July 5, at Beaver Island State Park.
See LeonD. Carr Disc Golf Tourney for complete information.




Robert Stewart Receives National Honor - 2008
The National Society of High School Scholars (NSHSS) announced May 1, 2008 that Grand Island Senior High School student Robert Stewart, Grand Island, NY, has been selected for membership. The Society recognizes top scholars and invites only those students who have achieved superior academic excellence. The announcement was made by NSHSS Founder and Chairman Claes Nobel, a student member of the family that established the Nobel Prizes.
"On behalf of NSHSS, I am honored to recognized the hard work, sacrifice, and commitment that Robert Stewart has demonstrated to achieve this exceptional level of academic excellence," said Mr. Nobel. "Robert Stewart is now a member of a unique community of scholars - a community that represents our very best hope for the future."
"Our vision is to build a dynamic international organization that connects members with meaningful content, resources, and opportunities," stated NSHSS President James Lewis. "We aim to help students like Robert Stewart build on their academic successes and enhance the skills and desires to have a positive impact on the global community."
Membership in NSHSS entitles qualified students to enjoy a wide variety of benefits, including scholarship opportunities, academic competitions, free events, member-only resources, publications, participation in programs offered by educational partners, online forums, personalized recognition items, and publicity honors.
Formed in 2002, The National Society of High School Scholars recognizes academic excellence at the high school level and encourages members of the organization to apply their unique talents, vision, and potential for the betterment of themselves and the world. Currently, there are more than 300,000 Society members in over 120 countries. NSHSS provides scholarship opportunities for deserving young people.
For more information about NSHSS, visit www.nshss.org


---



Welcome, Tyler Michael Jason - 2008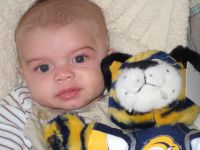 Michael and Nicole Jason are proud to announce the birth of their first son, Tyler Michael, born on January 15, 2008 at 10:30 p.m., weighing eight pounds, two ounces. Grandmother Barbara Scrivano and husband, John, remain Island residents and grandfather Bob Jason is now enjoying retirement in Florida. Aunt Heather Ford (Jason) is a 1994 GIHS graduate now living in Hamburg with her husband, Henry. Mike, a 1992 graduate of GIHS, and his wife, Nicole, are now living in Wayne, NJ. They would love to hear from old friends at mnj07@optonline.net.




New York Times Interviews Marc Scibilia - USA Tour Is Next - 2008



Musician Marc Scibilia was interviewed on Wednesday, May 14, 2008 by the New York Times. During the 30-minute session, Mark was asked his his music, political sentiments, and his upcoming tour that is set to kick off at the beginning of June (see freedomtour08.com). "Things are really picking up speed and I am very thankful," Marc wrote to Isledegrande.com this week. "We are inviting folks from all around the country to follow our tour caravan as we make our way through the USA. We anticipate many jam sessions, cookouts, and relationships to develop in this time," Marc stated.
Click for Marc's latest music video, "Hope Anthem," done by Julian Smith Productions.


---



Sascha Stopa-Chavez - 2008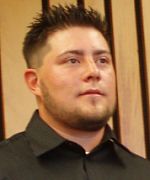 Click photo for larger view. Photo includes Deborah E. Reed-Danahay, head of the Department of Anthropology
Sascha Stopa-Chavez, a Grand Island High School graduate, Class of 1999, is the 2008 recipient of the David Vernon Bullough Memorial Award presented by the Department of Anthropology at Buffalo State University of New York. The award is given annually to the graduating major who best exemplifies the department's idea of a superior student. Sascha received a check for $100, a certificate and mention in the commencement brochure. His name will be engraved on the wall plaque in the department office.
Sascha graduated on May 10, 2008 with a BS degree in anthropology.




Patrick MacKenna - 2008
Assemblymember Sam Hoyt (D – Buffalo, Grand Island) recognized the receipt of the State University of New York Chancellor's Award for Student Excellence by one of his constituents, Patrick MacKenna, a Grand Island native. Patrick is among 240 students from 62 campuses throughout the State University of New York who achieved an overall GPA of 3.75 and has excelled in the areas of leadership, athletics, community service, and creative and performing arts or career achievement.
"I am delighted to be able to join Patrick's family, friends, and community in recognizing his great accomplishments. Patrick is an example of the talent that is present in Western New York. I look forward to hearing more about the many exciting achievements that Patrick will no doubt accomplish in the future," said Hoyt.
Patrick will receive a framed certificate and a commemorative medallion in honor of this accomplishment.


---



Susan Braun - Ride For Roswell - 2008
Dear Friends and Family,
For the fourth year, I will be participating in the Ride For Roswell (June 28 / 33 miles) to help raise funds to support cancer research and patient care programs at Roswell Park Cancer Institute.
We've all been touched by cancer in one way or another. I hope my small effort makes a difference, but I can't do it alone. Your tax-deductible contribution is greatly appreciated. It is faster and easier than ever to support this great cause - you can make your donation online by simply clicking on the link at the bottom of this message. If you would prefer, you can also send to the address listed below. Or you can send it to me (1787 Staley Road, Grand Island, NY 14072), and I'll hand it in. Together we raised $365 in 2005, $1,431 in 2006, and $1,339 in 2007. My goal is to raise at least $1,000 again. Every penny goes to Roswell to further its good work.
Whatever you can give will help -- large or small - it all adds up. Thank you very much for your support and I will keep you posted on my progress.
Sincerely,
Sue Braun
To donate online: http://www.rideforroswell.org/app/index.php
Click on "Donate" button in the middle
Search "Susan Braun" at the bottom of the screen
Click on "Donate to My Ride" button on the right
To send a donation:
Checks payable to: Ride For Roswell (note my name in the memo field) and mail to:
Ride for Roswell
P.O. Box 644
Buffalo, NY 14240


---



Welcome, Sydney Lynn Neuhaus - 2008

Proud parents, Danielle and Karl Neuhaus DDS, announce the arrival of their first child, Sydney Lynn Neuhaus, on April 23, 2008 weighing eight pounds, 14 ounces and 20 1/2" long. The baby girl was delivered by Dr. Renee Baughman, daughter of Parvis Taefi who delivered Danielle. Grandparents are Keith and Ingrid Kinney, Ann Wren and Walter and Mary Neuhaus all of Grand Island. Danielle and Karl, both Grand Island High School graduates, are also residing on the Island.


---



Dan Robillard - High School Horticulture Teacher - 2008


Dan Robillard
May 8, 2008 . . .Island resident, Dan Robillard, is a horticulture teacher at McKinley High School and featured this week in a story by Melissa Holmes, News 4 WIVB. See "Robillard Feature Article."


---



JoAnn Vanderheite Chosen Again To Take Part
In Annual 100 American Craftsmen Festival - 2008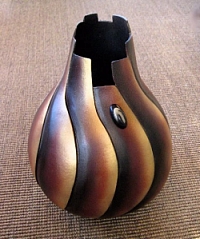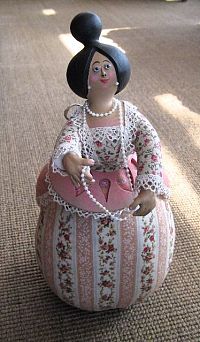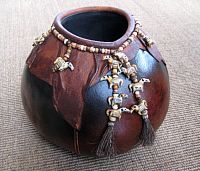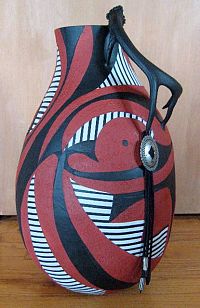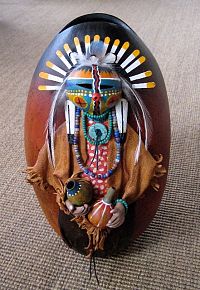 JoAnn Vanderheite will display these and many more pieces of her work at the Festival May 30 through June 1.
Click photos for larger view
JoAnn Vanderheite has been chosen again to show her artistic guards, figural containers and masks in the 38th Annual 100 American Craftsmen Festival being held from May 30 through June 1, 2008 at the Kenan Center, 433 Locust St., Lockport, NY. This is the fifth time the art work of this longtime Island resident and former art teacher has been accepted for this strictly juried show and sale. JoAnn has been honored this year by having her work published in a book by Jim Widess and Ginger Summit titled "Making Gourd Dolls and Spirit and Figures."
Click http://kenancenter.org/arts/craftsmen.asp for complete information on the "100 American Craftsmen Festival."


---



Steve Morgan - 2008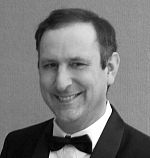 Steve Morgan has been appointed Grand Director of Ceremonies by Edward G. Gilbert, Grand Master of Masons in the State of New York. As the district staff officer, Steve's main mission is to provide education for individual Masons and for groups of Masons in the First Erie District which covers the 14 Lodges in northern Erie County. Steve is a member of Eggertsville-Grand Island Masonic Lodge #1138 F & AM, where he served as Master in 2001-2002.


---



Remembering A Good Friend - BA Open Golf Tournament July 3, 2008
I had the pleasure of spending a long weekend with a good friend of mine, Bill Aydelotte, in February 2007. Bill (BA) was struggling with cancer at the time. The high light of the long weekend was attending a benefit for Bill and his family that was held at Mallitz's Island Lanes.
I truthfully cannot remember laughing so hard over a 4-day period. The weather was bad, (snow and cold), and a good friend of many others and mine was dying from cancer. How could I possibly find humor in this situation? Easy. BA kept me and everyone else laughing. His recall of the events of his life and the fun he had with his many friends and family had us all falling off our chairs. But the story doesn't end there.
BA was consumed with scheming up events and activities he wanted to take his friends to. He actually had a list of friends and events he wanted to take people to. You wanted to be on this list. Here's how it worked. If you were on the list, he would ask you if there was something you really wanted to do, but hadn't had a chance to do. If you wanted to go to the Masters, US Open Tennis Tournament, Kentucky Derby, etc. the event was placed next to your name on the list. BA then began to make phone calls to see if he could get you tickets for the event. He was so diligent about providing you with a lifetime experience that his wife, Nancy, had to hide the phone from him. I think he actually ordered Daytona 500 tickets for some of the individuals on the list.
BA's personal activity list included renting a motor home and taking his family across the country to visit friends one last time. Another activity BA was busy with was a plan to add on to BA's Saloon and bring in a world-class chef. Sadly, he passed away before he was able to make the trip or renovate BA's saloon. BA's life was cut short before he was able to complete his list.
There is one other event that BA wanted to host, "THE BA OPEN GOLF TOURNAMENT." This one his friends can accomplish for him. THE SECOND ANNUAL BA OPEN GOLF TOURNAMENT is scheduled for July 3,2008 at the Beaver Island Golf Course. Following the tournament will be a dinner and silent auction at Mallwitz's Island Lanes. The tournament will benefit the Association For The Research of Childhood Cancer. I hope you can attend.
This time with BA made me realize how important it is to enjoy life, laugh a lot, plan for some activities you want to do, but put off, and how important friendships are to all of us.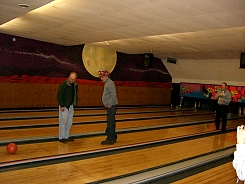 Thanks for the memories.
See Golf Tournament Information


---



Emily Pici - 2008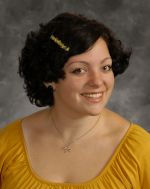 Emily Pici, a graduate of Grand Island High School, Class of 2004, will graduate from Niagara University on May 18, 2008. She has been on the Deans List each semester of her four years. Emily, who will graduate with a BA in Theater, was also awarded an Outstanding Theater Student Award from the Theater Studies Department. She will be traveling this summer with a theater group based in Bradford, PA. She is the daughter of Paul and Tracey Pici.


---



Welcome, Gavin Tyler Haynes - 2008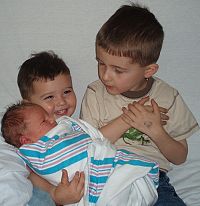 Proud parents, Rodney and Heather Haynes of North Tonawanda, announce the birth of their third son, Gavin Tyler Haynes, who was born on April 19th weighing seven pounds, 10 ounces. He is welcomed home by his two older brothers, Owen and Aidan, grandparents Vi Liddell (Richard), Martin and Nina Goss of Grand Island and Rodney Haynes Sr. of Niagara Falls.




Ian's Wish Comes True - 2008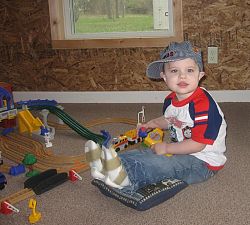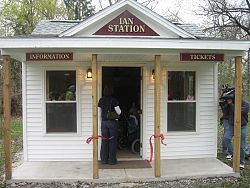 Jodi Robinson Photos - Click for larger view
Ian Cameron has been crazy about anything trains since he was less than a year old. Trains have somehow helped the 3 1/2 year-old deal with the cancer that was discovered when he was 10 months-old. Make-A-Wish Foundation of Western New York offered to arrange the building of Ian's very own train station and the grand opening took place on Friday, April 25th. The station was designed and built by TaRico Bros. Construction and sponsored by WNY Allstate Agent Dave Bielski and his wife, Kim. Ian was truly delighted with the station and the remote controlled trains arranged on the floor inside. Ian's mom, Dona Cameron, has reported that he doesn't ever want to come out!


---



Lisa Boulden, Photo Contest Winner - 2008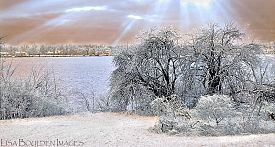 'After the Storm'
Lisa Boulden Photo - Click for larger view
Photographer Lisa J. Boulden of Grand Island, NY, was the second place winner for March in the prestigious photography contest sponsored by BetterPhoto.com, the site's founder, Jim Miotke, announced Wednesday.
More than 31,600 entries were submitted to the online photography contest, that attracted contestants from around the world and featured 10 separate categories.
Boulden's stunning image, "After the Storm," garnered top honors after being submitted in the Nature & Landscapes category.
All of the winning images can be viewed at BetterPhoto.com's contest page: http://www.betterphoto.com/contest/winners/0803.asp
The contest is conducted each month. Categories include Nature and Landscapes, Animals, People, Elements of Design, Digital Darkroom, Travel and Place, Flowers, Details and Macro, Catch-All, and Monthly Theme. Judging is performed by a panel of professional photographers.
Photographers can enter this month's contest and learn more about photography at: www.BetterPhoto.com


---



Welcome, Haley Renée Hillman - 2008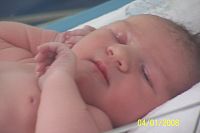 Haley Renée Hillman was born at 5:20 a.m. April 1, 2008 weighing seven pounds and 18.5 inches long. She is welcomed by her parents, Robert J. Hillman and Jarilyn E. Stoorza. Proud grandparents are James and Kathy Hillman, and Joyce E. Jones all residing on Grand Island. She is also welcomed by aunts and uncles; William Hillman (Jamie Rydzik), Joel E. Stoorza, and Jenel E. Stoorza (Jeremy Hoover).


---



Second Annual BA Open Golf Tournament - July 3, 2008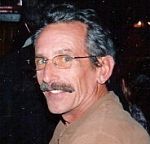 Click photo for larger view
The second Annual "BA" Open will take place on Thursday, July 3, 2008 at Beaver Island Golf Course. 4-person scramble with tee-off at 10:30 a.m.; 11:45 a.m. to the carts; and noon shotgun start. Dinner at 6 p.m.
Proceeds of the tournament will be for the benefit of the Association for Research of Childhood Cancer (AROCC).
Bill Buckley (WBuck10490@aol.com) is heading up the tournament committee along with Dale Berger and Patty Costello Rink (prink52@gmail.com).
See Golf Tournament Information The tournament is in memory of BA's Saloon owner/proprietor William A. "BA" Aydelotte II who passed away on March 10, 2007.
"Remember you have to swing hard in case you hit it."


---



Mary Jo and Paul Soto -
Great Strides Walk - 2008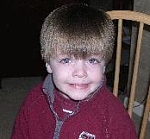 James Soto
Paul and Mary Jo Soto, parents of James Soto, 3, who was diagnosed with Cystic Fibrosis when he was an infant, will again take part in the Great Strides Walk on Saturday, May 17, to help raise money for the Cystic Fibrosis Foundation. "We believe in this foundation and the efforts it has made towards funding research in the development of new medicines to improve the lives of those with the disease. Two of the medicines James is currently taking were just recently developed through research directly funded by the CFF, which in turn is funded by donors like you," MaryJo said. "For this we are thankful for your donations in the past, and would be appreciative for any donation you could make today."
It is easy to donate, just click on the link below and it will bring you to MaryJo's home page where you will see a "Click to Donate" section. Donations may be made through credit card so you do not have to spend time filling out a check and mailing it back. "I hope this makes it more convenient for you. If you can think of anyone else who might be interested in donating, please feel free to forward this email on. Thanks again," Mrs. Soto said. "MaryJo's Home Page."


---



Welcome, Johanna Marie Adevåg Guagliano - 2008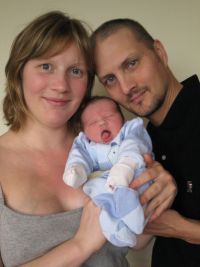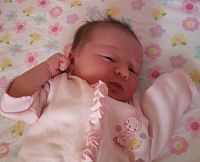 Johanna Marie Adevåg Guagliano was born at 10:50 p.m. on Sunday, April 6, 2008, weighing six pounds, 13 ounces and 20.25 inches long. The baby girl is the third child of Joel (GIHS Class of '84) and Sofia Guagliano. Proud grandparents are Frank and Jean Guagliano of Grand Island (their 12th!!) and Rose-Marie Adevåg of Falköping, Sweden, and Sverker Hansson of Kinnarp, Sweden. Johanna surprised everyone by being born at home while her family was getting ready to go to the birth center. Grandma Rose-Marie caught her as she was born. Her big brothers are Martin (3) and Lukas (18 months).


---



Neumann - Lariviere - 2008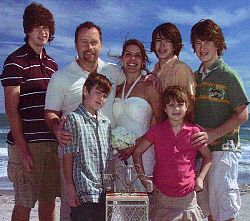 Click photo for larger view
The families of Donna Neumann and Ralph Lariviere were united as they proclaimed their love for each other during an intimate wedding ceremony in Cocoa Beach, FL on February 10, 2008. "We were honored to have our five wonderful blessings with us to share this special day as our witnesses. Together, we continue to make precious memories we will cherish evermore."


---



Our Hero Meets His Hero!! - Jon Jon Cinelli - 2008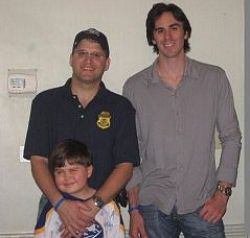 Buffalo Sabres star goaltender Ryan Miller (right) with Jon Cinelli and son, Jon Jon
It was a wonderful day that every kid dreams of. Jon Jon Cinelli was invited to lunch on Tuesday morning, April 8th when he met a very special guest - Buffalo Sabres star goaltender Ryan Miller. See "Jon Jon's Journey" for full story and lots of photos.


---



Sabrina's Garden of Hope Brings Out Crowd - 2008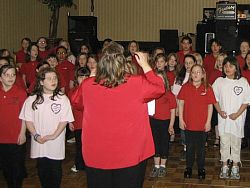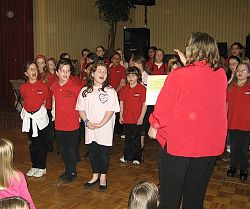 Kaegebein Elementary Girls Chorus (grades 3-5) directed by Mrs. Renee Mitchki.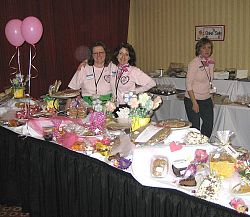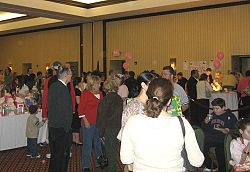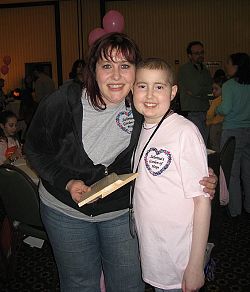 Sabrina Reagle shown with her mother
Kim Schopp Photos - click for larger view
Sabrina Reagle, 11, was the guest of honor at a fundraiser held on Sunday, April 6th at the Grand Island Holiday Inn. The event featured a basket raffle of major proportions, baked goods sale, 50/50, Madd Matt's Entertainment, Face Painting by the High School Art Club, Master Chong's World Class Tae Kwon Do, Matt's Music for Kids, Grand Island High School Band, Kaegebein Elementary Choir and our own DJ ~ Darren Gress. "Our beautiful Sabrina and her family had a wonderful day and feel blessed by the love and support they received," a spokesman for the family said this week. "This amazing little girl brings a smile to the face of everyone who meets her. So it was natural as a community for all to come together to make the day one of Sabrina's best," she said. Many thanks are extended to everyone who attended, donated, volunteered and contributed to make Sabrina's benefit a success and bring hope to Sabrina and her family.
See Previous Story


---



Paul Malecki - Ship Builder Extraordinaire - April 2008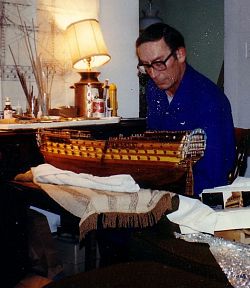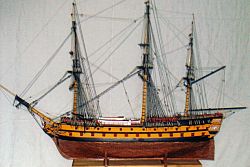 Paul Malecki at work H.M.S. Agamemnon, 1781 Royal Navy Warship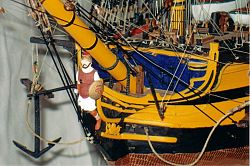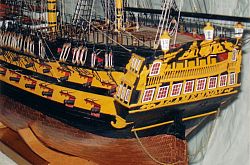 Detailed photos of Agamemnon
Jodi Robinson story/photos - click photos for larger view
Paul Malecki of East River Road moved to Grand Island when he was 12 years old, and that is also when he started building his first ship. Many decades later he is still building ships, working on his nineteenth at this time. Each ship, depending on its size and degree of difficulty, takes from two to five years to complete. The kits have thousands of pieces and start at $300. There is also the additional cost of the different glues and tools used to complete the models. Mr. Malecki is a retired ironworker and works on the ships one at a time and up to eight hours each day. One of his largest, the H.M.S. Agamemnon, is pictured above. There are 2,461 copper plates which make up the hull of the ship that took three years to build - one year completing the hull, one year for spars and masts and one year for the rigging.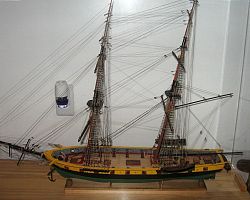 Admiral Perry's ship "Niagara".
Ninety-five percent of people starting the building of ship models do not complete their projects. Patience and sheer determination seem to be a pre-requisite. Paul has been offered large amounts of money for his works of art but he does not sell the ships. He gives them as gifts to people he cares about. One of his ships, the Royal William, is located in the headquarters of Fisher Price in East Aurora. He has also built 3'-5' plastic models of submarines and aircraft carriers for his grandsons and young friends of the family. He recently completed for his wife, Marcy, Admiral Perry's ship, "Niagara", which sailed Lake Erie in the War of 1812.


---



Welcome, Kenna Amelia MacNeil - 2008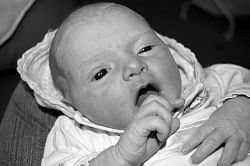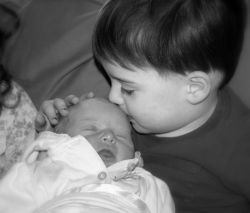 Kenna Amelia MacNeil was born at 10:22 a.m. March 28, 2008 weighing seven pounds, ten ounces and 19.5 inches long. She is welcomed by her parents, Jonathan and Jennifer MacNeil and big brother, Tyler. Proud grandparents are John and Peg MacNeil, Bob and Barb Nevins, and Frank Penque and Amber Storr all of Grand Island, NY. Kenna also has a large extended family of aunts, uncles, and cousins


---



Welcome, Zoe Claire Lesika - 2008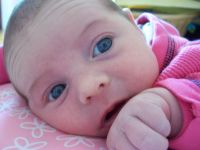 Kevin and Danielle (Ahrens) Lesika are proud to announce the arrival of their daughter, Zoe Claire Lesika. Zoe was born on March 12, 2008 at 10:20 p.m., weighing 8 pounds, 5 ounces and measuring 20 inches long. Grandparents are Don and Bonnie Ahrens, Dennis Lesika, and Linda Hall, all of Grand Island. Kevin and Danielle are graduates of Grand Island High School, class of 1996 and 2000.


---



Good News Along With Jon Jon's Journey - A Fundraiser - 2008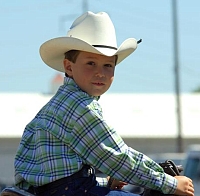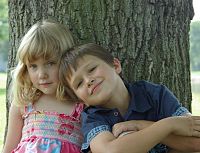 Jon Jon sister, Claire, and Jon Jon
March 27, 2008 . . . Six-year-old Jon Jon Cinelli, son of Ann and Jon Cinelli, has shown unusual improvement. According to his dad, "He is doing great, the doctors have never seen any type of improvement of this type of tumor ever. He is more like his old self lately, too." This good news precedes a major fundraiser being held for the family - Jon Jon's Journey, from 1-8 p.m. Saturday, March 29 in the Sheridan Park Fire Hall, 738 Sheridan Drive, just over the south Grand Island Bridge.
The Jon Jon's Journey committee is requesting the donation of baskets for a raffle. For information on this and monetary donations, email info@jonjonsjourney.com
All information appears at "Jon Jon's Journey."
See also "Jon Jon's Journey Flyer."
Channel 2's Daybreak show will feature Jon Jon on Friday and Saturday morning.
The Cinelli family extends a big thank you to everyone for their thoughts and prayers? "They're definitely working!!"




Sommer-Stufkosky Sisters Invite Islanders To Gliding Stars Show!!! - 2008
Alicia Sommer, Emily Sommer and Jenna Stufkosky would like to invite all their fellow Grand Islanders to the 2008 Gliding Stars of Western New York Show. Show times are Friday, March 28 at 7 p.m. and Saturday, March 29 at 1 p.m. Both shows will be held at the Amherst Pepsi Center. The girls have been involved with this organization as well as SABAH for many years.
Gliding Stars is the outcome of more than 30 years of teaching iceskating to people with physical, mental, emotional or multiple challenges. Through the years, they have worked with some wonderful kids and ask you to come and witness for yourself the talent that these skaters demonstrate. Without a doubt, you will have tear filled eyes and smiles on your faces.
Thank you for all of your support.
Alicia and Emily Sommer
Jenna Stufkosky




Dr. Dalinda Condino - 2008
Dr. Dalinda Condino, a Grand Island High School graduate and chief of adolescent medicine at Women and Children's Hospital, is featured in a March 25, 2008 Buffalo News story by Barbara O'Brien. See "3/25/08 Buffalo News Story" on "sexually transmitted diseases among local teens."


---



Luke Johnson - Competing In Major "Song Of The Year" Competition - 2008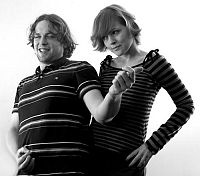 Lukas Johnson: guitar+electronics and Andrea Stankevitch: voice+guitar
Click photo for larger view
Luke Johnson and his friend/partner, Andrea Stankevitch, musicians living in Boston, Massachusetts, are competing for the John Lennon/Maxwell "Song of the Year." Their duo is called Acoustic Chatter.
The John Lennon Songwriting Contest is an international competition that began in 1997. The Contest is open to amateur and professional songwriters who submit entries in any one of 12 categories. The JLSC is open year-round and features two Sessions - with 72 Finalists, 24 Grand Prize Winners, 12 Lennon Award Winners and 1 Maxell Song of the Year. See http://jlsc.com/about.php
At this point Luke and Andrea are one of 24 Grand Prize Winners (there are 2 in each of 12 categories) and are now in head-to-head competition with the Session I winner in the Electronic category.
NOTE: Online voting will determine which of the two wins the Lennon Award (for each category).
It is suggested that Isledegrande.com readers read "Andrea's Letter and listen to the music. To vote, you only have to sign up at the site one time, and then you can vote once a day until April 26th. Click http://www.jlsc.com/vote.php. If you like their song, "Sky Turns Red", pass the word!
Acoustic Chatter is an acoustic electronic duo from Boston, Massachusetts formed by Andrea Stankevitch and Lukas Johnson. Andrea is a singer/songwriter from northeastern Pennsylvania who moved to Boston to study songwriting at Berklee College of Music. Luke is from Buffalo, New York and met Andrea while studying music synthesis and production at Berklee. Andrea and Luke self-produced their debut album "Fall down," released live at The Charles Playhouse, Boston, MA on June 30th, 2007.
Luke, a GIHS graduate, Class of 2000, is the son of former Island residents Patti and David Johnson.


---



Isle Residents Walk For Suicide Prevention - 2008
Local residents of the Team Da Ja Ve along with Co-Captains Jennifer Peresie, Laura Anderson and Barbara Khreis will embark on a 20-mile walk, from sunset to sunrise, to raise funds and awareness for suicide prevention, education and research programs and support survivors of suicide loss. The walk will benefit the American Foundation for Suicide Prevention and takes place June 7, 2008 in New York City. Net proceeds from the Out of the Darkness Overnight (The Overnight) event in New York will benefit the American Foundation for Suicide Prevention (AFSP).
"On October 15, 2007 Dan Schmidt, my brother and one of my best friends, lost his life and his battle with depression. It was a terrible blow to our family and friends and definitely not something you would expect from such a warm and loving person. As time passes I remember many good times followed by periods of guilt, anger and confusion. Discovering information about the Out of the Darkness Overnight and the American Foundation for Suicide Prevention is what I have been searching for to help me heal." said Jennifer Peresie.
"Participants agree to raise at least $1,000 each to walk," said Barbara Khreis.
It is estimated that close to one million people make a suicide attempt each year and that every 16 minutes someone dies by suicide. Depression is the leading cause of suicide. More than 20 million people suffer from depression each year. Tragically, suicide is the fourth leading cause of death among adults 18-65, the third leading cause of death among teens and young adults, the second leading cause of death for college students and accounts for 20 percent of deaths among people over age 65.
To help Team Da Ja Ve reach their fundraising goal or for more information about The Overnight, call 888-TheOvernight (888-843-6837) or visit TheOvernight.org
The American Foundation for Suicide Prevention is the only national not-for-profit organization exclusively dedicated to understanding and preventing suicide through research and education, and to reaching out to people with mood disorders and those affected by suicide.


---



Engagement
O'Donnell - Rein - 2008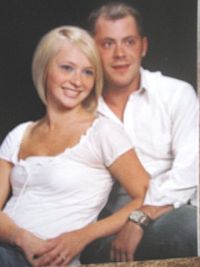 Colleen and Bob O'Donnell of Grand Island announce the engagement of their daughter, Laura, to Nicholas Rein, the son of Debbie and Robert Rein of Jamestown. A June 7, 2008 wedding is planned!


---



Emelie-Jo Scheffler, First Place Baton Twirler - 2008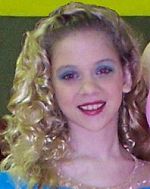 Click photo for full view - Emelie-Jo and her coach, Maddy Buczkowski
March 2008. . . Ten-year-old Emelie-jo Scheffler, who celebrated her birthday on Saturday, competed in the New York State baton twirling championships at Williamsville East High School on Sunday, March 9. Emelie-Jo has been twirling for five years and placed first in every event she entered. She was first in Solo Beginner 7-9, Xstrut beginner 7-9, Intermediate Modeling 7-9, Basic Strut Intermediate, Military Strut Intermediate, Hoop Intermediate, and Flag Advanced. Her Show Twirl event also took a first place.
Emelie-Jo's team coaches are Heidi Sue Mumm, Karen Scalise and Rebecca Sobol and her solo coach is Maddy Buczkowski. The competition was hosted by the Ambassadors. She is the daughter of Lisarenee Guagliano and Eric Scheffler.


---



Paula F. Sciuk - 2008
Paula F. Sciuk has had her work accepted into the Impact Artists' Gallery's National Women's Exhibition Spring 2008, running from March 5-29, 2008. Exhibition Hours are Wednesday through Friday from 11 a.m. to 4 p.m. and Saturdays from 1-4 p.m. in the Impact Artists Gallery, 5th floor, TriMain Center. The opening Reception will take place from 6-7:30 p.m. Saturday, March 15 with a pre-reception program from 4-6 p.m.
The schedule of events follows:
• 4 p.m. - current exhibition framing practices
• 5 p.m. - walk through with juror Nancy Weekly, Burchfield-Penney
• 6-7:30 p.m. - public reception
Ms. Sciuk will be present at the pre-reception portion and most of the reception.


---



Sabrina's Garden of Hope - A Fundraiser - 2008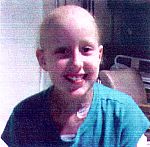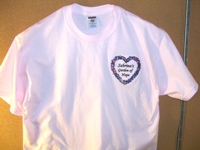 Sabrina Reagle Tee Shirt order information below.
Sabrina Reagle is an eleven-year old girl who lives on Grand Island and is a fifth grader at Kaegebein Elementary School. Sabrina was first diagnosed with Acute Lymphoblastic Leukemia (ALL) in 2002. She relapsed and received a bone marrow transplant on October 12, 2007. Despite everything that Sabrina has been through, she is an amazingly positive little girl. She finds joy in everything that she does and shares her love for life with everyone around her.
A fundraiser is planned for Sunday, April 6, 2008 from 1-6 p.m. at the Grand Island Holiday Inn. The donation of $10.00 includes food and entertainment. See "Sabrina's Garden of Hope" flyer. Tee shirts are also available for purchase, Tee-Shirt form. Pre-payment is required.


---



Christopher Hamm, Scholarship Recipient - 2008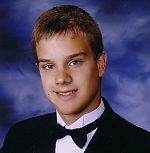 Christopher Hamm, a junior at SUNY Oswego, has been named co-recipient of the Robert C. Ziegler Memorial Scholarship for 2008. The scholarship will be awarded at the college's Honors Convocation on April 25, 2008. This scholarship is sponsored by the Communication Studies Department at SUNY Oswego. Christopher, son of Kenneth and Carol Hamm, is double majoring in Broadcasting and Mass Communications, and Cinema and Screen Studies, and is planning to attend the college's "Hollywood Point of View" program this summer in California. He has been active with the student Television Station WTOP on campus, and has been a disk jockey with the student Radio Station WNYO. Christoher is employed by SUNY Oswego's Neumann Center, and runs retreats for the Center. He is also involved with Habitat for Humanity, and will be one of the Student Leaders for a trip to Appalachia during this year's Spring Break. Chris belongs to the Psi Phi Gamma Fraternity. He has served as a Camp Counselor for several summers, having worked at Boy Scout Camp Schoellkopf, Cradle Beach Camp for handicapped children, and YMCA Day Camp. Chris was active in the Boy Scouts of America as a youth and earned his Eagle Scout Rank in 2005.


---



Donald V. Freedman Elected United Way of Niagara's Secretary of the Board of Directors - 2008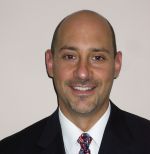 Donald V. Freedman, PE, of Grand Island, New York, was elected on February 28, 2008, during the Annual Meeting of the United Way of Niagara to serve as its Secretary of the Board of Directors.
This two-year term follows his recent position as treasurer. He has been a director of the organization since 1998 during which time he has participated on many committees and functions. Don resides in the Town of Grand Island with his wife, Denise, and three children, Kevin, Marissa, and Benjamin. Don is a Project Manager for Ferguson Electric.




Carrie Anne BadameVieceli - Breast Cancer 3-Day, 60-Mile Journey - 2008
Today is a very special day for me, today marks the 2 1/2 year anniversary of my initial diagnosis of breast cancer. So much has happened since that dreadful day, September 7, 2005. I endured a partial mastectomy, 8 rounds of chemotherapy and 30 days of radiation. After several months of recovery and a clean bill of health, we were blessed with the pregnancy of Annagrace. Annagrace, our miracle baby, was born on August 8, 2007; just 23 months after my diagnosis.
Words cannot express the immense gratitude that I feel for the doctors who were critical to my survival. I was diagnosed with an extremely aggressive form of breast cancer, often referred to as "triple negative breast cancer." My breast cancer was growing quickly and attempting to spread rapidly when I discovered the lump. By the time I had my surgery, the cancer had spread to one axillary lymph node (under my arm) and was beginning to spread to others. Had it not been found when it was, I wouldn't be here today...had it not been for the chemotherapy that worked to eradicate the cancer from my body, I wouldn't be here today...and had it not been for the radiation that worked to prevent the cancer from returning, I wouldn't be here today and most importantly, had none of this treatment existed, our angel, Annagrace, would not be here today. I owe all of this, my life and the life of Annagrace, to the grace of God and the marvel of modern medicine.
The research necessary to devise the treatment protocol for my type of breast cancer was no doubt costly and certainly not without great effort. In honor of that research and in the hope of further research to find a cure for all breast cancers, I have committed to raising funds for breast cancer research and awareness. This September, I will be walking 20 miles a day for three days straight in the Breast Cancer 3-Day, a 60 mile journey through San Francisco. In order to participate, each walker is required to raise a minimum of $2,200. My personal fundraising goal is $3,000 and I hope that with your generosity I will reach that goal and be able to walk in a bold expression of defiance of the disease and an even bolder expression of gratitude, hope and faith.
By walking this September, I will be doing all that I can to help those researchers find a cure so that, God-forbid I ever face this beast again, it will be an easier fight to win. Also, I will be walking in an effort to ensure that Annagrace, as well as all of you, never has to battle this horrific disease. This years' walk will take place on September 5th, 6th, and 7th... the final day, September 7th, marks the 3-year anniversary of my diagnosis. I feel truly blessed to be here, alive and well, and to be able to walk in the Breast Cancer 3-Day. Please consider sponsoring me in my journey by donating at "Breast Cancer 3-Day, 60-Mile Journey." From the bottom of my heart, any amount that you can offer is sincerely appreciated. For me, this is not just a fundraiser...for me, this fight against breast cancer is very personal. Every penny raised for the cause brings us all one step closer to a cure. Thank you dearly for your support!
With love, faith and gratitude,
Carrie Anne
P.S. To make a donation, simply click on "Donate to Carrie Anne!" above the thermometer on my web page and follow the instructions. Or if you would rather mail in or fax a donation, you can print a donation form by clicking on "Print out a donation form" located at the bottom of the web page. Please feel free to forward this on to others who would like to contribute!!!
Carrie Anne (Badame) Vieceli is a member of the GIHS Class of 1993


---



Wright Brothers Excel On And Off Slopes - March 2008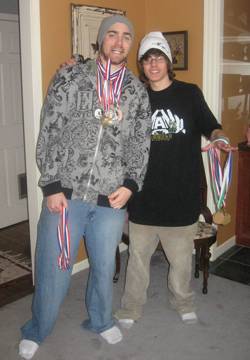 Left: Collin and Colton show just a few of their awards.
Jodi Robinson Photo (click photo for larger view)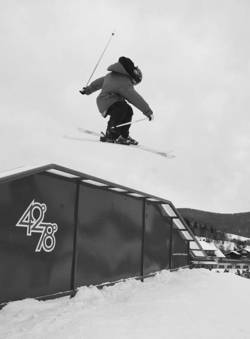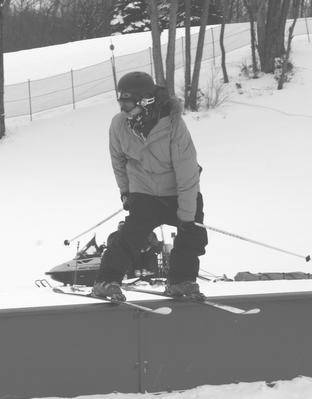 Left: Colton, Right: Collin
Wright brothers, Collin (18) and Colton (16), have been skiing since they were enrolled in kindergarten many years ago. Father Bob Wright is an accomplished skier and thought what a great way to spend time together. By the time the boys had reached the age of ten, they were both racing with the Holiday Valley Ski Team at Niagara Frontier Ski Council events. After winning and placing in many, many events, including state and Eastern Regional events, Collin and Colton both retired from the gates and slalom racing at the ripe old age of fourteen.
What came next was a different type of skiing. Freestyle skiing actually began in the 1930's with the Norwegians, but became a whole new sport in the 90's. Now there are two branches of freestyle, one is the more traditional with moguls and aerials, the other newer branch is "new school." Collin and Colton do both, but seem to enjoy the events in new school with halfpipe, rail based tricks and slopestyle skiing.
Colton is quite accomplished and is recognized in the area as a premier freestyle skier. He competes in events in Ohio and Western New York throughout the winter season and has attended summer camp in the Canadian northwest. At Whistler, B.C., they still are skiing in July! Colton also is into shooting video of his brother and friends which he turns into movie "shorts." In 2004 Collin and his brother started a clothing company from which they sell t-shirts and tuuks designed with their own graphics. As it says on their website www.ambushclothing.com, they "create art on clothing that mirrors the lifestyle we love and live."
Collin seems to be the business guy, working the events and letting his brother focus on competing. The many components of the Wright boys' lives all come together as an artistic, exciting way of life. In the future, Collin would like to live out west and big mountain ski everyday while growing the Ambush Clothing company. Colton has been noticed for his ability as a competitor and has aspirations to professionally compete in the Winter X Games. His future would also include big mountain skiing, filming and living out west. The boys will be around these parts for a few more years at least. They are sponsors of events at Holiday Valley and Kissing Bridge resorts, continuing with school, working on their clothing graphics and films and competing. Just wait, in the future they will be movers and shakers in this new ski movement that will only get more popular.


---



Patricia A. Frentzel
Erie County Association of Tax Receivers & Collectors Install Officers - 2008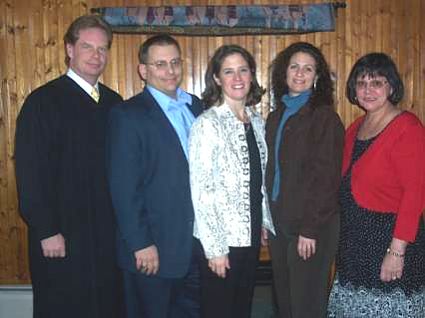 (left) Michael Metzger, David Shenk, Patricia Frentzel, Kimberly Burst, and Diana Cafferty.
Erie County Association of Tax Receivers and Collectors installs their 2008-2009 officers. David J. Shenk, Boston Town Clerk/Tax Collector was sworn in as president; Patricia A. Frentzel, Grand Island Town Clerk/Tax Receiver as vice president; Diana A. Cafferty, Evans Tax Receiver as treasurer; and Kimberly Burst, Cheektowaga Deputy Tax Receiver as secretary.
The installation was conducted at Amore's Restaurant in Boston. Michael M. Metzger, Boston Town Justice, administered the oath of office. Officers serve a two-year term. The association meets once a month at varying locations across Erie County.
The association was formed to benefit the various Tax Receivers and Collectors of Erie County, New York and the local governments they represent, for the purpose of mutual exchange of information, operating experiences, problem solving and improvement of local Tax Collection.
The association has been successful in lobbying Erie County and New York State representatives to continually improve local property tax collections. One recent accomplishment was improving the Partial Payment Process which allows taxpayers to pay their taxes in any amount and number of payments.


---



Catherine (Pfeil) Nagy - 2008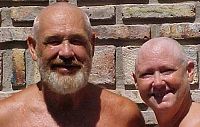 Ed and Cathy Nagy
Catherine Pfeil Nagy, Island resident 1955-1967, has written (May 26, 2008) the following news:
I am getting ready to come to Buffalo for the Susan G. Komen Race for the Cure which is being dedicated to me. I have 40 people signed up so far and really hoped for some of my old island friends (or friends of my family) to join in. It is not too LATE!!!
Join Team Hope Rises and help us raise money to find a cure for breast cancer.
March 6, 2008 . . .Catherine (Pfeil) Nagy, who has Stage IV Metastatic breast cancer, grew up on Grand Island, NY, and is looking for at least 50 friends and family to join her in Buffalo at 10 a.m. Saturday, June 14th for the Western New York Komen Race for the Cure. The Komen Race takes place in Delaware Park for the Susan G. Komen Western New York Race for the Cure®. It is a challenging, co-ed, 5K (3.1 mile) walk or run beginning behind the Albright-Knox Art Gallery and traveling through Soldier's, Colonial, and Gates Circles. For complete information, see Catherine Nagy's "Hope Rises" Team news at the "Komen Webpage."


---



Alicia Sommer - 2008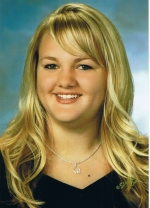 Alicia Sommer, a senior at Grand Island High School, has been awarded The Knights of Equity ~ Daughters of Erin Court 5 Scholarship. The Knights of Equity and Daughters of Erin awarded Alicia with the scholarship at the Friendly Sons of St. Patrick dinner, held at the Buffalo Irish Center on Saturday March 1st. The award will be used to help further Alicia's education as she will be attending John Carroll University or Duquesne University this fall where she plans to earn a bachelor's degree in biochemistry and continue on to medical school to seek her dream of becoming a pediatric oncologist. Alicia's grandmother, Bonnie Sommer, was there to celebrate her granddaughter's success and to pay tribute to their Irish heritage.
Also, Alicia was recently notified that she was recognized by The United States Achievement Academy as a National Business Education Award Winner. The nominating educator is Cheryl Chamberlain of Grand Island High School. According to the beliefs of the Academy as quoted from Eleanor Roosevelt, "The future belongs to those who believe in the beauty of their dreams." Alicia, who has been active with Grand Island's Relay for Life for many years, has always been a believer that she is who she is because of the bridges that she has crossed and she will continue on her journey of helping others cross that same bridge successfully.
Alicia is the daughter of Becky and Rich Stufkosky and Kevin and Debbie Sommer all of Grand Island.


---



Jason Weis Graduates From Paramedic School - February 2008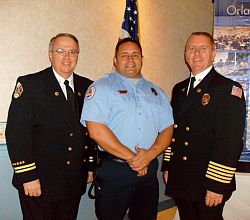 (left) Captain Gail J. Lazenby, Jason Weis and Villages Fire Chief Michael S. Tucker (click photo for larger view)
Former resident and member of the Grand Island Fire Company, Jason Weis recently graduated from paramedic school. He is currently a firefighter/EMT with The Villages Public Safety Department, and has been with The Villages for nearly five years. Jason spent nearly ten years with Grand Island Fire and took his original EMT training with GIFCo.
After starting with The Villages, Jason realized that paramedic certification would be a must in order to provide the best possible service to the community. As a result, he participated in The Villages course along with eight of his colleagues. Over the past year, Jason completed 400 hours of classroom instruction and another 800 hours of clinical rotations. Jason said that it was one of the most difficult years of his life, trying to juggle work (He is on a 24-hour "on" and 48-hour "off" shift schedule), school, and family. Jason is married to the former Maureen Rotella, also from Grand Island. Jason and Maureen have a 3-year-old son, Anthony.
By successfully completing the paramedic course, Jason is now eligible to sit for the Florida paramedic licensing exam. After that, he will undergo a 6-week orientation and probationary period with Villages Fire-Rescue. During that six-weeks, Jason will ride with an experienced medic and learn to work with the Department's medical protocols. At the end of the six-weeks, Jason will undergo another written exam followed by an oral exam conducted by former Island resident Captain Gail Lazenby in his capacity as the Department's EMS training and quality assurance officer, and the Department's Medical Director, Dr. John Geeslin.


---



Welcome, Asher Mateo Wright - 2008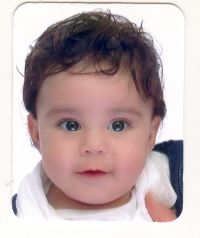 Damon and Elizabeth (Beacher) Wright are pleased to announce the adoption of their son, five-month-old Asher Mateo Wright. The baby joins his sister, Olivia, 6. The adoption process started in January 2007 with Baker Victory (FANA in Colombia). The referral was received on December 21, 2007 at FANA WNY holiday party. The couple arrived in Bogota,Colombia on January 10, 2008 and received Asher on January 11th. The court process (Bienestar) started on January 22nd The Signed Sentencia to finalize the adoption paperwork took place on February 4, 2008. The Wrights arrived hom with their new son on February 9th.
Damon grew up on Grand Island and is a Grand Island High School graduate, Class of 1988. Liz's family moved here in 1986 and she is a GIHS graduate, Class of 1989. Elizabeth and Damon moved back to Grand Island in 2003.
"While in Colombia we visited Monserrate and the Old Town in Bogota, a Coffee plantation/orchid gardens in Fusagasaga (Fusa for short), and Villa de Leyva (old Colonial town dating back to the 1500's) on our last weekend in the country," Damon said.


---



Welcome, Dominick David Hanel - 2008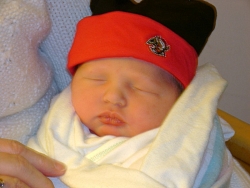 Dominick David Hanel was born January 29, 2008 to Peter and Angela Hanel of Tonawanda. He weighed in at seven pounds and is 19 inches long. Proud grandparents are David and Nancy Amato and Len and Teresa Hanel of Grand Island and great grandparents are Tony and Marie Amato of Grand Island, and Patsy and Barbara Strollo of Batavia. First time parents, Pete and Angela are Grand Island High School graduateds, classes 1996 and 1999 respectively.


---



Welcome, Kristopher Montgomery Bennett - 2008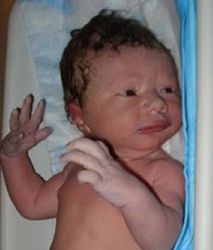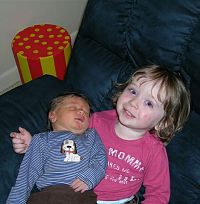 Kristopher Montgomery Bennett was born February 14, 2008 weighing eight pounds, two ounces and was 20 inches long. He joins his parents, Kristopher (GIHS Class of 2000) and Jennifer Bennett and big sister, Skyler. Proud grandparents are Scott and Dorothy Bennett along with Uncle Korey and Aunt Kassie of Grand Island, NY and Donald and Jan Vance of New River, AZ. Great Grandma Patricia Bennett is also a Grand Island resident. Kristopher shares his birthday with Aunt Kassie.


---



Joe Quinn Publishes Book Of Poetry - 2008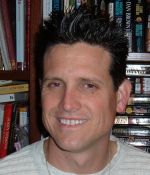 Joe Quinn, graduate of Grand Island High School, Class of 1989, has published a book of poetry titled "Sam's Head, Full of Domestic Souls." The paperback is available on line at www.lulu.com at $7.31. "I have been writing poetry for the last 25 years," Joe said. "My next on-line publication will consist of poetry and short stories," he said.
Joe is currently employed with the Fort Bragg Fire Department and has been for the past four years.
Joe spent a three-year tour on the Island of Oahu, Hawaii with the 25th infantry division from 1990 to 1993. He also spent six weeks in Thailand cross training with their troops, which he said was a great experience. Upon leaving the Army, he moved to North Carolina. After doing roofing work for five years, Joe joined the City of Fayettevillle Fire Department, where he has dedicated five and a half years as a firefighter and EMT. Joe reports that three of his sisters and his parents are still Island residents.




"Our Town" - Features Islanders - 2008
The Niagara Regional Theatre Guild proudly presents Thornton Wilder's "Our Town" February 29th through March 15th at the Cardinal O'Hara Performing Arts Center, 39 O'Hara Rd., Tonawanda NY. Performances are Friday and Saturday evenings at 8:00 p.m. and Sunday, March 9th at 3 p.m. The show is directed by Les Bailey and stars Scott Mackmin and Brook Heatley. Admission is $14.00 General, $13.00 Student/Seniors. For more information call 284-6358 or visit www.niagaratheatre.com
Fran Newton serves as the Stage Manager, and James Rustowicz and David Conboy play the parts of Wally Webb and Joe Crowell respectively. All are Grand Island residents.


---



Krzos Triplets - 2008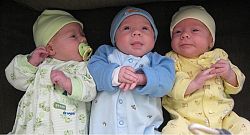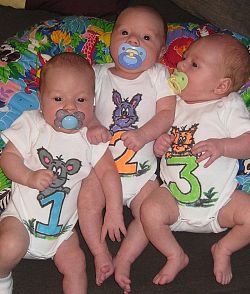 (Left) Triplets at six weeks and (right) more recent photo.
Click photos for larger view.
Former Island resident (GIHS Class of '94) Kristina Watts Krzos and her husband, Jon, announce the birth of their triplet sons, born on December 12, 2007: Owen Marshall Krzos, 4 pounds, 13 ounces; Colben James Krzos, 5 pounds, 5 ounces; and Logan Jon Krzos, 5 pounds, 4 ounces. The family currently resides in Alexandria, VA. The proud grandparents are Lynn and Jim Watts of Grand Island and Susan and Marshall Krzos of Angola, NY.


---



Welcome, Emma Jane Cwiklinski - 2008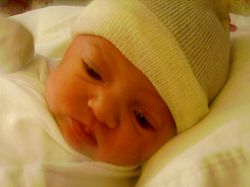 Jason and Christina Cwiklinski of Baseline Road, Grand Island, NY are the proud parents of their first baby, Emma Jane who weighed in at seven pounds, seven ounces on February 7, 2008 at Millard Fillmore Suburban Hospital, Amherst, NY. Grandparents are Dayton and Maryann Fancher of Towerwood Road. Christina is a teacher at Veronica E. Connor Middle School on Grand Island.


---



TTPD Versus Sabres Alumni For Jon Jon's Journey - 2008
The Buffalo Sabres Alumni will play hockey against the Town of Tonawanda police and paramedics at 7:30 p.m. Sunday, February 24, 2008 at the Lincoln Arena, 1200 Parker Blvd., Kenmore. Admission is $5 and proceeds will benefit Jon Jon Cinelli, 6-year-old son of one of the Paramedics. See "Jon Jon's Hockey Flyer" for complete information.


---



Dee - Roesch Wedding - 2008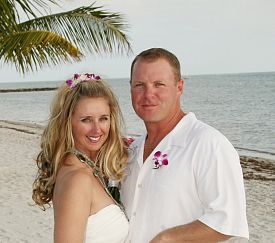 Click photo for larger view.
Former Grand Island residents Nicole Dee and Gregg Roesch were married on January 26, 2008 in an intimate ceremony in Key West, Florida. Nicole is the daughter of Bob and Ilene Dee of East River Road and Gregg is the son of Gary and Carol Roesch, also of East River Road. The couple will reside in Palm Beach Gardens, Florida.


---



Erlings Entertain Erling/Sciandras and Friends - 2008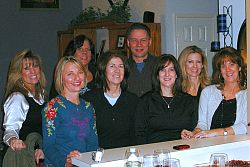 Click photo for larger view.
Rick and Kerry Erling of Dallas, TX entertained Island and former Island family and friends at a small dinner party during the week of the wedding of Kerry's nephew, Kyle Sciandra Gregory in Tulsa. Shown front are Gracie Golonka, Karen Sciandra Raepple, Kris Sciandra Bonsignore and Kerry Sciandra Erling; (back) Debbie Guidone Stein, Kit Sciandra Crangle, Rick Erling and Laura Guidone Slaney. A great time was had by all.




Islanders Do Well In Penguin Run 5K Race - Feb. 2008
The Penguin Run 5K Race to benefit Cradle Beach Camp was run in Amherst, New York on Sunday, January 27. Over 650 runners participated and the Island was well represented: Annalea Masiello (music teacher and choral leader at Connor Middle School) was 75th overall and second in her age group. Christopher Carter was 3rd overall and second in his age group (15-19). Quite a feat considering the weather was not great. For complete results on this race, see buffalorunners.com, then click on "links," click on "Checkers AC".




Jeff Loder, "Firefighter of the Year - Jan. 2008
Former Grand Island Fire Company Captain Jeff Loder has been named "Firefighter of the Year for 2007" by The Villages Public Safety Department. The award was announced by Villages Fire Chief Mike Tucker at a recent meeting of The Villages Board of Supervisors. Jeff has been with The Villages department for three years after serving Grand Island Fire for ten years. Jeff serves as a firefighter/EMT with The Villages and consistently demonstrates outstanding capability. Jeff (who is married to the former Jennifer Weis of Wallace Drive) took his EMT training from me at one of GIFCo's in-house EMT courses. He completed his Florida firefighter training at the Citrus Fire Academy. Jeff, Jennifer, and son, Brandon reside in Spring Hill, FL.
The 2006 Firefighter of the Year was former Island resident Jason Weis. "Obviously, our "boys" from Grand Island are the best of the best as evidenced by the back-to-back awards," Gail J. Lazenby, a former Isle resident, and captain with the same fire department said. "The Department has 57 full-time EMT/firefighters or paramedic/firefighters. Jason is currently in paramedic school and is scheduled to graduate in less than a month," Captain Lazenby said.
Chief Tucker has commented regularly that both of these guys came to The Villages as accomplished, capable, able firefighters - a testament to the quality of the Grand Island Fire Company.




Rosanna Russell - Roses For Rosanna Benefit, Huge Success Story - 2008
The Roses for Rosanna benefit this past October was a huge success, Grand Island and off Island residents and businesses rallied to support a Grand Island resident and mother of two ~ but perhaps more importantly is her success story enduring treatment and surgery for stage 4 esophageal cancer...considered a "rare -er" cancer, but increasingly being diagnosed among young patients with little or no risk factors (smoking, etoh, family history, chronic reflux disease). The physicians at Roswell Park who care for Rosanna urged her to write a letter to the CEO (Dr. Trump) to illustrate her experience. She is truly a success story and these triumphs need to be distributed - Rosanna speaks with patients at Roswell to infuse them with hope and courage - a big part of that is to know about success stories, and after visiting Roswell over the past eight months there are PLENTY of success stories.

Below is a personal thank you from Rosanna Russell
To all my friends and well wishers,
Thank you for all of your prayers and support during my recent illness. On June 1st of this year (2007) I was diagnosed with stage 4 cancer, however, through all of your prayers and some pretty incredible doctors at Roswell Park Cancer Institute, I am now cancer free! To anyone else who may be in a similar situation, DON'T EVER GIVE UP! I am living proof that cancer doesn't have to be a death sentence. I am testimony as to how great the power of prayer is! This has been a long road for me, but more importantly, it has been an incredible journey that will forever stay with me. Having cancer has been a blessing in disguise. I have met the most amazing people at Roswell. Doctors and nurses who treat cancer with a passion. I have met and befriended fellow cancer patients who are some of the bravest people I have ever met. I will always be grateful to this beautiful community of Grand Island for supporting me when I really needed it. Many of you took this journey with me. Thank you!!!! Friends, family and even strangers all encouraged me and prayed for me every step of the way. I had 5 1/2 weeks of chemo and radiation during the summer and I had a 13-hour long surgery on October 22nd. I am now undergoing two additional months of chemo at Roswell and then I should be well again and able to return to work. I will continue to have regular follow-ups at Roswell which I am very grateful for. I know that I will be in good hands for the rest of my life. For everyone who was part of my "ROSES FOR ROSANNA" benefit, Thank you from the bottom of my heart....I LOVE YOU!!!! To be surrounded by so much love in one lifetime is a wonderful feeling. I wish everyone could experience that feeling. Thank you everyone for all your prayers and support! I love you!
Rosanna Russell


---



Steve Kopf - 2008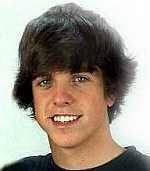 Steve Kopf has been named to the Niagara University Dean's List for the Fall 2007 semester. This is the fifth consecutive semester Steve has been named to the Dean's List. A Grand Island High School graduate, Class of 2005, Steve is an Education major and a member of the men's varsity tennis team.




Island Youth Invited To Auditions For Niagara Experience Players Summer Production, "Growing Up Disney!" - 2008
Island resident Michele Fix, who is a member of the Board of Directors as well as theatrical director for the Niagara Experience Players announces auditions for the summer production of "Growing-Up Disney," featuring Disney tunes through the ages. Island youth are encouragaed to attend the auditions being held on Saturday, February 9th from 1 p.m. to 4 p.m. at the Summit on Williams Road in the Town of Niagara. Any child in WNY from the age of 7 to 18 who is interested in performing is welcome to attend. No experience necessary! For more information call Shari at 628-3580 or Michelle at 432-7075.




Help Jerry Groff - A Fundraiser - 2008
A benefit for Homer (Jerry) Groff who is suffering from esophageal cancer will be held at Porter's Pub, 707 Main Street, City of Tonawanda on Saturday, February 23rd from 3 p.m. to 7 p.m. A $25.00 donation will include food, drinks and prizes. Tickets will be available at the door. The organizers are looking for donations of money, prizes, salads and desserts. For tickets and information, call Mr. Groff's niece, Island resident Wendy Truesdale at 773-4101 or David Carminati at 773-4101. Email: tinytiger2121@aol.com. Mr. Groff has lived on Grand Island for over 20 years and because he has been self employed and out of work, he needs help with medical and living expenses as he has been going through radiation and chemotherapy.


---



Welcome, Vincent Marcello Pascucci - 2008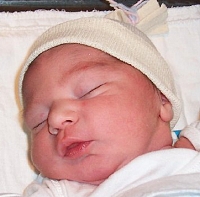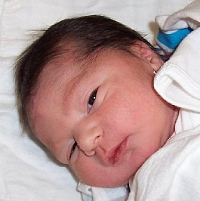 Mackenzie Hassan and Angelo Pascucci of Niagara Falls, NY, announce the arrival of their son, Vincent Marcello Pascucci. "Vinny" was born on Tuesday, January 22, 2008 in Millard Fillmore Suburban Hospital at 3:09 p.m. weighing 7 lbs. 10 ozs. and 20 1/2 inches long. His proud grandparents are Mark and Diane Hassan of Grand Island and Russell and Vicki Pascucci of Niagara Falls. Alfred Bykowicz of Grand Island is Vinny's great grandfather.


---



Jon Jon's Journey - A Fundraiser - 2008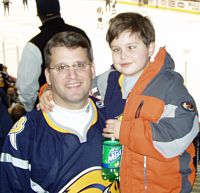 Jon Jon Cinelli with his dad, John, at a recent hockey game.
Click photo for larger view.
January 24, 2008 . . . Jon Jon's Journey, a benefit fundraiser for Jon Jon Cinelli, son of Ann and Jon Cinelli, will be held from 1-8 p.m. Saturday, March 29 in the Sheridan Park Fire Hall, 738 Sheridan Drive, just over the south Grand Island Bridge.
The Jon Jon's Journey committee is requesting the donation of baskets for a raffle. For information on this and monetary donations, email info@jonjonsjourney.com
All information appears at "Jon Jon's Journey."
See also "Jon Jon's Journey Flyer."


---



Captain Paul M. Gugg - 2008
Assumption of Command for Coast Guard Sector San Francisco


SAN FRANCISCO, Calif. - Captain Paul M. Gugg, a Grand Island, NY native and Cardinal O'Hara high school graduate, Class of 1975, relieved Captain John E. Long as Sector San Francisco Commander today during a change of command ceremony on Coast Guard Island in Alameda, CA. Captain Gugg reports to Sector San Francisco from the Coast Guard Pacific Area Command in Alameda where he was the Chief of Prevention. He was previously the Captain of the Port in Buffalo, New York from 2002 until 2005. He holds degrees from the University of Michigan (MS) and Syracuse (BS) and received his Coast Guard commission through Officer Candidate School in 1983.
Coast Guard Sector San Francisco's 490 active duty, reserve and civilian personnel are responsible for all day-to-day Coast Guard operations throughout most of Northern California, Nevada, Utah and a small part of Wyoming. The Sector's missions include search and rescue, law enforcement, environmental protection, port security, merchant mariner licensing, and vessel inspection and safety programs for all types of craft including recreational boats, commercial fishing vessels, charter boats, ferries, cruise ships and large merchant vessels. The Sector includes seven small boat stations, one aids-to-navigation team, four patrol boats and a vessel traffic service that tracks and advises more than 120,000 ship movements annually.


---



Chris Affuso Named Praxair Manager - 2008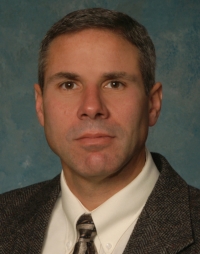 January 8, 2008 . . . Praxair, Inc. named Chris Affuso manager of its U.S. engineering and construction network. Affuso is located at the Praxair Technology Center in Tonawanda. In his new position, he will also supervise the resource planning of projects and proposals and provide guidance to the project management team.
Since joining Praxair in 1989, Affuso, a Grand Island resident, has held increasingly responsible positions in mechanical equipment engineering, machinery research and development and equipment commissioning. Most recently he served as project manager for plant expansion projects in Loveland, Colorado, and Fife, Washington. He has an associate's degree in mechanical technology from Empire State College.
The Praxair Technology Center in Tonawanda, N.Y., is Praxair's largest engineering and research and development center worldwide. Praxair, Inc. (NYSE:PX), based in Danbury, Connecticut, is the largest industrial gases company in North and South America, and one of the largest worldwide, with 2006 sales of $8.3 billion. The company produces, sells and distributes atmospheric and process gases, and high-performance surface coatings. Praxair products, services and technology bring productivity and environmental benefits to a wide variety of industries including aerospace, chemicals, electronics, energy, food and beverage, healthcare, manufacturing, metals and others.


---



Welcome, Matthew Charles Capage - 2007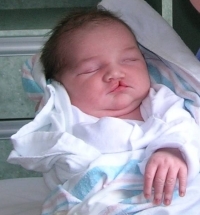 Matthew Charles Capage, newest native of the Sandy Beach neighborhood, was born on Tuesday, December 11, 2007 to Chuck and Lisa Capage. Matthew Charles weighed in at eight pounds 2.4 ounces and was 21 1/2" long. He joins two big sisters, Julia and Samantha. Proud grandparents are Gary and Nina Leskiw of Grand Island and Charles and Janet Capage of Alden.


---



Welcome, Colin Kasey Morgan - 2007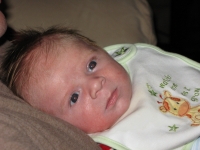 Colin Kasey Morgan arrived on November 18, 2007 weighing seven pounds, one ounce and was 21" long. He is the son of Kasey and Tiffany (Luescher) Morgan of Columbia, Maryland. Proud grandparents are Thomas and Nancy Luescher of Grand Island.


---



Nathan Keefe, Angela Diebold Receive Diocesan Awards - 2007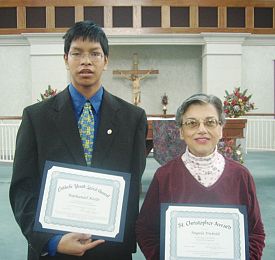 Nathan Keefe and Angela Diebold of St. Stephen R.C. Church
Click photo for larger view
Grand Island residents Angela Diebold and Nathan Keefe, recently received awards at the Diocese of Buffalo's Bishop James A. McNulty Award Dinner Dance held at the Hearthstone Manner in Depew. Angela and Nathan, both members of St. Stephen's parish, were honored by the Diocesan Youth Department for contributions made to the youth of the church through faith and dedication as servant leaders.
The St. Christopher Award was presented to Angela, director of Religious Education at St. Stephen's for 30 years of dedicated service to educating the young people of the parish. She said she began as a volunteer in the pre-school religious ed program, and worked through the ranks becoming coordinator of the pre-school classes, then of the pre-school through grade 5 program. She currently is director of a program that serves 1,100 students, from pre-school through confirmation. "I now have kids, who helped me as aides, back as parents," she said.
Nathan, a senior at Grand Island High School, was the recipient of the Catholic Youth Spirit Award and honored for his contributions as a key member of the Teen Alpha program at St. Stephen Church. Presenters cited him for "enthusiastic support, and dedication and spirit" in the parish youth ministry program. "Serving the youth of the church has been both fun and exhilarating, watching them grow in their faith," Nathan said. He currently serves as a member of the church's Youth Core Leadership Team, as well as regularly ushering at Mass.













---
Other Grand Island Pages to Visit:
Churches | Email Directory | Government | Groups
GIHS Grad List | Guestbook | Please sign in! | Local Artists | Photo Album | Town History | Useful Links
| Website Design | Wildlife | Isledegrande's Home Page | GIECOM.NET'S Home Page
Please Email News Releases to Teddy Linenfelser, Thank You.

This website was created and updated weekly since September of 1997.
Our sponsor is GIECOM.Net Inc., "Grand Island's E-Commerce Network",
providing Webhosting to the Grand Island Community.
If you are interested in participating as a sponsor, please email.
1871 Whitehaven Road, Grand Island, New York, 14072-1803 USA

GIECOM.Net Inc. is owned by deSignet International
a "World Class Jewelry Manufacturer and Retailer"
Store Hours: Monday & Thursday 8 am - 7 pm
Tuesday, Wednesday & Friday 9 am - 5 pm
Saturday 9 am - 2 pm, and by Appointment