News Update
Two-Car MVA
With Injuries
On East River
Saturday, September 9th
Between the Bridges


By Teddy Linenfelser
---
Niagara Frontier
Antique
Boat Show
Saturday, September 9th
School Board
Workshop Agenda
Monday, September 11th
Check Our Listings!
Paid Advertisement

Upcoming Events
Paid Advertisement
Gerrie's
Featured Homes

Paid Advertisement
"Can God be Trusted?"
Whitehaven Road Baptist Church
Saturday, September 9
Music By Marc Scibilia
Approved
Town Board
Meeting Minutes
Monday, August 21
Unapproved
Town Board
Meeting Minutes
Tuesday, September 5th
Thank You
"IsledeGranders!"
August Is Record Month
At Isledegrande.com
Fire Co. Open
House Announced

Friday, October 13th
Varsity Vikings
Football Schedule
7:30 p.m. Fri., September 8
at Williamsville South
Fall Community
Education
Registration
Mail Or In Person
Mon., Sept. 25
Instrumental Booster
Club Meeting
Tuesday, September 12
GIHS Sports Briefs
Week Ending Sept. 7th
Martin's
Fantasy Island
Season Pass
Holders Invited
To Fall Weekends


Sept. 9-10 and 16-17
Events Calendar
Garage Sales Galore
On Grand Island
6 - Friday/Saturday
"Heaven's Beams"


Karen Sorbello Photo
Legal Notices
Real Estate
Transactions


Advertising Information
Internet Access
Advertising
Websites At $220
Yellow Pages
Listings For
Island Businesses

September 7, 2006
PRIMARY DAY
Tuesday, September 12th
Feature Story
1973 Ball Team
Still Going
Strong,Winning
Championships


By Bill Costello
Town Board Action
Isle Police
To Serve
Eviction Notices
By Joelle Logue
Town Board Action
Phase I of
Woods Creek
Subdivision
Up For Discussion
By Joelle Logue
First Day Of School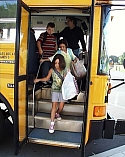 Kaegebein - Connor Middle
Mary Stewart Photos
Masons Offer
Breakfast Program,
Interfaith Service
Sunday, September 10th
VFW Post #9249
Announces
Island's 911 Vigil
Monday, September 11
Fly Flag
At Half-Staff
On Patriot Day
Fly The Flag -
September 11th

Island Firefighters
Extinguish
Metro Bus Fire
By Ray Pauley
Driver Hits Tree,
Transported to ECMC
Sunday, September 3rd
Community Chorus
Presents
First Concert


First Concert Sun., Sept. 10
Residents May
Drop Off
Hazardous
Waste Saturday
By Joelle Logue
Busy Summer
For Boy Scout
Troop 254

Joan Dlugokinski
Century 21


Paid Advertisement
Food/Recipes


By Jodi Robinson & Barry Conway
Complete Fall Dinner

G.I. Job Opportunities
Advertise Your Openings
No Charge!
Islanders In The News
Island Kids
In Niagara County
Performance


Free Classified Ads

"Hope for Jason"
Bracelets
Available

Golden Age
Calendar Of Events
GIHS Class Reunions
Support Our Troops
Sign Our
Isledegrande Guestbook
Share Your Memories
Linda's
Island Specials!

Paid Advertisement
Search/Rescue
Ground Zero
Chaplain Celebrates
9/11 Mass
St. Stephen's, 7 p.m. September 11
Sherry's
Pick of the Week



Open House Sunday 1-3 p.m.
Paid Advertisement


Old Photo Album



Town Officials - 1970s
Liz Wilbert
Century 21


Open Sunday 1-3 p.m.
4648 East River Road
Paid Advertisement



deSignet Jewelry


Vikings Ring
GI BPW To Hold
Membership Tea

Wednesday, September 20
Check Out
Our Coupon Page
American Legion
Poppy Drive
September 8-9th


Advertising Information
Shelagh Korman
Benefit

Sunday, September 17th
Islanders In The News
Paul Long Jr.
End Of Summer Lunch!

Mary Stewart Photo
Fall Preschool
Story Hour
Begins September 18th
Blood Drive
September 12th
Team Recover
Wins Volleyball
Championship
GI Soccer
Club Tryouts
Sept. 10, Sept. 16
Summertime
Creatures

Barbara McMichael Photos
Send Us
Your News
How to Submit News/Photos
Fire Report
Aug. 28-Sept. 3, 2006
Deaths

Hazel A. Kranzmann
Robert L. Morris
Wilbur J. Pless
Gordon T. Wilsoncroft
Grand Island
E-News
At Isledegrande.com
Sponsored by Giecom.net
Publisher
Reg Schopp
Editor
Teddy Linenfelser
Schools/Marketing
Jodi Robinson
Marketing
Dan McMahon


Yellow Page Listings
Click Above to View

PLEASE PATRONIZE
OUR ADVERTISERS
LISTED BELOW

Watch For *coupon* Listing

AMUSEMENTS
Grinder's Skate Park
Mallwitz's Island Lanes
Martin's Fantasy Island

AUTOMOTIVE SALES
Fuccillo Auto Group
*coupon*
Paddock Chevrolet

AUTO SOUND/SECURITY
S.C.A.P.

BAKED GOODS
G.L.P. Free Manufacturing

BARBECUE
Bear-Man Specialty Foods

BEAUTY SALONS
Hizair Hair Salon
Wavelengths Hair Salon

BOATS
Anchor Marine

BUILDER/CONTRACTOR
GI Home Construction
Inside & Out Home Improvements

CANDY/GIFTS
Kelly's Country Store
*coupon*

CARWASH
Dr. Huggs
*coupon*

CHILDCARE
Care-A-Lot Childcare Centre

CHIROPRACTOR/PEDIATRIC
Riverview Chiropractic

CLEANERS
X-Press Cleaners
*coupon*

COFFEE/TEA
The Java Shop

COMPUTER
Giecom.net
Priority Computer
Technology Camp of America

CREDIT UNION
Niagara's Choice FCU

DANCE
McCarthy Irish Dance
Miss Cathy's Dance

DELI
Island Deli & Meat Market

DUMPSTER
Pinto Disposal Service

FINANCIAL
Contour Financial Planning

FLORIST
Flower A Day
*coupon*

FUNERAL HOME
Kaiser Funeral Home

GARDEN CENTER
GI Garden Center

GIFTS
Magic Towel Holder
Shelden Studio

HARDWOOD FLOORS
The Hardwood Floor Man

HEALTH & FITNESS
M.O.G.

HEATING & COOLING
AJ Beyer Mechanical
Gross Contracting
*coupon*

HOSPITAL
Mount St. Mary's

INSURANCE
Keller Insurance
State Farm-Bob Piatek

JEWELER
deSignet International

KITCHENS/BATHS
Kinetic Kitchen & Bath

LAWYERS
Tricia Vacanti-Belter
William Costello
Mark Frentzel
Timothy Mordaunt
Michael Anthony Rossi

LEATHER GOODS
Creative Leather Concepts

LIQUOR
Rose Liquor

LONG-TERM CARE
INSURANCE
Aronica & Company

MOLD REMEDIATION
Hygienitech of WNY Inc.

MOTEL/HOTEL
Chateau Motor Lodge
*coupon*
Cinderella Campground & Motel
Holiday Inn Resort

NURSING HOME
Elderwood at Riverwood

OPTICIAN
GI Optical

PEST CONTROL
Trust Pest Control

PHYSICIANS
Island Pediatrics

POWER EQUIPMENT
Marston Power Equipment

PRINTING/EMBROIDERY
Copy Cat
FX Graphix

REAL ESTATE
McHomes/Hunt
Mike McDonough
Century 21/Liz Wilbert
Century 21/Gerrie Andolina
Century 21/Joan Dlugokinski
Coldwell Banker
Chubb R.E./Kelly Petrie
Coldwell Banker
Chubb R.E./Robin Swedish
Grand Island/Olcott
Metro Town Center
MJ Peterson/Floyd Doring
Realty USA/Linda Kutzbach
Re/Max-Ken Carter
Realty USA-Sherry McDonald
Ziehm Real Estate
Park Place

RESTAURANTS
Beach House
John's Pizza & Subs
*coupon*
Justin Tyme On The River
*coupon*
McMahon's
*coupon*
River Oaks
Sandi's Family Restaurant
Town Cafe

SUPERMARKET
Budwey's Supermarket
*weekly specials*
Top's
*weekly specials*