Rotary/PTSA Students of the Month
Kristina Tetkowski and Patrice Paolucci have been selected...
<Complete Story & Photos>

Fire Company Installs Officers For 2001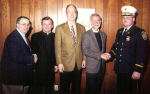 (Fred Claus photo)
<The complete Story>

Reality Cafe For
Teen Activities
<The complete Story>

GI Sesquicentennial Meeting
<See Events Calendar>

Island Memorabilia? Look No Further
A wide variety of Grand Island memorabilia in the form of postcards, pins, ties, mugs, t-shirts sweatshirts and even "Cinderella Island," ...
<The complete Story>

Fire Company Report
<The Week's Report>


Town Board Report
The proposal for a Wilson Farms Store and gas station at the northeast corner of Stony Point and Ransom Road drew a large number of residents...
<The complete Story>

Town of Grand Island Vacancy, Zoning Board Of Appeals
<The complete Story>

Snow Removal Education Program
<The complete Story>

Sign Here Please
Treasures
By Ruth Stahl
I came across a few old autograph books...
<The complete Story>

Zonta Antique
Show & Sale
<The complete Story>

Frog Legs 1943-1944
By Ted Kumlander
<The complete Story>


Resignations Shock
Town Board
ZBA members Elwood Hausler and Shirley Martin...
<Complete Story>

Town Clerk
Posts Workshops
<Complete Story>

Grand-opoly At St. Stephen's!
<The complete Story>

Bridge Accident Injures Three
By Ray Pauley
A three-car "chain reaction" collision...
<The complete Story>

Terra Nova
Tests are Here!
By Mark Webb
<The complete Story>

Oh -
By The Way!
Remembering Our Servicemen/Women & Desert Shield
<The complete Story>

Time To Order Yearbooks!
<For the complete Story>
GI Residents Freed
From Seneca Law Suit!
<The complete Story>
Citizens Of
The Year Nominations
<The complete Story>
Cub Pack #254 Pinewood
Derby Winners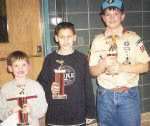 Matthew Foote, a first grader, took top honors...
<The complete Story>

Canal Commission
Elects Heftka
<The complete Story>

"Celebrating the Millennium" contest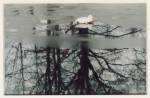 Robert Vincent took 6th place for a Water Series of three photos including this "Reflections Under Ice."
<The complete Story>


---
October 28th GI News - Our First Publication
November 3rd | November 9th News | November 15th News
November 23rd News | November 29th News
December 7th News | December 13th News | December 21st News | December 28th News
January 4th News | January 11th News
---
Other Grand Island Pages to Visit:
Churches | Email Directory | Government | Groups
GIHS Gradlist | Guest Book | Please sign in! | Local Artists | New!Photo Album | Town History | UsefuLinks
| Website Design | Wildlife | Isedegrande'sHome Page | GIECOM.NET'S Home Page
Please Email News Releases to Teddy Linenfelser, Thank You.

This website was created and updated weekly since September of 1997.
Our sponsor is GIECOM.Net Inc., "Grand Island's E-Commerce Network",
providing Internet Access and Webhosting to the Grand Island Community.
If you are interested in participating as a sponsor, please email.
1871 Whitehaven Road, Grand Island, New York, 14072-1803 USA

GIECOM.Net Inc. is owned by deSignet International
a "World Class Jewelry Manufacturer and Retailer"
Store Hours: Noon-5PM Tues-Friday and Saturdays 10AM-3PM, and by Appointment
1869 Whitehaven Road, Grand Island, New York, 14072-1803 USA, 1-888-RARU.COM
Copyright © 1995-2002 All rights reserved.