News Update
Between the Bridges

By Teddy Linenfelser
Niagara Sailing Club
Honors Commodore
Jeff Cooke

Town Board
Meeting Agenda
Monday, Oct. 3
Town Board
Workshop Agenda
Monday, October 3
Dan Robillard
Announces Candidacy
For Town Council

Chamber Thanks Rev.
Backus For Bringing Nat.
Conference To Island


Chamber Of Commerce
Grand Opening,
Ribbon Cutting
Today - Thurs., Sept. 29th
Winners Of VFW
Ladies Chili
Cookoff Announced

Mary Stewart Photo
Octoberfest Fundraiser
To Re-Elect Mary Cooke,
Councilwoman

Friday, October 7
Cooperative Nursery
School Teacher Bonnie
Janowsky Retires

Celebration Friday, October 14
Gerrie's Featured Home

Paid Advertisement
Rossi Vows To Preserve,
Foster Public Trust And
Confidence As Isle Town Justice

Paid Advertisement
Island Crop Walk
Sunday, October 2
College Fair Offered
By GI Youth Board
Thursday, October 27
GIHS Sports Schedule
NEXT
Vikings Play
At Albion
7 p.m. Friday
GIHS Sports Briefs
Sat., Sept. 24
Vikings 24, Williamsville East 21
Girls Basketball Team
Raising Funds For
California Tournament
Connor Middle
School PTA Meeting
Thursday, October 13
Xpress
Dry Cleaners

Paid Advertisement
Events Calendar

Garage Sales Galore
On Grand Island
12 - Wednesday through Sunday
Legal Notices
Public Hearings Oct. 6th
Real Estate Transactions


Advertising Information
Internet Access
Advertising
Websites At $220
Yellow Pages
Listings For
Island Businesses

September 29, 2005
Pair Arrested In
Connection With
Island Purse Theft
Former School
Principal
Given Probation
Education Foundation
To Supply
Funds For Field Trips

Plaques Awarded
To Colonial Dr.
Youngsters

Jodi Robinson Photo
Raymond Dlugokinski
Seeks Re-election As
Highway Superintendent

Apple Day 2005
At Kaegebein School

Jodi Robinson Photo
Sidway, St. Stephen
Students
Learn Bus Safety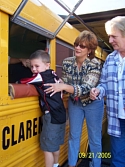 Free GED Class
At GI High School
Historical Society Meeting
Oct. 6 - "Haunting Places of WNY"
BPW Career And
Professional
Development Seminar
Wednesday, October 19
Fire Ladies' Announce
Fall Chowder/Baked
Goods Sale
Saturday, October 22
"Patty Fike's Flowers"

Patty Fike Photo

Food/Recipes


By Jodi Robinson & Barry Conway
In-Season Recipes

G.I. Job Opportunities
Advertise Your Openings
No Charge!
Mark Frentzel,
Candidate For
Town Justice

Paid Advertisement
Free Classified Ads

2005/2006 School Tax
Bills Have Been Mailed

Class of '86
"FOUND" List
Class Of '66 Announces
Dec. Reunion Meeting
What's Happening!
Paid Advertisement
Jalapeno Loco To
Open On Island
November 1st


Grand Island Blvd. Location
Golden Age
Center Menu
September 1-30
Golden Age
Calendar Of Events
Quality Quest Meeting
Thursday, September 29
Blessing Of Animals
At St. Stephen's
Sunday, October 2
East Park Garden
Club Meeting
Tuesday, October 11
GI Cooperative
Nursery School
Begins 57th Year


GIHS Class Reunions
Support Our Troops
Isledegrande.com To
Hold 5th Birthday Bash
And You're Invited

11 a.m. to 2 p.m. on Sat., Oct. 1
Linda's
Island Specials!
Paid Advertisement
Fire Company
Expansion Underway
Dan McMahon Photo
Official Grand Island
Primary
Election Results
Town Justice Candidates
Island Man Arrested
On Burglary,
Grand Larceny Charges

Renee A. Woloszyn,
Candidate For
Town Council

Paid Advertisement
Pooch Rescued In
New Orleans
Has New Home

Michele Beauchamp
Three Island
Teens Arrested
Sign Our
Isledegrande Guestbook
Share Your Memories
Sue Argy Announces
Candidacy
For Town Council

Old Photo Album

Sidway Kindergarten - 1971
deSignet Jewelry

Signet Ring


www.realtyusa.com
Paid Advertisement


Check Out
Our Coupon Page






Advertising Information

Ray Dlugokinski For
Highway Superintendent

Paid Advertisement
Letter To The Editor
Rossi Responds To
Hammond Letter
By Michael Anthony Rossi
Letter To The Editor
Resident Criticizes
Parking
Of Political RV
By Marsha Hammond
Friends of Library
Book Drop
Donate Discarded Books
Friends of Library
To Hold Open Meeting
Thursday, November 3
Memorial Library
Closed On
Columbus Day
Library Offers Special
Program For Kids -
"Ghost Stories"
Cub Pack 425
Scout Roundup
Niagara Business
Networking Group
Wine Dinner
At BLC
Is Last Of Season
Thursday, October 20
Paid Advertisement
Send Us
Your News
How to Submit News/Photos
Fire Report
Sept. 19-25, 2005
Alfred "Al" Wasse


Memorial Service Sat., Oct. 8

Deaths
Rosie Lee Brooks
Anna May Wagner
Ernest M. Jannotte
Mary Sorce



Grand Island
E-News
At Isledegrande.com
Sponsored by Giecom.net
Publisher
Reg Schopp
Editor
Teddy Linenfelser
Schools/Marketing
Jodi Robinson
Marketing
Dan McMahon


Yellow Page Listings
Click Above to View

PLEASE PATRONIZE
OUR ADVERTISERS
LISTED BELOW
AMUSEMENTS
Mallwitz's Island Lanes
Martin's Fantasy Island
Grand Lady Cruises
Grinders Skate Park


AUTOMOTIVE COLLISION
Carl Amato Collision
GI Auto Tech

AUTOMOTIVE SALES
Fuccillo Auto Group
Paddock Chevrolet
West Herr Automotive

AUTO SOUND/SECURITY
S.C.A.P.

BANKS
First Niagara Bank

BEAUTY SALONS
Austin's Hair Salon
Hizair Hair Salon
Wavelengths Hair Salon

BOATS
Anchor Marine
Blue Water Marina

BUILDER/CONTRACTOR
GI Home Construction
Inside & Out

CARWASH
Dr. Huggs

CHILDCARE
Care-A-Lot Childcare Centre

CLEANERS
X-Press Cleaners

COMPUTER
Black Dragon Computing
Giecom.net
Priority Computer
Technology Camp of America

CREDIT UNION
Niagara's Choice FCU

DANCE
McCarthy Irish Dance
Miss Cathy's Dance

DENTIST
Dental Care Assoc.

FINANCIAL
Contour Financial Planning

FLORIST
Flower A Day

FUNERAL HOME
Kaiser Funeral Home

GARDEN CENTER
GI Garden Center

GIFTS
Shelden Studio

HATS
Lady Diane Hats

HEALTH & FITNESS
M.O.G.

HEATING & COOLING
AJ's Heating & Cooling
Gross Contracting

HOSPITAL
Mount St. Mary's

INSURANCE
MetLife Auto & Home
State Farm-Bob Piatek

JEWELER
deSignet International

LAWYERS
William Costello
Mark Frentzel
Victor Gagliardi
Timothy Mordaunt
Michael Anthony Rossi

LIQUOR
Rose Liquor

LONG-TERM CARE
INSURANCE
Aronica & Company

MOTEL/HOTEL
Cinderella Campground & Motel
Holiday Inn Resort

MUSIC SERVICES
Solid Gold Entertainment

NURSING HOME
Elderwood at Riverwood

OPTICIAN
GI Optical

PHYSICIANS
Island Pediatrics

POWER EQUIPMENT
Marston Power Equipment

PRINTING/EMBROIDERY
Copy Cat
FX Graphix

REAL ESTATE
McHomes/Hunt
-McDonough
Century 21-Wilbert
Century 21-Andolina
Century 21-Dlugokinski
Metro Town Center
Realty USA-Kutzbach
Re/Max-Kathy Aronica
Realty USA-Sherry McDonald
Ziehm Real Estate
Park Place

RESTAURANTS
Beach House
John's Pizza & Subs
Justin Tyme Cafe
McMahon's
River Oaks
Town Cafe
Village Inn

SERVICE STATION
Tim's Sunoco

SUPERMARKET
Budwey's Supermarket