So it is October 26th, and I am done with school. I have spent the last 3 weeks feverishly writing papers so that I could enjoy the end of the semester as much as possible. So this means a few more emails for a bit, to get you all caught up on what I did on my pervious travels!! Coober Pedy, that is a good place to start. On our tour from Adelaide to Alice Springs, we stopped in an Opal mining town. This is no ordinary town by any means. Itís actually been probably one of the more strange ones to be honest with you. You see, the weather in the summer reaches into the upper 40's (around 110-120 F). Since the heat is so extreme, the people of Coober Pedy have found an interesting way to deal and live out there. They live underground. Yes, they dig big holes, and live usually about 20 feet below the surface. Now these homes are actually very popular with the people there, and they are actually very well maintained. Usually they are full size homes, with a kitchen, 2 bathrooms, a living room, dining room, and numerous bedrooms. Some or the richer families there even have indoor tennis courts! What is even more surprising is that these homes with indoor courts and all different kinds of luxuries are extremely inexpensive. Some homes have up to 30 rooms, and cost about the same as one semester at University. Now that is crazy. However, I guess there are a few downfalls to living there.
#1. The heat.
#2. Stink Bugs, little beetles, that are everywhere, and if you kill them, look out. You thought skunks smelled bad?!? These guys are worse.
#3. Umm let's see.. YOU'RE LIVING UNDERGROUND IN A HOLE!!!



I admit it. I cannot be trusted with a credit card, ATM card, or pretty much a bank account in general, especially in a foreign country. My only saving grace would be my lovely bank, who I am convinced is way too trusting for their own good. For not only once, but twice have they put money back into my account only because I asked them to. The first time, as you may recall was when the ATM stole $700. There is still no real answer about that whole deal, but whatever, they gave me money!! The second time was more recently. Ansett airlines, an Australian airline company here went out of business without refunding tickets, leaving me with a $300 plane ticket that was no longer valid. After a roundabout appeal with the airlines and then my bank, it was decided that my bank would give my account a temporary credit for the missing money in question. I can't complain. In less than 3 months I have lost my ATM card, lost $700 to a hungry machine, spent large mounts on hostels, food and traveling, haven't put any in (because I have no income to go in) and most recently just lost $300 to a fallen airline... and the bank still is willing to give me $1000 in total just in good faith. Now my next question is, the money I am losing out on for my flight home. With the same airline will I get my money back there? I guess I will just have to call my bank back AGAIN and file one more claim!!
---
I recently had a scare that really made me think about how lucky I am. A friend of mine got on a plane unexpectedly only a few short days ago to go home. Her father passed away from a heart attack while she was here. It was such a surreal situation, because less than a month prior, we were worried because he worked in the twin towers.
It is things like that that cause us to reflect on our own lives and reevaluate what is important. I am sure you all feel the same way with the situation going on now in the States. It is hard for me to relate to everything going on back there because of how far removed I am currently from everything. Everyday I read a news article about what is going on in the US and I continue with my daily life: class, hanging out with friends, and planning trips. I feel exceptionally lucky, but at the same time incredibly selfish. Who is to say that I should have this opportunity over someone else?
I have spent the last three months of my life experiencing new and beautiful things, things that some people may never get to see, and that I will probably never get to see again. I have met people who will stay with me, in my heart at the least, forever. I have learned about aboriginal culture and beliefs. I have traversed central Australia, crossed dry (and sometimes not so dry) riverbeds. I have climbed Uluru (Ayers Rock). I have snorkeled the Great Barrier Reef. I have seen the Sydney Opera House. I have watched the sunrise while swimming, the stars in the middle of the outback, and the sunset from a ferry in Sydney.
There is nothing that I can compare this experience to so far. I have a hard time believing that my time at school here is coming to a close. Now is the time that I have to work hard, finish papers, and prove that I came here for something other than a vacation.
I guess what this rambling all comes down to is that we need to all count our blessings, because like my friend, they can be taken away as quickly as they were given.


Does the word 'reservations' mean anything to you? Apparently at the Calypso Inn Hostel in Cairns it doesn't. Why you may ask? Let me tell you.
A group of us from the states booked at the same hostel in order to catch a two-day tour together. When we arrived, we were greeted with the news that half of our group was going to be moved to a nearby hostel, because there were no more beds there, even when they had reserved them in advance. At first, we were a little surprised, yet since they had made alternate plans for us, we didn't fuss too much.
The next best thing came about when Joe, a member of the group, returned to his room one evening only to find a large man covered in tattoos lying on his bed. After questioning the man on why he was there, Joe proceeded to go to the front desk to ask what was going on and where all his stuff was. When he got there, he stood confused as he watched the employees behind the counter read the book that was lying on his bed earlier that day. Apparently they decided that two people checked out of the room he was in, and therefore they proceeded to clean it and strip the beds. Instead of stripping the two beds with nothing on them, however, they stripped Joe's; you know, the one with all kinds of clothing and travel brochures that made it obvious that he was the one who left for good. So they threw out his pillow, book bag, clothes, and everything else of his. After this was all explained to him, he was given his things back (after picking them out of the garbage, of course) and told to return to his room and just take another bed. You know, one of his roommateís beds; and just explain to them when they returned what had happened and that they should just take a different bed as well. So Joe had to return to the room with the large, scary man and sleep in one of his roommateís beds.
The thing was, that even complaining about it really didn't do any good because "policy" wouldn't allow refunds. Even for Americans who couldn't make it to Australia because the airlines weren't flying. But that is another issue in itself. So just a word of warning to anyone planning on staying at a hostel... Don't rely on actually having a place to stay if you make reservations. By all means don't expect to have your stuff remain in your room, even if you have paid for multiple nights. You never know if someone else will be in your bed when you return!


So, because I don't have enough to deal with in Australia while planning for vacation, I thought it would be a fabulous idea if I could lose $1400 Australian. Yes, that is right. I am currently MISSING approximately $700 US funds. (Mom, don't cry) Let me sum up.
So here I was, at the Bank SA ATM on campus. I needed to take out a large sum of money to pay for my airfare to Bangkok. I proceeded to put my card in, type in my pin number, and find out what the maximum withdrawal was for that ATM. Well, the max was $1400, so that was what I went for. The machine gave me back my card, told me to take it, then the money, then the receipt as normal. Unfortunately, however, everything came out, except the money. I stood there in shock for a few minutes trying to figure out what just happened. The money slot definitely opened, yet there was definitely no cash to be seen. The next step was to enter the Bank SA on campus to see what had just happened. I asked if they could check to see if that withdrawal had been made to my account or from the ATM, and they said "sure!"... Until they saw that I had an HSBC card and didn't belong to their bank. So basically, they were of no service and said to check back on Monday to see if the ATM till was off and see if they charged my card because they could not check the ATM right away because they weren't associated with that ATM. Right, the Bank SA on campus was not associated with the BANK SA ATM just 50m away. Got to love it. They really tried to help by suggesting to go to the HSBC down a couple of blocks and have them check my account there. But funny thing about international HSBC... They can't communicate internationally to other HSBC's!!! Now can someone please explain to me the purpose of being an international company if you are not affiliated with your other branches in other countries?
Anyways, as I left I tried to hold back hitting the workers behind the counter who proceeded to laugh at my situation. Yeah, Monday I am definitely going back with about 4 large Australian guys to get my money, let me tell you!
In any case, the best they could tell me was to check my account online or call my bank back at home. You know, to tell them that I never actually really received my $1400, and hope that someone would actually believe me. Thank goodness for technology, too. Really, it's good to know that when I have a problem like this, I can easily get online, check my account, check my withdrawals, and see exactly where and when I took out money... THREE DAYS AGO. Yes, you heard correctly, in this fabulous day and age where you can do anything online in an instant, you could only check your bank statements from 3 days prior. No good for someone missing $1400 however. Again, starting to stress I decided to call HSBC. They have a toll free customer service number, so surely they will be able to help. Not so much. What do I get? Yes, I withdrew $1700 US Funds that day from my savings. So where did it go? Because I know I took out some from another ATM to pay for my flight, and then paid by credit for some other travel arrangements that day, but I am pretty sure it wasn't $1700 worth. So I ask her, "can you tell me where it says I withdrew that money from?" And of course, in the sweetest, most helpful tone she replies; "No, I'm sorry, but if you check back with us in a couple of business days, I am sure we can find out for you."
Fabulous, in a couple of days I just lost $1400 and all you can tell me is sorry?? So, that is my current situation. My recommendation for you all now is, never trust ATMS. I will be sure to let you all know where my money went in "a couple of business days." Hope everything is going better for you all than me currently! Any recommendations on what to do would be greatly appreciated as well!
Cheers,
Beth
It was called Alpine Day, and that was all that we were told. It had been hyped up at our college for the past few weeks. "You'll never forget it!" they said.
"Be prepared for battle."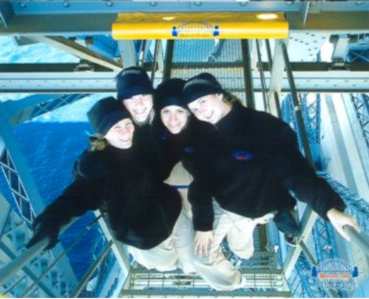 What kind of battle, we did not know, but we knew we had to fight. The day came, and at 8 a.m., we were all in the dining hall, drinking orange juice and champagne as a sort of farewell and good luck breakfast. We then all crowded around the pond to hear stories of past Alpine Days, and of what our mission would entail.
We would be hunting Yetis that day. Yetis.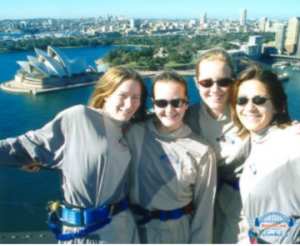 After being quickly briefed as to our game plan, we were herded, as unknowing freshers (freshmen) always are, onto a large bus with the windows blackened so that we could not see out. Where we ended up, I could never find again, and I do believe that was their plan.
Once we arrived at the planned destination, we were sent on a wild Yeti chase. We went through fields and streams and up hills, all in search of the infamous yeti. It began raining, it became muddy; but that would not keep us from our goal. The yeti must be killed; the yeti must not win. The day included much fun despite the wet, muddy weather. In fact, it was all the better to climb the hills and mudslide back down because of it. Mud wrestling and tug-o-war ensued. By the end we were all famished. Luckily, there were reinforcements to feed us by lunchtime. After a quick lunch and a short wait, the bus returned to take us home after a successful yeti hunt. We had succeeded, and it was time to be rewarded.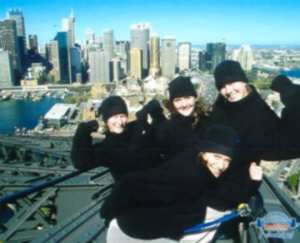 The ride home was filled with song, until the freshers were kicked off the bus in the city. Muddy and tired we ran home, proud to say we had beaten the yeti. We had accepted the challenge, and we survived. The Yeti was a formidable foe, but we did not let that stop us.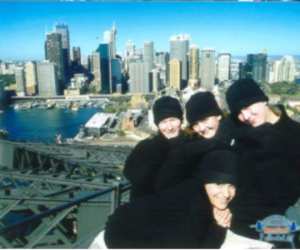 It was a great day for St. Mark's residents that day, and a day that none of us will be sure to forget.
By now you may be asking. What is this great Yeti that I speak of? What is this foe that could bring out the entire college of St. Mark's at 8 a.m. on the weekend? Only to have us return bruised, bloody, and covered in mud? These are all very good questions, I agree.
However, secrets cannot be divulged. For the sake of the Yeti, and the entire future St. Mark's freshmen, that is one question that I cannot answer...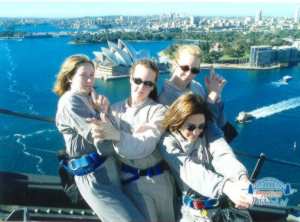 You need to understand the past in order to prepare for the future and appreciate the present...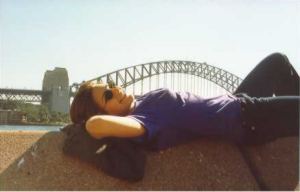 What else would one expect from a group of four girls traveling to Sydney for the weekend with no plans other than the plane tickets?? Well, it was quite a fun time, and I am proud to say that you are now speaking to a girl who will be featured in two separate brochure guides in Sydney!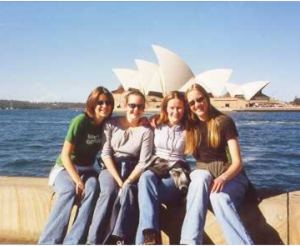 See, on the plane we began thinking about where we wanted to stay while in Sydney. (A little last minute, but that's okay, too) In the flight magazine on the airplane, there was an ad for the hotel backpack for about $12 U.S. a night plus free shuttle from the airport. So that's where we ended up. Funny thing was, once we got there, they were having a party with free food and drinks in order to get some pictures for the new brochure... So, of course, being the scene makers that we are, we managed to get our pictures taken outside the building with our backpacks, inside eating and talking, and inside in a large group picture. The photographer really liked us - what can I say.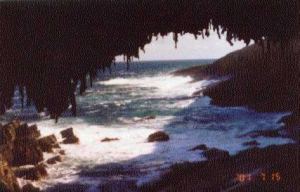 The next day we did the bridge climb. Let me tell you, if you ever have the chance, do it!!! It was so much fun, it was a beautiful morning and we had a great time. And we will also be in the ads for that, since they had a photographer taking pictures for the next program as well. SO... we definitely made our mark in Sydney.
We also learned to master the buses, the train, the ferries, the cabs, and learned how not to get lost wandering around...
After the bridge climb, we wandered the city and eventually made it to the zoo where we saw animals that ranged from tigers to peacocks to koalas and echidnas. It is amazing how unimpressive it is to be at a zoo and see animals after you have seen them in the wild. Granted it is, in some cases, better for the animals, but I still felt that they were getting a raw deal.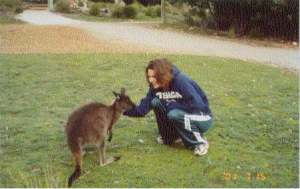 For dinner, we went to Manley Beach and had fish and chips while watching the sunset. You can't get much closer to perfection when you see that. The next day we took a tour that showed us everything in the area. We saw the Olympic sites, and drove up to Katoomba where we saw echo point and the three sisters, scenery you couldn't even imagine. It was unbelievable. Even though we were all so tired from the day before, we couldn't help but be amazed with everything and completely awestruck.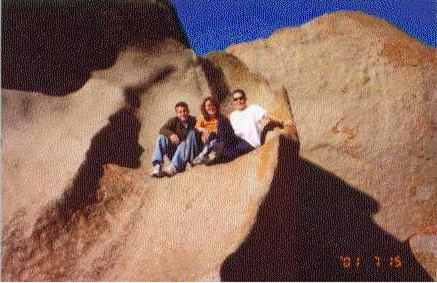 On our last day there, we toured the Opera House, and wandered the wharf. There were little stands set up all along the water with local artists selling and bartering their goods. I was so proud that I was able to talk a guy down $6. Granted, it probably should have been even less than that, but hey I still got it at a better price than someone else!!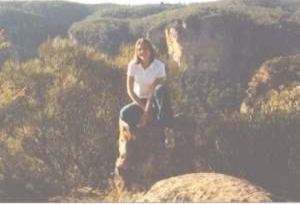 All in all it was an amazing trip that I will never forget for many reasons. It seems as though everything that comes next is better than what just happened the day before. And the thing is, everyday is good. I have experienced something new each time I wake up and by the end of the day, I can totally understand why people never want to leave. It is so relaxed and easygoing. No matter what the issue, it seems like people just let it roll off their backs.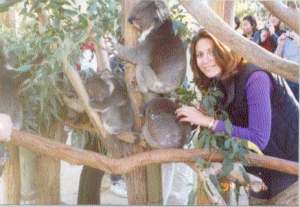 Quick example... yesterday I went running around the city. I passed by a car with its door open. A man on his bike was riding by not really paying much attention... Low and behold, the biker ran right into the door, and smashed the window to pieces! Both men just stood there, smiled shared a mutual chuckle; apologies were made... and off the biker went!!! No harsh words, no nothing... It was so odd. Now that is a bit of an extreme, but the idea remains.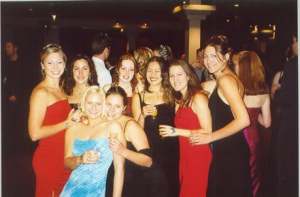 So I think I have rambled enough. Take it for what it is worth, and I will talk to you all later!!

Beth

The Difference between America and Australia

Some things in Australia just don't make sense...
Jumper Ė Sweatshirt
Dodgy -- Sketchy, Shady, Questionable
Winge Ė Whine
Yakka Ė Hard work
Shout -- "Drink is on me!"
Pudding -- a cake; not something made by JELLO
Toilets -- not restrooms, not ladies' rooms, not washrooms. Just direct and to the point.
Aussie BBQ -- Consists of schnitzel (why I don't know), sausage, bread (not rolls) and lettuce (salad some might call it)
Sharps Containers -- in every bathroom, still haven't figured out why
Two buttons on the Toilets -- one 1/2 a flush the other a full.
McDonald's Ice Cream - 40 cents Australian, yes, that means 20 cents US. Anyone want to take a guess on what I am going to be eating a lot of?
Crosswalks -- couldn't think they could be fun?? Yours never played music did they? Crossing the street now has theme music.
Outlets -- not only do you turn the appliance you want on, you also need to turn on the outlet
Uni -- College or University
College -- dormitories. Run much like frat and sorority houses. Take that, as you will!!
Happy Hour -- One at every pub, every night. Usually lasting 2 to 3 hours.
Heaps -- used like our lots.
Moulin Rouge -- movie of times. EVERY other song on the radio is a remix of it
Maid at the college -- NEED to be in your room solely to change the garbage at 9:00 a.m. Forget the idea you don't need it. It's their job.
Late night Pizza -- one place, AUS $3.90 for a pizza enough for two. Yes that's right. That means it's only about 90 cents US for a full meal. You can't get much better.
Courses -- I have am taking 3 classes here, spending 9 hours between lecture and tutorial time. And I am getting nearly the same credit as if I was taking 6 classes with 19 credit hours. I truly feel that the US is behind and needs to figure out a system like Australia. Nothing beats this, let me tell you.
Beth