Wee Librarian Book Reviews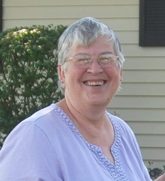 Jan Yardley is a retired teacher who has read an uncountable number of books in her lifetime. She will be sending in some of her favorites, with a short review, to whet your appetite for a good read.
Jan maintains a lending library on her front lawn at Broadway and South State Parkway. So if you are without a book, head over to the book cubbies. There is one for children also.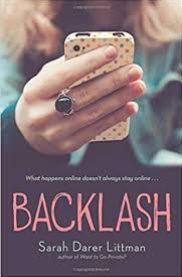 As you can see from the cover, this is an iPhone or similar device, and very much a part of today's society. Children today are so involved with texting or posting updates to their social media groups. Facebook was the place to be, and so it is for this story. This is a story that a parent would read and/or discuss with their child. Being a teenager, forming relationships with peers, and dealing with technology is difficult without the complications of technology.
Lara, the main character, is a fifteen-year-old girl that has been the recipient of hurtful posts from Christian. She thought he liked her and was going to ask her out to the school's homecoming dance. In middle school she had been overweight, depressed, and had isolated herself from most everyone except Bree, who is tired of constantly listening to Lara's problems. Lara has tried hard for a new start: she's lost weight, tries to be happy, and has made some new friends. She has been "talking" with Christian for weeks when he makes harsh, hurtful posts on her wall for the whole world to see. Cyber-bullying, with twists you wish didn't exist. The backlash from the collision of online and real life is devastating.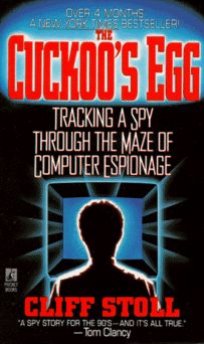 Tracking a Spy through the Maze of Computer Espionage.
I found this book back in the early 1990s when I was first learning how to use a computer, mostly for word processing. Recently, I went back to reread this gem of a book and noted in the acknowledgements that Chris Stoll was ten years old when Ernst Both of the Buffalo Museum of Science invited him to look through a telescope. Chris wondered if he would ever be able to thank Ernst properly for opening up the universe of astronomy. I looked at this and thought: we never know just how far reaching some action of ours will affect a child's life.
Many of us use the internet daily. We have had experience dealing with hackers and phishing, or we know someone who has. I found this quote from the Smithsonian to be quite accurate: "Before the Internet became widely known as a global tool for, one perceptive U.S. citizen recognized its ominous potential. Armed with clear evidence of computer espionage, he began a highly personal quest to expose a hidden network of spies that threatened national security. But would the authorities back him up? Cliff Stoll's dramatic firsthand account is "a computer-age detective story, instantly fascinating [and] astonishingly gripping."
Cliff Stoll was an astronomer turned systems manager at Lawrence Berkeley Lab when a 75-cent accounting error alerted him to the presence of an unauthorized user on his system. The hacker's code name was "Hunter". Somehow Hunter invaded U.S. computer systems and was stealing sensitive military and security information. Stoll began a one-man hunt of his own: spying on the spy. It was a dangerous game of deception, broken codes, satellites, and missile bases - a one-man sting operation that finally gained the attention of the CIA...and ultimately trapped an international spy ring fueled by cash, cocaine, and the KGB.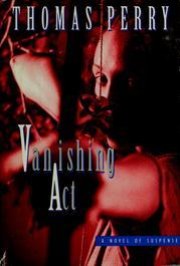 I'm not sure how I found this particular author and the books starring Jane Whitefield, but I was looking for something related to this area of New York. Thomas Perry was born in Tonawanda, NY, and he was a television writer and producer for Simon & Simon, 21 Jump Street, and Star Trek: the Next Generation. I liked these programs, so I gave it a try.
The first book of his that I read was Vanishing Act which had been chosen as one of the "100 Favorite Mysteries of the Century" by the Independent Mystery Booksellers Association in 1994, I believe. The main character, Jane Whitefield, is a Native American guide who leads people out of the craziness created by enemies who want you dead. She is in the one-woman business of helping the desperate disappear. She is a member of the Wolf Clan of the Seneca tribe. She has learned to fool any pursuer, cover any trail, and then provide her clients with new identities, complete with authentic paperwork. Out of necessity, Jane has utilized all the tricks she knows and invented others.
When she returns home one day, she finds an intruder waiting for her. He's an ex-cop suspected of embezzling (John Felker) and wants Jane to do for him what she did for his buddy Harry Kemple: make him vanish. But as Jane opens a door out of the world for Felker, she walks into a trap that will take all her heritage and cunning to escape. I was caught. I had to read more about Jane and this life of hers.
Other Perry books about Jane include: Dance for the Dead, Shadow Woman, The Face Changers, Blood Money, Runner, Poison Flowers, and A String of Beads.

The cover caught my eye in the bookstore: definitely not human foot in a woman's red high-heeled shoe. The title Cinder and my mind jumped to Cinderella or something being burnt to cinders. Next I checked out the burb and find that this book is the first of The Lunar Chronicles that are futuristic retellings of classic fairy tales. In CINDER, a teenage cyborg (half human, half machine) must deal with a wicked stepmother, start a rebellion against the evil Queen Levana, and decide how she feels about a handsome prince. I loved seeing this tale transformed!
In the second book, Cinder forges an alliance with Scarlet, a spaceship pilot who is determined to solve the mystery of a missing loved one - with the help of a magnetic street fighter named Wolf.
Cress (full name: Crescent Moon), is a computer hacker who is imprisoned all alone on a satellite by the wicked Queen Levana. Her job is to help Lunar ships, but she secretly works against the queen. Look at the long braid on the cover and I'm sure you'll recall her fairy tale.
Fairest is a prequel. It is about Levana during the period when she is 15-25 years old and how ugly her life is. She is abused physically and mentally by her older sister, and her parents are murdered. Nature or nuture? Which will be foremost in her development when it is her turn to rule?
Princess Winter, who's in love with a commoner, is Queen Levana's stepdaughter. Can you guess which fairy tale this is? Winter is much admired for her grace and kindness. She is somewhat lacking in beauty - her face is scarred - although it was said that her beauty surpassed her stepmother's. She's not as weak as Levana thinks and Winter has been undermining Levana for years. Has it all come together? Can Cinder, Scarlet, Cress, and Winter save the kingdom and the world?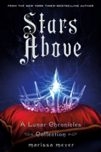 Stars Above is a collection of novellas set in this universe.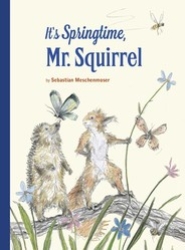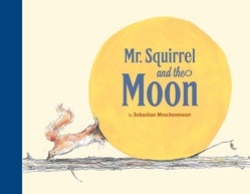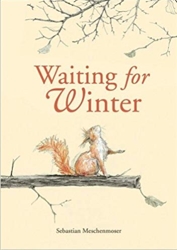 These three picture books are by Sebastian Meschenmoser. He has others, but these are ones that I have decided to keep. (I must admit that picture books are great for all ages, and I love to read aloud.) Look closely at the details in his work. Some pages are a wordless two - page spread, but are so evocative in their depictions that the reader understands. Don't forget to check out the end papers - they add to the story!
A friend shared Waiting for Winter with me and I was entranced with the pictures and laughing all the while! What adult with children cannot identify with a little sleep deprivation? Mr. Meschenmoser has captured the squirrel's movements and attitude that parents can enjoy while reading to their young ones. Mr. Squirrel has never seen snow, and doesn't want to hibernate until he has. Can Mr. Squirrel and his friends identify snow just from Deer's description? Will they be able to stay awake until that first flake arrives?
In Mr. Squirrel and the Moon, he awakens to find the moon in his tree. He becomes frantic and tries to remove it before someone thinks he has stolen it and puts him in jail. Check out how Squirrel tries to solve this problem. Will the moon ever be the same?
My latest acquisition was It's Springtime, Mr. Squirrel is true friendship and understanding. What friend wouldn't help his BFF win his lady love's heart. Mr. Squirrel knows all about love, what ladies like, and how to be a hero!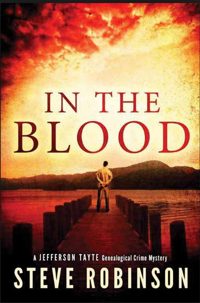 In the Blood
is the first book in a mystery series by Steve Robinson and features an unlikely main character named Jefferson Tayte. He's tall, overweight by his own admission, and has a scar from a dog bite he received while prowling around looking for burial plots. He's a genealogist for hire.
In this story, Jefferson Tayte is hired to solve a puzzle in a family tree. They have traced the roots of their loyalist family that fled to England to escape the American revolution and then vanished. The American family wants Tayte to find out what happened to their ancestors. When Tayte begins his search, that is when a killer tries to stop him. Tayte goes to Cornwall, England where he uncovers a series of hidden crimes and discovers a dark secret, all the while a killer is looking for the same answers.