Young Life News Page

Website

Previous Young Life News

Area Director: Kevin Kulikowski - (716) 207-2701
Team Leader: Jim Elson - (716) 912-3709
Adult Committee: Joe & Diane Quinn - (716) 773-7453


---
Club is held on Tuesday evenings at 7:30 p.m at different locations. See website for address and dates.
Young Life Campers at Lake Champion - July 2018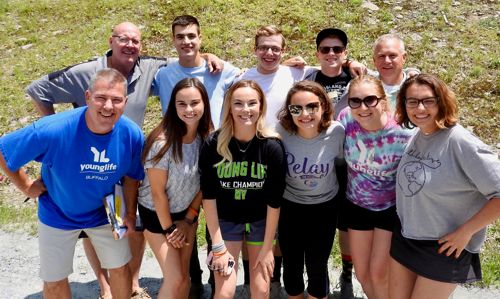 Top Row: Jim Ellson, Adam Crist, Mike Olman, Drew Callen, JT Tomkins.
Bottom Row: Kevin Kulikowski, Emma Smith, Cat Otto, Ashley Gugino, Amanda Heftka, Franki Gugino.
July 19, 2018
...This week Young Life Buffalo North Director and Grand Island resident Kevin Kulikowski along with nine volunteer leaders are accompanying a group of 81 teenagers from Grand Island High School to Young Life's Lake Champion, a 370-acre year round retreat center located in Glen Spey, NY.
Young Life's Mission is to introduce adolescents to Jesus Christ and helping them grow in their faith. We accomplish our mission by:
Going where kids are and building personal relationships with them.
Earning the right to share the Good News of Jesus Christ.
Providing fun, adventurous, life-changing and skill-building experiences.
Inviting kids to personally respond to the Good News and walking in friendship with them regardless of their response.
Preparing kids for a life-long relationship with Christ and a love for His word, His mission and the local church.
Working in community alongside like-minded adults (volunteer leaders, committee members, donors and staff).
Every year a great group of kids from the Island make the effort to go to camp and we tell them that they are guaranteed the best week of their life or they will get their money back! Well, in 16 years of Young Life camp trips we have never had to refund a camp trip because of that promise. Young Life has 34 camps worldwide, we mainly use 4 that are located within a days bus ride. They would be Saranac lake and Lake Champion in New York, Rockbridge Alum Springs in Virginia and Timber Wolf Lake in Michigan's Upper Peninsula.
A week at Young Life camp will change your life, it will be full of fun, new friendships, adventures and many memories. In addition to the summer activities, you will have a great time with your friends and leaders during Club each day. Be prepared for a week you will never forget! Want to join a few hundred other high school students in an amazing week of adventure? Contact our Grand Island Young Life staff through these websites.
www.buffalonorth.younglife.org/
www.grandisland.younglife.org/