Grand Island Rotary Club Web Page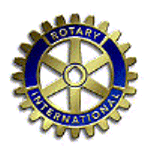 Rotary International web site
Meeting Time 6:15 p.m. Wednesday Evening
Buffalo Launch Club
Previous Rotary Page
Rotary Undie Sunday For a Whole Week - February 2018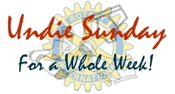 From February 10 to 18th, we hope you will consider donating NEW underwear and socks in the HAMPERS placed in churches, schools, Tops, Town Hall and the Grand Island Memorial Library. G I Rotary will get them to Buffalo City Mission, and Cornerstone Manor, their shelter for battered women, to allow the homeless and battered, a chance at fresh things as winter drags on in Western NY.
Flyer
.
Rotary Club Volunteers at Gus Macker - June 2017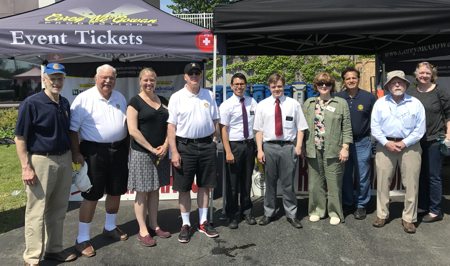 Members of the Grand Island Rotary Club staffed the Gus Macker registration tent, checking in over 800 basketball players over Gus Macker weekend. The Rotary support allowed players to smoothly collect their player shirts, gym bags, bracelets and court assignments.
Rotary Club Week Long Undie Sunday - February 2017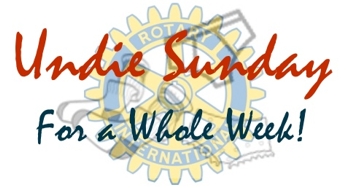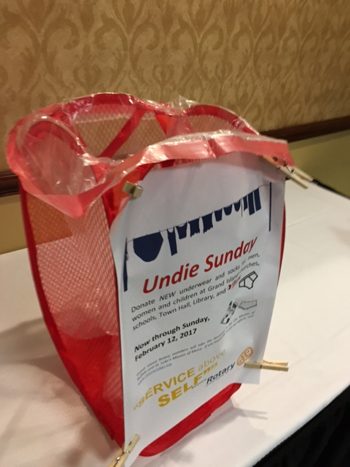 Be on the look out for the Undie Sunday hamper.

Principal Kerri Nowak with students.
Help the homeless and abused between Feb 5 -12th by bringing new, unused underwear and sock packages to bins set up in Grand Island schools, churches, Top's Market, County Library and Town Hall. The Rotary Club is sponsoring Undie Sunday for a Whole Week! Packages for men, women and children are welcomed and needed. GI Rotarians will take them to City Mission of Buffalo and St. Luke's Mission of Mercy. Please help the homeless, the abused and the under-privileged with NEW underwear, that means so much. Rotarian Kerri Nowak, Principal of Huth Rd School is heading up this program. She and other Rotarians will see to it that those near the bottom get some help!
Grand Island Rotary March Meeting - March 2016
The GI Rotary Club dinner meeting is Wednesday, March 9th at 6:15 p.m. at the Buffalo Launch Club. Guest speaker is Supervisor Nate McMurray, sharing his agenda for Grand Island. If you would like to attend, please email: enrae.richard@gmail.com by Tuesday night, March 8th. Dinner is $20 per person.
Grand Island Rotary Art Auction - October 2015
The Grand Island Rotary is sponsoring an Art Auction on Saturday, October 24th at Byblos Niagara Resort beginning at 6:00 p.m. Admission is $10 per person and includes Hors D'oeuvres, dessert and beverages. A cash bar is available. There will also be a 50/50 raffle and silent auction. See
flyer
for details. Proceeds benefit the Rotary Student Scholarship and activities funds. Tickets can be purchased either at the GI Key Bank Branch or by contacting Richard Earne at 773-6346.
This is a great opportunity not only to acquire nice pieces of art at very reasonable prices, and in all price ranges, but also to support a worthwhile cause. The starting bids on the art offered is usually around 1/3 the price you would pay for the same thing at traditional art galleries. Opening bids can start as low as $25 and are in a wide price range to suit everyone's tastes. So, not only do you save on the art for yourself, but a portion of the proceeds goes towards the Rotary's Scholarship fund. Great for the purchaser and great for the students.
Rotary Sponsors Document Destruction Event - June 2015
The Rotary Club of Grand Island is having a document destruction event at the Key Bank parking lot in Tops Plaza on Saturday, June 27th from 11:00 a.m. - 1:00 p.m. The event is confidential and $10.00 per banker box. There will also be a drop off service. See
flyer
.