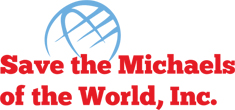 Save The Michaels Parent Support Group
Contact or 716-984-8375
Facebook: Save The Michaels Parent/Family Addiction Support-Northtowns Group


---
Please Note: Meetings are suspended until a new location can be identified.
STM Parent Support Group - This group is for anyone who loves someone in active addiction, or in the early stages of recovery. Parents, adult siblings and spouses need an emotional outlet when their loved one is in active addiction.
This is a traditional support group for people to voice their concerns and learn from other people in the same situation. You can come to just listen, or speak if you wish.