Democratic Committee Webpage

Chairman: James Sharpe
3138 East River Rd. - Phone & Text 716 553-1100

Mission: Help democratic candidates get elected.
Club's Purpose:
Raise money for the Democratic candidates for the Town of Grand Island.
We are always looking for new members to help campaigns.



Democratic Committee Endorsements - May 2017
The Democratic Committee has announced endorsements of Cyndy Montana and Celia Spacone for Grand Island Town Council, Dan Drexelius for highway superintendent and Eric Soehnlein for town justice.
Coffee with the Democratic Candidates - October 2015
FREE Donuts & Coffee For Seniors, hosted by candidates; Judge Sybil Kennedy (Town Justice), Nathan McMurray (Supervisor), Beverly Kinney & Cyndy Montana (Council) and Nancy Samrany (Former Town Clerk) - Thursday, Oct 29th from 9:00 a.m. - 11:00 a.m. at Town Cafe, 2352 Grand Island Blvd.
Grand Island Democratic Committee Endorsements - May 2015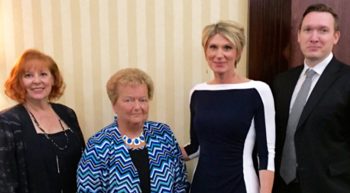 From left: Beverly Kinney, Sybil Kennedy, Cyndy Montana & Nathan McMurray
Press Release
...As chairman, Jim Sharpe credits the Democrat Committee with an impressive slate of candidates. "I am honored that we have candidates with the caliber of Nathan McMurray for Town Supervisor. He is an experienced and accomplished attorney who is world traveled. He has chosen, as we have, to raise his family here on Grand Island and feels we can do better. We believe Nathan, as Town Supervisor, has what it takes to make a good community a great community.
Our Town Council candidates, Beverly Kinney and Cyndy Montana, are both excited and enthusiastic about bringing their talents and commitment to making Grand Island a better place to live, work & play. Beverly Kinney has been involved in every facet of Grand Island, from working with the Chamber of Commerce, the Town's Economic Development Advisory Board, the Women's Professional Business Organization, along with many of the community charities and events through more than two decades. She has spent the majority of her life here on Grand Island and her love and commitment to the community is clear to anyone who has worked with her.
Fresh eyes and new ideas are the qualities Cyndy Montana brings to the table. She is the mother of two children with a husband who was born and raised on Grand Island. She is involved with her children's PTA and actively participates with all of their events. Cyndy extends her time and efforts to a variety of community events and organizations. A successful businesswoman, she will bring sound judgement to the position.
The committee and I are extremely proud to endorse Judge Sybil Kennedy, a seasoned judge, for the Grand Island Town Justice. Judge Kennedy had worked as chief clerk for Judge Pritchard for many years and has served as Town Justice for the past 16 years. She has brought a wealth of knowledge and wisdom to our town court. Judge Kennedy is a well-recognized and respected judge with the county.
This group of candidates will bring transparency, creativity and integrity to our government that will replace the indecisiveness, duplicity and dysfunction that we currently endure." For more information on getting involved contact, Jim Sharpe at jsharpe3138@me.com or 553-1100.
Grand Island Democratic Committee Meet & Greet - August 2013
The Grand Island Democratic Committee is sponsoring a Candidates Meet & Greet on Friday, September 6th from 6:00 p.m. - 9:00 p.m. at the Grand Island Rod & Gun Club, 1083 Whitehaven Road. Donation $25.00, for more information call Jim Sharpe at 716-553-1100.
Grand Island Democratic Committee Endorsements - June 2013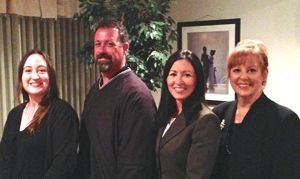 From left: Joy (Carrier) LaMarca, William Stanley, Sarah Tollner, Beverly Kinney
The Grand Island Democratic Committee has endorsed Beverly Kinney and Sarah Tollner as their candidates for Town Council. The committee has also endorsed Joy (Carrier) LaMarca for Town Justice and William Stanley for Town Highway Superintendent. The Committee will be holding a fundraiser on June 14th at the VFW Post from 6-9pm and the community is invited. For further information contact Jim Sharpe at 553-1100 or jsharpe3138@me.com.
Democratic Committee Seeks Candidates for November 2013 Election - March 2013
The Grand Island Democratic committee is seeking candidates for the following Town of Grand Island offices: Town Council (two seats), Town Justice and Superintendent of Highways. Residents seeking the Island Democratic Party endorsement should submit a written request and any supporting material to the Grand Island Democratic Committee, c/o Chairman Jim Sharpe, 3138 E River Road, Grand Island, NY 14072. Letters are to be received by Friday, April 5, 2013. For information or questions, contact Jim Sharpe at 773-2279 or 553-1100.