Chamber of Commerce News Web Page 2016
Grand Island, NY, Chamber of Commerce Website

President Eric Fiebelkorn
First Vice President Jim Sharpe
Secretary - Dr. Sherry Bradford
Second Vice President Fahim Mojawalla
Treasurer Robert Ratajczak

Previous News



Chamber Office: 2257 Grand Island Blvd., Grand Island, NY 14072
Phone: (716)773-3651 Fax: (716)773-3316

This Chamber is organized for the purpose of advancing the economic, industrial, professional, cultural and civic welfare of Grand Island; to encourage the growth of existing industries and business, while giving all proper asssistance to any new firms or individuals seeking to locate in Grand Island; to support all these activities believed to be beneficial to the community and area, and in general to promote the welfare of all area citizens following always those policies intended to accomplish the greatest good for the greatest number of people.
---
Brochures, Maps, Videos and Post Cards (viewed on opening page of website) available through the Chamber Office. Feel free to email us and we will forward your request to the Chamber Office or call (716)773-3651.
Thank you for your interest in Grand Island.
Light Up the Boulevard Contest Winners - December 2016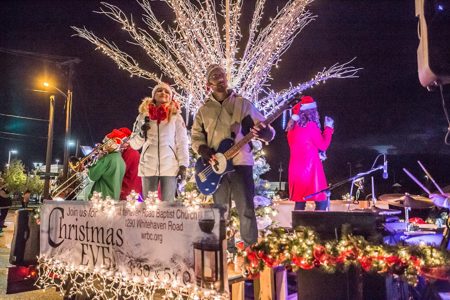 1st place, Whitehaven Road Baptist Church.

2nd place, Step in Time Dance Studio.

3rd place, Cross Control & Electric.
The Grand Island Chamber of Commerce & Light Up the Boulevard Committee and Grand Island Recreation Department would like to thank all of this year's parade participants, volunteers, and the Grand Island community for coming and making this event such a great success!
We would like to congratulate the following winners of this year's event:
1st Place for the Parade's Best Festive Unit: Whitehaven Road Baptist Church
2nd Place for the Parade's Best Festive Unit: Step in Time Dance Studio
3rd Place for the Parade's Best Festive Unit: Cross Control & Electric
3rd Place for the Parade's Best Festive Unit: Kaegebein Elementary School
12 Small Business Days Before Light Up Winners are:
1st place is Anna Vaccaro
2nd place is Jeanne Anstett
Light Contest winners are:
Business winner is: Gui Lumber (Ace Hardware)
Residential Classic: 1st place is 2005 Stony Point, 2nd place is 3508 Wallace, 3rd place is 79 Elsie Lane
Residential Contemporary: 1st place is 3348 East River, 2nd place is 1688 Broadway, 3rd place is 301 South Lane
If you would like to check out the other entries houses: 123 Autumwood, 2874 Love Rd.
Chamber Light Up the Boulevard Festivities Information - November 2016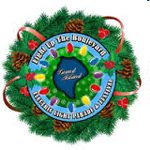 Saturday November 19th - Light up the Blvd Parade and Festival at Town Commons (2 p.m. - 8 p.m.)
Food Trucks at Light Up will be: Pizza Amore, Cheesy Chick and RNR BBQ.

Santa in Town Hall from 2 - 4:30 p.m. & 6:30 -8:00 p.m.

Hot Cocoa & Treats
Road Closes at 4:30 p.m. Rudolph Run Starts at 5 p.m. followed by the parade and tree lighting.





12 Small Business Days Before Light Up the Boulevard - November 2016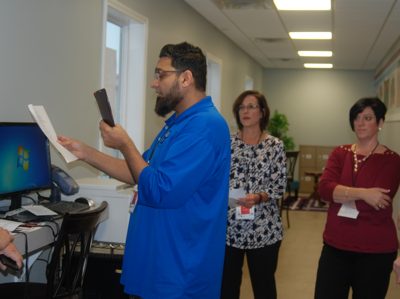 Fahim Mojawalla is shown filming a Facebook Live promo for the contest.
The fun begins on Tuesday, November 8th with "12 Small Business Days Before Light Up the Boulevard".The Grand Island Chamber of Commerce is sponsoring the event to highlight local, small businesses in November. They will be running two contests between November 8-19th. One is a selfie contest, and the other is a punch card contest for a grand prize. All you have to do is stop at each business location on its designated day and hours, take a selfie and upload it to the Light Up the Boulevard Facebook page. Make sure you "LIKE" each business; throughout the 12 days there will be randomly picked winners. To enter the Grand Prize, fill up the punch card on the designated days. Punch cards are available at all the participating locations and the Chamber office. See list of businesses here. On Saturday, November 19th, hand in your punch card to Fran McMahon at the Light Up the Boulevard event at Grand Island Town Hall from 2:00 p.m. - 8:00 p.m.


.


Chamber Light Up the Boulevard Festivities Information - October 2016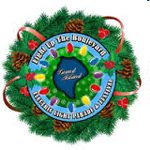 With Holiday Season quickly approaching, the excitement is building for the 5th Annual Grand Island Light Up the Boulevard Electric Light Parade and Festivities. A joint venture between the Grand Island Chamber of Commerce and the Town of Grand Island, especially the Recreation Department, this community event will take place on Saturday, November 19, 2016. Please note the family-friendly time table with festivities starting at 2:00 pm with Santa's first visits of the season, vendors, Food Trucks, games, music and crafts. Grand Island Boulevard will be closed at 4:30 pm in anticipation of the Rudolf Run, which starts promptly at 5:00, followed by the Electric Parade & Tree Lighting in the Town Commons. Festivities will continue until 8 pm, and Santa will return to visit with the children. Mark your calendars and start your decorating early.
New this year is "12 Small Business Days Before Light Up the Boulevard". National Small Business Saturday is only a day, but here on Grand Island we want to highlight our local small business throughout the month of November. Light Up the Boulevard kicks off the traditional holiday shopping season with local businesses; this is where you get involved and all the fun begins! We will be running TWO contests between November 8-19th - one is a selfie contest, and the other is a punch card contest for a grand prize. All you have to do is stop at each business location on its designated day and hours take a selfie at each stop with our poster, upload that selfie to the Light Up the Boulevard Facebook page (we want to see some fun photos). Make sure you "LIKE" each business; throughout the 12 days we will randomly be picking WINNERS. To enter in our grand prize, you have to fill up your punch card; at each stop make sure you get your punch card punched. You can pick up a punch card at the Chamber office or any of the participating locations.
Local businesses compete for the prestigious award and bragging rights for most decorated establishment, while homeowners can also win the prestigious award and bragging rights of the Residential Light Contest. Forms and more information are available at www.gichamber.org. On November 19th it will be flip the switch night! Judging will take place on December 10th & 11th. Leading the way in sponsorships are: LDC Construction Co., AccuTheranostics, Dana's Styling Pets, Brad Bowman with Century 21, Island Ship Center, McMahon's Family Restaurant, Grand Island Optical, Republic Services, and Liz Wilbert with Reality USA. We still have room for more sponsors. For more details, call the Chamber office at 773-3651, or www.gichamber.org. See 12 Small Business Days Form/Light Up the Boulevard Sponsor Form.





20th Annual KidBiz Sidewalk Sale - June 2016
Photos by Mary Stewart
The 20th Annual KidBiz Sidewalk Sale was held Saturday, June 25th from 10 a.m. to 3 p.m. in the Grand Island Town Commons.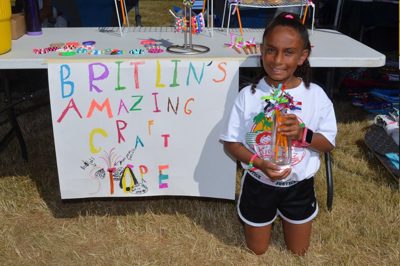 Britlin Fanning, proprietor of Britlins Amazing Craft Store.

From left: Keira Murray sold cookies and pretzels, Diana DeAngelo sold hand made flowers and Anthony Borzillieri sold lip balm.

Kiersten Brown with her wide assortment of original headbands.

Hailey Martinez - proprietor of Hailey's Gardening Place

Victoria Leach and Annika Michel, proprietors of Chasing Our Dreams. The girls sold pillows, jewelry and miscellaneous items.

Abishek and Harini Selvakumar of A & H Inc., sold homemade key chains, bracelets and an assortment of small cars and trucks.
20th Annual KidBiz Sidewalk Sale - June 2016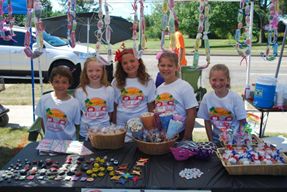 The 20th Annual KidBiz Sidewalk Sale will be held Saturday, June 25th from 10 a.m. to 3 p.m. in the Grand Island Town Commons. Come out and purchase from our young entrepreneurs who have learned various aspects of running a business with topics such as pricing, marketing and customer service. Each young business owner had to pay a rental space fee and received a "license" to be eligible to sell at the KidBiz Sidewalk Sale. KidBiz is an excellent opportunity for children to engage in a real-life business experience. For more information contact the Chamber office at 773-3651or www.gichamber.org.
The Grand Island Chamber of Commerce KidBiz Committee would like to thank all of our 2016 KidBiz Sponsors. Without their support we would not be able to put together these special community programs that make our town a unique place to live, work & play!
Financial Trust Federal Credit Union
Mr. Best Wrench
Dana's Stylin Pets
McMahon's Family Restaurant
Key Bank





Kiddo's Korner Preschool Ribbon Cutting - June 2016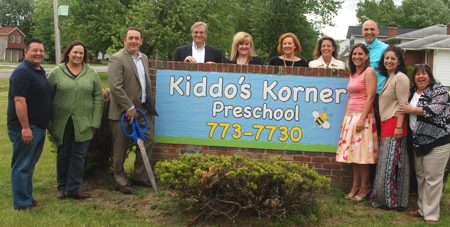 Chamber members and Kiddo's Korner staff.
Kiddo's Korner Preschool located at 2728 Stony Point Road, celebrated two successful years in operation on Wednesday, June 8th with a Chamber of Commerce sponsored ribbon cutting ceremony. Owner Crystal Harding has preschool classes for ages 2-5 years and a summer camp program for children ages 2-8 years. For more information, check out their website.





Citizen of Year, Organization: Islettes Elite - April 2016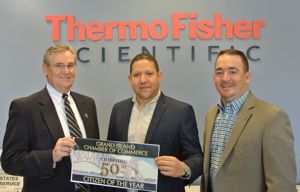 From left to right Jim Sharpe, Manuel Tavares, and Eric Fiebelkorn.
The Grand Island Chamber of Commerce is celebrating our 50th Annual Citizen of the Year Awards dinner on April 28, 2016 @ Byblos Niagara Resort & Spa. This event honors Islanders who have made this town a better place to live, work and play. Tickets are $50 and going quick! The Chamber would like to thank Thermo Fisher for being a Gold Sponsor of this Gold Anniversary of Citizen of the Year!





Citizen of Year, Educator: Maggie Kennedy - April 2016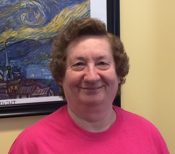 Magdalene (Maggie) Miller Kennedy began her career as an English teacher at Grand Island High School in September 1972. She graduated from Canisius College in 1972 with a degree in English Education and earned her Masters from Canisius College in 1975. She is the daughter of the late Walter and Christina Miller. She has a daughter and son-in-law, Christina and Tom Donovan and a son, Richard and his girlfriend Carly. At the high school she has been Advisor for many extra-curricular activities including Spotlighters, International Club, the Class of 1982, and Director of many musicals including her first, Hello Dolly, Shrek, the Musical and this year's Mary Poppins. She is co-founder of the high school Rugby team and was given the Fan of the Year Award by the high school Hockey team in 2013. She is a member of the St. Stephen's Parish Players and has been in their last four musicals. She is thankful to be part of the faculty of GIHS.





Citizen of Year, Organization: Islettes Elite - April 2016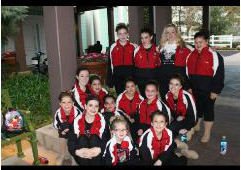 The Islettes' Elite Majorettes is a faith based dance twirl team, celebrating 30 years of excellence in artistic sport performance. Members age 2 years and up learn Christian sportsmanship, team spirit, athleticism, showmanship, rhythm, responsibility and confidence. The goal of the Islettes' Elite is to perform at local, state and regional parades and events building character, community and teaching valuable life lessons to children. They proudly carry the Grand Island name across the USA. The Islettes' Elite are 3-time honored performers at Walt Disney World in Orlando, Florida. They are also past recipients of Walt Disney Twirl Mania Corps and Team Championships. The members have competed in Indiana at the National Championships 20 times and have won 17 National titles. The Islettes' Elite and director Heidi Sue McCormick were honored in 2000 with induction into the New York State Twirling Hall of Fame.
Over the 30 years more than 200 twirlers and percussionists have participated as members in this family oriented organization. Alumni have gone on to perform at national sporting events and as featured college twirlers with numerous scholarships or as coaches themselves. The twirlers complete many hours of community service throughout the year. In addition the twirlers put in many hours of practice while still maintaining honors grades, as education is a priority. All staff members are lifelong island residents who have "grown up" as members of the team. The Islettes' Elite is not a studio or business, all staff members volunteer their time. The Islettes' are family. Family is far more than blood- we are "Sisters" forever. Once a Ladybug - always a Ladybug! Heidi Sue McCormick - Director, Molly Wynne - Assistant Director.





Citizen of Year, Environmental Steward: LDC Construction - April 2016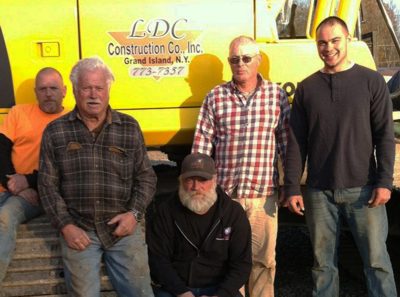 L.D.C. Construction Co., Inc. was started on February 15, 1973. It is family owned and operated by the Lyle Dinsmore family. It originally operated out of the family home on Whitehaven Rd. In 1981, LDC bought the property at 1920 Baseline Rd. and moved their operations there. The main focus of work from the '70s through the mid '80s was water and sewer main construction. They also did site development including several large playgrounds and a cemetery expansion throughout Western New York.
From the mid '80s through the late '90s the focus shifted to installing the infrastructure for subdivisions. They installed the water mains, sewer mains, storm drainage, paving and curbing and also retention ponds. By the early 2000s subdivision work was drying up and the focus turned to marine work, in particular habitat improvement/restoration work. in 2001 they completed a major project at Strawberry Island. Since that time they have worked on every island in the Niagara River except Navy Island (and that is owned by Canada). They still do private work such as new docks, repairing docks, installation of boat lifts, breakwalls, etc., but the main focus continues to be habitat improvement and restoration work. Currently they are beginning to work on living shorelines.





Citizen of Year, Business of the Year: Mallwitz Island Lane - April 2016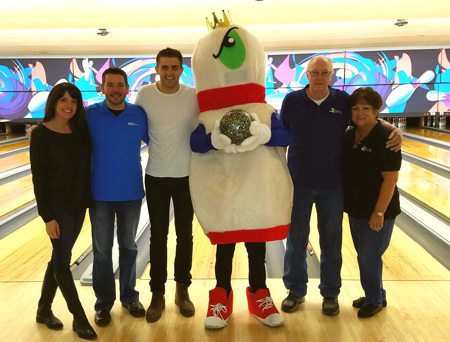 The Mallwitz family got their start in the bowling business in 1971, when Art's parents, Bill and Theo purchased Schiller Park Lanes on Genesee Street in Buffalo. When Island Lanes became available in 1980, the family jumped at the opportunity to expand to Grand Island. At the time, the bowling center only had 12 lanes, while the other side of the building served as a dance hall. In 1984, Art and Mary decided to expand and added 12 more lanes. Over the years, the family has added automatic scoring, bumper bowling on every lane and most recently replaced the bowling machines with brand new, state of the art equipment. In addition to all of the functional improvements, they have also dramatically improved the physical appearance of the facility.
The staff at Island Lanes consists of many family members, including Art and Mary's two children, Kelly and Michael and their spouses Chris and Michelle, their grandson Sean, and Art's sister and brother in law, Lynnette and Whitey. They truly are a family run business. Mallwitz's Island Lanes has been working closely with area youth, and families for all of their 36 years. Their junior bowling program has seen many bowlers winning scholarships in local and state tournaments. Along with youth league bowlers, many children have enjoyed celebrating their birthdays at the center. Not only is this the place to go for kids, but many adults have shared incredible times over the years with friends in leagues, or just bowling for fun with their families.
The business wouldn't be where it is today, without the loyal customer base that continues to grow every year. Their customers are treated like family and they have established many lifelong friendships. The Mallwitz family is always willing to help the community, from benefits for families and youth groups, helping the schools and churches, working with the Relay for Life, the Miracle League of Grand Island, as well as many other fundraising efforts.





Citizen of Year, Lifetime Service: Joanne Kud - April 2016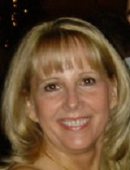 A native of the Western New York area, Joanne and her husband, Tim, moved to Grand Island 39 years ago. They have two sons, Derek and Kevin. As her children attended elementary, middle school and high school on the Island, she enjoyed her involvement in their schools' PTA activities; i.e. bazaar, book fair, "reading-is-fundamental," room mom, baked goods sales, scholarships. Joanne enjoyed a 25-year career in the hospitality industry, where she was able to employ her passion for hotel sales and meeting new people. In particular, she enjoyed working as the sales manager for the Holiday Inn Grand Island, while also supporting the Holiday Inn and the Holiday Inn Select hotels in Niagara Falls. Joanne's career took a brief change in direction when she left to work in public relations for the Grand Island School District and Erie County Legislative Offices. However, she quickly returned to what she enjoyed doing most: working in the hotel industry. Because of her passion, she became the Director of Sales and Marketing at the Ramada Hotel and Conference Center near the University at Buffalo's North Campus.
Outside of her career, Joanne served on the board of directors for the Grand Island Chamber of Commerce for over 10 years, and was then selected 2nd Vice President, 1st Vice President and President respectively. During these years of volunteering with the Chamber, she worked on several committees which included developing our town's street maps, marketing materials, Grand Island phone book, and the Citizen of the Year event. Along with other Chamber members, Joanne would be seen each year working on a variety of our town's outdoor activities: "Island Happenings", Relay for Life, the 4th of July parade float and "KidBiz." Joanne was honored to receive an award for "Outstanding Leadership" from the Grand Island Chamber of Commerce. During her tenure with the Chamber, Joanne was instrumental in further developing many youth programs in our community, that not only recognized academic achievement, but also provided opportunities for youth development. For those students interested in a career in the hospitality industry, Joanne was a mentor for the high school's "Shadow Day" and the "School-to-Work" programs. Whenever she received a phone call from the high school asking if a student could intern at the hotel, Joanne would not hesitate to help.
As chairperson for the Youth Ambassador Program, Joanne worked with many high school students, personally accompanying them to many business and social events. These experiences helped foster their poise and confidence, while having the opportunity to meet and speak with many government officials and business leaders. Joanne was also the chairperson of the chambers' scholarship committee. To sustain both of these programs, she was responsible for many fundraisers throughout the year. While actively involved with the Grand Island Chamber, Joanne was recognized by numerous government officials for her work in creating one of Grand Island's most memorable events, the Grand Island Sesquicentennial Ball. She was instrumental in establishing the Grand Island High School Alumni Award. This award is presented each year to graduates of the high school who have distinguished themselves in their profession/or community.
As its vice-president, Joanne, along with several other Island residents, established the Grand Island Chapter of Dollars for Scholars. This program helps hometown students achieve their educational goals by raising scholarship funds and establishing endowments. She is currently a director for the Grand Island Chapter of Zonta International, an organization whose motto is: "Empowering women through service and advocacy." In addition to working on the organization's many committees, Joanne recently has been assisting with Meals on Wheels to Grand Island residents. Joanne and her family volunteer yearly for fundraisers benefiting the National Multiple Sclerosis Society. Her most successful effort raised over $10,000 for a 50-mile walk culminating on the grounds of the U.S. Capitol in Washington, DC. Last spring, Joanne began working with Girl Scouts Alumni; a group of women that shares their love of scouting with a new generation of young Girl Scouts. The alumni group holds multiple charitable events throughout the year. Each year during the holidays, 6,000 new pajamas and books are collected and distributed to homeless children and families in need.





Citizen of Year, Business Development: Corey McGowan - March 2016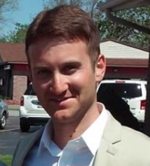 Born on St. Patrick's Day 1989 to John and Patricia, Corey McGowan has lived his entire life on Grand Island. A graduate of Huth Road Elementary, Veronica E. Connor Middle, Grand Island High School and Buffalo State College, he left a career in business to follow his passion as a promoter and entrepreneur through Corey McGowan Productions. One can easily say McGowan was a born promoter who began leading the charge for community projects when he was 11 years old. Back then, he was spearheading neighborhood petitions to have bridges built over tiny creeks that prevented him from being able to ride his bicycle to Veterans Park. During his high school and college years, he organized controlled hotel parties to provide musical entertainment for his friends while making a few bucks for school.
From 2006-2008, McGowan served as Grand Island Youth Ambassador to the Chamber of Commerce where he would implement a High School Battle of the Bands competition into the popular annual Kid Biz event at the Town Commons. As a business major at Buffalo State, Corey worked at the Keller Insurance Group in Niagara Falls, where company owners and Grand Island residents Tony Brindisi and Bob Fahning gave him hands-on experience in business, and the ability to learn from two well-respected men in their field. Upon graduating from college in 2012, he began at Citigroup as a pricing analyst, feeding traders daily stock price variances, working with individuals in New York City, London, Belfast and Singapore. After 18 months, he returned to the Island for a position as the events director for Byblos Niagara Resort & Spa on East River Road.
While working for these companies, the promoter remained active in his hometown by starting the Grand Island Mural program in the summer of 2012. The project was completed that fall through funds from the first Taste of Grand Island. Today, it stands strong with its historical montage of Grand Island facing Baseline Road - as does the Taste of Grand Island, which will celebrate its fifth anniversary as a Corey McGowan Productions event on Sept. 24. On weekend nights during the summer, one will find McGowan at the Town Commons in the heart of Grand Island hosting a Friday night concert and a free outdoor family movie on Saturday evening. Beginning this year, Corey McGowan Productions will fund an annual business scholarship for a graduating Grand Island High School senior pursuing a four-year business degree.
This passion for his hometown was what prompted McGowan to contact the national office of the Gus Macker 3-on-3 Outdoor Basketball tournament last year when he heard Buffalo and Darien Lake would not hold the tournament and it would cease locally after a 25-year run. McGowan's enthusiasm in bringing this street festival, sports tournament for adults and youth of both sexes to Grand Island turned into a greatly successful 2015 tournament for all of Western New York to enjoy on Grand Island. This year, McGowan will again hold the tournament on Grand Island Boulevard and use the Town Commons for a festival June 4-5. This summer you will also find McGowan continuing the tradition of the Taste of Grand Island, monthly Friday evening concerts and Saturday night outdoor films at the town commons. A full listing of events produced by Corey McGowan Productions can be found at www.coreymcgowan.com.





Chamber Youth Ambassadors Sought - March 2016
The Grand Island Chamber of Commerce is looking for 2016-2017 Youth Ambassadors. The Youth Ambassador program exists to promote interaction and goodwill between the business community and students, and to bring them to an awareness of the economic development of Grand Island. The 2016-2017 term of service is June 1, 2016 through August 31, 2017. Two Youth Ambassadors will be selected for the 2016-2017 term.
Duties of the Youth Ambassador include representing the GI Chamber at community & business events, serve as a liaison between the Chamber, GI Businesses, and GI youth & schools, and participation in GI Chamber events. The Youth Ambassadors are responsible for fundraising to support the program's future, including soliciting donations from local businesses and direct sales of raffle tickets at events. Youth Ambassadors are expected to attend monthly GI Chamber Board meetings, Youth Ambassador committee meetings, and contribute to the GI Chamber website blog. Youth Ambassadors are asked to provide 4 hours per month assisting in the GI Chamber office.
Through these events and responsibilities, Youth Ambassadors gain versatile skills in Networking, Leadership, and Project & Event Management. Grand Island Chamber events in which Youth Ambassadors participate include, but are not limited to, the Independence Day Parade, the August GICC President's Party, the GICC 30 Days of Giveaways, Light Up the Boulevard, GICC Holiday Party, GICC Board of Directors Elections, Citizen of the Year, Selection of Youth Ambassadors for the following year, and KidBiz.
All applicants must be residents of Grand Island. All applicants must be a student in grade 10 or 11 (expected graduation June 2017 or June 2018.) Youth Ambassadors selected are awarded a $1000 scholarship, presented at graduation. All submissions become property of the Grand Island Chamber of Commerce and may be used at the Chamber's discretion. Finalists will be interviewed in a group-interview setting the week of May 23-27, 2016. 2016-2017 Application.





Citizen of Year, Community Leadership: Fahim Mojawalla - March 2016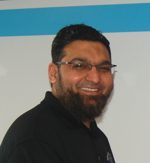 Fahim Mojawalla was born in Mumbai, India and moved with his family to New York City when he was three years old. He went to school on Long Island and graduated from the State University of New York at Stony Brook in 2002 with an honors degree in Economics and a Minor in Business Management. He moved to Grand Island, NY, in 2005 with his mother, wife and five children. Currently, he is the effervescent owner of Island Ship Center, a successful, popular, experienced-based retail shipping outlet (popularly known as The Spa of Shipping), business center, and unique gift store, located next to Baked Cupcakery on Whitehaven Road. Island Ship Center is celebrating 10 years in business on the Island on Tuesday, April 5th at 11:oo a.m. at a ribbon cutting ceremony.
Along with his wife Seema, Fahim is very involved in the Association of Mail & Business Centers and is honored to volunteer on the AMBC Board of Directors as Social Media Director. He is also the VP of the Grand Island Chamber of Commerce, helping connect other local businesses with social media trends. He loves being able to live and work on Grand Island, so that he can spend a lot of time with his kids during after school activities. He shares many motivational quotes through his Facebook, Twitter and Instagram pages and uses plenty of hashtags to keep track of online activity, especially, #FahimFix, #SpaOfShipping and #ExudeExcellence. In 2015, Fahim was recognized for his involvement with the community by being awarded the Excellence in Education award. Fahim's new video, Get SMart with Fahim, about learning the "art of Social Media," launches on YouTube on April 2nd. Fahim is honored and touched to be receiving the Citizen of the Year Award for Community Leadership and wishes to thank everyone on the Island for this auspicious award.





Chamber Award Recipients Announced - March 2016
We are proud to announce the Grand Island Chamber of Commerce 50th Annual Citizen of the Year Awards recipients! The awards ceremony and dinner will be held on April 28, 2016 at the Byblos Niagara Resort and Spa. The Citizen of the Year Awards are presented annually to businesses and individuals whose contributions have made Grand Island a better place to live, work and play. The Grand Island Chamber of Commerce is proud to recognize those who so graciously give of their time and energy. These individuals are the foundation and spirit of our great community. Someone from the Grand Island community nominated each of our winning recipients. All nominations were reviewed by the Citizen of the Year committee and chosen for each particular category. The recipients are as follows:
Business: Mallwitz Island Lanes
Business Development: Corey McGowan
Community Leadership: Fahim Mojawalla
Educator: Maggie Kennedy
Environmental Steward: LDC Construction
Lifetime Service: Joanne Kud
Organization: Islettes Elite





50th Chamber Citizen of Year Awards - February 2016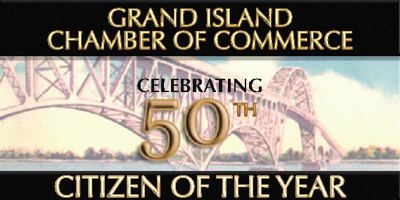 2016 should prove to be an exciting year for us all! This year the President of the Grand Island Chamber of Commerce, Eric Fiebelkorn, will be chairing the 50th Annual 'Citizen of the Year' Awards, Thursday, April 28, 2016, to be held at Byblos Niagara Resort & Spa, with the support of the entire Board Directors participating in order to make it the best year ever. This will be a very special event, celebrating all 106 past award recipients from the previous 49 years and this year's winners. All past award recipients are encouraged to attend this historic event.
The Master of Ceremonies for this year's event will be Chief Meteorologist, Todd Santos, from Channel 4. Tickets are limited; they will be sold on a first come, first serve basis and can be purchased at the Chamber office. The community is filled with truly remarkable individuals who give of their time and talent. Help us recognize these contributors by nominating them! Nomination applications can be found in the Grand Island Community Directory, on the Chamber website (gichamber.org) or at the Chamber office, 1870 Whitehaven Road, Grand Island, NY 14072. The deadline for nominations has been extended to March 11, 2016.





Chamber Citizen of Year Nominations Wanted - January 2016
The 50th annual Citizen of the Year Awards dinner will take place on Thursday, April 28th at the Byblos Resort. Each year the Grand Island Chamber of Commerce looks for businesses, organizations, teachers, individuals or someone who has gone the extra mile and has taken the extra step above and beyond their day to day responsibilities and jobs in the Grand Island Community. These are the people who have made Grand Island a better place to Live, Work and Play. We all know someone who fits this bill and now is you chance to give them the thanks that they deserve! The Chamber is now accepting nominations for the 50th Citizen of the Year Celebration. The deadline for this years nomination is March 1, 2016. If you would like to recognize an individual or a business that have given greatly to the community, see the nomination form. The deadline is March 1st.