Chamber of Commerce News Web Page 2019
Grand Island, NY, Chamber of Commerce Website

President Eric Fiebelkorn
First Vice President Jim Sharpe
Secretary - Dr. Sherry Bradford
Second Vice President Fahim Mojawalla
Treasurer Matthew Grimaldi

Previous News



Chamber Office: 1870 Whitehaven, Grand Island, NY 14072
Phone: (716)773-3651 Fax: (716)773-3316

This Chamber is organized for the purpose of advancing the economic, industrial, professional, cultural and civic welfare of Grand Island; to encourage the growth of existing industries and business, while giving all proper asssistance to any new firms or individuals seeking to locate in Grand Island; to support all these activities believed to be beneficial to the community and area, and in general to promote the welfare of all area citizens following always those policies intended to accomplish the greatest good for the greatest number of people.
---
Brochures, Maps, Videos and Post Cards (viewed on opening page of website) available through the Chamber Office. Feel free to email us and we will forward your request to the Chamber Office or call (716)773-3651.
Thank you for your interest in Grand Island.
Grand Island Light Up the Boulevard Electric Parade and Festival - September 2019
The Holiday Season is quickly approaching and planning for the 8th annual "Grand Island Light Up the Boulevard Electric Parade and Festival" has begun. This annual family event is a joint venture between the Grand Island Chamber of Commerce, the Town of Grand Island, and the Grand Island Recreation Department.
It will take place on Saturday, December 7th at the Town Hall from 3:00 p.m. - 7:00 p.m. Stay tuned for a full schedule of the day's festivities as we get closer to December 7th! Grand Island Boulevard will be closed at 4:30 p.m. in anticipation of the Rudolph Run, which starts promptly at 5:00 pm, followed by the Electric Parade & Tree Lighting in the Town Commons! Forms for participating in the parade can be found at Town Hall, the Recreation Department, or the Chamber of Commerce.
2018 was a great success in our attempt to grow the festival because of the dedicated businesses that stepped up and sponsored Light Up The Blvd! Grand Island Chamber is a non for profit organization. The Chamber holds these events within the community to not only bring the community together but highlight the businesses on Grand Island that support our community efforts. We once again ask you to consider sponsoring this years event. Every dollar that comes in goes back out to making Light Up the Blvd Electric Parade and Festival an annual event for our community to look forward to year after year!
Our heated tent was a wonderful warm space to get out of the cold and share dinner and enjoy holiday music. The kids had a blast playing in the maze and the Santa bounce house. These we made possible because of your sponsorships. We would like to offer a tent again, more winter activities for the Kids Zone, Giant Snow-globe for photo opportunities, Reindeer petting zone or carriage rides, character visits from our "Let it Snow" friends and more....On the top of our list this year is attempting to rent another heated tent for holiday vendors and local businesses. Having two heated tents would allow a real opportunity for a business holiday expo for Grand Island this holiday season.
Sponsorships are needed to have a successful event! Please consider sponsoring Light Up the Blvd this year. We offer a multitude of sponsoring opportunities from a bronze to a diamond level. Businesses and private donors will be highlighted at different levels and made known throughout the community of your support! The sooner you commit with your sponsorship the sooner we can begin highlighting your participation in future press releases, social media, and our updated website! Thank you in advance to the sponsors that do support this event every year! Your continued dedication through sponsorships has allowed this event to grow into what it is today! All forms can be found on www.GIChamber.org or on the Light Up the Blvd Facebook page. For even more details, call the Chamber office at 773-3651.
Ribbon Cutting at the Burrata Rooftop Bistro - August 2019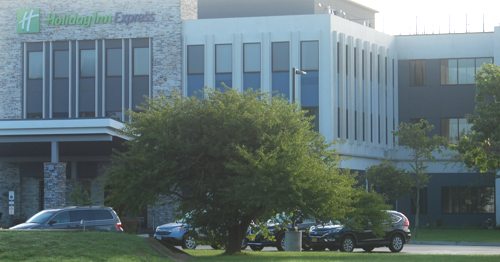 Entrance is on the west side of the building.



Ribbon cutting was well attended.
A Chamber of Commerce ribbon cutting was held at Jayesh Patel's Holiday Inn Express on Friday, August 23rd. It was to celebrate the completion of the roof top restaurant & lounge, Burrata Rooftop Bistro. Situated on the fourth floor, the elevator opens inside to a nice bar, that includes a pizza oven. A huge outdoor, south and west facing deck, is very spacious. Many Patel family members, friends and Chamber members were on hand to celebrate the day. The appetizers and pizza served were delicious.
The official opening will be on Thursday, September 12th. Hours of operation will be Monday - Saturday, from 5:00 p.m. - 10:00 p.m. Menu items include salads, "shareables" such as Bruschetta, dips, pizza oven wings and house made meatballs. There are five different pizza flavors on the menu.
Ribbon Cutting at The Chandler - August 2019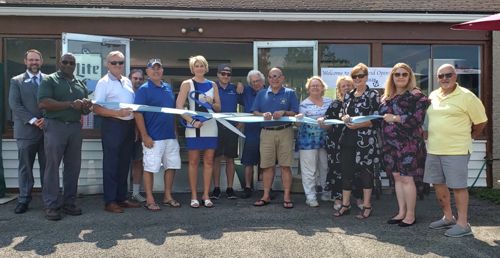 Cyndy Montana, center with members of Chamber, NYS Parks and local officials.
Click for larger view.
A Grand Opening and Ribbon Cutting was held for "The Chandler", a provisions & beer store at Big Six Mile Creek Marina on Friday, July 26th. New York State Parks selected Montana International, LLC to manage all concessions operations at State Parks on Grand Island for the next twenty (20) years. This includes Big Six Marina at 3219 Whitehaven Road, Grand Island.
The office at Big Six always offered fuel and ice, but now also offers snacks, boat supplies, tools, beer and spiked seltzer. The space has been redesigned to be more welcoming and functional. The service levels have been improved.
KidBiz 2019 - July 2019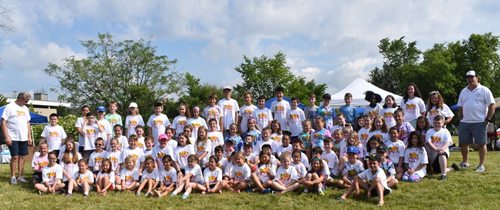 Group Photo - All photos by Mary Stewart.

Deni Daghestani makes sno cones.

Sidney & Claire Newhaus, Pillows, Plants & Treats.

Left Maggie Blum, Jewelry & Cards. Right: David Hoover, Woven bracelets, keychains.
The Grand Island Chamber of Commerce has hosted KidBiz Young Entrepreneur Program for the last 23 years. KidBiz and the Youth Ambassador Hot Dog scholarship fund-raising sale took place on a beautiful Saturday, June 29th at the Town Commons. Students in grades 2nd through 8th grade are encouraged to go to workshops and learn what it takes to run a business. The kids come up with their own ideas for a product to market, sell and some students even sign a loan agreement with their parents to cover start-up costs. This year over 120 students participated in 54 vendor booths selling items of all kinds.
Ribbon Cutting at Bridge Interiors - June 2019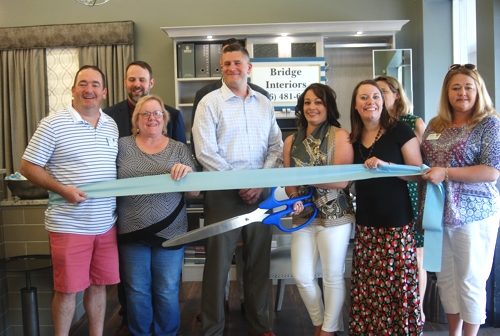 Julie DeAngelo, center with family, Chamber members and town officials.
Julie DeAngelo of interior design firm "Bridge Interiors," had a ribbon cutting at her new office in Grand Island Plaza on Wednesday, June 19th. Julie recently was a featured designer in the Buffalo Junior League's Decorators' Show House. Check out her Facebook page for examples of her work.
2019 Grand Island Chamber Citizen of the Year Award Recipients - April 2019
The Grand Island Chamber of Commerce Citizen of the Year Dinner will be held at the Doubletree Niagara Falls on Thursday, May 2nd at 6:00 p.m. Tickets are $60 and available at the Chamber office. Call 773-3651.
Recipients are:
Community Service - Gale Sander -
Biography
Business of the Year - Soma Cura Wellness Center -
Biography
Educator- Jeffrey R. Green -
Biography
Science & Medicine - Dr. Stacey Schroeder-Watt -
Biography
Lifetime Achievement - Justice Sybil Kennedy -
Biography
2019 Grand Island Chamber Citizen of the Year Award Recipients Announced - March 2019
The Grand Island Chamber of Commerce is pleased to announce the award recipients for our 53rd Annual Citizen of the Year Award Celebration. They will be recognized at a dinner to be held at the Doubletree by Hilton, Niagara Falls, on May 2, 2019. Business: Soma Cura Wellness Center; Community Service: Gale Sander; Educator: Jeffrey Green; Science and Medicine: Dr. Stacey Schroeder - Watt; Lifetime Achievement: Justice Sybil Kennedy.
This year's Master of Ceremonies will be Dave Greber, anchor at WIVB News Channel 4. For tickets to the event please contact Kim McMahon at (716)773-3651 or email at info@gichamber.org.
Chamber of Commerce Ribbon Cutting - February 2019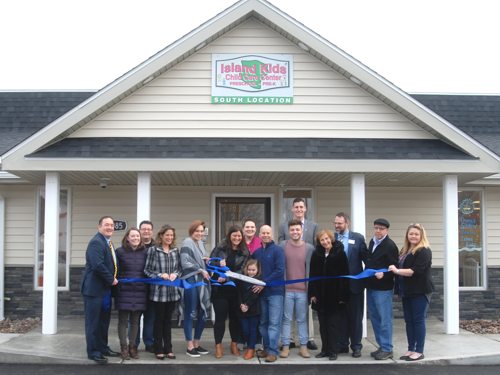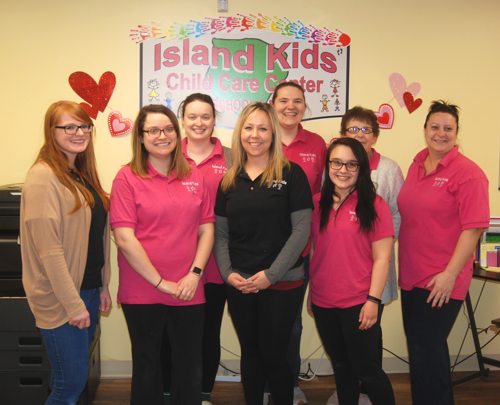 Island Kids Classroom Teachers.

Island Kids Teaching Assistants.
The Grand Island Chamber of Commerce held a ribbon cutting for the second, Island Kids Child Care Center, located at 2085 Baseline Road, on Tuesday, February 5th. Owners Ann and Jason McClelland provide care for children 6 weeks to 12 years-old; before and after school and summer programs. This facility is 5700 square feet and has a outdoor play area and sports field. Their website is www.islandkidsccc.com. Family members, Chamber members and elected officials were on hand to congratulate the McClellands.
Chamber of Commerce Hosts State of Town & Schools - January 2019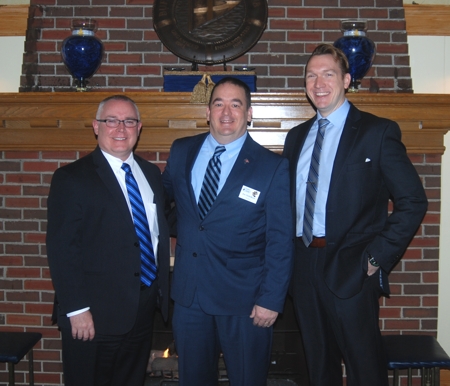 From left: Superintendent Brian Grahm, Ed.D., President Eric Fiebelkorn and Supervisor Nathan McMurray.
The Grand Island Chamber of Commerce hosted "Grand Island State of the Town & Schools" event on Thursday, January 24th at the Buffalo Launch Club. Chamber President Eric Fiebelkorn welcomed the attendees and gave a brief presentation on the role of the Chamber of Commerce and some of their current and future intiatives. They recently printed over 12,000 street map/resource guide that will be placed in hotels, the welcome center and Island business'. There are plans for Chamber members to man the welcome center on Saturdays, to direct visitors to Island business. The re-branding of the Chamber will take place this year and updates to the welcome signs located as you enter the Island.
In brief:
Supervisor Nathan McMurray spoke of the excellent credit rating the town maintains, AA1, and the large increase in grant money the town has been awarded during his time in office. The one million dollar sidewalk project will begin in the spring and run along Grand Island Blvd., between Webb Road and Fantasy Island. He is most proud of the shut down of Tonawanda Coke and cashless tolling.
Superintendent of Schools Brian Graham, Ed.D., in his third year, spoke of inspiring students and staff to become a championship school district. That is to work to their highest potential, making continuous improvements, every day. He thanked the community for the recent approval of the Capital Project, which will increase security at the high school and middle school, add water to the music wing and improve sports fields behind the Ransom Road schools. See
Narrated Project Overview
. A five year plan was talked about and the improvement of the GISBA (Grand Island School & Business Alliance) partnership. A question and answer period was held at the end of the event.
2019 Chamber of Commerce Officers and Board of Directors - January 2019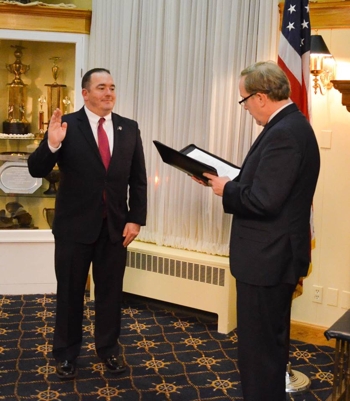 President Eric Fiebelkorn being sworn in by Town Justice Mark Frentzel.

Chamber of Commerce Board of Directors.
On Thursday, January 17, 2019, the Chamber of Commerce installed officers and newly elected board members, during the first meeting of 2019. Thank you to Town Justice Mark Frentzel for presiding over the swearing in festivities and to the Buffalo Launch Club for being excellent hosts. But first and foremost, thank you to the special group of men and women that have stepped up to serve our community at the Chamber. We have an excellent team that's going to do some great things together this year!
Our board and officers are as follows; Officers: President - Eric Fiebelkorn (Toshiba); 1st VP - Benjamin Bidell (civic member), 2nd VP - CJ Girard (Bridge Sales & Consulting), Treasurer - Brad Bowman Associate Real Estate Broker (Century 21 Winklhofer); Secretary - Ryan McCarthy (Social Status Marketing), Board of Directors Members (*denotes newly elected): Susan Hess- Berger (Flower-A-Day Florist), Bryan Flynn (NY Life Insurance), Greg Kaiser (M&T Bank), *Stephen Malush (civic member), *Diana Nobumoto(Pink Martini Gift Shop), *Jenn Jablon Pusatier (civic member), *Ben Whitford (Moshides Financial Group) & Dana Wieczorek (Dana's Stylin' Pets)
Youth Ambassadors: Madison Davidson & William Soos. Administrative Director: Kimberly McMahon.
2019 Grand Island State of the Town & Schools - January 2019
The Grand Island Chamber of Commerce is hosting "2019 Grand Island State of the Town & Schools", featuring Supervisor Nathan McMurray and Superintendent Brian Graham. It will take place on Thursday, January 24th at the Buffalo Launch Club, 503 East River Road. Mingle & networking - 10:00 a.m. - 10:30 a.m., presentations - 10:30 a.m. - 11:15 a.m., Q&A period - 11:15 a.m. - 11:45 a.m. The cost is $10 to non-chamber members, free for members. Coffee, tea & cookies will be served.
Flyer