LOST & FOUND PET PAGE

If you wish to have an ad posted, please send your email to:
Jodi Robinson with the appropriate details.
This is a free service for GI residents.
Cat Spotted:
There is a grey tabby cat with some white and a collar with bell seen along Ferry between the parkway and East River Road on Wednesday, Nov. 26th in the morning. It is shy in and out of the woods.
Found Dogs: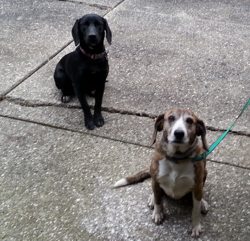 Two dogs found by 3110 Love Road on Tuesday, November 25th in the morning. One small black lab and one beagle. Call the dog control officer at pager 556-1066.
Found Cat:
Reunited with owner.
Gray cat found in my yard on Edgewater 11/19; loud, affectionate, purring and hungry; keeping warm in my garage until 11/21 when I am taking to SPCA on Ensminger. Call Michelle 773-4743.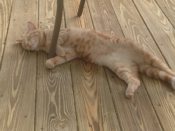 Lost Cat:
Lost/missing orange cat. Tattoo "NR" in ear. Missing since 10/21. Home is Bedell and Stony Point. May have been seen In the Foxcroft area off Ransom. His name is Piper. Small 1/2 yr old neutered male. Very friendly! Call or text 622-8963 Sue.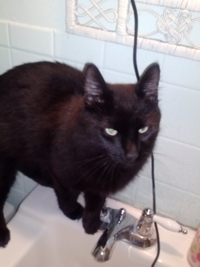 Found Cat:
This sweet, skinny kitty was found in Buckhorn State Pk on GI on the evening of 9/24/14. Such a nice, friendly cat must be someone's baby. Call Karen, 982-2481.
Lost Bird:
Missing our Cockatiel, gray with yellow feathers on side and top of head. Last seen 9/18 on Ransom Rd. near Tracey Lane. Deeply missed if found please call 773-7886.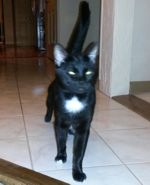 Found Cat:
Thursday, September 11th, very friendly, young (1-3 years old) black cat was found on S. Colony in Grand Island. Shorter hair with white markings on upper chest and some white spots on paws. Very well mannered, calm and loving. Call 716-817-6561. If owner cannot be found the finder is offering to pay for shots/deworming and neutering for a new family.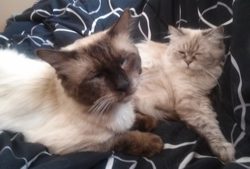 Lost Cats:
UPDATE: Siamese cat recently spotted in the Baseline/Fix/Alt area (9/25/14). 2 Missing Cats, larger Chocolate Point missing since Sept. 1st, the smaller Persian since Sept. 8th (she's not an outdoor cat,) last seen Baseline/Webb. If you've seen them PLEASE email ciddy@aol.com.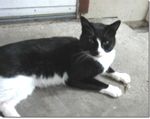 Found Cat:
9/4/14, Black & White tuxedo, very friendly, found near Grand Island Town Hall. Whitehaven Rd & Grand Island Blvd. Male, No markings in the ear. Call Patty 716-289-4139 or 716-773-9109.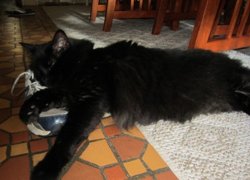 Lost Cat:
. Large black long hair male cat. Name is Munch. Harvey Rd., East River, Park Place area on 8-24-14. Please call 773-4344. (8-25-14)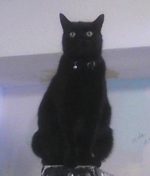 Lost Cat:
Black cat missing in area of Baseline and Bedell Roads. Her name is GiGi; she is all black; has a nick on top of one ear; a rough spot on her nose; jiggly belly; affectionate; good mouser; no collar. Frequent visitor to Island Park area. Contact: Mary at 716-990-8560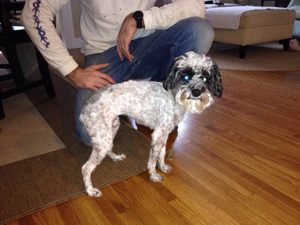 Lost Dog
: Penny was on the Buckhorn bike path headed toward Bedell Road on Monday, August 18th. She is very timid but well natured. She responds better to children and women. If you see her, please call 536-2684 or the dog warden at 556-1066. (8-19-14)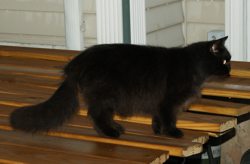 Lost Cat
: Lost cat named Noelle. Near park on Tracey Lane. Black, long-haired female with wound on tail. 716-867-7966. Recently spotted in Buckhorn near I-190 entrance.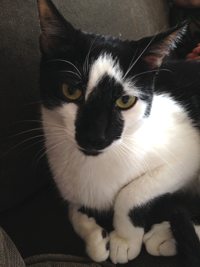 Lost Cat
:Felix is a black and white short hair. He has a micro chip from the SPCA and had an N tattooed in his ear. He was last seen on White Tail Run on the June 24th. Please call 880-5943.