LOST & FOUND PET PAGE

If you wish to have an ad posted, please send your email to:
Jodi Robinson or call 773-6789 with the appropriate details.
This is a free service for GI residents.
Please let us know if animals are returned to owners.
Lost Dog:
Garden Parkway/Huth Road area. Shitsu-mix, brown-white, one eyed. Ran off Thursday, March 23rd. Very skittish. Call 491-7480 if seen.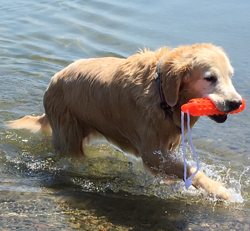 Lost Dog:
Arwyn, 13 yr old female golden retriever. Disappeared from East Oakfield Rd at 8 pm on Thursday, Feb 9th. Very friendly. No collar. Has arthritis and fatty tumor on left side. Please call 774-8203 with information. Beloved family pet. Reward. (2-13-17)
February 17 UPDATE: Arwyn still missing despite extensive searching by many caring people who love animals. There were two unconfirmed sightings of her on Feb 14 th in the Fix Rd/Hidden Oaks area near Baseline. By now she have moved to the East River side of Fix as she is used to walking and swimming in that area. She may have found warm shelter. We are asking folks to please check all of your outbuildings, garages and under vehicles stored for the winter. Even if they are secured she have found a way in or slipped in unnoticed when open. If she is alive she will be in survival mode. If you see her please put out some food to keep her in your area and page the Grand Island Dog Control at 556-1066. We can't thank enough the many, many caring Grand Islanders who have spent so many hours searching for her. Bless you.