Taste of Grand Island Fall Festival
October 13, 2012 at the Grand Island Plaza

Contact person:
Corey McGowan
---
Taste of Grand Island Awards
Best Pizza - Pizza Amore
Best Restaurant - Beach House
Best Specialty Food - Riverstone Grill
Best New Restaurant - Saffire Grill
Best Wings - Just Pizza






Photos from the Fall Festival
October 13, 2012
Corey McGowan, Festival Director
Kudos is a term of praise for a job well done. It's a good word, but not nearly enough for Festival Director Corey McGowan's efforts. The younger Islanders don't know about the "Neighbor Days" or "Firemen's Picnics", events that would draw lots of folks, back in the day. Those that do remember are likening the Taste of Grand Island to those events, with much appreciation. The festival is the talk of the town, all good talk, too! Now that doesn't happen very often. Thank you Corey for a fabulous party. We can't wait till next year!


Entertainment Schedule, Participants & Sponsor List
The MC for the event is Solid Gold Entertainment.

See list
.
Additional Sponsors - Pritchard & Kennedy, A&A Insurance - Eric Berger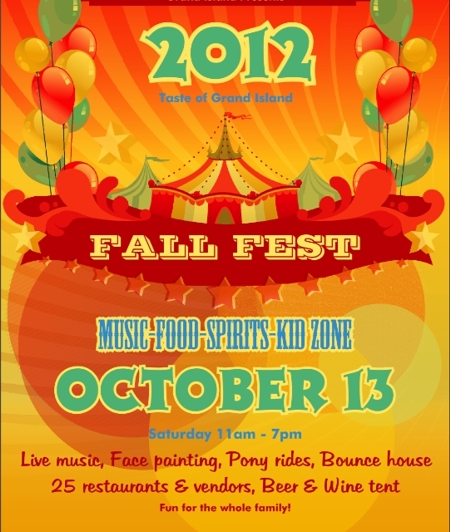 There are now over 50 vendors/restaurants participating.
Zumba Fundraiser - October 2012
A "Zumba with Sandy" fundraiser is planned for the Sidway School Gym, 2451 Baseline Road, on Wednesday, October 10th at 7pm. The class is $5.00 and all proceeds will benefit the Mural project. Everyone is welcome.
See flyer
.


Terry Klaaren Starts Painting Plaza Mural - October 2012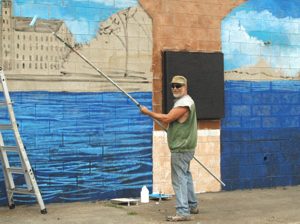 Terry Klaaren - Click for larger view
Artist Terry Klaaren is on the island and painting! Between all the volunteer help and the good weather, Terry noted that the project is four days ahead of schedule and will be complete before the October 13th Fall Fest. Terry and his wife Dori (Hardman) graduated from GI High School in 1969 and 1970 respectively, and thanks to GIHS art teacher Lyn Laman, met each other in her art class and were encouraged to pursue a career in art. The couple left 40 years ago, right around this time of year, and headed for Florida, ending up settling in Tampa. The self employed duo worked over the years as graphic designers, illustrators, muralists and eventually got into carousel horse restoration. The restoration work led to Orlando and working for the major theme parks such as Disney, Universal and Sea World. Terry and Dori now travel the world "Plein Air Painting", which means painting on location, along with doing murals for schools, corporations, private clients etc.
The mural located at the back of the Grand Island Plaza will be over 3000 square feet when finished. Terry mentioned Bob Rovison as being a major donator of time and money for the project. Former islander and paint manufacturer Stan Clifford has donated all the paint for the mural project and will be on hand at the Fall Fest for the dedication. Islander Colton Wright is mural videographer. Kudos to mural organizer Corey McGowan for dreaming up the idea and spending countless hours seeing it through. The mural project could use the help of volunteers and painting will take place daily from 10am - dusk, depending on the weather. Remember, the Fall Fest is Saturday, October 13th from 11am - 7pm and has activities for all ages, food and music.
Get on Board for the Grand Island Mural Project - September 2012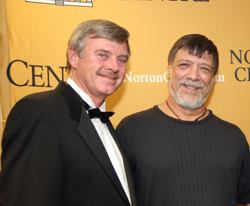 From left: Stan Clifford and Terry Klaaren
Forty-three years after graduating from Grand Island High School, Stan Clifford and Terry Klaaren (class of 1969) have teamed up to create a great mural to beautify the island. Terry Klaaren is an accomplished artist/muralist working in Florida and Stan Clifford lives in Kentucky and has owned the artist paint company called DecoArt since 1985. The two became re-acquainted at their 40th class reunion and found out they had this big thing in common: art. Klaaren tried Clifford's paints, discovered their superior quality and now uses these "made in America" paints exclusively. DecoArt paints are sold in leading craft stores in the US and are exported worldwide. DecoArt is a leader in developing new quality paints and products - including the paints to be used on the Grand Island Mural Project.
Grand Island mural organizer Corey McGowan is energized at the response from the community. "In terms of donations, volunteers and items for the mural project, this is truly a great reaction for what will be a professional mural. I'm hopeful all needs will be met and we'll be ready for the Fall Festival in October." "The paint shipment arrived last week and Terry arrives Wednesday night!" McGowan said. "If anyone is still interested in making a donation of equipment or funding, they can reach me at: 341-1040 or send a check made out to the "Grand Island Mural Project" to 99 Autumwood Drive, Grand Island, NY 14072.
Large Festival to Showcase Grand Island - Sept. 2012
Island resident Corey McGowan, born and raised here on the island, has taken it upon himself to orchestrate a festival that will showcase all of the beauty that is Grand Island. On October 13, 2012 McGowan will be hosting the Islands first ever Taste of Grand Island. The Taste of Grand Island Fall Festival will run from 11 a.m. to 7 p.m. at the Grand Island Plaza at 2411 Grand Island Boulevard.
This fall themed festival will showcase 45 vendors including 22 restaurants and 23 various exhibits from Grand Island. Along with the many Island restaurants and vendors, the festival will have an extensive amount of activities. "Wine tasting and food pairing will be sure to get you in the fall spirit and if that's not enough, you will be able to enjoy your favorite fall brews while listening to live entertainment," McGowan said. A kid zone complete with pony rides, bounce houses, balloon artists, face painters, costumed characters and a giant pumpkin patch will make this event one for the whole family.
McGowan has worked closely with Don Singh, the owner of the plaza, to allow for the opportunity to showcase Grand Island and bring people from near by communities to the Town of Grand Island. The festival will spread awareness of all that there is to offer and bring more people to shop, eat and utilize all of the Island's many businesses. Together, McGowan and Singh have created the perfect match to generate a positive buzz for Grand Island and build off of the grand momentum. "Please join us in celebrating Grand Island at the Taste of Grand Island Fall Festival from 11 a.m. to 7 p.m. on Saturday October 13th at the Grand Island Plaza," McGowan said this week. For more information call Corey McGowan directly at 716-341-1040.
Materials Needed For Mural Project
The Grand Island Mural Project is just weeks away and the project needs your help! Muralist Terry Klaaren will be arriving to the island on September 26th and will be painting everyday straight through October 13th. Klaaren and many volunteers are in need of painting materials. If you have any of the below listed items, your support would be greatly appreciated. All items will be returned following the project completion date of October 13th.
To donate materials call Corey McGowan at 716-341-1040.
Items needed: Ladders and stepstools, rollers, roller trays, 5 gal and 1 gal buckets, new or used housepainting brushes, stirring sticks and rags.
Mural Project Progressing
The Grand Island Mural Project is underway! Island resident and project organizer Corey McGowan announced that the project has received commitments from Grand Island High School Class of 1969 Alumni Terry Klaaren and Stan Clifford that will make this dream a reality. Stan Clifford, CEO of DecoArt Paints, Inc., located in Danville Kentucky, has promised to donate all of the paint necessary for the 2,500 sq ft mural and award-winning artist Terry Klaaren is clearing his schedule to be on the Island to work on the project and direct volunteers.
Both Klaaren and Clifford spent time together at their class reunion in 2009 and discovered they ended up at opposite ends of the same art world. Since then they have worked on various projects including presenting a portrait to Maestro Gustavo Dudamel after a performance of the Vienna Symphony Orchestra which Klaaren created on site using the DecoArt professional acrylic paint line. Klaaren is designing the mural based on a survey of residents who want the historical facts and icons of Grand Island incorporated in the wall mural to be presented in a traditional artistic manner.
"Everyone is looking forward to this mural project which will be dedicated on October 13th at our first Taste of Grand Island Fall Festival." said McGowan. Klaaren will be on hand putting the finishing touches on the mural and pose as the festivals living centerpiece. McGowan has received commitments from 25 various vendors to be at the festival and the number continues to grow each day. For more information on the mural project and to donate funds or painting supplies, please contact Corey McGowan directly at 716-341-1040.
Update from Corey - August 16, 2012
Last Saturday (August 11th), myself, mother and girlfriend along with many volunteers from Grand Island High School came together to begin applying a base coat to the back walk of the Grand Island plaza. Cheryl Chamberlain of Grand Island High School has worked hard with orchestrating student involvement and her efforts received high marks on Saturday when 12 volunteers from the high school came to lend their time and energy. Through generous support from Gui's Lumber, Fastenal, Jim Linenfelser and the Highway Department, we were able to get the supplies needed to begin our town mural. Our efforts were short lived due to weather conditions but our spirits and motivation were at an all time high. This project is still in need of community support and private donations in order to fund future supplies needed for the mural. Anyone interested in supporting the effort may contact me directly at 716-341-1040. A completed design is expected within the next couple of weeks.
The Taste of Grand Island Fall Festival is beginning to stir up a lot of buzz! The festival will be held on October 13, 2012 at the Grand Island Plaza. I am anticipating 18 local restaurants along with 10 other businesses that will be showcasing their services. In addition to the many island restaurants, we will also be featuring a wine and beer tent which will offer samplings from local wineries and breweries. Sam Aceti of Aceti's Wine and Spirits has made a generous donation to the festival and will be hosting wine tasting classes which will demonstrate which wines pair best with each island restaurant and their selected cuisine. Along with the many culinary arts exhibits, there will also be a kid zone complete with bounce houses, face painting, pumpkin decorating and pony rides. This event is one that will be fun for the entire family!
The Fall Festival will feature the completion of our historic town mural. Artist Terry Klaaren will be on hand painting our mural live for all of the festival patrons to witness and have the potential to make their own mark on the wall.


Plaza Mural Fundraiser - August 2012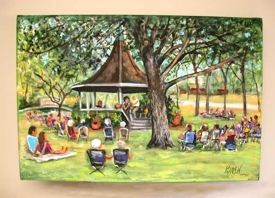 Click for larger view
A painting of the Town Commons Gazebo will be raffled off to benefit the painting of a mural behind the Grand Island Plaza. Former islander and artist Terry Klaaren painted the gazebo while attending a recent Town Commons concert. Tickets are available at the Grand Island Chamber office, 2257 Grand Island Blvd. and at deSignet Jewelry, 1869 Whitehaven Road. They are $1.00 each or six for $5.00. The painting is on display at the Chamber office.