Grand Island, New York Photo Album
2017
Previous Photo Albums
---
The goal of this page is to allow Grand Island residents and others to see the essence of Grand Island. E-mail

Let's show the world what a beautiful place Grand Island really is.
---
Linda Rowe - June 2017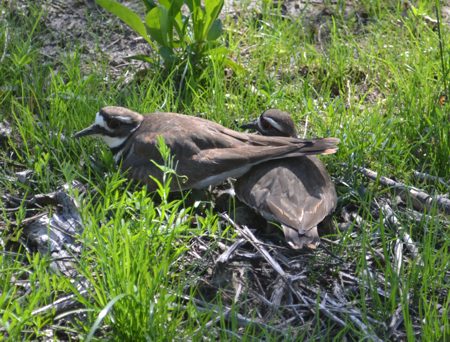 This photo is of two Killdeer on the wetlands in the Rowe backyard. They are sitting on their nest which contains 4 eggs. Killdeer build their nest on the ground. The eggs resemble stones. The day after I took this photo, the birds hatched and were running around. Newly hatched Killdeer walk as soon as they are hatched.
Jeff Cooke - June 2017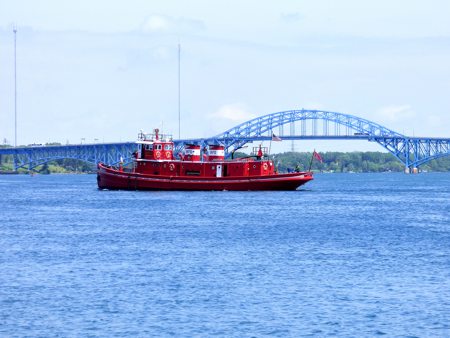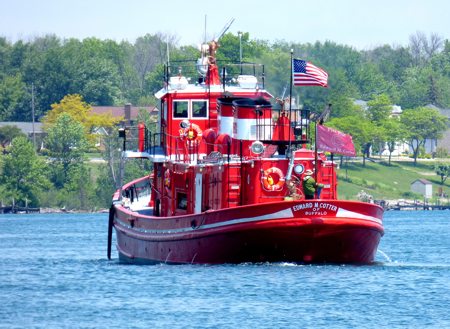 Fireboat Edward M. Cotter.
Jeff Cooke took these photos of the Edward M. Cotter on Sunday, June 4th in the East Niagara River. He reports that it is rare to see the fireboat in the area. The Edward M. Cotter is a 118' fireboat used by the Buffalo Fire Department. It was built in 1900 and then rebuilt in 1953. It is said to be the oldest active fireboat in the world and was designated a National Historic Landmark in 1996.
Linda Rowe - June 2017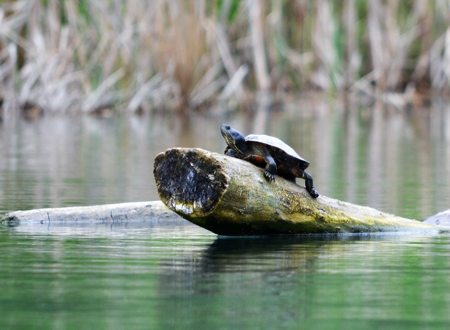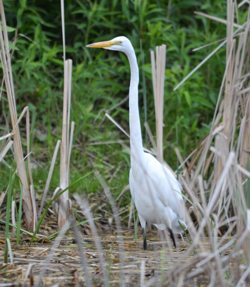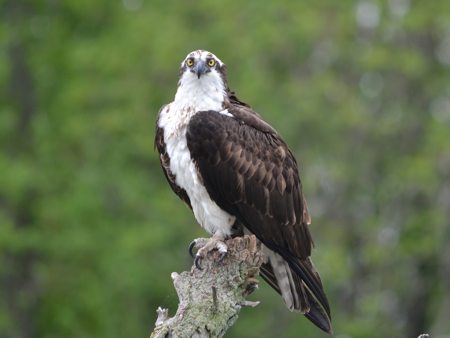 Linda Rowe was kayaking with her husband James over Memorial Day weekend at the Beaver Island Lagoon. She took these photos with her telescopic lens of the wildlife there.
Mary Cooke - May 2017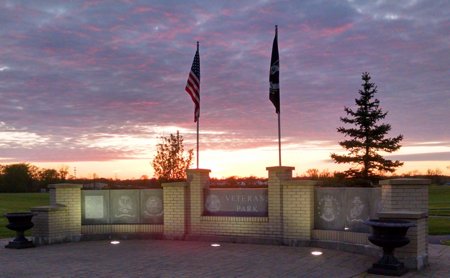 Click photo for larger view.
Mary Cooke took this photo on Thursday evening, May 11th, as she was leaving the library.
Ken Koch - May 2017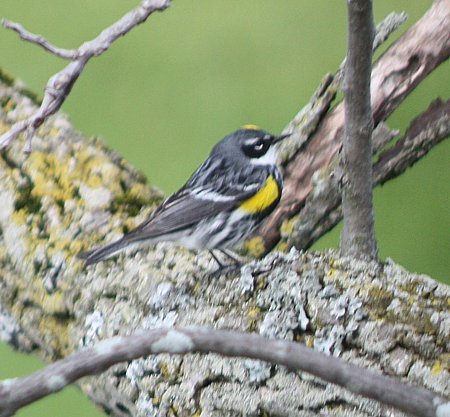 Ken Koch lives on East River Road, across the river from Smith Boys Marina. He recently took this picture of a breeding male Yellow - rumped Warbler in his yard, and noted that our area would be the southern most breeding area for this bird, according to Cornell's Merlin bird identifier. It would normally be here only during migration.
Jeff Cooke - May 2017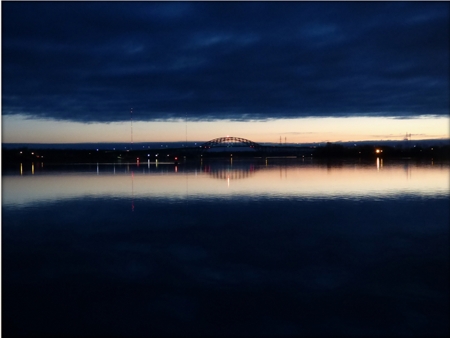 Click photo for larger view.
Jeff Cooke took this photo on April 26th, very early in the morning, from his dock on North Colony. Gorgeous!
Mary Savio & Mary Stewart - April 2017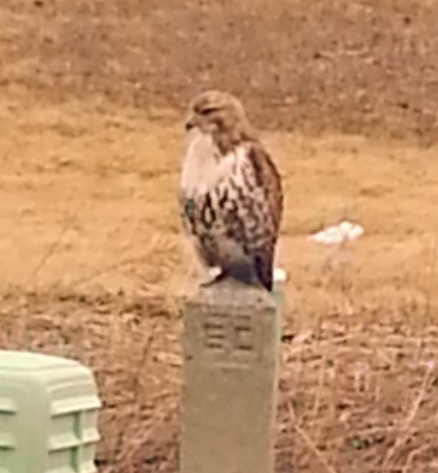 Mary Savio photo.

Mary Stewart photo
Mary Savio took this picture of a hawk at the Oakmont Condos on East River where she lives. It is looking out towards the River Oaks Golf Course.
Mary Stewart took this photo of a hawk in her front yard, right after it had finished a robin for lunch.
Tom Burke wrote in to clarify: Hawk on post is a red tail hawk in immature (first year) plumage. That bird was hatched last year. The bird eating the robin is a cooper's hawk in adult plumage. The cooper's hawk is a member of the accipiter group of hawks. Accipiters specialize in hunting birds.
Henry Olrogge & Jeff Cooke - March 2017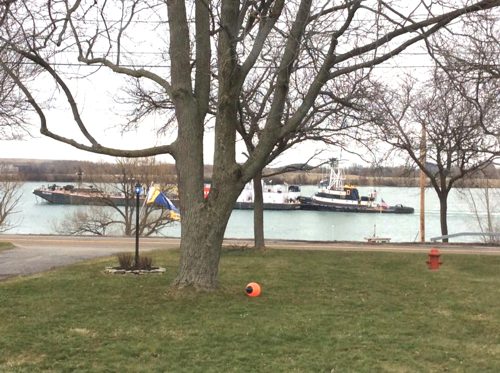 Henry Olrogge photo.

Photo courtesy of Jeff Cooke.
Henry Olrogge of East River Road snapped some photos of the first commercial vessel coming down the East River this week. Jeff Cooke wrote in and said it was the Calusa Coast tug with the Delaware barge and that it was headed to the NOCO dock, located on the Tonawanda side of South Grand Island Bridge. The barge delivers petroleum to NOCO. Jeff also sent in a "pro" photo of the Calusa Coast. Thanks guys!
Bob Schneider - March 2017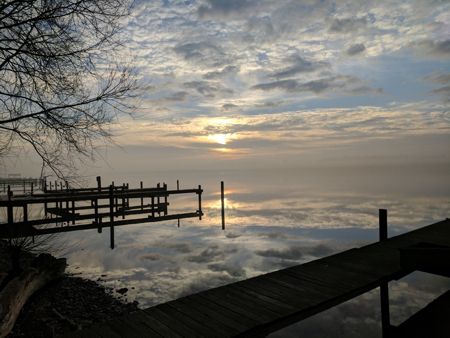 Click photo for larger view.
Bob Schneider took this photo of the East River, near Riverwoods Drive.
Lynn Mikulski - February 2017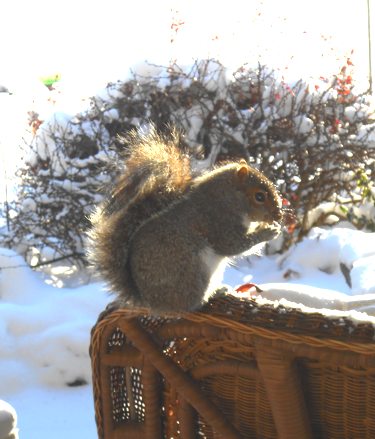 Squirrel on front porch.

Beaver Island sunset.

North Bridge.
Lynn Mikulski sent in these pictures she recently took around town.
Mike Dudley - February 2017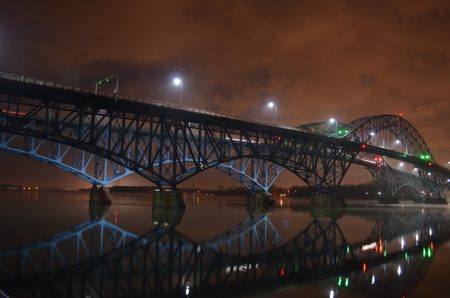 Mike Dudley recently took pictures of the South Grand Island Bridge.
Mary Cooke - February 2017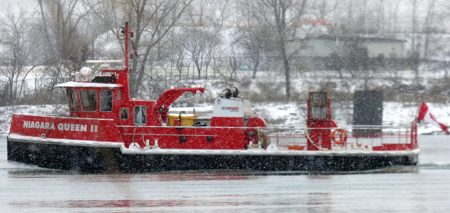 Mary Cooke took this photo of the Ontario Power's Ice Breaker, Niagara Queen II, heading down East River, from her home on North Colony on Tuesday, Jan. 31st, during the snowfall.
Mary Stewart - January 2017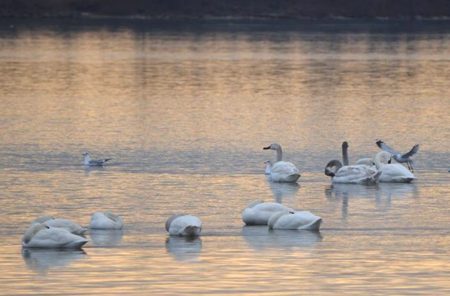 Mary Stewart went to Beaver Island to see if the Tundra Swans were back in town on January 25th. I saw 100+ on Saturday, January 28th. They were floating right off-shore, driving towards the circle and River Lea at the southeast edge of the park.