Grand Island High School News Web Page 2020
Grand Island High School Website
2019 News Page
Principal Michael Lauria
GIHS Boys Swim Team Meet Results - January 2020
GIHS boys swim team (7-3) vs. Kenmore (4-7) on Tuesday, January 21, 2020, at home. Grand Island won, 95 - 76. See
results
.
GIHS December Students of the Month - January 2020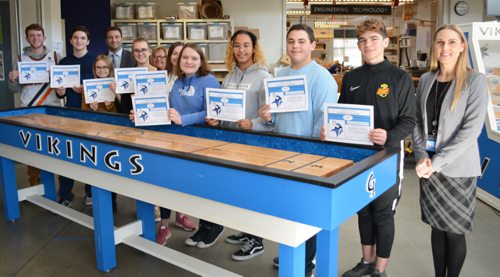 From left to right: Sean Christian Rustowicz, Mark Ramsperger, Kyla Wulkan, High School Principal Michael V. Lauria, Erin Cool, Assistant Principal Karen Surdyke, Katherine Squires, Grace Pearse, Brook Zdrojewski, Matthew Rizzo and Assistant Principal Hillary Kretz-Harvey. Not pictured: Joseph Cali.
Click photo for larger view.
Congratulations goes out to the GIHS Viking Values Students of the Month for December 2019! The students and their corresponding departments that nominated them are as follows: Grade 12: Joseph Cali, Department: Music; Erin Cool, Department: English; Grace Pearse; Department: LOTE; Sean Christian Rustowicz, Department: Business; Brook Zdrojewski, Department: Art. Grade 11: Mark Ramsperger, Department: Physical Education/Health; Kyla Wulkan, Department: Social Studie. Grade 10: Anthony Amato, Department: Technology; Katherine Squires, Department: Mathematics. Grade 9: Matthew Rizzo, Department: Science.
Social Media Marketing Visits GIHS Classes - January 2020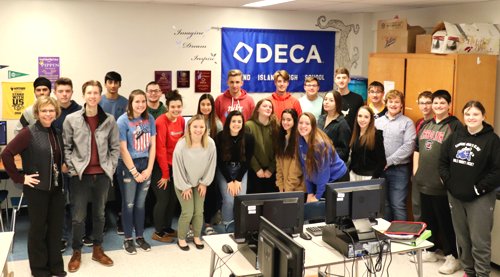 Click photo for larger view.
Social Media Marketing came to Cheryl Chamberlain's Entrepreneurship classes this week when Mr. Ryan McCarthy of Social Status Marketing, LLC gave a presentation to the students. Mr. McCarthy is also First Vice President of the Grand Island Chamber of Commerce and regularly serves as a DECA judge regionally.
In his presentation, McCarthy stressed how advertising has changed with the use of social media platforms and stressed the importance of data use to gauge advertising cost effectiveness. Students were introduced to analytics of social media in real time and given pointers on how to retain customers through excellence in service. For more information on the new National Academy of Finance and DECA at GIHS contact cherylchamberlain@gicsd.org.
GIHS Boys Swim Team Meet Results - January 2020
GIHS boys swim team (4-3) vs. Lockport (7-0) on Tuesday, January 7, 2020, at home. Lockport won, 102-69. See
results
.
GIHS Presents Disney Beauty and the Beast - January 2020
Grand Island High School presents the Broadway musical, Disney "Beauty and the Beast", at the GIHS Viking Theater on Thursday, January 30th at 7;00 p.m., Friday, January 31st at 7:00 p.m. and Saturday, February 1st at 6:00 p.m. Tickets are $10 online presale and $12 at the door.
Flyer
.