Grand Island High School News Web Page 2020
Grand Island High School Website
2019 News Page
Principal Michael Lauria
Erie 1 BOCES Fashion Show - March 2020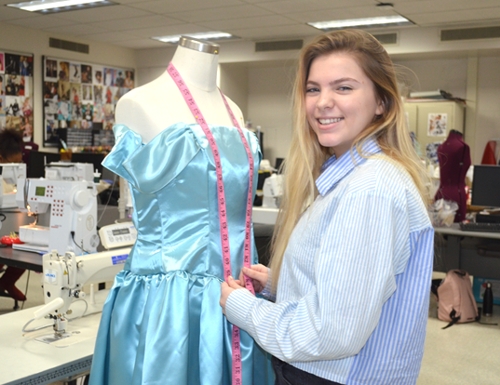 Alexis Labin from Grand Island High School.
Event Postponed
West Seneca (March 10, 2020)
- Students in the Erie 1 BOCES Fashion Design Technology program will have their individually designed outfits hit the runway during the 2020 FUSION Fashion Show: Figment of Imagination.
Now in its 11th year, the FUSION Fashion Show will take place on Thursday, March 19 and will showcase the work of nearly 35 high school fashion students from across Western New York. The show will be at 7 p.m. at Buffalo State College, in the Campbell Student Union Social Hall, 1300 Elmwood Ave., Buffalo.
Alexis Labin from Grand Island High School is one of the senior students exhibiting their personally designed and sewn collections at the fashion show. She explained she took inspiration from Cinderella and Sleeping Beauty, giving her line of clothing a feeling of elegance and beauty. "I love the fashion industry because it's a way of self-expression and communication, and it lets people say what they are feeling without having to speak," Alexis noted. "Whether someone is directly in the industry or not, we all take part in it unknowingly. There's so much beauty in taking a design and bringing it to life. It's a lively and breathtaking process, from the sketch to the final product." After high school, Alexis plans to go to college for styling, which is her favorite area of the fashion industry.
In addition to the seniors, juniors will be presenting upcycled items from previously worn garments at the show. The show has evolved into a collaborative event across various Erie 1 BOCES programs. Barbering and Cosmetology students will be doing hair and makeup for over 75 models, while Criminal Justice students will provide support for security. Digital Media students produced videos that will introduce each fashion student and their collection; these students also assisted in professional photos and videography for the show.
Erie 1 BOCES' two-year Fashion Design Technology program at the Harkness Career & Technical Center teaches students how to create, style and trend forecast based on design elements and the fashion cycle. Participants also create a successful business plan for a fashion business, setting them up for future success.
The show is free and open to family members and community members with a high interest in the fashion industry, though all guests will need a ticket available at the event. Seating is limited. Open seating begins at 6 p.m. In lieu of ticket price, attendees are asked to donate a pair of previously worn jeans which will be donated to Goodwill of Western New York. Donations can be brought to the show, where they will be taken at the door.
GIHS Viking Values Students of the Month - March 2020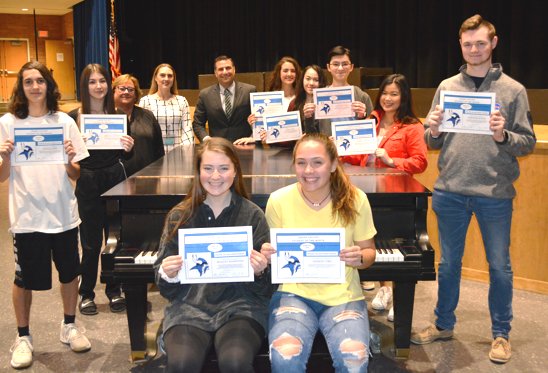 Pictured from left to right: Sitting - Bethany Kulikowski, Adison Fike; standing - Samuel May, Abigail Jackson, Assistant Principal Karen Surdyke, Assistant Principal Hillary Kretz-Harvey, High School Principal Michael V. Lauria, Brooke Conway, Eleah Leng, Zachary Leng, Ivan Lalata and Connor Raine.
Congratulations goes out to the GIHS Viking Values Students of the Month for February 2020! The students and their corresponding departments that nominated them are as follows:
Grade 12 - Connor Raine (Business); Grade 11 - Brooke Conway (LOTE and Science), Ivan Lalata (Social Studies) and Eleah Leng (English). Grade 10 - Adison Fike (Mathematics), Abigail Jackson (Art), Bethany Kulikowski (Physical Education/Health) and Zachary Leng (Music). Grade 9; Samuel May (Technology).
Grand Island Distinguished Alumni Honorees - March 2020
UPDATE: The assembly has been cancelled.
The Distinguished Alumni Committee selected three graduates from many nominated to be inducted into the Distinguished Alumni. An assembly will be held for GIHS students on Friday morning, March 13th. Distinguished alumni chosen are: Kelly Landen, Jeffery Stone and Christopher Hejmanowski.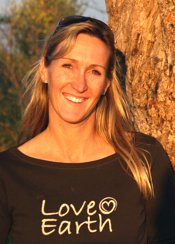 Kelly Landen, class of 1982, is the co-founder and Project Manager for Elephants Without Borders Her enthusiasm for wildlife inspired her to a dedicated career in conservation. She is a professional photographer and her work has been featured in a number of prestigious magazines, web sites, scientific publications and journals and news articles. She also has recently published a book and has provided assistance with another author on several other books.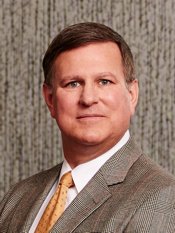 Jeffery Stone, class of 1976, is a partner with Hodgson and Russ. He has been responsible for building the firm's Public Finance Practice Group in Buffalo He has been a securities, corporate, banking, tax, education and public finance (bond) lawyer for all of his 36 years at Hodgson Russ. He has served on various committees at St. Stephens and Mary Star of the Sea Knights of Columbus chapter in Grand Island. St. Stephen Parish Players community theater group for almost thirty years, acting in shows, directing shows, and serving for many years (and currently) as the President of the Board of Directors of the Parish Players. Buffalo Council on World Affairs (He served as a trustee and as President); Irish Classical Theatre Company (He has been a trustee of the ICTC since 2013, and he is currently serving as President of the Board of Trustees there); SUNY Erie Community College (He was appointed as a trustee of SUNY Erie in March of 2019, and his nomination was then confirmed by the Erie County Legislature in April of 2019; He has served as a trustee since then and he chairs the Budget and Audit Committee for SUNY Erie/ECC.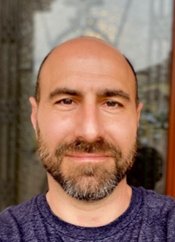 Dr. Christopher Hejmanowski, class of 1990, attended Midwestern University College of Osteopathic Medicine in Chicago, Illinois on a full U.S. Navy scholarship. He completed a Naval surgical internship in 1999 and subsequently Flight Surgery training. He was stationed in Japan and Southern Spain over five years with both a Marine Corps helicopter squadron and a US Naval fixed wing squadron as a Naval Flight Surgeon. After returning to the States and completing an additional three year Naval Emergency Medicine residency at Portsmouth Naval Medical Center, Hejmanowski then deployed to Iraq for nine months with the US Marine Corps as the head of a shock trauma platoon. For several months, within a mobile surgical unit, he moved with the Marines along the Syrian border. It was here that he began to write his first full length novel, "Collider". Collider won the 2013 award for Best Science Fiction Book from the International Books Award. Dr. Hejmanowski joined Emergency Resource Group in Jacksonville, Florida as a staff ER physician in 2010. In 2016 he was appointed to the position of Medical Director of the Baptist Clay Emergency Department.
GIHS Girls Basketball Win Semifinal in A-2 - February 2020
Lost to Will. South 68-36.
Grand Island Girls Basketball won their Section VI A-2 semifinal against Lew-Port on Tuesday, March 3rd by a score of 43-34. Next up is the Section A-2 final at Buffalo State College on Sunday, March 8th, against #1 seed Willimasville South. Last year Will South beat GI in the final, their sixth consecutive sectional title.
DECA Conference Results - March 2020
DECA State Career Conference was held in Rochester, NY, February 26-28, 2020. Some surprises for a few for sure. Emily Cohen, Luke Hess and Ben Spiesz were first place in their category. The trio of Megan Lavis, Bethany Kulikowski and Riley Patterson were elated to make ICDC for their 5K Spooky Sprint to raise money for the Suicide Prevention LifeLine. Wil Atkinson and Vicki Huang were super excited to make it for Hospitality Team competition...and our DECA President Gabby Bergstrom is pleased to compete in Nashville and represent our great State as the outgoing NYDECA President.
Middle school students were recognized in the top ten of their event and some high schoolers as well. Mary Jane Fonte was recognized for her service to NYDECA. Thank you Dr. Graham, Amy Boutet and Leann Wills for coming to visit in less than savory weather and thank you all for your continued support of DECA which prepares our students for career and college readiness. It is a tremendous amount of work for the students and they benefit in their years ahead as so many former students reached out this week and reminisced about their former DECA years.
GIHS Boys Hockey Wins First Round - February 2020
(Buffalo News, February 21, 2020)...Grand Island (17-2-1-1) boys hockey shut out Kenmore East (3-16-2) 4-0 in Thursday's first round of the small school WNY Federation playoffs. In net for Grand Island was Robert Currie. The senior has been a top netminder for the small school division all year with the second-lowest goals-against average (1.62) among qualified goalies (minimum 200 minutes). Currie had his sixth shutout of the season, stopping all 23 shots he faced. Grand Island's Tyler Hunt added to his small-school leading point total. Hunt had two goals and an assist to put his total at 46 (14 goals, 32 assists).
GIHS Girls Basketball Niagara Frontier Champs - February 2020
After beating Lew-Port in a playoff tie-breaker on Monday, Grand Island defeated Lockport 58-46 on Wednesday, February 19th to become Niagara Frontier champs. Lydia Sweeney had 19 points, 10 rebounds and 10 assists, and Grace Carey had 18 points, a career high. No set schedule as of yet. A Section VI tournament seeding meeting is on Friday. Congratulations go to Lydia on being named the NIagara PAL Female Prep Athlete of the Year on Saturday, February 16th.
Volleyball State Champ Sign Installed at Roundabout - February 2020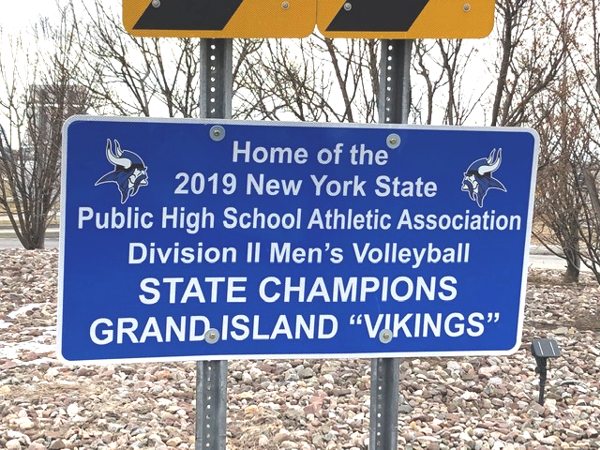 The GIHS Boys Volleyball team State Champs sign was installed on Wednesday, February 19th at the roundabout, by GI Highway Department employees. GI Highway Department Superintendent Richard Crawford, a 1974 graduate, donated the sign, and others for the team and school, after the win at states in November 2019.
Student Driver's Education Offered at High School - February 2020
The Grand Island High School is offering a Spring 2020 Driver's Education program through O'Day's Driving School. It will begin March 17th and end May 14th. See
flyer
for complete details. Registration is due by March 10, 2020.
GIHS 2nd Quarter High Honor Roll - February 2020
9th GRADE HIGH HONOR
Emma Besl, Andrew Burke, Julia Capage, Elizabeth Carpenter, Berin Celik, Joseph Cicero, Natalyn Cordero, Paul Emmi, Noah Farmer, Reagan Fast, Caitlin Fay, Sara Fletcher, Jackson Frey, Amanda Gula, Sophia Heffley, Zoe Heider, William Hofmeyer, Samuel Jayme, Eden Johnson, Sydney Knight, Sydney Martin, Mia Moran, Maia Nowak, Megan Pinzel, Gavin Rice, Matthew Rizzo, Wynonna Roberts, Jashanpreet Saini, Kosmo Sarigiannis, Emma Schinnagel, John Szczublewski, Erick Wittmann.
10th GRADE HIGH HONOR
Angelo Aiello, Anthony Amato, Christina Anderson, Ashley Battaglia, Nathan Bender, Christopher Benns, Kiersten Brown, Faith Caldwell, Aidan Cioppa, Seth Cox, Zander Crvelin, Noah DeCourcey, Caitlyn DeLong, Renee DiLaura, Jared Doebler, Samuel Dulniak, Lucas Dunn, Tyler Figliola, Adison Fike, Michael Foglia, Katelyn Giambra, Samantha Hoerner, Raistlin Huff, Abigail Jackson, Rebekah Jaenecke, Jacob Jayme, Riley Joseph, Ella Koslowski, Bethany Kulikowski, Megan Lavis, Zachary Leng, Connor Lenhard, Noelle Linenfelser, Melanie Longo, Christopher Macro, Alivia Manzo, Hannah Martinez, Trinity Meinhart, Aidan Mingoia, Avery Mondoux, Alana Mosher, Arianna Nasca, Callen Neeson, Alexis Nguyen, Ian Pachura, Riley Patterson, Hayley Pizur, Caralyn Reynolds, Morgan Santorio, Ryan Saucier, Mia Schiffmacher, Rebecca Schultz, Abishek Selvakumar, Finune Shaibi, Alessandra Smith, Tereska Sorel, Katherine Squires, Kimberley Swain, Alex Szczepankiewicz, Victoria Thauer, Rebekah Thompson, Ava Todaro, Rayna Wallens, Evan Walowitz, Lidya Weng, Aiden Zach, Graham Zorich.
11th GRADE HIGH HONOR
Allan Benjamin, Alaina Cameron, Danniel Cleveland, Emily Cohen, Brooke Conway, Zachary Cramer, Alyson Czerwonka, Sarah Dodge, Kailyn Dombrowski, Mara Ellsworth, Thomas Fabiano, Carolyn Ginsburg, Alison Gula, Eleah Leng, Thomas Lockett, Rose Meaney, Alyssa Nelson, Mia Phillips, Ryan Pinzel, Mark Ramsperger, Vincent Ricotta, Kevin Rogoza, Hannah Schiffmacher, Amina Shaibi .
12th GRADE HIGH HONOR
Zachary Barrett, Madison Conway, Casey Dummitt, Ava Eichel, Allison Fay, Sara Frosolone, Luke Hess, Kira Hutton, Colby Kalp, Lucas Kruse, Katrina Linenfelser, Dominic Loss, Brian O'Neill, Grace Pearse, Emily Reynolds, Sean Rustowicz, Melody Snyder, Karie Stedman, Anthony Surace, Lydia Sweeney, Mary Szumla, Patricia Tavarez.
GIHS 2nd Quarter Honor Roll - February 2020
9th GRADE HONOR
Robert Ambrose, Abigail Bentley, Jacob Berard, Ava Brandon, Samantha Buckingham, Sofia Bukahri, Kaitlyn Burns, Nathaniel Cohen, Lauren Coombs, Riley Decker, Miranda DeCourcey, Anna Donlon, Taylor Evans, Madison Flory, Logan Fox, Aubrey Frank, Christian Giddings, Sara Glose, Chase Harding, Jason Hill, Jenalynn Hoy, Katie Jaegers, Andrew Jenica, Julia Juntunen, Jessica Kam, Harmanjeet Kaur, Jasmeen Kaur, Cameron Kitchen, Kathleen Krawczyk, Edward Kwarciak, Patrick Lepine, Phillip Lepine, Sydney Lomasney, Morgan Malush, Adriana Mann, Alexis Martin, Alana Miano, Matthew Rebmann, Maelee Roach, Ella Rudney, Olivia Ryan, Alexis Schad, Hope Sedita, Serenity Sikora, Ryan Smith, Kaden Smith, David Still, Annabella Tippett, Mikayla Valentine, Grace VanderMey, Kayleigh Vanderzell.
10th GRADE HONOR
Gabriel Agnello, Eva Ahne, Emily Andrews, Thomas Banas, Thomas Bender, Felix Bilharz, Sophia Bobeck, Kaylee Boyle, Mikayla Bukowski, Kayla Butler, Ian Cameron, Natalie Carter, Giana Casullo, Jordan Choboy, Adiana Cotroneo, Izabella DeGlopper, Francesca DePalma, Kayleen DiCarlo, Claire Dickinson, Leah Dylag, Brendan Ehlenfield, Olivia Fox, Arman Deep Gill, Lana Gondek, Kaci Gottler, Sean Graham, Anna Hammond, Spencer Hecht, Justin Horvath, Alicia Hunt, Gurleen Johal, Jackson Jones, Payton Khadra, Oleksii Klapushynskyi, Noah Krathaus, Molly Leggett, Joseph Lewis, Natalie Lopez-Castro, Ethan Lysarz, Brandon Lysenko, Faith Marsala, Halie Martinez, Madisyn Martino, Jonathan Minton, Dennis Misko, Marissa Mistriner, Hannah Moore, Elizabeth Morris, Olivia Nucci, Michael Percival, Ava Racz, Lauren Ratajczak, Isaiah Reading, Samar Rizek, Ryan Sander, Jackson Scalise, Kira Seidel, Liam Snyder, Carmen Sokody, Sophia Steck, Christian Taylor, Sophia Terlecky, Hailey Watches, Riley Weber, Jessica Whitfield.
11th GRADE HONOR
Evan Ackerman, Ra'ed Baaith, Allyson Bellinger, Camille Burruano, Samuel Carpenter, Matthew Castellino, Martin Castner, Tristan Chaffee, Ian Cioppa, Krystyna Colautto, Giuliana Congi, Haley Coombs, Alejandra de la Fuente Robles, Ava DeFranks, Jack Dlugokinski, Jenna Doctor, Brooke Eichel, Kaylin Frost, Isabela Garcia, Gina Graham, Kameron Greene, Brady Haines, Allison Hill, Carissa Hoover, Joshua Hunt, Celia Jackson, Edward Kanfoush, Brett Kowalczewski, Jaime Lechner, Savanna Lenze, Wuthithamsaran Leone, Morgan Lynch, John Mandura, Ashley Maras, Angelina Marinello, Abigail Marlow, Madeline Maroni, Samantha Meierer, Despina Minasidis, Maisie Mrkall, Cecilia Nowak, Elaina Page, Maya Pecoraro, Morgan Proctor, Grace Samplinski, Ethan Schinnagel, David Schnell, Joseph Seifert, Lucas Seifert, Arsal Shaheen, Yifan Shen, Zorica Simic, Callie Sommer, Amanda Spaulding-Kellner, Alexis Stuber, Aaron Szczepankiewicz, Eric Szumla, Lucas Tahara, Anisa Todaro, Morgan Tollner, Connor Tribby, Edward VeRost, Nathan Wallens, William Wieberg, William Worrall, Alexander Wright, Kyla Wulkan, Jenna York.
12th GRADE HONOR
Avery Andrews, William Atkinson, Marion Averhart, Brandon Beiter, Kenneth Beittenmiller, Gabriella Bergstrom, Abigail Blair, Derek Blanchard, Sarah Bukahri, Isabel Calabrese, Kenneth Carter, Samuel Castellino, Ruby Chen, Erin Cool, Monica Cortes, Zoe Coutu, Stephanie Cox, Gianna D'Addario, Gianna DePalma, Emma Dickinson, Rhianna Enright, John Fletcher, Samantha Fluker, Jenna Foglia, Alexa Fox, Mitchell Fusillo, Louis Genovese, Jasmin Gill, Shawna-Lea Harper, Samantha Hartman, Jewel Hasan, Sean Heffley, Mackenzie Heyden, Cassidy Jensen, Michael Juntunen, Joshua Kam, Blake Kenney, Caitlin Kleinschmidt, Trevor Knight, Kevin Koch, Kristian Krantz, Erika Krueger, Abigail Krull, Alexis Labin, Robert LeFevre, Marissa Lewis, Kendy Li, Patrick Loss, Maggie McNamara, Tyler Meyer, Sarah Moore, Breckin Morris, Ben Moskala, Madison Murillo, Sean Murray, Julia Mysliwiec, Carly Pannullo, Connor Raine, Rebecca Rebmann, Mikayla Robinson, Heather Robinson, Eliza Sarigiannis, Kaylynn Savoy, Thomas Shemik, Brett Shickluna, Brandon Smith, Rachel Soluri, Benjamin Spiesz, Suha Taffal, Ysolimer Tavarez, Anna Thompson, Chloe Tolsma, Vanessa VanNorman, Amiah Wilkes, Olivia Williams, Bryce Wolf, David Wynne, Alexa Yamonaco, Brook Zdrojewski.
GIHS 2nd Quarter Merit Roll - February 2020
9th GRADE MERIT
Mustafa Ahmad, Salem Al Hajjaji, Daniel Almeyda, Dylan Andrews, Paige Bedell, Makayla Bender, Logan Beringer, Kyler Butcher, Alexandrea Caudill, Riley Chen, Michael Christensen, Gavin Cich, Emmalee Currie, Rebecca Dilliot, Joseph Fatta, Anthony Fratello, Natalie Gojmerac, Sarah Grover, Eric Hamm, Christopher Honrado, Mackenzie Ingalsbe, Zander Inman, Alannah Kaifas-Concha, Lily Koslowski, Matthew Lavin, Noah LeBrasseur, Aidan Maroni, Olivia Martinez, Sean Mesmer, Caleb Meyer, Nicholas Nobilio, Jacob Ode, Andre Petroziello, Christina Pietromicca, Zachary Przybyl, Megan Reynolds, Jack Sharp, James Soto, Sophia Steffans, Alyssa Stockinger, Trinity Swart, Jahzary Thomas, Marcus Tittle, Gabrielle Vecio, Aiden Wagner, Patrick Whalen, Aubrey Zdarsky, Niveen Zidan.
10th GRADE MERIT
Madison Andrews, Tristan Betterelli, Sophia Black, Franceska Bongiovanni, Maleeha Bukahri, Olivia Crowley, Samuele DeLorenzo, Jashanjit Dhillon, Abigail Dulak, Jenna Duquin, Thomas Dworak, Khloey Ellis, Olivia Floro, Lily Hauer, Jacqueline Heyden, Julianna Huber, Ashley James, Jenna Kaiser, Skylar Koschuk, Shyann Koziel, Aidan MacNeil, Joshua Mallabar, Jake Muggli, Isaac Mulholland, William Patterson, Nicholas Pawlak, Christian Pendola, Ethan Person, Matthew Powell, Anna Pullano, Alyssa Robertson, Shaan Sandhu, Evan Smith, Aiden Sobrino, Tyler Sykes, Emily Thompson, Madeline Tiedemann, Karina VeRost, Sara Verso, Jillian Wadell, Albert Wain, Kiersten Winstel, Celia Wood.
11th GRADE MERIT
Olivia Alvarado, Justin Archer, Joshua Archer, Isabel Buckingham, Kelsey Burns, Grace Carey, Conrad Chaffee, Joseph Christiano, Sara Cicero, Bryahna Colbert, Polla Daghestani, Cameron Davis, Anna Dugan, Jagger Flick, Fotis Giogas, Dominic Gramza, Colin Gross, Quinn Hart, Margaret Hegarty, Dominick Kane, Alyssa Keller, Joseph Knight, Alec Konopczynski, Zoe Kowalski, Taylor Kullerkupp, Ivan Lalata, Kalah Lenhard, Stephen Leone, Regan Lytle, Hayden McLachlan, Ryan Michki, Jacob Miller, Griffin Miller, Nicole Nguyen, Michael Pawlak, Madison Phinney, Hannah Pyc, Matthew Reynolds, William Schwartz, Logan Sionko, Elizabeth Smolkovich, Alex Sturtz, Andrew Tomasula, Molly Tuohy, Sara Vaughn, Joshua Vizzi, Grace Wenner, Brooke Willer, Madison Zaccaria.
12th GRADE MERIT
Hamzah Al-Naji, Brooke Amato, Ronald Appoloney, Robert Arch, Matthew Aronica, Nicolas Bauman, Blake Bielec, Izabella Black, Kaylee Butcher, Joseph Cali, Arthur Chatkhan, Emily Czyrny, Adam Daghestani, Benjamin DeFranks, Jonathan Dingey, Patrick Dworak, Alex Gottler, Austin Haak, Victoria Huang, Muhammad Issa, Megan Jaegers, Gavin Larsen, Michael Loss, Jack LoTempio, Madison MacNeil, Michael Marino, Nolan Massaro, Sebastian Melendez, Michael Messier, Stephen Palmeri, Emily Phillips, Thomas Podsiadlo, Nicholas Ratajczak, Luke Rizzo, Brandon-Kace Samol, Zayan Shaheen, Amritpal Singh, Tejpal Singh, Elzbieta Sorel, Megan Taylor, Drew Thompson, Laura Velez Lopez, Luke,Webb, Morgan-Lynn Wieberg, Jenna Wilkinson, Matthew Wolfe.
GIHS January Students of the Month - February 2020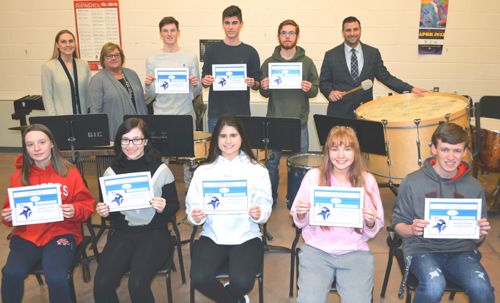 Pictured from left to right: front row - Madison Flory, Emily Cohen, Alessandra Smith, Mia Phillips, Breckin Morris; back row - Assistant Principal Hillary Kretz-Harvey, Assistant Principal Karen Surdyke, Logan Sionko, Lucas Kruse, Kevin Koch and High School Principal Michael V. Lauria. Not pictured: Christina Anderson and Zoe Kowalski.
Click photo for larger view.
Congratulations goes out to the Grand Island High School Viking Values Students of the Month for January 2020! The students and their corresponding departments that nominated them are as follows: Grade 12 Kevin Koch (Technology), Lucas Kruse (Science) and Breckin Morris (Business). Grade 11 Emily Cohen (LOTE), Zoe Kowalski (Art), Mia Phillips (Social Studies) and Logan Sionko (English). Grade 10 Christina Anderson (Physical Education/Health) and Alessandra Smith (Music). Grade 9 Madison Flory (Math).
GIHS Boys Swim Team Meet Results - January 2020
GIHS boys swim team (7-4) vs. Lew-Port (10-2) on Friday, January 24, 2020. Grand Island lost, 80 - 103. See
results
.
GIHS Boys Swim Team Meet Results - January 2020
GIHS boys swim team (7-3) vs. Kenmore (4-7) on Tuesday, January 21, 2020, at home. Grand Island won, 95 - 76. See
results
.
GIHS December Students of the Month - January 2020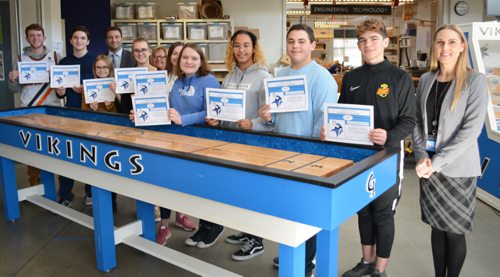 From left to right: Sean Christian Rustowicz, Mark Ramsperger, Kyla Wulkan, High School Principal Michael V. Lauria, Erin Cool, Assistant Principal Karen Surdyke, Katherine Squires, Grace Pearse, Brook Zdrojewski, Matthew Rizzo and Assistant Principal Hillary Kretz-Harvey. Not pictured: Joseph Cali.
Click photo for larger view.
Congratulations goes out to the GIHS Viking Values Students of the Month for December 2019! The students and their corresponding departments that nominated them are as follows: Grade 12: Joseph Cali, Department: Music; Erin Cool, Department: English; Grace Pearse; Department: LOTE; Sean Christian Rustowicz, Department: Business; Brook Zdrojewski, Department: Art. Grade 11: Mark Ramsperger, Department: Physical Education/Health; Kyla Wulkan, Department: Social Studie. Grade 10: Anthony Amato, Department: Technology; Katherine Squires, Department: Mathematics. Grade 9: Matthew Rizzo, Department: Science.
Social Media Marketing Visits GIHS Classes - January 2020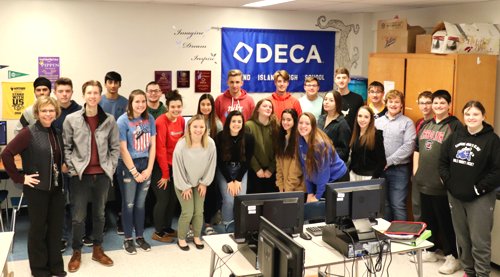 Click photo for larger view.
Social Media Marketing came to Cheryl Chamberlain's Entrepreneurship classes this week when Mr. Ryan McCarthy of Social Status Marketing, LLC gave a presentation to the students. Mr. McCarthy is also First Vice President of the Grand Island Chamber of Commerce and regularly serves as a DECA judge regionally.
In his presentation, McCarthy stressed how advertising has changed with the use of social media platforms and stressed the importance of data use to gauge advertising cost effectiveness. Students were introduced to analytics of social media in real time and given pointers on how to retain customers through excellence in service. For more information on the new National Academy of Finance and DECA at GIHS contact cherylchamberlain@gicsd.org.
GIHS Boys Swim Team Meet Results - January 2020
GIHS boys swim team (4-3) vs. Lockport (7-0) on Tuesday, January 7, 2020, at home. Lockport won, 102-69. See
results
.
GIHS Presents Disney Beauty and the Beast - January 2020
Grand Island High School presents the Broadway musical, Disney "Beauty and the Beast", at the GIHS Viking Theater on Thursday, January 30th at 7;00 p.m., Friday, January 31st at 7:00 p.m. and Saturday, February 1st at 6:00 p.m. Tickets are $10 online presale and $12 at the door.
Flyer
.