Grand Island High School News Web Page 2022
Grand Island High School Website
2022 News Page
Principal Hillary Kretz-Harvey
January Viking Values Students of the Month - February 2023
The students are pictured, from left, front row: Catherine Zach, nominated by the English Department; Wynonna Roberts, nominated by the Technology Department; Charlotte Tower, nominated by the Business Department; Nina Johnson, nominated by the Math Department; Camryn Harding, nominated by the Music Department; and Grace Carpenter, nominated by the World Language Department. Back row: Principal Hillary Kretz-Harvey; Assistant Principal Jon Lattanzio; Janelle Spiesz, nominated by the Art Department; Alex Domanski, nominated by the Social Studies Department; Danylo Tkachenko, nominated by the Physical Education Department; Kailyn Ash, nominated by the Science Department; and Dean of Students Clare Battle.
(Photo by Larry Austin/Grand Island Central School District.)
GIHS announces January Viking Values Students of the Month Principal Hillary Kretz-Harvey, Assistant Principal Jon Lattanzio, and Dean of Students Clare Battle of Grand Island High School have announced the Viking Values Students of the Month for January. The Viking Values Students of the Month are nominated by the departments of World Language, Social Studies, Mathematics, English, Business, Art, Physical Education, Music, Technology, and Science.
Student Council Beautification Project Fundraiser - January 2023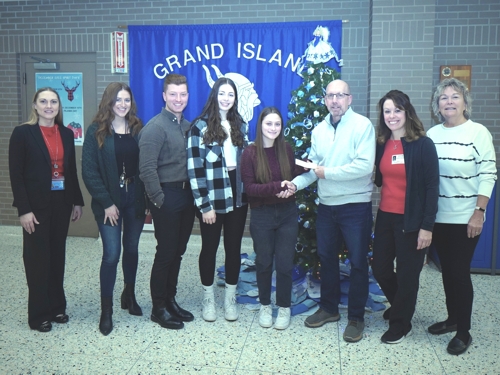 The Grand Island Alumni Association made a $1,000 donation on Dec. 22 for the ongoing beautification project at the Grand Island High School main entrance. From left: Principal Hillary Kretz-Harvey, Student Council co-advisory MaryLis Rustowicz and Brodie Kaiser, and Student Council officers Anna Kurtzhalts (secretary) and Alex Schad (social media director) accepting a check from GIAA's Dick Crawford, Kim Kalman, and Jodi Robinson.
A fundraising drive to pay for a beautification project at Grand Island High School's main entrance has surpassed its $10,700 goal. Brodie Kaiser, co-advisor of Grand Island High School Student Council with MaryLis Rustowicz, said, "Our goal is to create a new entryway to our high school that represents the enthusiasm and school spirit that our students share at Grand Island High School. This will also be a display of the Viking pride shared throughout our entire Grand Island community, which will last for many years to come."
Fundraising began in November. Kaiser believes the project "will not only embrace the pride of Grand Island, but it will also further enhance our positive school culture." In addition to running fundraisers, Student Council accepted donations from Grand Island High School graduates. On Dec. 22, alumni visited the school (on the last day of school before the blizzard and winter recess) to make check presentations. Student Council received $1,000 from the Grand Island Alumni Association, $5,000 from the Class of 2022, and $1,497 from the Class of 2021, putting the fund drive over the top in its $10,000+ goal.
Grand Island Academy of Finance travels to Leadership Conference - January 2023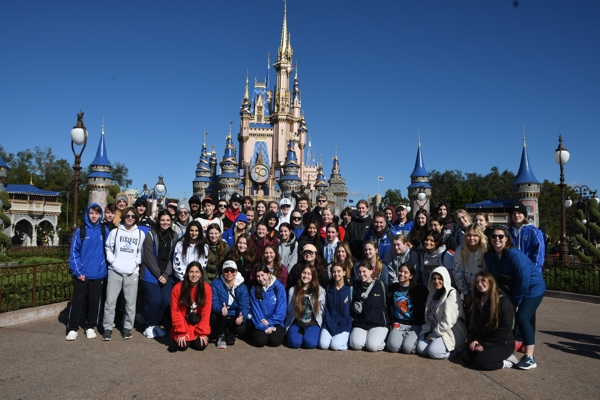 Group photo.
The Grand Island Academy of Finance traveled to Orlando, Florida this past week to train at the Disney Imagination Campus at Walt Disney World. Fifty-three students were in attendance at this immersive training into the management and leadership style of the Disney company. Students were treated to a tour of the backstage of the park and how integral everyone's job is to the success of the Disney experience. In addition, students enjoyed fireworks and special events provided by Disney. Amy Boutet, the GIHS AOF Coordinator, was excited to bring students to "the happiest place on earth!" Thanks to the chaperones Cheryl Chamberlain, Christopher Simpson, Alanna Burt, and Mark Gorton for assisting with all of the students. The Academy of Finance introduces a student to the broad career opportunities available in the ever-changing financial services industry through involvement in a hands-on business curriculum. Students learn workplace skills and develop self-confidence as they participate in a rigorous and relevant business curriculum. For more information on the NAF program at Grand Island High School contact amyboutet@gicsd.org.