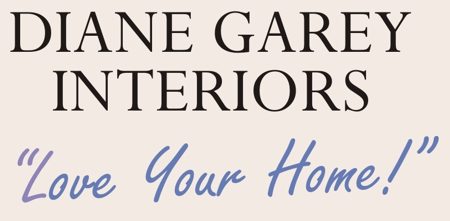 A quarterly article that will give you tips and advice on how to "Love Your Home".
Written by Diane Garey
www.dianegareyinteriors.com


---
Tips on Decluttering & Organizing After the Holidays - January 2018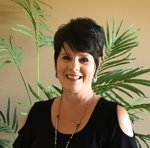 If you're like most people, you've taken down your holiday decorations by now and your home is looking a little cluttered and unorganized. Some rooms look bare without the Christmas tree spilling over with gifts and other holiday keepsakes, while other rooms are strewn with boxes, wrapping paper, unneeded gifts, clothes and toys that are the wrong size or not the recipient's taste. Much of the rest of the house has become disorganized and cluttered due to the frantic pace of the holidays and excessive amount of purchases being brought into the house. It's no wonder January has been named National Organizational Month!
Hopefully by now, you have done an overall pick-up of your household, throwing out all unwanted food, wrapping paper, broken items and broken down boxes to be recycled. Post-Christmas is also a good time to follow the "one in, one out" rule.....for each new toy or article of clothing received, donate one to a local charity. This step should make a good sized dent in the clutter around your household - with a large bag of trash and another bag or two of gently used toys and clothing and possibly an unneeded gift or two.
Step #1 Select a Space to Organize
If one of your goals this year is to get more organized, now is a great time to begin this task. Once you have completed the initial clean up discussed above, pick a small area that is a complete disaster to organize and declutter. Predetermine how much time you have to work on the project so you do not pick a project too large to complete, leaving you feeling overwhelmed. Choose a crowded pantry or linen closet, NOT an entire kitchen. Doing so will give you a feeling of empowerment, motivating you to continue throughout the house.
Step #2 Determine how you want the space to function.
Whether you are designing a new space or reorganizing an existing space the first thing you need to determine is how you want to use the space and how it needs to function for you and your family. The bathroom closet, pictured below, needed to function as storage for personal care items for two brothers, as well as general care items for the family.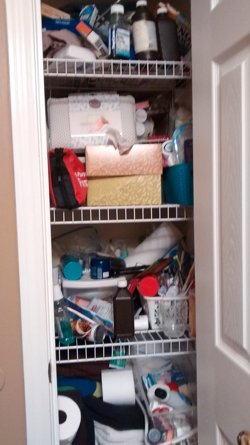 BEFORE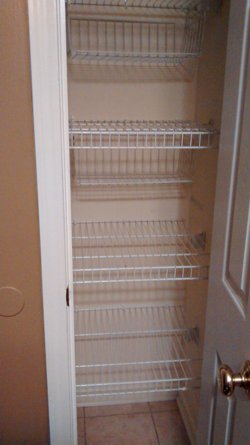 Step #3 Take EVERYTHING out of the space.
You cannot clean and organize your space if you do not know everything that is in the space. After removing everything, wipe down the space and any items that are dusty/soiled. See above.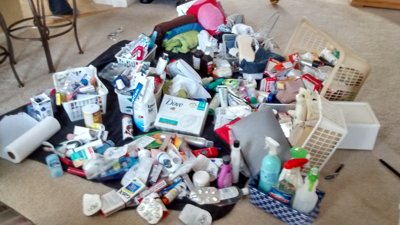 Step #4 Sort.
Organize your items into 4 piles: Trash-things that are broken or expired. Also trash any bulky packaging to streamline open storage. Donate-items that are in good shape, but not used frequently. Relocate-items that are used, but do not support the function determined for the space. Keep-items that support the function of the space.
Step #5 Organize "Keep" Items.
Utilize fewer, larger storage containers for a neater look. Hang wire bins from shelves to create extra storage. Place smaller containers within the larger ones to sort further, if necessary. For example I placed a small container in the Oral Care Basket where the boys put their toothbrushes and small tubes of toothpaste. Group "like items" together, and place containers with seldomly used items on higher shelves, with items that are used daily within easy reach. The container with cold and flu medicines, which are rarely used, was placed on the top shelf, whereas the oral care products and band aids were placed front and center on an easy to reach shelf.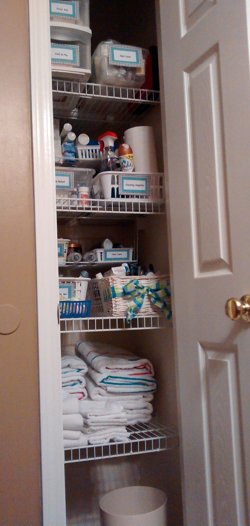 AFTER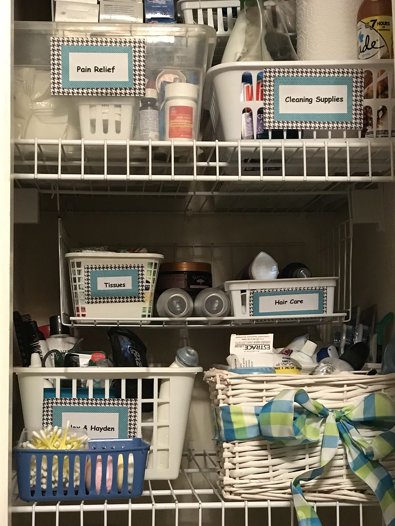 Step #6 Label, Label Label!
Labeling each storage container makes it easy for everyone to know exactly where everything is. This makes it easier to find things and put things back where they belong. I used a trendy black houndstooth paper with a teal accent for the labels, a great finishing touch with unisex appeal that didn't cost a cent! The homeowner is a crafter and had paper on hand for the asking, and the tags really give the closet a finished look.
Organizing and decluttering your space does not have to be overwhelming or expensive. All of the items used in this project were either already owned by the homeowner or purchased at the dollar store. I chose plastic containers that were easy to wipe down for the boys. There are all kinds of books and websites which cater to people looking for tips on organizing if you just need a little help and can do it yourself. If the job seems overwhelming, consider enlisting the help of a professional organizer who can help you break the project into manageable pieces and make decisions about paring down belongings. Regardless of the direction you take, I wish you luck...and a 2018 filled with friends, family and a home that you love!