Huth Road Elementary School News Web Page - 2016

1773 Huth Road - 716.773.8850

Huth Road Elementary School District's Website.

Previous News Page

Principal - Kerri Nowak


---
GICS K-12 Artist of the Month - December 2016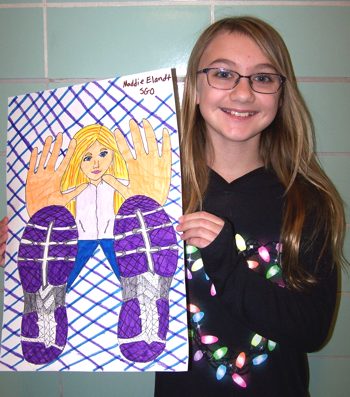 Madison Elandt
The Grand Island Art Department is proud to announce Madison Elandt as our "K-12 Artist of the Month" recipient. Madison is a fifth grade student and is involved in Art Club at Huth Road Elementary. She has been interested in art for as long as she can remember. Madison enjoys working in pencil as her favorite medium because she can shade with thin and thick lines. She can also draw realistic when she uses the pencil. Madison enjoys the artwork of famous artist Vincent Van Gogh as her inspiration. Her favorite painting by Van Gogh is his "Starry Night" where his thick brush strokes are evident. Her family also encourages her to practice drawing so she can be even better. Madison is proud of her artwork and was excited to see one of her warm and cool color paintings framed and hung on her Grandma's wall. Congratulations Madison!
Huth Road Recognized Nationally as a School of Excellence - May 2016
Grand Island, NY, September 12, 2016
- National PTA has recognized Huth Road Elementary School and Huth Road PTA as a National PTA School of Excellence for their achievement in building effective family-school partnerships. Research shows that when families and schools work together, student achievement increases, schools improve and communities grow stronger. Being recognized as a National PTA School of Excellence demonstrates Huth Road School and PTA's leadership and commitment to supporting student success and continuous school improvement. "The partnership between Huth Road School and Huth Road PTA is a true example of what can be accomplished when schools and families work together," said Laura Bay, president of National PTA. "They have put strong practices into place that involve families in the life of the school, and we are pleased to recognize them as a National PTA School of Excellence." At the Monday, September 12th school board meeting, Superintendent Brian Graham read a proclamation announcing the news. See full
press release
.
Chemistry Comes Alive at Huth Road School - May 2016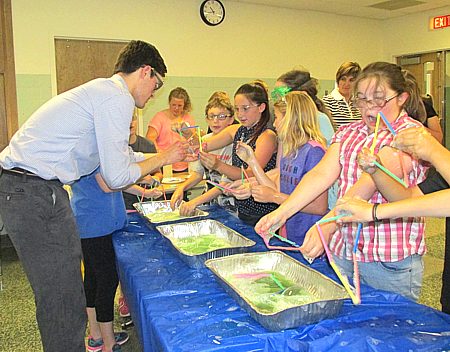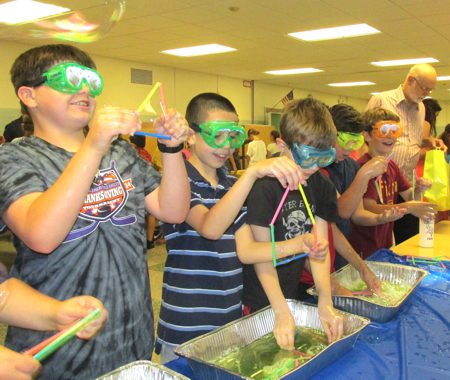 Lee Cohen story & photos.
Once again this year Huth 5th graders were enthralled by the "Chemistry Comes Alive" program by Canisius College professor Dr. Steven Szczepankiewicz along with several of his chemistry students, on Thursday, June 16th. The presentation complemented the chemistry unit completed by the students. Throughout the hands-on demonstrations, students were asked to make predictions and observations. Four stations were set up and students, wearing safety goggles, rotated through them, making silly putty, learning about chemical reactions, making color transfers, working with soap bubbles, observing the effects of liquid nitrogen and seeing how different chemicals made different colors of flame. Comments like "Wow," "Cool," and "I never knew chemistry could be so interesting," were heard during the presentation.
Sarah Wheeler Receives PTA Life Membership - May 2016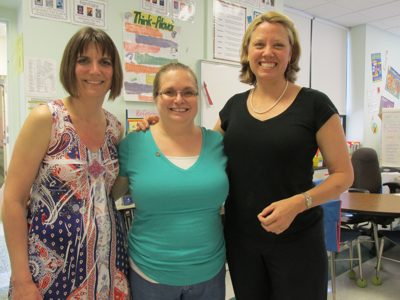 From left: PTA president Jen Walowitz, Sarah Wheeler, Huth principal Kerri Nowak.
Lee Cohen story & photo.
Huth Road PTA has presented Sarah Wheeler with a PTA Honorary Life Membership. In presenting the award Huth PTA president Jen Walowitz described the reasons the award was being given. "Our nominee cares about children and devotes much of her free time to them. When her daughter was in kindergarten, she started a Girl Scout troop. She's been leading this group for five years and has dedicated countless hours to helping the girls learn and grow. She has been active in PTA for almost as long. She wasn't afraid to jump right into things with her first role as Sidway PTA president. She worked hard with a diverse group of people to coordinate numerous enrichment activities at school."
"Her true passion showed when she began chairing the basket raffle at Sidway. She has a knack for soliciting donations and turning them into quality baskets that raise money to support PTA programs. She has continued to run the basket raffle at Huth for three years. She served as Huth Road PTA treasurer for two years and is currently vice president of membership. She is someone who takes on all her roles with enthusiasm and always gives 100% .If you need help with something, you can count on her to be there for you. She gives her time and talents to make things better for all our kids. Sarah connects with students on a personal level and makes them feel special. She is a breath of fresh air in our cafeteria, always polite and happy to see the children. Her positive energy helps to make the Huth Road community a special place for students."
K-12 Artist of the Month-Nathaniel VanNorman - May 2016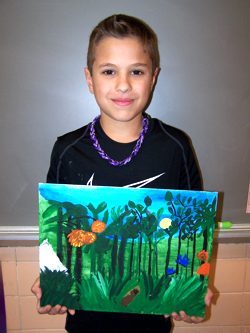 The Grand Island Art Department proudly announces Nathaniel VanNorman as the "K-12 Artist of the Month". Nate is a fifth grader at Huth Road Elementary. He first became interested in art when he was about seven years old. His work is always neatly done and very well thought out. He prefers to work two-dimensionally in paints and likes mixing colors to see what exciting new color he can make. Nate was introduced to artist Henri Rousseau this year for his artist research. Rousseau has now become one of his favorite artists. Nate created a wonderful jungle painting emulating his artist's style and subject. His mom and sisters, Vicky and Vanessa, are also very artistic and help inspire and encourage him with his work. Congratulations to a talented artist!
Jennifer Walowitz Receives Award - May 2016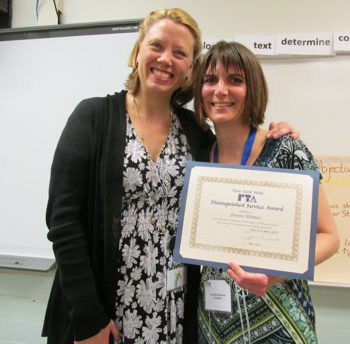 Huth Road principal Kerri Nowak (left) presented Jennifer Walowitz with the Distinguished Service Award pin and citation.
Huth Road PTA president Jennifer Walowitz was the recipient of a NYS PTA Distinguished Service Award, presented at the group's final meeting of the year last week. The award is given to someone who already has earned a PTA Honorary Life Membership. Jennifer was recognized for her ability to bring together adults to volunteer for the betterment of children's lives. Her outstanding leadership helped Huth Road PTA grow through her encouragement and recognition of the work of volunteers, and her hard work and dedication have made Huth Road a better place for all students. The award also cited her creativity in chairing the award-winning PARP (Pick a Reading Partner) program.
Sophia Heffley "Artist of the Month" - March 2016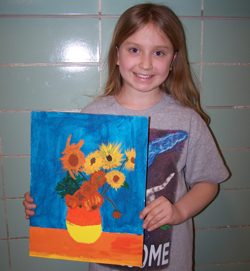 Sophia Heffley
The Art Department proudly announces Sophia Heffley as the recipient of the District "K-12 Artist of the Month" for December. She is a fifth grade student at Huth Road Elementary. Sophia has been interested in art as far back as kindergarten. Her favorite medium to work in is paint because she loves to mix new colors. Sophia recalls one of her favorite paintings she created in third grade called "Starry Night". She did a great amount of details and worked hard to make it resemble the style of Vincent Van Gogh. Van Gogh happens to be her favorite artist studied at Huth. When Sophia grows up she plans to have a career as a book illustrator. Her father and brother, Sean, have been a great influence on her art. Sean shows her how to draw realistically. Art is important to Sophia because "it can inspire people to be creative". We wish Sophia the best of luck in her future as an artist!
Huth Road Spelling Bee Winners - March 2016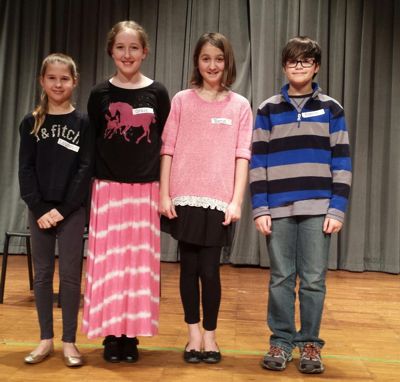 5th Grade (from left): Lauren Geyer, alternate; Grace VanderMey, 3rd place; Berin Celik, 2nd place; Ransom Rohr, 1st place.

4th Grade (from left): Emma Oppedisano, alternate; Dean Urbaniak, 3rd place; Mariella DiCarlo, 2nd place; Grace Jones, 1st place.
Lee Cohen photos and story
Huth Road Elementary School will be the host when Niagara Region PTA holds its annual spelling bee Saturday, May 14. Elementary schools from throughout the Niagara Region will participate. The spell-off is expected to begin at approximately 1 p.m. Grand Island winners who will participate in May are pictured.