William M. Kaegebein Elementary School
News Page 2017
1690 Love Road
773-8840

Previous News Page
Kaegebein Elementary School District's Website

Principal
Mary E. Haggerty
Kaegebein Family Fun Night & Basket Raffle - April 2017
Kaegebein PTA Family Fun Night is on Friday, April 21st from 6:00 p.m. - 8:00 p.m. Enjoy family activities, a basket raffle and a cake walk. Dinner will be available. Donations to the basket raffle are being accepted now.
Kaegebein Automated Wax Museum - March 2017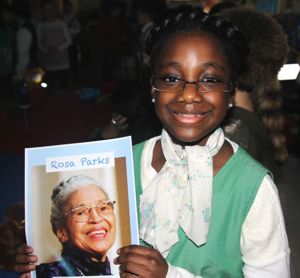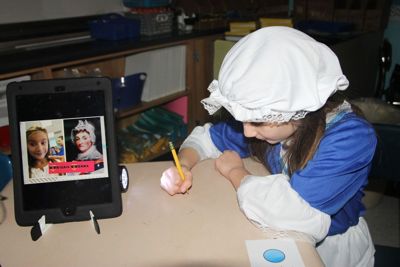 Written by: Jeff Lipinczyk
Step Right Up, Step Right Up! The second grade team at Kaegebein Elementary held an Automated Wax Museum on Wednesday, February 15th. The Wax Museum was a culmination of a research based project, utilizing many of the tools that our school has to offer.
Our second graders were tasked with choosing an important figure and delving into their lives. They discovered many aspects about each person's life through the use of IPads, PebbleGo, World Encyclopedia, and print. Our students wrote reports, created Tagxedos, formed a Pic Collage, and transformed themselves into the person they were researching.
After completing the written and technology projects, the students memorized three facts about their important figure, and brought their figure to life in our Automated Wax Museum. The students dressed up as their figure, posed like them, and with the push of a button, came to life to tell a fact about them.
All grade levels were invited, as well as parents, teachers, and administrators. Visitors were asked to complete a compliment card as payment for their visit. Channel 7 News stopped by to record our students in the act! In the end, students walked away from this event with a taste of what true research looks like, an understanding of how hard work pays off, and an everlasting memory of their time here at Kaegebein.
"Alice's Adventures with Idioms" - February 2017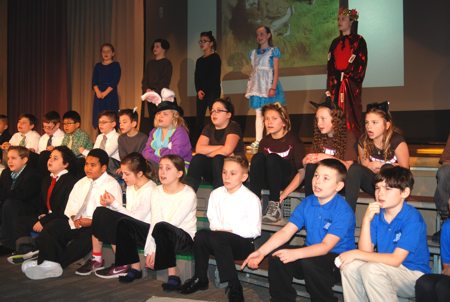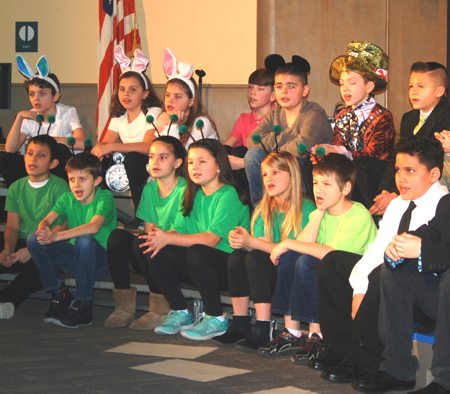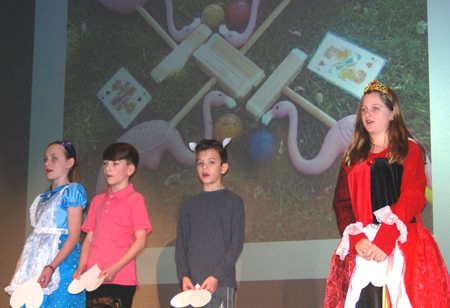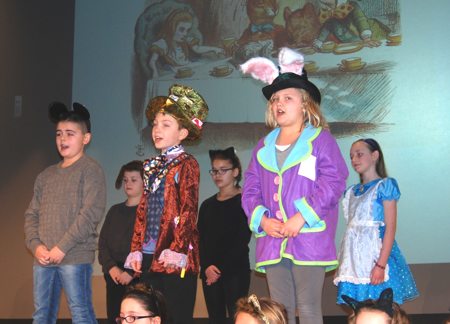 The 4th grade classes of Kathy Chadwick and Carilyn Gallagher presented a play called "Alice's Adventures with Idioms" on Wednesday, February 15, 2017 in the Kaegebein auditorium. This very clever play was selected because it teaches students about figurative language including idioms, similes, and metaphors. The play aligns with the grade 4 common Core Learning Standards of Language including L.4.5-students, will demonstrate understanding of figurative language. Over the course of the play, a dozen songs were sung. Great job by all students!