American Legion #1346
2019

Previous American Legion News

The American Legion
Click to view.






American Legion Meetings are held 7 p.m. the last Wednesday of the month
In the meeting room of the Loyal Order of Moose #180
2524 Grand Island Blvd. Grand Island, NY 14072

We welcome all veterans that would like to become members.
---
Commander Ray DeGlopper, rayd2198@aol.com, 773-4479
1st Vice Commander Joseph Mesmer, gijoebred@yahoo.com, 773-5651
2nd Vice Commander Patrick Soos, patricksoos@mckesson.com, 258-1509
3rd Vice Commander Mark Manthie, mmthei@roadrunner.com, 368-1019
Adjudant George DeGlopper, 773-5333
Finance Officer Peter Kuszczak, pkuszczak@roadrunner.com, 773-6459
Judge Advocate Joe Synakowski
Sgt-at-Arms Garry Duetschlander, Chaplain Joe Mesmer
Service Officer Patrick Soos, Recording Secretary Amy Garten
---
Mission:
Service to veterans. Information for various benefits due veterans of all services, national and community affairs
Help:
Help in recruiting recently discharged veterans and those veterans who do not belong to at least one veterans organization
Strengths:
Largest veterans organization in the world.
Ideas:
The many veterans living on Grand Island are a great untapped source of community involvement. They are encouraged to help the various programs in the town.
American Legion Flower Sale - April 2019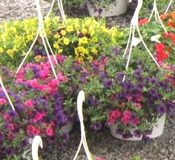 The Grand Island American Legion Post 1346 is hosting its annual flower fundraiser on Friday & Saturday, May 10 & 11, from 7:00 a.m. - sold out, at the VFW Post, 2121 Grand Island Blvd. Baskets are $15.00 each. See
flyer
.
To All Veterans and Members - April 2019
The American Legion, Grand Island Post #1346 general meeting is Wednesday, April 24th at 7:00 p.m. at the Loyal Order of The Moose Lodge, 2524 Grand Island Blvd. All members are requested and urged to attend, you are an important part of the American Legion.Your input is important. The American Legion is the largest Veteran Organization in the world and welcomes all eligible veterans to join and help keep benefits you have earned while serving your country. Help US help you and your Community,
To All Veterans and Members - March 2019
The American Legion, Grand Island Post #1346 general meeting is Wednesday, March 27th at 7:00 p.m. at the Loyal Order of The Moose Lodge, 2524 Grand Island Blvd. All members are requested and urged to attend, you are an important part of the American Legion.Your input is important. The American Legion is the largest Veteran Organization in the world and welcomes all eligible veterans to join and help keep benefits you have earned while serving your country. Help US help you and your Community,
To All Veterans and Members - February 2019
The American Legion, Grand Island Post #1346 general meeting is Wednesday, February 27th at 7:00 p.m. at the Loyal Order of The Moose Lodge, 2524 Grand Island Blvd. All members are requested and urged to attend, you are an important part of the American Legion.Your input is important. The American Legion is the largest Veteran Organization in the world and welcomes all eligible veterans to join and help keep benefits you have earned while serving your country. Help US help you and your Community,
To All Veterans and Members - January 2019
The American Legion, Grand Island Post #1346 general meeting is Wednesday, January 30th at 7:00 p.m. at the Loyal Order of The Moose Lodge, 2524 Grand Island Blvd. All members are requested and urged to attend, you are an important part of the American Legion.Your input is important. The American Legion is the largest Veteran Organization in the world and welcomes all eligible veterans to join and help keep benefits you have earned while serving your country. Help US help you and your Community,