American Legion #1346
American Legion News 2009
The American Legion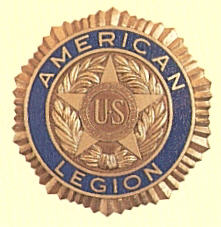 American Legion Meetings are held 7 p.m. the last Wednesday of the month,
in the meeting room of the Loyal Order of Moose #180
2524 Grand Island Blvd., Grand Island, NY 14072

---

Contact:
Robert Soluri, Commander - 553-0059
legion1346@aol.com



---

Commander Robert Soluri, 1st Vice Commander Allan Prame, 2nd Vice Commander Peter Kuszczak,
Adjudant George DeGlopper, Finance Officer Henry Ensminger
Sgt. at arms William Bleich, Chaplain Joe Synakowski


Mission: Service to veterans. Information for various benefits due veterans of all services, national and community affairs
Help: Help in recruiting recently discharged veterans and those veterans who do not belong to at least one veterans organization
Strengths: Largest veterans organization in the world
Ideas: The many veterans living on Grand Island are a great untapped source of community involvement. They should be encouraged to help the various programs in the town.
---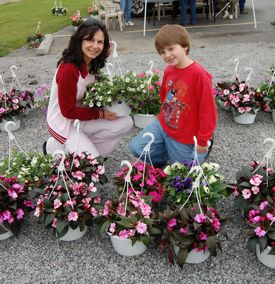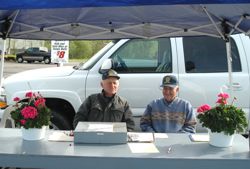 (left) Kim Kinney and son, Brandon (Mary Stewart Photo) - Adjutant George DeGlopper and American Legion Commander Albert Prame (Jodi Robinson Photo)
Click photos for larger view.
Members of the Grand Island American Legion Post 1346 will sell the remaining Hanging Basket Plants at the VFW Post, 2121 Grand Island Blvd, Saturday, May 15, 2010. The Mothers Day sale was interrupted due to high winds and rain. The members of the American Legion thank everyone who bought plants and supported the Veterans of the American Legion. Funds are used to aid Veterans and Community projects.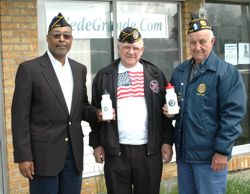 (left) DAV Commander Burt Payne, Sr. Vice Commander DAV/American Legion Joe Synakowski, and American Legion Commander Albert Prame
Jodi Robinson Photo - Click for larger view.
The Grand Island American Legion Post #1346 and Grand Island Chapter #168, Disabled American Veterans, joined in a project to help our fellow Veterans. A request was made by Ms. Donna Trala of the Hematology/Oncology Ward at Buffalo VAMC (Veterans Hospital), Buffalo, NY for water bottles for the Veteran patients. The Grand Island American Legion and the DAV provided funds to purchase the bottles. These spill proof bottles are given to the patients to keep them from dehydration. The program is working very well and the patients make good use of these water bottles. The Legion and the DAV are actively supporting the patients at the VAMC with various needs that they otherwise would not have. Voluntary Services Director Mark Francis has a wish list of items that could make the patients' stay at the Hospital a bit more comfortable. As always volunteers are needed for various chores and especially drivers for the DAV Transportation Network. Anyone can volunteer. You do not have to be a Veteran . Call Mark at 716-862-8667 . Your help will make a difference .IF YOU LOVE YOUR FREEDOM, THANK A VET. Remember Our Fallen Heroes on Memorial Day !!!!
The Grand Island Post 1346 of the American Legion, will hold its Annual Mothers Day Hanging Basket Sale on Friday, May 7, and Saturday May 8, 2010, at the front parking lot of the Pfc. Charles N. DeGlopper Memorial Post 9249, 2121 Grand Island Blvd. Come Early for the best choice !!! Hours are from 9:00 AM till plants are sold out !!!!