LETTERS TO THE EDITOR 2017
Previous Letters to Editor Page

Letters To The Editor must include a name and contact (phone/email) and may be Emailed to
Editor or addressed to: Letters to the Editor, 1871 Whitehaven Road, Grand Island, NY 14072


Social Media and Grand Island Government - June 2017
In the June 9 issue of the Grand Island Dispatch, Nathan McMurray touts the importance of social media in Grand Island government. I agree that social media may certainly serve a purpose within the context of town government, but the use of social media as the primary means of communication with and between Islanders carries with it inherent risks of presenting information in a subjective context and eliminating input from the large percentage of citizens who choose not to participate in social media forums.
Even worse, the various sites that have appeared on Facebook since McMurray took office have provided individuals with the opportunity to hide behind a keyboard while directing name-calling, ridicule, and even slander at Island neighbors whose views on town issues are not concurrent with their own. It may be beneficial for residents to be able to view live streaming video of Town Board meetings, but I question whether the negative effects of uncensored rude and disrespectful comments regarding citizens and law makers posted during the live stream subjugate this benefit.
Whether social media is "good or evil" is directly related to the ability of the site administrator to maintain an open and objective forum. In McMurray's case, Facebook has been used as a venue to advance his own personal agenda and to provide information in the context of his own agenda. A recent example of his skewed presentation of town news was a May 17 post congratulating only one of the two individuals elected to the School Board, and recognizing only two of the three unsuccessful candidates. Though several days later he posted a half-hearted congratulatory message to both the elected candidates, the May 17 post was an obvious slight to one elected trustee, who was the top vote-getter, and to the candidate who came in third, just a handful of votes away from earning a seat.
McMurray tolerates downright nastiness on the part of his Facebook forum participants toward those who disagree with the supervisor's personal agenda. His practice of blocking from site participation those who respectfully disagree with his views and who produce sound arguments to support views that differ from his own further narrows discussion on his site, providing the appearance of overwhelming agreement on issues when, in reality, those with dissenting arguments are simply not allowed to participate in the discussion.
The supervisor asserts "with full surety" that countless positive developments on Grand Island are attributable to social media. I question this assertion, and invite him to provide factual justification for this statement. Particularly as the upcoming town elections approach, I caution Islanders not to overestimate the value of social media in the context of open, honest, objective communication. I ask those administering town-related Facebook sites as well as those participating in social media forums related to town issues to do so with objectivity and respect for all views and all individuals. Finally, I would like to remind the supervisor that the vast majority of his constituents do not live their lives on social media, and the need for input from all Islanders should to be recognized.
Sandra Englert
Live or Work on Staley Road? Is Traffic an Issue? - June 2017
Interesting Conversation...in speaking candidly with one of Grand Islands most experienced fireman, involved in traffic accident reports, I asked how 1000 cars a day might affect the intersections of Whitehaven and the Thruway; Alvin and Baseline and Baseline and Staley, three of the most problematic intersections on Grand Island. Most importantly the exit from the Thruway onto Whitehaven.
Without any reference to cause, people exiting from the north have trouble seeing overpass traffic. In addition, when pulling out, the driver's side is exposed to side impact, causing some of the most serious injury accidents. The intersections of Alvin and Baseline and Staley Road and Baseline are also problematic. If the Thruway Authority has money to spend, have them convert the Whitehaven exits to a clover leaf. It would be a good and practical place to start and possibly save lives. If there is 20 million dollars for a Tourist Center on Alvin, how might those visitors access the center? Keep in mind that tourist drivers are often tentative, hoping not to make a wrong turn, ultimately causing accidents. Whether you are exiting from the south or the north onto Whitehaven, both exits are problematic and the problem needs to be resolved.
Now let's add to this, the concept of connecting the East side of the island to the West, for people on foot or on a bike. In my view,
safety has to come first
and it hasn't even been considered or discussed. Let's take a step back and determine how we can make Grand Island a safer place for our residents. Now for Staley Road, whether you live or work on Staley Road you realize how congested the rush hour traffic can be. I have heard that for some residents, the wait is up to eight minutes just to exit their driveways. People going to work might be behind schedule and drive faster than they should. Growth in the Pharmaceutical complex is expected and now we are going to reroute 1000 cars a day onto Staley? We aren't even addressing the current problems with Staley Road and we are considering adding 1000 cars a day, most of which will be at peak times, school busses, garbage collection, etc. etc.
The safety or our residents needs to come first.
Now for sidewalks and bike paths...need I say more? Sidewalks are important and the problem has gone on for years. Some residents feel like they are being punished and it is clear there isn't a simple solution. The Town is happy to receive a grant so they won't have to answer to those that suggest, requesting residents to conform when the town doesn't, might be embarrassing? If it takes a bond issue, let us figure out as a town, how to fix the problem, instead of kicking it down road, or should I say down the sidewalk?
One more thing, our roads aren't safe for bikers; no shoulder in some places, the problems are everywhere. Try riding your bike from Cardinal Lane to the Library, it seems simple enough, well it isn't, it is dangerous. How about north and south on Baseline between Love and the Town Center, it is ridiculous, the problems are everywhere.
The safety of our residents needs to come first!
Reg Schopp
Misleading Information on Facebook - June 2017
A recent entry on the Facebook page that calls for new ideas to make Grand Island better contains some misleading information. Although the page is supposed to be for new ideas, it seems to have devolved into a political sounding board that excludes many on the Island who are not even aware that the site exists. Such use of social media is meant, it appears, to present just one side of an argument and to politicize the events happening on our Island. A post by our Town Supervisor is a thinly veiled attack on Mike Madigan, a member of the Town Council, who has often taken the side of people who do not agree with the Supervisor about a number of issues. In the spirit of true democracy, people on Grand Island should be able to disagree without the opposition having to resort to character assassination. Unfortunately, in this Facebook entry, this is not the case.
Nate McMurray recently accused Mike Madigan of undermining the use of Mordecai Noah as a historical figure who could increase tourism on Grand Island. This accusation was used as the excuse for the removal of Mike Madigan as the liaison from the Town Board to the Grand Island Historical Preservation Advisory Board. As one who is a member of the Preservation Board, and has been involved in this issue from the beginning, I would like to set the record straight.
A man who came to live on Grand Island about two years ago was a fan of Mordecai Noah and wanted to have him recognized for his dream of making Grand Island a refuge for the Jews in the 1800s. This gentleman was not Jewish himself but he often said he was raised to hate Jews and this was his way of atoning for that background. He met with Nate McMurray and talked Nate into issuing a proclamation about Mordecai Noah from the Town Board. Nate had the proclamation drawn up but only told the Town Board members about it in the working session that was held one hour before the Town Board meeting, giving the members no chance to discuss this or to do any background research on the item.
The proclamation was issued at the Board Meeting and as a member of the Preservation Board, I agreed to look into the history of Mordecai Noah and report back to the members. In doing so, I spoke to members of the local Jewish Community and obtained an invitation for Nate and myself to a meeting and social gathering of the Jewish Federation of Western New York. The objective was to determine how to handle the use of Mordecai Noah as an historical figure without antagonizing the Jewish Community and without making him seem to be more than he was at the time of his purchase of land on Grand Island. A local rabbi had cautioned me that those who are interested in Zionism considered Noah an interesting figure but not a major historical figure.
Nate's statements about Mike Madigan indicate that the research Mike did was done to be an obstructionist about this issue. That is not the case. The Preservation Board was hesitant to be seen as jumping on a bandwagon and wanted to be certain the historical facts were correct and the use of Noah as a tourist draw would not be done casually. Mike did his homework and raised some concerns about Noah's position in the Jewish community, about his views on slavery, and on the question about whether his purchase of land was for a refuge for the Jews or a financial investment since Noah wanted to charge a tax which would be paid by every other Jew in the world. These were valid questions and how to handle these was a valid item of discussion by the Preservation Board. To say that Mike Madigan did not do this in good faith is not accurate. His removal from the Preservation Board was an unfair response to this. If Nate McMurray had done his homework prior to presenting the proclamation about Mordecai Noah, he, too, would have had reservations.
As of last fall, the person who originally requested the proclamation has left Grand Island. He left no forwarding address. His email account is closed. We do not have a phone number for him despite meeting with him on two occasions. He wanted to explain his ideas to the people of Grand Island. I invited him to speak at a gathering at my home and he agreed. He also agreed to speak to Nate and ask him to appear. On the day of the cocktail party, thirty-five people gathered but the speaker never called and never appeared. I have reported all this to Nate. While I have continued to meet with the archivist of the Jewish Community to be certain we handle this with respect and caution, it is unfair to say that Mike Madigan did his research just to be an obstructionist. As I pointed out to Nate in a private conversation in his office, enthusiasm for a cause does not mean jumping on a bandwagon when you are taking a chance on offending an important part of the Western New York community. If Nate had done his homework (and I told him this), the proclamation would not have been issued and we would have investigated the background of the person who first raised this issue and then disappeared into thin air.
Politics is an interesting business. Disagreements are bound to happen, but the disparagement of our neighbors is not the way to run a town. I appeal to the Supervisor and the members of his Facebook page that we make the first goal of making Grand Island grand the call for respect of everyone who lives on this Island and the mature use of disagreement rather than resorting to name calling. We have enough strife in our country at the moment. Let's not bring it home.
June Justice Crawford
Island Tax Increase Vote Next Week - May 2017
Next week's school vote represents another opportunity for Island residents to raise their taxes. The School Budget each year includes a portion to be covered by a tax levy. Grand Island voters (a very small number of voters) have approved a tax levy increase 9 of the last 10 years.
While each individual year, the increase may seem benign, the cumulative effect of annual tax increases is considerable. If the 2017-2018 proposed budget is approved, it will represent 13.2% increase in the tax levy over a 5-year history and a 27.7% increase over 10 years.
Most districts do include increases in their budgets which affect the tax levy. Look at a comparison of some local school districts to Grand Island.
School District - % increase in the tax levy over 5 years*
Tonawanda City - 8.5%
Depew - 9.0%
Cheektowaga - 10.1%
Hamburg - 11.1%
Amherst - 11.3%
Williamsville - 13.1%
Grand Island - 13.2%
Ken-Ton - 14.6%
Orchard Park - 16.0%
Clarence - 16.2 % (The increase in Clarence over 10 years is 18.4 %, versus 27.7% for Grand Island)
The proposed Grand Island School budget shows student enrollment will continue to decline next year, while state financial support to our district will increase 4.2% over the current year. On top of the school budget, funds for buses are approved on Grand Island each year as a separate item on the vote, paid by taxes. The price tag for busses each year is over a half million dollars.
No one wants to deny our students quality education and services. But how many residents actually realize this vote is about more than a school board? Do most Islanders realize the impact of this annual voting process to their taxes and exercise their right to vote? Do voters hold the school district accountable to keeping our property taxes from growing out of pace with the surrounding communities?
Less than 2,000 residents vote on the school budget every year. Last year less than 1,500 turned out to the polls. Take an interest in the future of your schools, students, community and your personal finances and show up to vote. Voting takes place from 8 am to 9 pm on Tuesday, May 16, at Grand Island High School.
*5 Year increases calculated from tax levy figures in 2017-2018 proposed budget detail available on each school district website, the Buffalo News and historical financials from the NYS Comptroller's Office.
Colleen Cardarella.
Remembering Doug Smith - May 2017
Doug Smith was a person who lived to make other people laugh and smile and have flagrant fun in full defiance of all the anti-fun, pro-bummer powers that be. To me, that is one of this life's highest callings. Doug answered that call his whole life, and made a whole lot of people laugh and smile and have flagrant fun. And taught them how to do so, if they didn't already know.
Whether in his newspaper columns, or his TV shows, or in his non-public/professional, personal life, he was always trying to just lighten things up for people and reduce their stress and pain, and more than willing to play the clown to make as many people as he could feel good for a while. He was not really a clown, of course...he was a gifted writer and top-notch journalist who could have had a very successful career as an investigative reporter or political pundit or any of that serious, depressing stuff.
But Doug was all about the uplifting stuff, like the performing arts. That was his passion as an amateur theater actor, and that was what he wanted to write about. He wanted to go see great artistic performances, on stage or screen, and then tell you all about it. And get paid for doing so. Which he did for most of his career, because he did it very well. Then later he figured out how to get paid to cover another of his passions -- great food - and share with us all how to enjoy it on the cheap.
When I was a kid and a Cub Scout, he was our Scoutmaster, and would drive us around the Island in his station wagon on our annual fundraiser going door to door selling Freddie's donuts. He always let us eat far more glazed donuts than we sold, and paid the glaring deficit for our gluttony out of his own pocket. How cool is that? He also took me along with his son, my friend Joe, for a trip on the Arcade & Attica Railroad steam engine line. Which began a lifelong love of trains for me, now shared by my own son. Thanks, Doug.
We on this side of the veil have lost a great entertainer and a damn good man, even if some of his puns did make us groan loudly. He made a whole lot of people laugh and smile and have flagrant fun. And is surely doing the same now for a whole lot of people on the other side.
Thanks again, Doug. Break a leg up there.
Bruce Allen
San Francisco
GI Highway Boat Issue - April 2017
In response to Dan Drexilius' allegations.
This is a remote area being used as a staging/storage area for contractors working for the town. Such as tree service, sewer cleaning, paving contractors and Erie County. I had a couple employees put their boats and an old cap to a pickup back there. When I found out, we were already into winter so I asked them to remove them in the spring since that area is not usually accessible in the winter. These are the facts, anything else said by Mr. Drexilius is simply not true by any stretch of the imagination. His immediate denial that this in not politically motivated is strong evidence that it is just that. I would ask Dan to stick to the facts this election and not subject the Grand Island residents to dirty politics, lies and innuendo.
James T. Tomkins
GI Highway Superintendent
Letter to Congressman Brian Higgins - April 2017
Recently Grand Island Town Councilman Mike Madigan wrote a letter to Congressman Brian Higgins regarding the closing of the West River Parkway. See letter
here
.
Paul Revere's Ride - April 2017
Kevin J. Rung wrote in regarding the historical significance of April 19th. In 1775, Paul Revere took his infamous ride to warn that the British were coming! See
story
Sit Idly By or Send a Message - April 2017
Once again, a bad case of "grumble-itis" has overtaken the main stream media which has expressed beleagered skepticism as to President Trump's courageous humanitarian concerns.
Nevertheless, his recent missle message to war criminal Assad was greeted with bi-partisan congressional support, substantial public approval, as well as measured accolades from our mideast allies.
Russia, of course, apparently did not think that the gassing of innocent children required any degree of moral outrage. His misguided outrage at U.S. actions instead probably puts to rest those earlier collusion/conspiracy theories. In any event, is this a wakeup call for the world's murderous dictators? I surely hope so!
Ray Pauley
Thank you to the Community! - March 2017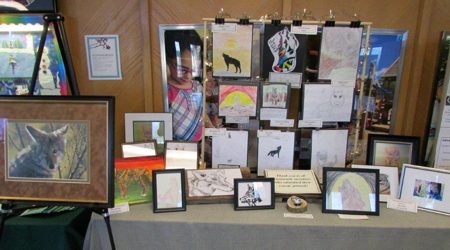 At last week's "Coexisting with Coyotes" educational event, the interest and attendance was wonderful and the information presented was incredibly beneficial! Sincere thanks are extended to the presenter, Lesley Sampson of Coyote Watch Canada, for sharing her time, knowledge and experience with the Grand Island and WNY community to help us better understand coyotes and for providing knowledge and tools to better coexist and appreciate this keystone species.
A highlight of the event was the beautiful coyote art that was contributed by members of the community and especially the artwork provided by students of the Huth Road Elementary School art classes. The colorful and creative student works showcased the beauty of coyotes and we thank all the students who participated along with Huth Road Art Teacher Dana Allen for her project leadership. Much appreciation is also extended to Kerri Nowak, principal of Huth Road School, and to the Grand Island School District for being wonderful hosts and for providing a facility and equipment that makes such educational events possible for the community.
We sincerely appreciate and value all the attendees and all who share an interest in learning more about the wildlife that we share our natural spaces with. Thank you for your time and for wanting to learn how humans and animals can better coexist in the environment that we all enjoy and appreciate.
Citizen Coalition for Wildlife and Environment
School Board Vote - March 2017
"At its March 27th board meeting, the GI school board voted on various matters including a proposed broadband study and a 485b proposal suggested by the town board. As a school board member I voted for the broadband study and against the 485b. With respect to the broadband study the district committed $2,500 to assist in funding a study which I hope will determine how broadband would help our kids and whether the district may have ability to get grant funds to pay for it..there is not otherwise a pot of money generally available or set aside for such purposes - meaning the town residents would have to pay for it.
With respect to the 485b program - I voted against! The 485b program is a tax break where any commercial development or improvement above a certain level - I believe $25,000 based upon my reading of the town code and review of town board meeting archives on Isledegrande.com(others believe it may be $10,000) - is entitled to a 50% tax break on the cost of any increased assessment. The benefit decreases 5% per year thereafter.
As a school board member I have voted against this proposal for many years and you can review the meeting minutes during my entire decade long board term to hear why. Among other reasons for my vote:
Why is the tax break available to all businesses regardless of reasons for the improvement? Is it an incentive or a gift. The last time this was available all projects that took advantage of the benefit would have occurred otherwise. Meaning they got a tax break and the community as a whole picked up the slack.

Doesn't this disadvantage existing businesses who are paying a full tax bill?

How does this benefit students?

Why is Grand Island one of the only - if not the only - School Board in WNY who offers such tax break?

Why after the last joint town board school board meeting in early March wasn't a committee formed to discuss the issue - as was discussed and as reflected in the meeting.
Glenn Bobeck





Farming Fake Crisis - March 2017
On March 6, the town board voted 4-1 (supervisor McMurry being the only dissenting vote), that a letter be sent to about two dozen residents who had previously been issued a noncommercial farm animal permit under town law, BUT whose property was now located in a county agricultural district. The letter would require the landowner to confirm to the town whether they are exempt from the town's livestock licensing law since they operate a commercial farm enterprise on their property, or whether they must still comply with the town's livestock law since since they are NOT keeping livestock for commercial purposes. Noncommercial farm animal uses include "backyard chickens" for personal egg consumption and horses kept for personal use. See "Farming Fake Crisis" letter, con't.
Fran Reit





Erie 1 BOCES IS Important - March 2017
My first encounter with the Erie 1 BOCS program is when my children attended Ken-Ton BOCES program many years ago. I have been a proud Grand Island resident for the past thirty years, three of my children now have homes on the Island and six of my grandchildren attend Grand Island schools. Most have taken full advantage of the Erie 1 BOCES training programs. Hearing recently that Grand Island School District may be sending fewer children to Erie 1 BOCES for training and education is not only concerning but very disappointing.
Attending Erie 1 BOCES during the school day gives students the opportunity to focus on a specific career and technical trainings which help them excel not only in high school, but in college as well. This program also gives students the ability to fully immerse themselves in a curriculum that is "hands on" and relevant to a career, preparing them for future success. Replacing this type of education with a one period elective class would not give students the full range of experience, education and internships that the BOCES program provides.
There have been many success stories from Grand Island students who have gone through the programs at Erie 1 BOCES, not to mention the many students who have been inducted into the National Technical Honor Society.
Please do not deny our students of Grand Island the opportunity to participate in the top notch technical programs Erie 1 BOCES provides. I truly believe that taking this opportunity away would be detrimental to our future generations as well as to the reputation of our school district.
Nancy Tobe




Tolls and Population - March 2017
I have followed the conversations concerning tolls with the underlining theme that the tolls help hold down the population and maintain the unique environment of Grand Island.
I agree that we need to fight to maintain the beautiful atmosphere of our Island. The problem has nothing to do with the tolls but it is the zoning that is encouraging bad development; The previous Town Board foolishly allowed high density apartments that permit up to 16 units per acre. This zoning still exists. We are also allowing single family cookie cutter houses to be built on small lots that is similar to the tract housing that was popular in the 1950's and 1960's.
If we are serious about maintaining the unique atmosphere of our Island then we must pressure the Town to change zoning that encourages bad development.
Peter Coppola




Tolls Can be Positive and Looking Forward 2017
I have been blessed to live on Grand Island since I was a young boy. As Mrs. Luther so eloquently pointed out, the toll bridges have kept country living on Grand Island. In my opinion, she is correct that eliminating the tolls will increase the traffic and population. It could also increase the taxes for Grand Island residents since the tolls help to maintain the cost of bridge repairs.
The town Supervisor Nathan McMurray's actions so far have shown he does not share the values that have kept Grand Island such a great place to live. He has supported Tourist Homes when communities throughout the country were passing laws to prevent them. He did not support the West River Residents and the vote of the Town Board to keep the West River Parkway open.
If the Supervisor Nathan McMurray is recording phone calls, I wish he would release the subject matters that the calls are pertaining too. It is foolish for a resident to make threats. If you are not happy with the Supervisor, it is important to vote for Town Board Members who support your values. If the town board changes, I am sure that the Supervisor will push to reintroduce things like the Tourist Homes because that is what he wanted regardless of what the population wanted.
If I have learned anything, it is important to ask the candidates their opinions on issues like the Tourist Homes before you vote.
Martin Goss




Removing the Tolls is Not the Solution - March 2017
I have always lived on Grand Island and have a few thoughts about the Buffalo News Article regarding the bridge tolls. They overlook the fact that removing the bridge tolls will not help the congestion in leaving the Island in the morning. Waiting in line is difficult if you are trying to get to work on time - to a doctor's appointment - or taking a flight out of the airport.
More development - houses off Whitehaven Road to Tracey Lane, apartments on the Blvd. all equal more cars crossing over the bridges. We should be pushing Albany for another bridge. If we start now it could take at least ten years. My husband as Town Supervisor, started petitions in 1987 for a bridge but nothing happened.
Last week the Dispatch had a Sheriff's report that showed eleven arrests of off Island people from Buffalo, Niagara Falls, Tonawanda, Kenmore and Cheektowaga. Without the tolls, it is possible more arrests will be made, will we need our own Police force - sooner rather than later?
The West River Parkway change to a bike path is an issue many Island residents are against. It is another instance of a change made in Albany that is not necessary or wanted.
I have lived here for 92 years and along with other family members have always been involved in Town affairs. I am not against progress and new ideas, the Farmers Market is great but I am not comfortable with some that just want change. I object to becoming another Amherst - overcrowding - signs all over town. New residents should visit the Grand Island Historical Society at River Lea and learn about the history of our Town and our fight for the bridges.
We have grown - but we need slow controlled growth to keep the small town atmosphere that many people are looking for when they move here. People have discovered our Island is a beautiful place. Someone on Facebook said when they cross the bridge it feels like leaving the city problems behind and are coming home to relax.
In my opinion, yes, we are growing but we are not a "destination"! We are a small, quiet bedroom community. Let's try and keep it that way!
Shirley K. Luther




Before We Remove the Bridge tolls - March 2017
Before we think of removing the bridge tolls on our Grand Island Bridges we should consider adding another span. The Island Dispatch for the past 3 weeks have looked back 30 years ago when there was discussion to add another bridge. Many mornings during the week there are backs up with people trying to leave the Island. With the addition of the new apartments and the housing being developed off Whitehaven Road more motorists will be part of the morning rush heading to Buffalo and Niagara Falls.
The front page of The Buffalo News last week was a joke, the back up shown in the picture had nothing to do with the tolls but an accident on the bridge, the article said there is a toll to leave the Island and that residents are charged 8 cents per trip. Before we see the Island as a destination we should show concern for our fellow Islanders and leave the tolls alone.
Sharon Nichols




Time to Think Twice- March 2017
As we revist the idea of removing the tolls we need to seriously consider who will benefit. Don't let the media hype confuse you. The .09 cents we pay now ($32.85/year if we cross every day) gives us a priveledge. We have the right to ask the State to address the increasing traffic crossing over our bridges and what to do about it. Even if there were no tolls we have a problem, let's not kid ourselves. We have spent the last eighty years paying for them and now we need fix the real problem, we need two more. If we ask the State to remove the tolls we might very well lose the leverage we have, a say in how the toll money is spent. We all understand what Shirley and Sharon are talking about in the above two letters. Two new spans between the existing bridges would solve the problem, it would also address the inevitable future repairs, traffic could be directed to match the need, the backup leaving the island in the morning or the backup coming home in the afternoon. We are interested in your view. Here is a link to a sketch from 2007 of one possible solution
Reg Schopp




Whining About the Tolls - March 2017
At some point a set of express lanes will be necessary. Integrating as proposed into the existing bridges is a great idea. They could be used southbound from 6am-10am and northbound from 3pm-8pm. Having gaps will reduce the chance of accidents. Regardless of whether or when this is done, we should be pushing the state to complete the LaSalle Expressway to the 990 with a connection to the Twin Cities Highway. This would alleviate much of the traffic, especially truck traffic, that has no intention of stopping on Grand Island. The State could use some of the "excess" revenue they have collected over the years. Also, we need to be careful about whining about the tolls. Has anyone looked at the tolls downstate? Here is a link to Jim's previouse article about the Tolls Downstate
Jim Mulcahy





You Can't Make This Stuff UP- March 2017
Last Tuesday, February 28, Nancy Fischer, a Buffalo News reporter, had an article in the news about the new welcome center coming to Grand Island. I have never met Ms. Fischer but she appears to be one of the most uncurious reporters around. She is the reporter who at the end of January swallowed hook, line, and sinker everything McMurray told her about closing the West River for a bike path. The whopper that only 4-5 people were opposed to it even though there are signs all over the Island saying keep the parkway open. After that episode one would think that she would put a little bit more cranial effort into her articles and not play Walter Duranty. To show how inane her article is (it isn't just her; the people she quotes should put a bag over their heads, too) we can focus on the cost of the center. In paragraph 2, it is "unofficially estimated to cost somewhere between $6 million and $15 million. ." Sounds like School Board estimates. In paragraph 3, we are informed that the State has requested $20 million for the project. In paragraph 9, it is stated that the Long island center cost $20.2 million. In paragraph 10, McMurray gushes that he was told "Yours will be better (translation: it will cost lots more)."
In the 3rd last paragraph, it is noted that Cuomo requested $55 million to build 10 centers. Maybe it is because I work with numbers all of the time that I like to see how they relate. The State initially was going to spend an average of $5.5 million per center; then the unofficial estimate for ours is between $6 and $15 million; the State has already blown $20.2 million on one center; and ours will be more expensive. Basically, the state has no idea how much these boondoggles are going to cost other than the total will probably be north of $200 million, if these two are at all representative.
The article, in general, and Eric Fiebelkorn of the GI Chamber of Commerce's comments reminded me of two famous quotes. Fiebelkorn's of Lenin who said the capitalists will sell us the rope with which we hang them. The article of Alexis de Tocqueville's "The American Republic will endure until the day Congress discovers that it can bribe the public with the public's money."
With respect to de Tocqueville's remark does any sentient person not understand that Cuomo's Buffalo billions and these tourism centers are nothing but bribes using our own money? He wants votes, lots of votes. Fiebelkorn should be ashamed for going along with the charade. By being part of it you are now complicit. It will be rather gauche to argue against higher taxes and more regulation after all Albany has done for you. If businesses want to advertise and/or build centers like this, by all means do so: but use your own money.
Grand Island is about as illogical a place to put one of these things as you can imagine. Tourists who are coming across the Island are going to Niagara Falls. They know all about it. They aren't going to the Anchor Bar or Our Lady of Victory Basilica. People aren't going to waste time at it when doing so will cut into their time at the Falls. Given that the State can't help itself and needs to spend our money, the obvious place to have put it is at the Clarence rest area on the Thruway (oh, I forgot there are already pictures there). It would enable people to choose which way to go: North, South, or West; for those who don't have an internet connection.
As I have said before, the State is broke. It has either the worst or second worst business climate in the country. No firm will locate here unless they are bribed to, as Solar City is. Does anyone think that the spin-off of that $750 million facility will ever generate $750 million in tax revenues, much less $750 million in present value terms? If the State officials won't go to the Betty Ford clinic to do something about their addiction to spending other people's money at least spend it on something productive. The Black Rock Canal is a sewer. Why wasn't the $200 million spent cleaning it up instead of on these white elephants? The fact that Cuomo wouldn't want to plaster pictures of himself on a sewage treatment facility and make multiple trips to it goes a long way to explain why the funds are being wasted the way they are.
The late Robert Strauss, who was a former chairman of the Democratic National Committee and served under both Jimmy Carter and Bush 41, said, "You get the government you deserve." Given our actions or inactions, this pathetic collection of officials is our punishment.
Jim Mulcahy Buffalo News Article 2-28-2017





Supervisor's Unethical, Dishonest and Manipulative Behavior- March 2017
Supervisor McMurray will argue that secretly recording his consitituents without their knowledge is permissible under New York State law. He will omit that his actions are illegal in many states, including Pennsylvania where it is a felony. He will omit that many states have made such behavior criminal for good reason in that such actions are unethical, dishonest and manipulative.
The Supervisor, in February 23rd Grand Island Dispatch, publicly admitted that he was secretly recording his constituents. I had been told that he was recording people and playing these recordings to a select group of people in his circle. This dishonest and manipulative behaviour has now been admitted to by him directly.
The people of Grand Island should be on notice - If you oppose a position Supervisor McMurray has, and if he contacts you to discuss your position it is likely that his intentions include recording you and that he may use this recording against you in the future. Be aware and be warned.
Councilman Mike Madigan



Response: Is It Unethical, Dishonest and Manipulative Behavior? - March 2017
Supervisor Mc Murray is correct in that it is perfectly legal to record phone messages in New York. What Madigan fails to mention and what Mr. Mc Murray clearly states in his article, is that he has received threatening phone calls. I don't believe taking precautionary safety measures, when someone threatens a life, is unethical, dishonest or manipulative. It's just plain smart.
Initially, I was a little surprised that Madigan would come to the defense of those making illegal and harassing phone calls. In retrospect, I am thankful that the guilty thug(s) are now on notice. Maybe they will think twice before exercising further unlawful behavior.
Jean Clabeaux



Is it Moral or Ethical? - March 2017
In her rush to defend McMurray's surreptitious taping of his phone calls, Ms. Clabeaux ignores the issue. While it is legal, in NY, to tape a phone call without the other party's knowledge that doesn't imply in the least that it is moral or ethical. "Legal" defines the minimum threshold of acceptable behavior. All of us have called businesses who inform us that our call may be taped for one reason or another. At that point we have the option of hanging up and contacting them by US Mail or email or continuing on. McMurray would still be able to defend himself from vituperative or threatening calls if he announced that he was taping the call. Not all of his Constituents are calling with the intent of threatening him.
It would be interesting to know: 1) when McMurray started taping: day one, or after he received a threatening call; 2) what constitutes a threatening call in his view - did he call the police; and 3) how many and what percentage of the calls he has received are threatening, as opposed to just being against his views. Given his fast and loose use of facts I doubt if we will ever know.
Jim Mulcahy





Farms in Your Neighborhood?- February 2017
A big topic concerning Grand Island is the number of residents that would like to become part of the Erie County Agricultural District. I have attached a series of letters that I have sent to the Town Board, and the Erie County Legislator voicing my concerns about Grand Island growing more populated with so called farms. See letters.
I feel that many Islanders are oblivious as to what is happening, and if residents close their eyes, it will be too late to go back and realize that this change has happened and is very real. I know I certainly don't want a farm next to me. I don't contribute my hard earned money and pay the high taxes to see and smell animals in my backyard. I do not condemn the idea of Agriculture on a small scale and the residents that have the land that's over 7 acres that have distance between neighbors. But when it is dab smack right there next to you in your backyard, then it's alarming.
I've driven around the Island and have seen all these big beautiful homes that were never there before and I wonder what would be their opinions on this issue? They probably don't even know as to what is really going on. I googled the zoning for Grand Island and the Island zoning was mainly noted as "RESIDENTIAL". I think that it is time that Island residents should know what exactly is happening on Grand Island and let our Town Supervisor hear everyones opinion and not just mine.
I looked up what a "Variance Permit" means, which is: A variance is the right of a property owner to do something on his land that is prohibited by the zoning code. By contrast, a special use permit enables an owner to use land in a manner the code already permits and that should be allowed, so long as the board is assured that the use is in harmony with the rest of the neighborhood and that it complies with certain code conditions. The part I have highlighted is alarming, because I have documented violations that my neighbor has done. I asked our Supervisor; "how many violations can one have and still be permitted to have their variance permit". No one had an answer, because nothing is in place in "our laws" for Grand Island. I said, "One violation, verbal; Two violations, write up; Three, you're OUT!" The Board told me that it would take a very long time to change our laws pertaining to zoning. I feel that I've arrived at a "dead end". Help!
Teresa Kozek Rattus





Apology For What?- February 2017
In response to Dave Sherman's recent journalistic commentary in the Grand Island Dispatch, I am truly disappointed that he is not infuriated with "fake" news media outlets like the New York Times, et all, that continually victimize President Trump and many others. Did he not expect a predictable backlash from these maliciously maligned targets?
The majority has made it clear that they believe that a so called free press carries with it a high level of responsibility in performing their solemn duties. If you don't beleive me, just consider the main stream media's rock bottom ratings enjoyed today.
All journalism is not "yellow" journalism, but "yellow" journalism deserves no apology from the American people or anyone else.
Ray Pauley





RESPONSE-Where is Our Flag?- February 2017
As Caretaker of the Town Hall I do apologize that the flag is not currently flying. The rope snapped in a wind storm 9-10 days ago. It will be repaired soon. (Repaired at noon, Wednesday, February 22nd.) No disrespect was intended for our citizens or service people.
James Linenfelser - Caretaker Grand Island Town Hall





Tourist Center Questions - February 2017
We read that the State of NY is planning on squandering more of our hard-earned money on ten tourist centers around the state at an announced cost of $55 million. Grand Island is supposed to be one of the lucky recipients. The obvious question is, "Why?"
There are certainly more than ten areas of the state that offer tourist destinations. Grand Island, by the way, isn't one of them. What about all of the areas that are being ignored? They are being forced to pony up so other areas can get free (to the merchants, not the taxpayers) advertising. What savant is choosing the sites? Could it have anything to do with Cuomo's quixotic quest to become president? These will be more places to stick a picture of him.
The $55 Million only represents the construction cost, not the annual operating costs. Is the state going to build on land it already owns, or is it going to purchase the land? If the latter, who is going to be the beneficiary of the taxpayers' largess? Dollars to donuts, it is someone politically connected.
Will the state tire of maintaining these facilities down the road and try to offload them onto the local communities? It wouldn't be the first time. It could be argued (lamely) that in the 1950s when the various interstates and thruways were being built that there might have been a need for these structures, but there is zero justification today. The internet provides more information than ever. Merchants can stuff brochures in many locations if they believe it will increase sales. When a patron strolls into one of these facilities will the staff tell him or her the name and address of every potential restaurant or sight to see: basically, reciting the phone book to them? Of course, not. So, how will they choose which to promote? Should the government be in the business of favoring one company over another?
NY is broke. It has the worst business climate of the 50 states. We need less, much less, government meddling in the marketplace, not more. The incentive for politicians to spend other people's money is already too great. Grand Island should do the morally responsible thing and tell Albany: "No thanks; we are opposed to frivolous spending that serves no critical need, especially one that can be better and more suitably served by the private sector."
I'm not holding my breath waiting for this to occur.
Jim Mulcahy





Wrong to Associate Opposition to Parkway Closure with Racism - February 2017
I am outraged by and compelled to respond to Supervisor Nate McMurray's commentary regarding the proposed West River project in the February 17th Island Dispatch. His public characterization of a culture of racism on the Island is misleading. It is not outside the realm of possibility that a couple of individuals did direct offensive comments to McMurray. He would not be the first elected official to receive nasty messages - dealing with at least a few disrespectful individuals unfortunately comes with the territory of public office.
It is truly inaccurate and unfair, however, to insinuate that the Island is plagued by racism and bigotry based on these two outlier comments, and it is particularly divisive to once again associate opposition to the plan to close the West River Parkway with alleged racist motivation. As a Grand Island resident for almost 30 years, what has been most upsetting to me regarding the West River project is how McMurray has perpetuated a campaign of labeling, name-calling, and bullying against residents who do not agree with his viewpoint, unfairly characterizing those opposed to the project as racists and elitists, and pitting neighbor against neighbor in order to achieve what he admitted from the outset to be his own personal objective regarding the project.
It is unfortunate that rather than fulfill his duty as an elected official and attend the October public forum regarding the West River project at GIHS, an official Town Meeting requested by the citizenry and approved by the Town Council, McMurray chose instead to hastily schedule for the same date and time a gathering where he shared cider and donuts with his "coalition of like-minded friends" at another Island location. Had he joined the other members of the town government who responsibly and objectively moderated the meeting at GIHS, he would have seen first-hand that the several hundred residents in attendance were not racists, elitists, nor naysayers, but were simply sincere, concerned citizens who have invested countless years in making Grand Island a better place, and who were respectfully seeking a compromise plan that would be in the best interest of all.
In his weekly commentaries in the Dispatch, McMurray regularly attempts to relate local issues to history or literature. Unfortunately, the comparison is not always relevant to this time and place. In 15th Century Italy, Machiavelli's advice to govern through a "coalition of like-minded friends" might have been appropriate. As a contemporary resident of the Town of Grand Island, however, I instead suggest that McMurray begin to govern through respectful, objective consideration of opposing viewpoints and recognition of the historical context of this unique community, and that he build on the foundation of community among neighbors across the Island rather than perpetuate a climate of divisiveness.
For an elected official to choose to communicate, whether in public forum or via social media, only with constituents who agree with him, is cause for concern. For an elected official to encourage his "coalition of like-minded friends" to engage in labeling, name-calling, and bullying against those who do not share his personal viewpoints, as McMurray has done since the proposal to close the West River Parkway was announced, is simply wrong.
Sandra Englert





Potential Candidate - February 2017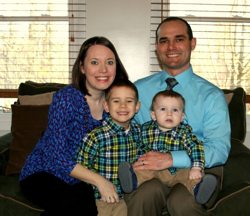 From left: Jennifer, Simeon (5), Brian & Titus (1).
My name is Jennifer Baney, and I would like to introduce myself as a potential candidate for town council. I'm thankful for the encouragement of others to run for this position and appreciate you taking just a few moments to learn about me and what I feel the core values and skills are that are needed for this important position.
My background is in the field of education, having earned consecutive degrees from both Houghton College and The University at Buffalo. My husband and I moved to Grand Island in 2009, appreciating the island for its affordability, small town feel, and beauty. I spent about a decade teaching, the majority of which was as a tenured teacher in the Williamsville Central School District.
In 2011, coinciding with the birth of our first son, I decided to take a leave from teaching, Nearly six full years later, I've enjoyed the gift of being home with our children. This time away from the workplace has allowed me the opportunity to get more involved in our community. I serve on my oldest son's school board, have helped on the leadership boards of two local mom's groups, am active in leading a variety of activities at our church, and have just recently been asked to serve as a chairperson for a college fair coming to Buffalo in the fall. I am incredibly thankful for the opportunities I've been given. I feel the skills I've gained as a teacher, wife, mother, leader, and collaborator could all be beneficial to our town government.
I've also spent the last year engaging in and observing our political process on Grand Island. As stated earlier, at the encouragement of others, I've decided to pursue a position. As candidly as I can, here's what you could expect if I were to serve:
Integrity: I am an honest person. No perceived need or goal within the town would ever be great enough to compromise my integrity. I want our children to be able to see our elected officials as pillars of honor and integrity. I feel there are ways to disagree without slandering or belittling. You will never have to question my motives, as I have no political ambitions beyond those of Grand Island. While our nation is so deeply divided at every level of government, I do believe that our island can work together, despite our differences, as an exemplary community with leaders that can display appropriate behavior and admirable character. I will not make promises I can't keep or rush to complete projects within my term to gain praise or attention. I would govern well.
Responsibility: I view the council position as an important one, and one not to be taken lightly. I would work hard, constantly trying to represent the citizens best by balancing my personal convictions with feedback I receive from members of the community. I think it is important for elected officials to be in the community, not to be seen, but to listen. I would not take endorsements or support lightly. Those in leadership know that when done well, it is not about power or attention, but very much about unnoticed, selfless service to others.
Commitment: I view the council position as one in which the member must be accessible. If elected, I would commit to not pursuing or accepting any additional employment. Citizens need to be able to engage with their representatives, which can be challenging for both the representative and the citizen when the representative works a traditional schedule or is overcommitted. Within the professional realm, the town would be my number one priority.
Integrity, responsibility, and commitment, when boiled down to the basic level, are what it comes down to for me. I look forward to this upcoming season and wish for a respectful, thorough vetting process where you, as citizens, discern who will best serve to represent you. Let's keep Grand Island grand....and also try to make it a bit grander.
In Service,
Mrs. Jennifer Baney





WHERE IS OUR FLAG? - February 2017
The Grand Island Town Hall has not displayed an American Flag for over a month! This is an insult to the residents, especially to the men & women who have served our country, past and present. I am sure the Town Supervisor will give us some flimsy excuse (someone is sick, the pole is broken, etc). But there is no excuse for not displaying the flag of our country. Mr. Supervisor and your friends at the Town Hall should be ashamed. Please display the flag of our country!!!!!
Dave Dombrowski





In Response - February 2017
In response to the letter entitled "No Representation," I have a different understanding as to what has transpired in the matters that the author of this letter states. I am outlining the statements made in the letter followed by my response. See letter here.
Respectfully Submitted,
Jean Clabeaux





Franz Announces Candidacy - February 2017


To All My Fellow Grand Island Residents:
My Name is Thomas Franz. I am proud to announce that I will be running for a position as your Grand Island Town Councilman.
I have served all of you as a state park and town police officer for over 25 yrs. Over the course of my career I have been a Patrol Officer, Detective and Patrol Supervisor. I have always had a strong desire to serve. It was something I always talked about as a kid growing up on here on Grand Island. My career as a police officer has brought me down many paths! It has been challenging and rewarding, at times frustrating and sad…but all in all it has been a great ride! It has been an absolute pleasure to serve with, to learn from, to teach and to supervise some truly wonderful and dedicated police officers serving both our town and our state.
In 2007, I was blessed, honored and privileged to be elected by you to serve as a member of our Grand Island School Board. I believe the school board I served on and the people I served with on that board did some great things for our school district! In our private meetings we discussed numerous things, but it always came back to three core principles, with those being...responsibility to our kids, to our taxpayers and to our employees. We were the stewards of the people's money, and I firmly believe as a member of that team, we did a great job and delivered on all three of those principles.
I would like to now be part of a town council team as your town councilman, where I again can be a steward for your tax dollars. There are current projects on the Town Board's plate with substantial financial impact to all of us taxpayers. If elected, I promise all of you that I will be a fiscally conservative steward of your money, looking at both the short and long term impact on all of us taxpayers. My responsibilities and principles will be to you the taxpayer, to our town employees and to all of us town residents.
As I have said I have always had the desire to serve. I look forward to meeting all of you in the coming months, hopefully serving all of you and our great hometown of Grand Island!
Respectfully,
Thomas J. Franz





No Representation - February 2017
The problem is that Nathan McMurray is showing a pattern of not representing the majority of Grand Island residents. He tried to change the existing Tourist Home law passed by the previous Town Board to protect the public from the problems that have been created by Tourist Homes on Grand Island. The facts are, his actions favored a very small minority in an attempt to change the purpose of our zoning codes that were established to protect all citizens.
At a workshop, Nathan McMurray told other board members there were not many complaints about Tourist Homes. The fact was at the first agenda meeting on Tourist Homes, there was so many people there against them, you had to stand up, and park across the street. On the Tourist Home issue, he tried to bypass the Planning Board, but thanks to Ray Billica and Christopher Aronica the procedure to have the Planning Board review the proposed law change was followed. Nathen McMurray did not follow the recommendations of the Planning Board but continued with his goal. The fact is, he removed the Chairman of the Planning Board and one other member who voted against legalizing Tourist Homes. At an agenda meeting when Mike Madigan elected to not vote on the Tourist Home issue, Nathan McMurray called him a coward and later removed him from the West River Parkway Committee.
The Town Board voted 3 to 2 to present Option 4 to New York State, but as I understand it, Nathan McMurray notified New York State that Grand Island residents preferred Option 3. When the Town Board elected to have a community meeting at the Grand Island School about the West River bicycle path, hundreds of residents attended supporting Option 4. Nathan McMurray avoided this meeting because he was moving forward with Option 3 and he did not want to listen to any other options.
New York State has shown that they do not want to maintain the property and thankfully for the West River Association, you can see the west river. As far as I know, there is no guarantee New York State will maintain the West River area. Will the Town of Grand Island be responsible for keeping the area clean, mowed, legally liable for any accidents etc.? The fact is, if the West River Parkway is used for vehicle traffic, auto insurance was available for liability claims. I believe that the Town of Grand Island has a right to protect their zoning laws and control its road use in a way that best serves the population of Grand Island residents, not other communities as the newspaper suggested it should.
It is my hope that Nathan McMurray starts representing the population of Grand Island and not his own agenda. Going forward with New York State, he should have a hold harmless agreement for the West River Residents and Town of Grand Island for any liability claims. The West River Residents and the Town of Grand Island should be listed as additional insured. He should establish who is going to mow the grass, take care of landscape and have a regular schedule established for these issues. Other issues to be addressed are trash removal, snow removal, restroom facilities with handicap accessible and a first aid station. How and where duck hunters are going to park during duck hunting season should be determined. Since this bicycle path is a multi-use path, will there be speed restrictions for bicycling? Many serious bikers travel 20 to 30 miles per hour.
Martin Goss




Editorial: Western New York continues to reclaim its shoreline with new Grand Island trail - February 2017
An Editorial by the Buffalo News Editorial Staff published on Wednesday, February 8, 2017
Isledegrande Publisher Reg Schopp responds.

BN:The issue surrounding West River Parkway on Grand Island is about access, and not just for a few fortunate homeowners. The state's plan for converting the parkway into an 8-mile pedestrian and bicycle trail will allow more people to enjoy what relatively few, by comparison, have coveted.

RS: There is NO evidence or estimates as to how many people will use the proposed path to compare to the thousands that enjoy it from their cars. The State's numbers indicate approx. 1500 per day, that leads us to millions of people over the last 60+ years. The West River Homeowners that you refer to as "a few fortunate homeowners" a little bias in that snarky remark, have taken care of that road since they adopted it 26 years ago. That includes, picking up garbage all along the road, all eight miles, cutting the grass, etc. etc. The first road in New York State to be adopted by a group. Those same homeowners have been in favor the originally proposed path since the idea was first vetted years ago. What can possibly be gained by demeaning them, it is poor journalism to say the least. The collaborative between State Parks and Grand Island was approved by all, then Bait and Switch. Convince the public that the West River Homeowners are against the path. This comes with our Town Supervisor, pushing the States Option #3 while he is still employed by the company that is under contract with NY State Parks for concessions all over the state.

BN: The West River Connector Trail project has been sitting around for years, as News staff reporter Nancy Fischer reported. Now it is moving forward. The state is planning on closing the parkway between Long Road and Oakfield Road and using it as a trail. Currently, few cars reportedly travel that road, ( RS:the real number is 1700 or more,) though inhabitants along that stretch will speak glowingly of their road, their view. Change is hard but in this case brings about a more equitable result for a public roadway.

RS: Much of this sounds like our Supervisor has injected it into your "Unnamed Editorial", the same divisive propaganda. Talk to the 1000 cars a day that use it to get to and from work on Staley Road, they are going to work either way and safety becomes an issue.

BN: Perhaps the plan could take into account residents' worries. State officials should try to mitigate the impact by adjusting plans for scenic overlooks, for example. Grand Island Supervisor Nathan McMurray noted some intransigence, if you will, on the topic by people not in favor, though his claims of 98 percent support seem unlikely.

RS: "Seems Unlikely", how can you even think about printing it? How about doing your research here is a perfect place. Not only did the Town Board vote 3 to 2 against closing, actual number of responses to the State's request for input were 81 percent against. The State collected the forms, ask them.

BN:Opposition is rooted in large part from residents who live on West River Road, enough that a homeowners group has made an effort to raise money to hire an attorney to stop the state from removing the parkway, as Fischer reported. The number of people turning out in July - more than 200 - to debate the issue is a good indicator. As reported, four options were proposed by the state, including one (R.S. NOT one, three options left the Parkway open, Two of which were presented by the State)in reality three) to maintain the parkway for vehicular traffic. State parks officials had made up their minds. Closing the road would be the best of the four options. Doing so, Mark W. Thomas, Director of the Western District of New York State Office of Parks, Recreation and Historic Preservation, as summarized, the New Path provides, "a wider surface at 24 feet for the trail, is less environmentally disruptive and can be built within the $2.5 million budget."

RS: The State never did a SEQR, required for any other project in New York State, by anyone else, but not the State? Ask that question before you quote what they think. Safety on other Grand Island roads will be affected, there is no question. Grand Island roads that are presently without shoulders and dangerous for pedestrians and bikers. Have they discussed the maintenance of the new trail? Mark Thomas at one of the Town Meetings suggested that maybe a Grand Island group would volunteer. They are going to do nothing hoping the West River Homewoners will get tired of the weeds and the rats and the bugs and keep maintaining it. If that isn't arrogance.

BN: Keeping the road open for vehicles costs more - an extra $800,000.

RS: The State took the land to build a Scenic Parkway, tens of thousands of people enjoy it every year. Why would converting it to be a Bike Path have to be the only option? Option #1 presented by the State was within their budget, and it had both. The State's Option #2 was within their budget. Both included an Open Parkway and the Path

BN: The math is straightforward and so is the view: three scenic overlooks of the Niagara River that will be enhanced as part of the project. Vegetation may also be removed to further open up the vistas. At the end of the day, this parkway will be for everyone. That's the right approach, even recognizing the loss some residents may feel.

RS: If you find this misrepresentation troubling, you can help.


There is NO logical reason we can't have our Scenic Parkway and a Path!
The West River Homeowners Need Your Help
The Real Story
DeGlopper Memorial Info UPDATED - February 2017
Sorry for any previous confusion, the DeGlopper Memorial website was undergoing some changes, and in doing so the contact page went down. We would like to thank Dr. Gasbarro for bringing this to our attention. We are an ALL volunteer organization and we appreciate any and all feedback so we can continue to work towards bringing this wonderful project to completion. All has been corrected and any contact requests will be forwarded directly to me and answered in a timely manner. I have also included my cell phone number on the "Contact" page for anyone who would like to get a hold of immediately. I do not always have the answer, but I will always find the answer so please feel free to reach out to us with any questions. We are looking forward to starting the expansion of the DeGlopper Memorial soon and all donations and paver purchases bring us one step closer. Donate here.
Thank you,
Chris Taylor and the DeGlopper Memorial Expansion committee





DeGlopper Park Memorial Info. - February 2017
I grew up on Grand Island and most of my family still lives there. In fact, we are into our 4th generation on the Island. So, when I saw an ad offering to sell pavers to honor those who were in the military, I thought it would be a great way not only to salute my dad who fought with the Coast Guard in World War II, but also for his grandkids and great-grandkids to see. I have written 2 emails and sent them to the DeGlopper Memorial website asking about what could be put on the paver, both of which have gone unanswered. No phone number is listed on the site. I hate having to beg someone to take my money but does anyone know any living human being who can answer my questions?
Thank you!
Dr. Ron Gasbarro
New Milford PA
gas8arro@nep.net





West River Parkway Article FAKE NEWS! - February 2017
Editorial Staff of The Buffalo Evening News and Ms. Fischer,
As you can see, I have copied the West River Homeowners Association...yes a group of 160+ of which all but four are NOT in favor of Closing the Parkway. Of the thousands of Grand Islanders, the majority, at least 60% are AGAINST Closing the Parkway. How could any responsible journalist print an article that is so blatantly wrong? (Article). It is important in a world filled with FAKE news that journalists check their facts. ANY research should have given you pause.
Mr. McMurray has not only fed you false information, which it appears you did NO fact checking. He has almost total inverted the facts, 98% for Closing? Have him answer why he has totally ignored the people of Grand Island, including the Town Board which voted 3 to 2 against closing. All of the facts support NOT Closing, including many Safety concerns that were voiced and unanswered. Thousands of people that utilize the road were ignored. The list goes on... the real story lives in the Real motivation of the State and Mr. McMurray ? Was there a SEQR study done? Ask that question, do your research and you will have a REAL story, instead of your ridiculous article.
Your response is welcomed.
Reg Schopp
Publisher of IsledeGrande.com

The West River Homeowners Need Your Help
The Real Story
West River Homeowners are For the Path - January 2017
1950 - New York State took the land from West River Homeowners by eminent domain. A Scenic Parkway was created and it has been enjoyed by millions of people for over sixty five years. New York State promised the homeowners access to the river in the future. After taking their land, it was the right thing to do.
Forty years go by and the State decides it can't maintain the road. Control of the Parkway was turned over to the Department of Transportation, to save money. Maintenance of land and the Parkway became a problem. Snow removal stopped, closing the road for traffic during the winter months, again to save money. Achieving their goal of saving money, but ultimately neglecting their responsibility to maintain the Scenic Parkway they created.
In 1990 the West River Homeowners Association adopted the West River Parkway. This was the first road in the State of New York to be adopted by a group. For over 25 years the West River homeowners have cut the grass, cleaned up garbage, planted flowers, and enhanced the beauty of the surrounding land. This project was initiated because New York State was neglecting its responsibility.
In 2014, as part of the Grand Island Master plan approved in 1998, the Town Board of Grand Island, the WRHOA and many other concerned Grand Island groups worked together with NYS Parks to obtain a $2.5 million state/federal grant to build a multi-use path between the West River Parkway and the Niagara River. The multi-use path was to be for the common good of Grand Island and State Parks. Closing the Parkway was never discussed.
In October and November of 2015, meetings were held with NY State Parks, to review concepts for the proposed multi-use path. West River Homeowners, NYS Parks and Recreation, Town officials were given the opportunity to share their ideas and concerns. At that time NYS Parks, the town government and the WRHOA were all in agreement on the location of the multi-use path. Closing the Parkway was NEVER discussed.
At a workshop meeting of the Town Board on May 2, 2016, the concept of closing the parkway is mentioned by our town supervisor. He received immediate push back from the board respectfully suggesting there would be much concern from the community.
On July 20, 2016 New York State Parks held a meeting to present its preferred option for the West River multi-use path. Option #1 between the Parkway and the river, Option# 2 in the median between the Service Road and the Parkway. To the surprise of the majority attending, Option #3, Closing the Parkway, which had never been discussed was the states "preferred" plan. Option #3 was supposedly the cheaper option but it included the addition of 7 parking lots. Later, State Parks removed the seven parking lots, saving even more money but never addressing where people will park if they want to use the proposed path.
Immediate backlash resulted from the July 20th meeting which included hundreds of responses to the preferred option by islanders, more than 60% against closing the Parkway. A two week response period for concerns was established by the State. Hundreds of safety concerns from the diverted traffic were submitted. When questioned in early August 2016, Mark Thomas, NYS Director of Parks explained that he believed the Town Board was informed and in favor of the closure of the Parkway. At that point his communication was solely with our Town Supervisor, who admits openly that he knew of the plan in January of 2016.
On August 15th the Town Board voted three to two against NY State's Option #3, closing the Parkway, and notified the State. An immediate Social Media Blitz was started by the Town Supervisor that called specific island groups by name, it included personal slurs, photos of West River homes, singling out West River homeowners that were voicing opposition to closing the Parkway, suggesting the WRHOA were against the path. From that point it was not about the multi-use path anymore, it was "For the Path or Against the Path", suggesting the WRHOA were against the Path.
For the Record, we want to be VERY CLEAR; the West River Homeowners have ALWAYS been FOR the multi-use path. Concerns were raised about how closing the Parkway would affect traffic safety. Very little concern was given to the thousands of people that enjoy the Parkway for the principal reason it was designed, the scenic experience or the thousands of people that use the Parkway to get to and from work. To this date there have been no real estimates to the number of people that will use the path.
Please note, the majority of Grand Island people, the majority of the West River Homeowners and the majority of the Town of Grand Island Council believe the West River Parkway is positive for Grand Island, just the way it is. The majority of Grand Islanders are for a multi-use path along the West side of Grand Island. Interestingly, the West River Service road with wider shoulders is considered by serious bikers to be one of the safest roads on Grand Island. Ironically it is currently marked with signs identifying it as the Greenway Bike Trail.

There is NO logical reason why we can't have both, the multi-use path and the parkway.

It is very difficult to understand why NY State Parks is pushing so hard to close the Parkway. Concerns over future development of the land have been voiced and supposedly dismissed. In reality, the management of Beaver Island State Park and Buckhorn State Park might be in question. There can only be supposition as to how the West River Parkway property could be included in that marketing. It is for obvious reasons the West River Homeowners and concerned citizens of Grand Island want real answers as to future use.
The West River Homeowners would like your help in this fight against the State.
West River Homeowner Association Board of Directors - President Frank Greco
For more information please visit W.R.H.O.A.





Concerns About Supervisor - January 2017
As a Grand Island resident, I have concerns that long-established board's and committee's advice is not being fairly evaluated by the Town Supervisor Nathan McMurray. I say this because he dismissed the Planning Board recommendations without any discussion with other board members at a work shop meeting I had attended. Previous Town Boards always considered the recommendations of the existing Planning Boards and Committees. Now his actions of removing board members from committees, because they do not agree with him is not right because it denies fair representation. It's unfortunate, but the Town Board members should investigate if Nathan MacMurray's actions are related to the fact that Chris Aronica and Mike Madigan have not supported or voted for Nathan MacMurray's opinions or plans.
Martin Goss





It Is His Right - But Is It Right? - January 2017
The Supervisor has the right to assign and remove town board member liaisons to committees. That is an authority that has been entrusted in the Supervisor's position for decades without abuse.
The current Supervisor has decided to use this authority to remove board member from committees when they take positions opposing his, now on two different occasions.
Chris Aronica was removed by the Supervisor from the Parks and Recreation Advisory committee after he expressed firm opposition to the closure of the Parkway (Option 3) at an advisory meeting where the Supervisor was present. There was a very public confrontation, on more than one occasion, regarding this action by the Supervisor.
The second occurrence happened this week with my removal from the Traffic Safety Advisory committee after similarly expressing my opposition to Option 3 (the Parkway closure) in the context of traffic safety and my inclusion as part of that Board, the Parkway is seven times safer than any other major road on the Island based on a calculation method provided to me by NY State Parks.
I chose not to start the year off with a public confrontation regarding this matter. I avoided the conflict and did not think such a conflict would be the right way to start the year and I knew it would make no difference since the Supervisor has the right to remove me - as we learned after his actions against Chris Aronica. I have decided that not having that confrontation may have been a bad choice on my part. I have decided that my failure to confront this action has left it behind closed doors and hidden from the public.
The Supervisor has been entrusted to assign and remove Board Members from these committees and for decades this authority has not been abused. Things have changed.
Mike Madigan - Your GI Councilman