LETTERS TO THE EDITOR 2020
Previous Letters to Editor Page

Letters To The Editor must include a name and contact (phone/email) and may be Emailed to
Editor or addressed to: Letters to the Editor, 1871 Whitehaven Road, Grand Island, NY 14072




Project Olive Does Not Fit Grand Island's Comprehensive Plan - July 2020
When Grand Island's Town Board passed the Comprehensive Plan in September 2018, the document became a standard for defining "the community's vision for the Town of Grand Island in the form of a physical plan to organize and control natural growth and to provide the framework for achieving the community's goals and objectives. It is designed to be used by the community as a tool for reviewing proposed projects and as a guide in determining the best use of a piece of property."
So why does the Long Range Planning Committee (LRPC), which drafted and refined the Plan, still exist? Does the document require interpretation? Is it unclear or incomplete? These are extremely important questions, because according to New York State's report on Zoning and the Comprehensive Plan, "Once a comprehensive plan is adopted… all land use regulations of the community must be consistent with the comprehensive plan. In the future, the plan must be consulted prior to adoption or amendment of any land use regulation. In addition, other governmental agencies that are considering capital projects on lands covered by the adopted comprehensive plan must take the plan into consideration."
In other words, it is an extremely powerful role to be able to interpret and apply the 113-page document, and to explain which statements and guidelines within should be emphasized and which should be ignored.
As an example, take the LRPC's correspondence to the Town Board regarding the proposed Project Olive plans, which were submitted by Jim Sharpe on June 15th. He concludes, on behalf of the LRPC and with three key points drawn from the document, that "Project Olive as currently envisioned complies with the goals and objectives of the Town of Grand Island Comprehensive Plan." But does it?
First off, the goals and objectives of the Comprehensive Plan include the following categories: (1) Natural Resources, (2) Transportation and Accessibility, (3) Community and Social Capital, (4) Neighborhoods and Housing, and (5) Economic Development. Project Olive does not fit with the first four categories, as written in the Plan. It is inconsistent with goals related to the environment, roads, community interests, health and safety, and our neighborhoods and communities. At best, one could argue that it is only consistent with the 5th: Economic Development. But even there, in the section titled Industrial, the plan says, "Though industrial by name, these areas would be predominantly more light industrial in nature, designed to fit inconspicuously with the surrounding land." How does one fit a nine-story 3,800,000 square foot building inconspicuously onto Grand Island?
Moreover, the Economic Development section clearly states that new ventures should complement "the 'Island character' that is unique to Grand Island." And the Future Land Use Map very clearly designates the location of the proposed Project Olive as Rural Residential… not industrial. Rural Residential. How does the LRPC ignore the Future Land Use Map - a critical document that was used to justify and promote this comprehensive plan to the public?
Given these elements of the Comprehensive Plan, how could one possibly interpret it as consistent with Project Olive? The answer is that the document is being used, selectively, to lobby for a project that does not fit with the vision for Grand Island that was presented to the community and approved by our Town Board. Project Olive is not consistent with the Comprehensive Plan, and that is reason alone for the Town Board to reject this proposal.
The Town Board should dissolve the LRPC and review the Comprehensive Plan on the basis of what is included within, and what was built on the basis of community input, not based on how some would prefer to interpret and use it.
Dave Reilly and Nicole Gerber
Grand Island Saved by Residents 74 Years Ago - June 2020
In 1946, residents of Grand Island told their Town Board in a vote of 354 to 30 that they did not want a regional airport on the island. The vote was taken as an informal expression of Islander public opinion against the building of a large airport meant to serve the eight counties of Western New York. This was reported in the Buffalo News edition of September 11, 1946. The overwhelming opposition was registered in spite of an explanation by the airport consultant for the Niagara Frontier Planning Board that Grand Island could tax the airport and receive about $750,000 a year in taxes.
How is that relevant for Grand Island today? Grand Island is being confronted today by a similar enormous project that would destroy many acres of land and green space, pollute air and water, and would forever change the residential character and rural nature of the island.
The proposed Amazon distribution warehouse would sit on 145 acres and its size would be 3,783,000 million square feet - a square footage that would put the warehouse among the largest in America. The plan has 484 tractor-trailer trucks coming to the warehouse every day. That breaks down to 1 truck every 3 minutes.
Grand Island is being told the warehouse will bring significant taxes to our municipality, yet the amount to the community has potential contingencies based on state tax programs and incentives. Why did the Grand Island residents reject an airport 74 years ago? Why didn't the Grand Island residents choose the lure of the $750,000 a year in taxes? A tax total that with today's value of the dollar, is equivalent to $10 million.
The key points that led to the defeat of the airport proposal was the "evident desire of the islanders to preserve the quiet residential character of their community." (Buffalo News, 9/11/46) "We like our island as is, exclaimed Archibald. B. Kirkwood, home owner in the East River Road. "I moved out of Buffalo because of the very conditions that make this a desirable airport site." "No one came to Grand Island to be in the middle of a brass band," commented Joseph Pugh home owner in the West River Road." George H. Alt, Jr., Chairman of the Grand Island Revisory Zoning Board stated, "We'll have a blighted area of probably three miles around this airport. So far as Grand Island itself is concerned, the tax proposition has been the outstanding bait for accepting the airport. But are we going to accept taxes for a condition we cannot put up with?"
I found this newspaper article in George Alt. Jr.'s 1946 journal, and I echo my great-grandfather's statement. The majority of residents today have the same oppositions to such a massive project on Grand Island as did the residents 74 years ago. They saved the island then, and we can do it again today.
Nicole Renee Gerber, PhD
6th generation Alt
More Amazon Thoughts - June 2020
I grew up here and my family has had a 62-year commitment to serving and helping the people of this lovely Island. I left here in 1976 to serve my country and pursue a career. After 42 years of being away, I chose to return here to spend my retirement years.
I found many things had changed over the past four decades, but for the most part, the character of the Island had remained largely the same. It is a place to breathe, walk, ride bikes, kayak and boat on an amazing river. After many years of living in and around large metropolitan areas, I also enjoy the relative quiet and lack of traffic. But I fear this is all about to change.
The proposal to build an Amazon Warehouse center on our precious Island is terrifying to me. It will forever change our way of life and I am utterly opposed to it. I have read about the irreversible damage these facilities have had on other communities and am loathe to have this happen on our Island, when far more suitable sites are available in the WNY area.
Amazon has a history of not contributing to the public good, either through local taxes or organization support. Quite the contrary, these facilities have been known to contribute huge amounts of air and noise pollution to their surrounding communities. On Feb 12, on a state road near a similar warehouse in California, a group of volunteers counted 1,116 trucks in a single hour pass through their community. That's upwards of 21,000 trucks per day that contribute to so much air pollution to the area that children are no longer able to comfortably play outside.
Is that what we want for our community? I should hope not. This would be on top of paving over a huge swath of wetlands; home and breeding grounds to a countless variety of birds and animals. Please help me and take whatever action you can to fight this. Make your voices heard to our elected officials. Post a sign in your yard. Call or email your elected officials. Talk to your friends and neighbors to do the same. This is a one-way door that once we pass through, we will never be able to go back.
Please contact the following representatives, whose votes we need to thwart this project.
John Whitney
jwhitney@grand-island.ny.us
716-425-2511
Mike Madigan
mmadigan@grand-island.ny.us
716-812-6027
Peter Marston
pmarston@grand-island.ny.us
716-982-5461
Jennifer Baney
jbaney@grand-island.ny.us
716-622-9006
Tom Digati
tdigati@grand-island.ny.us
716-984-4521
Brian Higgins
Congressman
716-852-3501
Signed,
Catherine J. Rayhill
Dr. And Mrs. Edward A. Rayhill
Michael and Donnette Rayhill
Michael W. Rayhill
AMAZ-NO!- June 2020
A new 117,000 square foot Amazon distribution facility is opening this week in Tonawanda. To celebrate, according to the Buffalo News, the trillion-dollar multinational corporation donated 80 meals to FeedMore WNY. That's right… 80 meals.
The distribution facility has an enormous footprint, as seen in the attached pictures. But it will be dwarfed by the proposed project on Grand Island. Project Olive is designed to be a 3.8 MILLION square foot facility. That's 32.5 times larger than the Tonawanda facility. Given that, one can imagine that Amazon may be willing to donate a hundred meals if the project goes through!
In California, where the multiple distribution facilities in one area do not add up to the proposed size of the project on Grand Island, an investigative report estimates $642M in uncompensated public costs for noise, road damage, accidents and harmful emissions in 2018 alone (https://www.bisnow.com/national/news/retail/new-report-takes-amazon-to-task-about-the-damage-its-warehouses-do-101986).
No matter what Amazon offers in terms of taxes, jobs, and incentives for Grand Island, there is no way that this facility can be justified for our town. The negatives outweigh the positives from any angle, except for the only one that matters to Amazon founder Jeff Bezos: putting money in his pocket. It will come at an unbearable cost to the people of Grand Island and the surrounding communities. We must let our Town officials know that this project must be stopped.
Just Say No to Amazon!
Dave Reilly, Ph.D.



Thoughts on Amazon - June 2020
While we've all been locked behind doors terrified by thoughts of dying a lonely COVID-19 death without the comfort of loved ones, representatives of Jeff Bezos, the wealthiest man on the planet, and his operatives at TC Buffalo have been drooling over our hometown and plotting to use it in a way it cannot and should not be used.
An Amazon Distribution Center sounds so simple, so easy, so ready to be given the green light. Forget that they pushed the paperwork through between February and May with few Grand Island property owners/taxpayers made fully aware. Forget that the GI Chamber of Commerce members have obviously all been given orders to sign on and speak up in favor of it—despite the fact that Amazon is proven to destroy, not help, small businesses. Google it; you'll see for yourself. And this, just when we thought that the back room handshake crap ended when McMurray/Sharp were ousted......
Try to forget that the 3.7 million square foot facility is the equivalent of 1800 new homes on the north end of Grand Island. Forget that it'll be 9 stories tall, obscuring our views northward and forever changing what can and can't be done to our community. Forget that it will diminish property values for those whose land will face the concrete jungle and hear the incessant movement of trucks. Forget that it will offer work only to those who build it, then provide maybe 20 jobs at most—robots inside the warehouse do the rest. Forget that Amazon expects incentives to come then has shown over and over again that it evades its own tax responsibility—true that.
Forget that the habitat there, the animals and the wetlands, will be paved over in perpetuity. Forget all that for a moment to consider that the landowner Is boldly aware that he will profit immensely on our pain. There's no way he doesn't know that; it's obvious. He'll become immensely wealthier and we will inherit 24/7 semi trucks going up and down Long Rd and every road leading to it...FOREVER. All day, every day, Amazon trucks, everywhere. Grand Island will be branded Amazon country. Do you want that?
Our highway superintendent explained to me that, just like the Thermo-Fisher truckers whose GPS devices divert them off of Staley Rd down West River and Love Rd, he cannot legally stop Amazon's traffic through our neighborhoods. Is that what you want? If you don't, head to Town Hall and tell Supervisor Whitney and Council members. Tell them NO WAY! That's what other towns across the country have done—many of them forced to do so by public protests. And they've prevailed. And, while you're in Whitney's office, see if you can get an answer to a question that immediately pops into all of our minds: "Why in heaven's name would they choose to try to build in our quiet, beautiful farming community instead of one of the numerous empty industrial spaces in Buffalo or in the wide open areas in Niagara County?" There's responsible business development, which we'd ALL like to see along GI Blvd, and then there's SELLING OFF OUR COMMUNITY.
Maureen Phillips, PhD
Captain, USAF/ANG (Retired)



Vacant Commercial Property - June 2020
Anyone that will listen,
When we look around Grand Island and see empty buildings we have to ask why? Could there be a stipulation that any commercial property that is left vacant for more than a year needs to be torn down and the land returned to its pre developed status.
Think . . the Grand Island Plaza has been an eyesore for 20+ years, there are others. The Dunlop building couldn't be given away to potential tenants/owners, no one would take it. We seem to have no recourse when a landowner decides he is ok with the taxes as a write off against other income.
I believe the "Olive Project" won't be owned by Amazon, they will be a tenant. The Amazon Business Model is judgement proof, all operating pieces and parts with limited liability sub-contractors. No one suggests that it isn't a good business model but we don't need to be on the short end of that relationship. We are so worried that we can end up in a law suit . . . we need to protect ourselves and our Town.
Are the tax incentives the State is throwing around going to be there in 10 or 20 years. Is Grand Island going to have to offer them incentives . . to stay? Who else would want that monstrosity?
The size alone dictates a new town ordinance or law. Every vacant building will easily fit into the "Olive Project" (interesting name) They should call it what it is Monster Warehouse. . . . in fact a good percentage of the empty buildings in Niagara Falls would also fit. Let us not do something we can't fix.
Reg Schopp - Concerned Citizen



Back to Business - May 2020
Our leaders must stop grandstanding and get back to business! Despite Cuomos dire predictions, the sky has not fallen and much of the critical medical supplies from the federal government remain unused or have been returned. A glaring example was the quick turnabout of a 1000 bed hospital ship which has already left NYC harbor.
Although miscalculations can be excused, daily press releases don't solve problems. Fortunately, footdragging by our congressional leaders has been eclipsed by Trump and his task force, working closely with state governments to provide necessary resources and sensible plans of action.
Such cooperative effort is a MUST if progress is to be maintained during this life and death struggle with the Covid-19 scourge. You and I deserve no less!
Ray Pauley



Neighbors Foundation Receives Donations - April 2020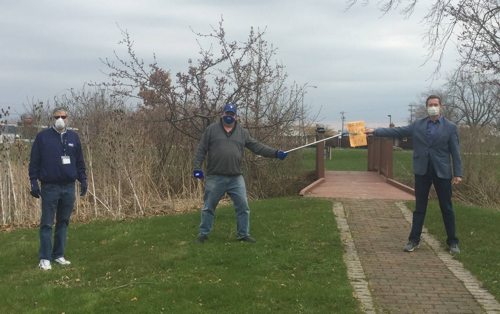 The Grand Island Teachers' Association (GITA) donated $3,725 to the Grand Island Neighbors Founation as part of a recent appeal related to the COVID -19 Pandemic. Mike Murray, President of the GITA, along with teachers Mike and Laura Grosso spearheaded the effort in response to a request for assistance from the Neighbors Foundation. In the picture above Mike Murray presents the checks to Neighbors Foundation President David Conboy in a socially distant manner as Mike Grosso observes. Photo courtesy of Laura Grosso. The Neighbors Foundation greatly appreciates the generosity of the GITA and its members and will put the funds to good use in helping our Grand Island neighbors in need.
The Neighbors Foundation also would like to thank Jill Ungaro, owner of Live Love Buffalo, a Grand Island based business that is donating 30% of the proceeds from the sale of Grand Island High School themed apparel and products to the Neighbors Foundation. Please see the website for more information on how to purchase items and support your Grand Island neighbors in need. This offer is extended until the end of May.
As a reminder, those in need can call 773-7476 or 773-1452 for assistance. Those wishing to make a donation may do so online at www.gineighbors.org, or mail a check to: Grand Island Neighbors Foundation, P.O. Box 155, Grand Island, NY 14072.
Neighbors Foundation



Amazon Suggestions - April 2020
This is hard for me to say but the Amazon facility on the Island is a done deal. This project, with its 1500 employees, countless vendors, truck traffic and air pollution will further deteriorate the quality of life so cherished by many of us long time Islanders. It continues a process that many of us disagree with starting with the deterioration of the Grand Island Plaza, high density apartments and a new strip plaza in our Town Center area that looks like large garden shed.
Having said that, the Town should attempt to get as much out of Amazon as possible to soften the blow. Here are my suggestions:
- Have Amazon purchase property for employee parking lots in the Town of Tonawanda near the South Bridge and in Niagara Falls near the North Bridge (they have the money).
- Employees would be bused to and from the parking lots hopefully using natural gas or electric powered buses. One bus is the equivalent of 40 cars.
- A large area around the facility could be used for green space to protect nearby homeowners since a gigantic parking lot will not needed. Some of the land could be made available to Grand Island farmers to produce locally grown products.
- Require downward facing outdoor lights that will help reduce light pollution.
- Trucks and vendors for the facility would be prohibited from 7 to 9 AM and 4 to 6 PM to avoid rush hour traffic. Probably hard to enforce but worth pursuing.
- Have Amazon purchase 10,000 trees that would be given to homeowners, businesses, and the Town for planting in appropriate areas. This will start the process of re-greening the Island whose trees have been destroyed by disease and development.
Some people might say that having all that traffic will benefit Grand Island Businesses. The Amazon employees will mostly shop via Amazon since they received a discount, so very little retail shopping can be expected. I'm not sure if Island restaurants will benefit that much from the employees since most people want to go to work then go home. However, a little creativity could be used to entice them to stop after work by providing transportation from the work place to the restaurant and then afterwards to the off-Island parking lots.
The Town has some leverage to extract concessions from Amazon if they choose or they can allow themselves to be bowled over by developers as has been the case in the past.
Peter Coppola



DeGlopper Park Expansion Dedication Postponed - April 2020
Due to the unforeseen circumstances related to the COVID-19 pandemic, we regret to announce the postponement of the dedication of the DeGlopper Memorial Expansion from June 6, 2020, to June 5, 2021. We feel that this decision is in the best interest of public safety.
The DeGlopper Memorial Expansion Committee would like to extend its sincere thanks to the Grand Island Community and all who have provided support. The Memorial honoring the brave men and women who have served our country and those who have made the ultimate sacrifice will be one that is of major historical significance for our community. We look forward to your continued support as we work towards the completion of this project.
We assure you that our work to complete the project will continue as we are permitted to do so within the New York State guidelines for construction.
We invite you to visit the website at www.degloppermemorial.org for updates on the Memorial, as well as, opportunities to continue to help support our mission.
Sincerely,
The DeGlopper Memorial Expansion Committee



HRL Racing Season Cancelled - April 2020
Due to unforeseen circumstances associated with the COVID-19 pandemic, the Hydroplane Racing League (HRL) has cancelled the entire 2020 series. This series is compiled of 9 races: Cambridge, Maryland; Detroit, Michigan; Long Sault, Ontario; St- Felicien, Quebec; Valleyfield, Quebec; Sorel-Tracy, Quebec; Beauharnois, Quebec; Brockville, Ontario and North Tonawanda, New York.
Quote from the HRL's Commissioner Didier-Bernard Sequin, "Our priority is the health and safety of our racing teams, partners, attendees as well as our volunteers and employees. Moreover the financial and logistical challenges of each organization are important, especially without the Salaberry-de-Valleyfield event, which is the financial backbone of the League. We want to avoid compromising the financial of our different sites. We feel a deep disappointment, but we are dealing with unfortunate circumstances and we support the measures implemented by the government. We are convinced that our fans understand the situation and will be happy to see hydroplane drivers back in 2021 HRL circuit".
This decision is difficult for us to take, but we, the Thunder on the Niagara committee, understand that it is necessary and we support the decision. We look forward to August 7-8 2021 and promise our fans and sponsors that we will have an event that you will be proud of.
Niagara Frontier Boat Racing Association
Gary Roesch - Commodore



Really? - March 2020
I read the article by my high school classmate, Kevin Rung, on this site the other day. He appears to be in favor of the Amazon facility. Clearly, that is his prerogative. However, the caricature of my article that he uses as a punching bag needs to be responded to.
He says, at one point, "There will be an increase in semi traffic on I-190 24 hours a day as Amazon's fleet go to work; but to extrapolate a sudden crippling increase in accidents closing the bridges is unsupportable." I said, "Who is going to eat crow when there is an accident at one of bridges which backs up traffic for two hours? So much for keeping to anything resembling a schedule." It is an extreme case of hyperbole to get a 'sudden crippling increase' from 'when there is an accident at one of bridges.'
I don't see anything in my article about "…the trucks"……as if a motorized plague might be unleashed onto the Island; for what possible reason would Amazon's trucks need to trundle about on the Island's roads?" This is just creating a straw man to attack. Nowhere did I say that the trucks would be cruising the Island's roads.
He says, "Amazon's new warehouse would result in important new Island infrastructure." No. It would result in a new privately-owned facility. Infrastructure items are bridges, sewers, roads, pipelines, etc. On the other hand, the increase in truck traffic will degrade one piece of infrastructure much more quickly: the bridges. We saw the inconvenience when they were re-decked in recent years. Does anyone seriously want that repeated more frequently?
However, that is beside my main point. My point was and is that putting this facility on Grand Island doesn't make sense economically. Any location on the mainland would be more profitable and/or less costly. Anything one can do on the Island one can do less expensively on the mainland. This is true of any island. You have a lower material well-being for a given income on the Island which is more than offset by perceived quality of life options. (If it wasn't you wouldn't live here.)
Given that it makes more sense to build this facility on the mainland, why is it being done here? This is my Cui Bono? question. Something doesn't add up. If one wanted better access to Canada, Niagara County has plenty of property zoned for this off the 190 and near rail sidings. In Erie County, throw a dart and one can find properties: Walden Avenue, Genesee St., etc. Any would make more sense than Grand Island. Again, Cui Bono?
James Mulcahy



First Responders and Medical Professionals: Running Towards the Danger - We Thank You! - March 2020
Reminiscent of 9/11, our first responders and medical professionals on the Island are risking a lot (themselves) to save a lot (save others). The Town of Grand Island thanks these remarkable and heroic individuals that are truly selfless.
It is human nature to avoid life threatening risks - especially those hidden or silent risks that can be brought home to their own family. Our first responders and medical professionals are right there on the front line doing just that. As an example, The Grand Island Fire Department responded to eight calls Friday, March 27th (the first call being at five in the morning and the last at near midnight). At a time when our residents are being asked to stay at home to prevent getting sick, our volunteers, following a stringent protocol that mitigates risk, are entering homes to help people that are sick or injured, including patients suspected of having Covid-19. Similar heroic acts are being performed by the ambulance crews, doctors and nurses who are on the front lines against this virus, many of which are Island residents.
Our entire community has stepped up in this challenging time. The outpouring of people throughout our community who are volunteering to help the most vulnerable amongst us is truly remarkable. Neighbors are checking on neighbors, making certain they are okay and giving them support by shopping for and providing food. Many have organized, with support from the town and our schools, delivering meals and groceries to those who need this assistance. Others have supported our hardest hit businesses, such as our restaurants, by ordering out and providing them a financial lifeline that is much needed.
A truly heartfelt thanks to all of you for pulling together as a community. Your efforts are what make our community so fantastic and you are making our community and country safe and strong in this challenging time. You are truly great Americans. The next time you see one of these folks, from a safe distance of course, please thank them!
GI Town Board: Jennifer Baney, Tom Digati, Mike Madigan, Pete Marston and John Whitney



Oppidum Populusque Magnae Insulae - March 2020
My friend, Jim Mulcahy weighed in recently in these pages with some observations regarding the proposed Amazon warehouse which looks like it might be built on the Island's northern end. Drawing upon the Latin which he and I studied during our years at the same Prep school he asks: Qui Bono? To who's benefit? The proposed Amazon warehouse makes sense for several reasons and in answer to Qui Bono – why - Amazon benefits. So what?
The land on which the warehouse would be built has sat undeveloped for the thirty seven years I have lived on the Island; my hunch is that Amazon acquired it for a song. It sits right on the principal north/south artery I-190 allowing shipments south and east into the eastern and southern counties as well as into Niagara County to the north and maybe Canada. Who benefits – Amazon – so what?
Lots of static is being emitted about "the trucks"……as if a motorized plague might be unleashed onto the Island; for what possible reason would Amazon's trucks need to trundle about on the Island's roads? Rather, they would concern themselves with entering and exiting I-190 via the shortest route to and from their warehouse. I-190 is already a major artery for semi traffic moving north and south into and out of Canada and Niagara County. Amazon will benefit. So what?
There will be an increase in semi traffic on I-190 24 hours a day as Amazon's fleet go to work; but to extrapolate a sudden crippling increase in accidents closing the bridges is unsupportable. Besides, most bang-ups which close the bridges involve automobiles not paying very good attention or texting during the morning rush to get off the island to work.
Amazon's new warehouse would result in important new Island infrastructure. The warehouse would be conceptualized and built after careful and thorough review by the Town's fully competent elected officials. Both the Town and School system would realize significant new tax revenue. Our Town would gain new population that would need to avail itself of our stores, businesses, restaurants, and so on. So……..in response to my friend Jim Mulcahy query: Qui Bono? To who's benefit? Oppidum populusque magnae insulae – the town and the people of Grand Island.
Kevin J. Rung



Neighbors Foundation Message - March 2020
Neighbors, during these challenging times we want to remind our Grand Island friends that the Neighbors Foundation is here to help provide food for those that are in temporary need. Please call 773-7476 or 773-1452 for assistance.
We've also received many calls from people asking how they can assist the Neighbors Foundation. If you have food you would like to donate, you can drop it off in the narthex of St. Stephen's Church on Baseline Road. There is a receptacle to the right as you walk in the main door. Alternatively you can call me at 773-7476 to arrange a time and place to meet.
We also provide those in need Tops Gift cards for perishable food so we expect our financial resources to be stretched over the next few months. If you would like to donate money, you can donate online at www.gineighbors.org, or mail a check to:
Grand Island Neighbors Foundation
P.O. Box 155
Grand Island, NY 14072
Be well and let's continue to care for each other, especially our neighbors in need.
Thank You!
David Conboy - President, GI Neighbors Foundation



Cui Bono? - March 2020
I know that I have used that title in the past but it is particularly appropriate for the topic I want to discuss. Cui Bono is Latin for, basically, "who benefits?" In my economics courses I always tell the students that to understand why something occurs, we need to ask ourselves, "who is the beneficiary?" This will lead one in the correct direction to understand why something happens.
The case in point here is the Amazon warehouse facility proposed for the north end of Grand Island. A disinterested analysis of the location would show that it is about as poor a site as one could imagine for a warehouse and distribution center with the volumes anticipated. Again, Cui bono?
Jeff Bezos, the founder of Amazon, came up with a brilliant idea that has benefitted million of users of his site. The fact that Bezos was/is clever does not imply that all of his underlings are. (I think the debacle in Queens, NY should prove that. The rants against the tax breaks caused Amazon to pull out without so much as a whimper. If it was such a great deal why not explain it to the public. Even AOC should have been able to understand that Amazon was just not going to pay as much in taxes, not get a check from NYC. Amazon, in my opinion, is clicking their heels that she ran cover for them. While Amazon may have received tax breaks, when someone put pencil to paper to determine their labor costs, especially for executives, the deal started heading south. NYC's public schools are a wreck. Any exec would have to send their kids to private schools which will be over $20,000 per student per year of after-tax income. Further, it gets very pricey to live in NYC. If one opts for the suburbs, there is the commute. The salaries that were going to have to be paid I am sure made this venture much less attractive. It was easier to save face by bailing out due to "community protests" than admit you screwed up.)
Who is going to eat crow when there is an accident at one of bridges which backs up traffic for two hours? So much for keeping to anything resembling a schedule. With the purported number of trucks that will be plying these bridges each day they will wear out that much faster. Do we really want to have the bridges redecked every other year?
There is lots of land in Erie and Niagara Counties that is zoned for this type of activity; is accessible to railroads and highways; and comes in sufficiently large sizes to accommodate it. The argument for putting it on Grand Island seems to be the weakest any potential site. Grand Island will get minimal tax revenue; the County and the State will be the primary beneficiaries. Grand Island, on the other hand, will incur all of the infrastructure costs and increased commuting costs.
There was a hue and a cry when a truck stop was proposed for Whitehaven at the Thruway exit. It was stopped even though we are talking about a far greater number of trucks with this project. Where is the outrage over this beaut?
If the powers that be want to do something that would benefit Amazon and others, the LaSalle Expressway should be completed to the 990 and the Twin Cities Expressway. I, personally, would add undoing the ignorant decision to bisect the Island with the Thruway in the first place. (Yeah, I know: fairy tales can come true….) Nonetheless, we should demand that the former is done. Soon!
Again, Cui Bono? This project couldn't pass any free-market test. As such, someone has, at least, one ulterior motive for foisting this catastrophe on the Island. Just Say No.
James Mulcahy



COVID-19 UPDATE - March 2020
Fellow Islanders:
In accordance with Governor Cuomo's Executive Orders, the Town has reduced our staff to all but absolutely essential operations. We have closed all the Public Buildings including Town Hall, Highway, Library, Golden Age Center and Recreation buildings. With water bills being sent out, we're asking that you mail a check or place one in the drop box located outside the lower level entrance to Town Hall. On-line payment is another option.
We must remember that this virus is not to be taken lightly. Please practice safe social distancing, wash your hands often, use hand sanitizer, wipe down surfaces with disinfecting wipes. Work from home if possible and avoid large social gatherings. In other words, please do everything possible to minimize the spread of this disease.
In these trying times, we need to try to stay positive. Isolation can lead to depression. If the weather allows, get outside, take a walk, go for a ride. Make some phone calls, reach out to a friend or your neighbors. We will get through this. We can, we must.
Hopefully this will be over soon. On a lighter note, Spring is here!
Stay Safe,
John C. Whitney, P.E. - Town Supervisor



Project Olive Comment - March 2020
Grand Island residents, and most particularly those of us who have worked all our lives to buy homes on or near West River Road or Long Road, are evidently viewed by those town officials who pretend to represent us as just some more powerless furry creatures whose homes they will permit Amazon to destroy. They have known of Amazon's intent to convert our heretofore peaceful neighborhood into an uninhabitable industrial zone for some time, but said nothing until recently to their constituents, to whom they allegedly report & who have been paying their keep.
They barely bother with an excuse, muttering politicians' drivel about the "tax base" and "buying wetland credits." Even from a financial standpoint, development by a predatory retailer the likes of Amazon adds no net jobs to the local economy, because for every one of Amazon's underpaid hires, at least one higher paying job is lost among locally owned shops. "Buying wetland credits" is just a way of pretending you're not destroying the environment by throwing a few dollars around.
Nothing good ever comes of a situation in which people have no voice. It is up to us to put a stop this situation, and it must be made clear to the Town Board members that it is time for them to represent us, and that further complicity in Amazon's ruinous scheme will not be tolerated.
Clifford Falk



Keep Medicaid Cap - March 2020
For decades, one of Western New York's greatest challenges has been the burden of continually rising property taxes. For too long, this burden forced families, seniors and people on fixed incomes to relocate to other states. But in the past decade, we have made considerable progress in both economic development and revitalization of this area that so many of us are proud to call our home.
Governor Cuomo made reducing property taxes one of his highest priorities. We all agree that taxes on middle class, blue-collar, hardworking individuals and families cannot continue to rise unchecked. The Governor fought for passage of the 2% property tax cap and a cap on the amount of Medicaid costs paid by counties. That has benefitted Erie County greatly in our ability to provide high-quality services while continuing to reduce your taxes, which we did in the County Legislature when considering this year's budget.
The Medicaid cap helped counties slow or even reverse the decades of property tax increases that made life unsustainable in Western New York. But now that progress is under threat from a new proposal that would remove the cap and shift a portion of those costs back to local taxpayers. Local taxpayers simply can't afford this. If we are forced to absorb more Medicaid costs, counties will have no choice but to return to the bad old days of choosing between increasing property taxes or making cuts to vital services like veterans' services, road maintenance, public libraries and more. Our seniors deserve quality programming as do working mothers deserve adequate daycare. The Governor's proposal could jeopardize the exact things that are making life here appealing to so many.
We can't afford to take a step backward. New York's counties stand ready and willing to be a partner in finding ways to reduce costs while maintaining a high quality of care. But we must protect local taxpayers and keep the cap on local Medicaid costs.
Sincerely,
Hon. Kevin Hardwick - Erie County



Fantasy Island - February 2020
I was devastated to hear that Fantasy Island was closing down for good. This was my favorite childhood place to go with my family, and later on I enjoyed it with friends as a teenager and well into adulthood, joining my niece and nephews there, and more recent their children. I have so many fond memories of the place – picnics with my family, the Golden Nugget Saloon Show including the old ragtime piano music and Can Can routines, riding the train through the tunnel (when they used to do that!), and watching the "crazy" people dare to ride Devil's Hole...but I was not surprised when I heard of its demise after visiting the park last year with my sister and her son's family.
It broke my heart then to see the park so dilapidated. If the present owners wondered why they lost business, they only needed to take a ride on the antique cars to see three or four of the cars dismantled and rotting along the path and then overgrown weeds hitting them in the face as they drove it along the outer part of the path closest to the highway. Or see the remnants of the old log flume ride laying in the undergrowth nearby. Or find so many rides with signs saying "next seat, please." I'm sure there are others like me that find the demise of our childhood park heartbreaking and I'd like to see our Town revitalize it and bring it back to life. Maybe we could do a town-wide GoFundMe page or something, get some initial funds going to save it? Maybe call the Governor's Office? The State sent all this money to fund the Welcome Center (I won't go there on that waste of taxpayer dollars), so why not an amusement park? I hope that our town leaders won't let this park die, regardless.
Regards,
Laurie McGinn



Open Letter to Town Board - February 2020
I am writing to ask that we, the taxpayers and voters, are given a full accounting and explanation of the Deputy Supervisor position in the last administration. In previous administrations the title of Deputy supervisor was given to an (elected) Council member who took over in the Supervisor's absence, similar to the President, Pro Tem in the US Senate. It was not a permanent position.
How did Grand Island come to have a position this high in our government structure? I don't remember voting on it. I do remember voting years ago to eliminate positions. Shouldn't such a powerful position have received the explicit approval of the voters?
As importantly, how was he compensated?
1. Did the supervisor pay him out of his own pocket?
2. Did the supervisor reimburse the Town which then cut the Deputy a check?
3. Did the taxpayers have to pay for both the supervisor and the deputy supervisor?
Needless to say, it makes a difference. If it was 1 or 2, especially, what legal risks were the Town (read: taxpayers) exposed to? Further, are the Island taxpayers on the hook for any post-service benefits like higher pension benefits or health care benefits or others? We better not be.
Finally, if there exists, anywhere, the ability for a future administration to do something like this, it should be your first piece of business to drive a stake through its heart. Back room skullduggery is a disgrace and we should explicitly disavow and disallow it.
James M. Mulcahy



Prosperity - February 2020
Politicians like to submit missives to opinion columns in order to keep their name in front of voters. You can't blame them - if you ask the average guy who his State Legislator is, or his Congressman, most of the time he would have no idea. And so, our Congressman Brain Higgins, submitted a piece to the "Opinions" section of Friday's edition of the Island Dispatch using President Trump's State of the Union Speech as an opening. Although it was probably written by one of his staffers and signed off by him, it none the less exhibited a viewpoint animated by shared effort toward goals we can all subscribe to; Mr. Higgins is to be commended.
There was, unfortunately, this: "It is undeniable that the $1.9 trillion tax cut benefiting big corporations and the wealthy failed to deliver for hardworking Americans."
Mr. Higgins' observation was his opinion, thus - we can allow him the exaggeration of suggesting something as if it were true; however, stating that: (the tax cut) "......failed to deliver for hardworking Americans" is false, Mr. Higgins' opinion notwithstanding. The Tax Policy Center reports that for 2018 all quintiles (statistical groupings) enjoyed a tax decrease; not only the so called "wealthy" of the upper quintile, but also the lower and middle income quintiles. Moreover it noted that within all quintiles, some taxpayers paid higher taxes; this "some" included high income earners – the wealthy. Differences were the result of data interpretation, variability of tax deductions, earned income credits, and variations in tax bracket creep.
This much is certain: The tax cut enacted by the Republican Congress and President Trump has resulted in igniting an economic boom. Corporations and small businesses are investing in expansions and upgrades as a result of those tax cuts, generating an explosion of employment in the US not seen in decades. New job openings are going unfilled and the level of African-American and Latino unemployment has never been as low as has now been achieved. Real wages have increased and consumer purchasing continues to rise as a result. That means new cell phones, new flat screen TVs, new cars and so on; all the stuff we all want.
But in spite of all the evidence to the contrary there are candidates for president pumping their fist in the air trying to convince gullible sections of the population that the demonstrable success of free enterprise must be replaced by the misery and envy of Socialism. Data suggests their supporters are young people who have no knowledge of the grim Socialism that some of their parents and grandparents endured – first hand.
Mr. Higgins' opinion piece suggests there is hope that cooler, rational heads will prevail as party candidates in the upcoming election, affording American voters a choice between realistic candidates whose platforms are grounded in a collaborative real world with continuing prosperity – rather than the fantasy world characterized in George Orwell's 1945 fable, Animal Farm.
Kevin J. Rung



Will We Lose a Great Asset to the Community? - January 2020
There comes a time when all good things come to an end..I heard by the grapevine that we may see the demise of a great community asset namely Isledegrande.com. I am hoping it is just a rumor, but if is really true, I will be very sad.
As a frequent user of Isledegande.com for information of what's happening on our Grand Island, it would be a shame if it was no more. I understand the cost of publishing a free service must run in a good deal of financing. From the information I have, Reggie Schopp has been the main source of keeping Isledegrande.com in business. Evidently the cost of publishing the site has risen to a point where it is not making ends meet. Donors and local advertisers are not sufficient to keep up with rising costs.
I'm sure we will all miss Isledegrande.com unless some Angel comes to the rescue. An Angel in the form of more advertising revenue, local donor participation from (clubs, school projects, Senior information groups, Church groups, Veterans Groups, Local Businesses and more who are now a part of the weekly news.
I was surprised that many of our Grand Island Citizens do not know that this source of NEWS of the ISLAND exists. Those of you that know this GEM exists, Get the word out to your friends and maybe we can save the most valuable Asset on this Grand Island, Time is short, join us NOW ! Save ISLEDEGRANDE.COM
Joe Synakowski



To the Grand People of Grand Island - January 2020
The Neighbors Foundation of Grand Island was happy to have brightened somewhat the Holiday Season for 53 families on the Island. However, we did NOT do it ourselves! Many of you from Grand Island helped with financial, food, and gift contributions, so that the Foundation could provide food baskets, turkeys, hams, gifts for children involved, and other help for those families.
Many of you helped: big food collection by students from all schools, hard work by School System Maintenance Dept. bringing it to K of C Hall, then DECA and Interact sorting that food for us. Many local organizations: the K of C with use of their Hall for distribution, others made donations to our 'Share Your Happiness' fund drive or held events that raised money, collected food or gift cards.
To acknowledge the help we have received, the Neighbors Foundation has placed a listing of all our donors and workers in the Neighbors Foundation segment of the IsledeGrande web site. The Foundation, with donations and work of so many in those lists, was able to help your Island neighbors in temporary financial distress. Thanks to all the donors and helpers listed in that summary - you made the 2019 Holiday Season a bit happier for your Island neighbors.
See list here.
David Conboy, President, Neighbors Foundation of Grand Island