Little League Baseball Webpage
Previous Little League News Page

"Little League" Official Website

Official Grand Island Website

For forms and more information: www.grandislandll.com


---
Grand Island Little League Baseball Mission: to provide baseball and softball
to the youth of Grand Island, to build good citizens, sportsmanship, leadership and teamwork.

---
Little League Season: May through July.
The League had 63 teams with games for house teams and tournament teams (All-Stars).
There were over 800 girls and boys between the ages of 5 and 18 participating in 2006.


---



Grand Island 12U Advances to Sectional Finals !!! - July 2011
On Sunday morning at Wellsville Little League; the Grand Island 12U All Stars won their second consecutive sectional game. The 9-0 win over Geneseo was the second straight shutout win for the team, after defeating Gowanda in the quarterfinal round by a 10-0 score. Next up is the Sectional Championship vs Olean on Monday night at 6pm in Wellsville.
On Sunday morning, Grand Island started quickly jumping to a 2-0 lead after the first inning. After Tyler Muggli led off with a single to right center, Drew Callen dropped a bunt down the third base line and easily beat the throw to put runners on first and second with no outs. William Frank would walk to load the bases, and Jacob Bass followed with a two run single to left to score Muggli and Callen and GI had the early lead. The score would remain 2-0 until the bottom of the third when GI would strike for four more runs. After William Frank ripped a one out single, Jacob Bass and Sean Pufpaff worked themselves aboard via the base on balls bringing Troy Brady to the plate with the bases loaded. Brady delivered a clutch single to plate Frank and GI led 3-0. Zach Valvo walked with the bases full to score Jacob Bass and it was 4-0. Danny Dinsmore then plunked a two run single just inside the right field foul line, and the lead was 6-0 Grand Island after three innings.
Grand Island faced just two batters over the minimum through three innings, due in large part once again to strong GI defense. The defensive play of the game was turned in by Pat Cramer who thwarted a Geneseo rally by making a great play at the hot corner to turn an inning ending double play. After that play Geneseo would have just two baserunners the rest of the way. GI would put the game away with three more runs in the bottom of the 4th inning. Muggli again led off the inning with a base hit, and moved up to second as Callenís infield hit was booted by the Geneseo second baseman for an error. After a William Frank fielderís choice erased Muggli, Jacob Bass delivered a booming double to right center to plate Callen and Frank, and GI was comfortably ahead 8-0. Sean Pufpaff would follow with a base hit, and he would eventually score on a passed ball to give us the eventual final score of 9-0 Grand Island. Callen went the distance on the mound by spinning a four hit shutout, and striking out seven. Next up for Grand Island is the Sectionals Championship vs Olean on Monday night at 6pm in Wellsville. The Winner advances to Staten Island for the State Championship round of the Little League World Series later this week.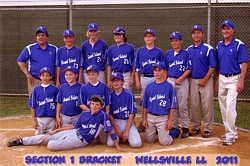 (front left) Carson Suffoletta, Tyler Muggli, Drew Callen, Troy Brady, Roman Cacciatore, Zack Valvo; (back) Coach Cacciatore, Danny Dinsmore, Jake Bass, William Frank, Sean Pufpaff, Patrick Cramer, Coach Suffoletta, Coach Pufpaff
Thurs., July 28, 2011
. . The GI 12U All Stars pursuit of a Sectionals Title came up short on Monday night at Hank Sinkey Field in Wellsville. Playing in front of a huge crowd, GI showed the type of resilience and determination that has been a hallmark of this team, but in the end, Olean outlasted Grand Island by a final score of 9-7 in the Championship game.
After falling behind 3-0 in the first inning, Grand Island got things going in the second inning. Sean Pufpaff led off the frame by ripping a line drive into left center for a long, loud single. Troy Brady followed with a chopper in front of the plate which was picked up by the Olean pitcher and thrown into centerfield. Pufpaff moved to third on that play, and later scored on a passed ball to get GI on the board. Brady would also eventually come across the plate on a passed ball, and it was 3-2 Olean after two.
Olean responded by scoring three runs in both the 3rd and 4th innings and looked to be in control with a 9-2 lead as the game headed to the 5th inning. GI would have other ideas though. Danny Dinsmore led off the top of the 5th with a base hit, and Roman Cacciatore followed with a walk to put runners at first and second with nobody out. Tyler Muggli got aboard on a fielderís choice with Cacciatore getting erased at second. With runners at the corners, Drew Callen zipped one past the first baseman down the right field line, and the chase was on. Dinsmore and Muggli scored on the play, as Callen raced to third base making the score 9-4 Olean. Callen would later score on a passed ball and the game headed to the 6th inning with GI trailing 9-5. In the 6th and final inning, Pufpaff led off with a double, and Brady followed suit with a double of his own to score Pufpaff and make it 9-6. With GI down to their final out, Roman Cacciatore delivered a clutch RBI single to plate Brady and bring GI to within two runs at 9-7. That would be as close as GI would get as a groundout to second ended the game, and Olean punched their ticket to the State Championship round in Staten Island later this week. Grand Island was as classy in defeat as they had been in victory throughout this tournament as they congratulated Olean on their victory and wished them well.
While the grounds crew did their postgame work on the field, it was a quite a scene as the GI players lingered for quite a while after the game, soaking in every last ounce of what this tournament experience meant to them. What a ride!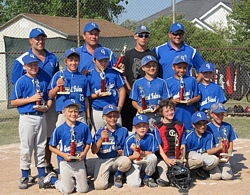 Click photo for larger view.
Members of the 2011 Grand Island 9-year-old All-Star Team won their first tournament of the year at Clarence, July 14-17, 2011. The team scored 70 runs in 5 games while limiting the opposing teams to 16. Shown front are Ethan Person, Easton Speer, Alex Paul, Nolan Massaro, Victor Pavone, and Zach Cramer; (2nd row) Jacob Konopski, Austin Weber, Henry Grunzweig, Liam Hart, PJ Munoz and Cade Carey; (3rd row) Coaches, Jeff Cramer, John Weber, Tanner Speer, and Jon Hart.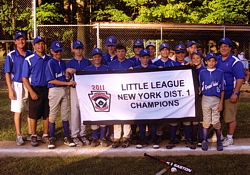 Click photo for larger view.
The Grand Island 12U All Stars captured their first ever 12U District Championship on Wednesday night, July 13.
Timely hitting, strong pitching, and airtight defense was the difference for GI as they defeated Mel Ott 11-1 in a mercy rule shortened five inning game in the Championship Game.
GI scored first as Roman Cacciatore singled home Carson Suffoletta with two outs in the top of the second. Clutch hitting has been a hallmark of this Grand Island team; and on Wednesday night, ten of their eleven runs were plated with two outs.
Mel Ott chased across a run in their third at bat, and the teams headed to the 4th inning tied at 1-1.
With one out in the fourth, Grand Island's Tyler Muggli doubled to right center for his third hit of the night. Muggli moved to third on an infield single by Drew Callen, and scored on a fielder's choice off the bat of William Frank. Jacob Bass then promptly deposited the game's next pitch deep beyond the left field fence, and GI led 4-1.
After a scoreless bottom of the fourth inning by Mel Ott, Grand Island put the game away with a seven run outburst in the top of the 5th. Mike Englert pinch hit for Patrick Cramer and led things off by stroking an 0-2 pitch down the left field line for a double. With Englert holding at second, Danny Dinsmore got aboard on a base hit, and then both runners moved up on a fly ball deep to left center by Muggli. One out later, William Frank delivered a two run single for a 6-1 lead, and the rout was on. After Jacob Bass collected a single, Sean Pufpaff's RBI base hit scored Frank. Troy Brady was up next and patiently earned himself a base on balls to load the bases for Suffoletta. Suffoletta electrified the throng of Grand Island fans with a bases clearing triple deep to right center. He would later score in a cloud of dust on a passed ball and it was 11-1.
All that remained was the bottom of the inning, and Callen fanned the last two batters to end it. Callen picked up the complete game win on the mound by scattering six hits, and striking out six.
Grand Island advanced to the District Championship game against Mel Ott by dethroning two-time Champion Orchard Park 6-4 in the Semi Finals. With the win, Grand Island advances to the Sectional Round of the Little League Tournanment. That round will be played July 23-25 at Wellsville's Little League Complex. Grand Island is scheduled to play its first sectional game at 10 a.m. on Saturday, July 23.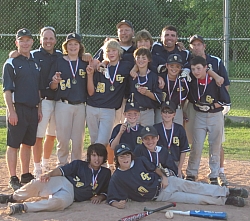 (front left) Vincent Chiarenza, Troy Brady and Michael Podgorny; (kneeling) Drew Callen, Austin Blair; (standing) Coach Noel Blair, Coach Todd Callen, Mark Valle, Jacob Bass, Joseph SantaLucia, Patrick Cramer and Jake Niland; (standing back row) Coach Bob Carroll, Bobby Carroll, Head Coach John Chiarenza and Coach Jeff Cramer
Click for larger view.
The Clarence Memorial Day Tournament played host to some of the best local baseball teams as well as top clubs from Rochester and Canada. In round robin play, Grand Islandís U12 Magic won a hard fought battle over Rochesterís North Coast Sluggers 10-8, beat Elma Marilla Wales 11-3 and won a thriller over Clarence Black 16-11. GI entered the championship game on Sunday, May 30 as the #1 seed after beating Canadaís Ancaster Cardinals earlier in the day in a closely contested, 4-3 win. In the Championship game against North Coast, GIís late rally came up 3 runs shy, falling 12-9. Head coach John Chierenza was very proud of his teamís effort and determination throughout the tournament. The Magic continue their 2010 12U B Travel season this Sunday (June 6) at 4 p.m. at Vets Park against Lou Gehrig Blue.
Grand Island Little League UPDATE May 8, 2010 All Grand Island Little League games scheduled for Saturday, May 8th have been postponed. It is likely the games will be rescheduled for Sunday, May 16th. Check with your manager. Same times, diamonds and snack stand schedule will apply.


Little League Tee Ball Information - Mar. 2010 Grand Island Little League still has plenty of openings for Tee Ball this year. Baseball is Americaís Sport. Parents, make sure your child doesnít miss this opportunity to get started and play Tee Ball this year. Tee Ball is open to boys and girls who are 5 or 6 by April 30th. The emphasis is on having fun, introducing the players to baseball, and teaching the basics. They get to make new friends, enjoy the outdoors while learning good sportsmanship and fair play. The league is non-competitive and scores are not kept. Games are held on smaller diamonds. Usually one game during the week and one game on Saturday during May and June. To sign up go to our web page at www.grandislandll.com and click on the registration page for forms and instructions and come join us for some great fun! If you have any questions please feel free to email the Tee Ball Commissioner at tball@grandislandll.com or call Pete Peresie at 773-9039.