Little League Baseball Webpage
Previous Little League News Page
"Little League" Official Website
Official Grand Island Website
---
Grand Island Little League Baseball Mission: to provide baseball and softball
to the youth of Grand Island, to build good citizens, sportsmanship, leadership and teamwork.

---
Little League Season: May through July.

---



GILL 8U Blue All-Stars 8-0 - August 2017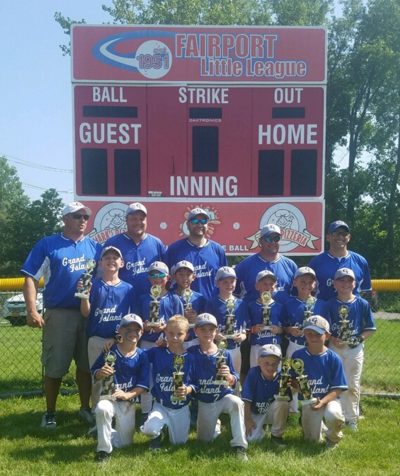 Click photo for larger view.
The Grand Island Little League 8U Blue All-Star team enjoyed a very successful 2017 tournament season. The team managed to remain perfect in tournament play on Sunday championship games, compiling an impressive 8-0 record, and winning their respective brackets in all four tournaments entered.
During Memorial Day weekend, Grand Island managed to beat a tough Lancaster team in the semi-final game, 18-12. Trenton Ruffolo and Mason Miller led the way with three hits each. In the final game, GI avenged a loss against Orchard Park by winning the championship, 18-2. Adam Watches had an impressive three hits, but it was the explosiveness of the entire team's bats and excellent defense that held the OP Thunder in check.
In their second tournament of the summer, playing in their hometown tournament on Grand Island, GI played a strong Lakeview team in the semi-final game, for a 10-4 victory. Ryan Whalen and Riley Sargent had three hits each. In the championship game, the bats continued to stay hot, as Tommy Alberalla, Whalen, and Nick Potenzo all had three hits, but most impressive was the stellar defense by the entire team, blanking a solid Lancaster team, to win their second straight championship!
Tournament number three was their toughest challenge yet, as they faced two teams from Lou Gehrig on championship Sunday in the Lewiston Lancer Classic. In the semi-final game, the boys in blue faced a very good Lou Gehrig white team, and managed a remarkable 13-7 victory. Ruffolo, Alberalla, Whalen, and Blake Deloreto led the way with three hits each, while Alberalla launched a blast over the right fielder's head for a home run. In the final game of the Lancer Classic, GI beat the Lou Gehrig Blue team 11-4 to cap a third tournament crown in a row. Alberalla, Miller and Sargent played strong, with three hits each.
In the fourth and final tournament of the year, which was the most challenging one yet, the GI squad traveled to Fairport, NY. In the semi-final game against Rush Henrietta, GI won in an impressive 16-2 victory in 4 innings. Peter DeSantis, Aiden Sander and Carson Kwiatkowksi supplied two hits each, including a triple by Sander. In the final game of the year, which proved to be the most difficult, the GI 8U boys of summer beat an excellent Baldwinsville team, 8-7. Potenzo led the way at the plate with three hits, one a double and one a triple, while Joe Donlon had two hits, one a double. However, this game was indeed hard-won, as GI was down 9-4 going into the bottom of the 5th inning and recorded 6 runs to take the lead 10-9! In the top of the 6th, leading 10-9 with one out and runners on 1st and 2nd base, Blake DeLoreto made a DIVING catch in left field for the second out, and Potenzo fielded a hard ground ball for the third out to ensure victory, and the championship. This final victory capped a fourth tournament win and a perfect 8-0 Sunday record.
Members of the team: Tommy Alberalla, Blake DeLoreto, Peter DeSantis, Joe Donlon, Carson Kwiatkowski, Mason Miller, Nick Potenzo, Trenton Ruffolo, Aiden Sander, Riley Sargent, Adam Watches and Ryan Whalen. Coaches: Tony Ruffolo, Tom Alberalla, Joe Donlon, Mike Sander, Jeff Sargent and Don Whalen.



Grand Island Little League - February is Registration Month - January 2017
GILL has divisions for boys and girls baseball and softball players from ages 4 to 15. Spots are available in all divisions for a limited time. $20 Early Bird Discount ends March 5th. Games are played at Veterans Park on Bedell Road starting early May and go through the end of June. Evaluations are in March. Please visit www.grandislandll.com for more information and to register today! he Grand Island Little League in person registration is at the Grand Island Library, 1715 Bedell Road, Saturday, January 28th and Saturday, February 18th from 10:00 a.m. - 1:00 p.m. Birth certificates must be brought to the library registrations to verify birthdates.