Veronica E. Connor Middle School
2017
Principal
Mr. John Fitzpatrick
Veronica Connor Middle School District's Web Page.
Previous News Page
Yifan Shen K-12 "Artist of the Month" - February 2017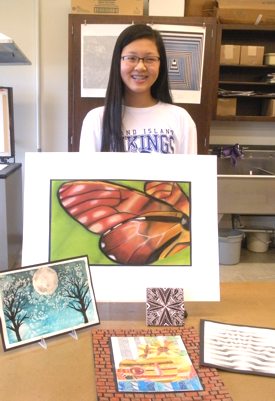 Each year, the Art Department of the Grand Island schools recognizes many of its top artistic achievers with the "K-12 Artist of the Month" award. Presented to ten students annually, the award highlights the varied accomplishments and achievements of district students who excel artistically and who creatively solve problems by using a wide variety of media to express and find their own unique artistic voices.
Eighth grade student Yifan Shen has been selected as the February 2017 Artist of the Month. A student at Veronica E. Connor Middle School, Yifan is currently enrolled in Studio In Art where she is earning high school credit while still in eighth grade. Yifan has been interested in art since she was four. She states, "art is important because I feel very accomplished when my experiences become reality and it's something I enjoy". Her mom, who Yifan lists as one of her biggest supporters and sources of artistic encouragement, has been a constant source of inspiration to this student. Yifan says that both her mother and grandfather are artistic; their example providing inspiration for this young artist.
Yifan is a meticulous student with a positive attitude. She is certain that art will always play an important role in her life and she is hoping to pursue a career either as a fashion designer or as a medical illustrator when she's older. A career in the medical field is also an option of interest. While facile and adept in a variety of media, Yifan finds most pleasure in working with pencil and watercolor. She is an expert calligrapher and accomplished young painter who likes the bright and fluid effects that watercolor brings to her work.
Yifan's art teacher cites both her positive work ethic and her tremendous attention to detail as two of the reasons why she was selected to be the recipient of this award this school year. She is an exceptional student. Her creative abilities and artistic potential mark her as extraordinary. The art department is proud to recognize Yifan Shen as their "Artist of the Month" for February, 2017.
VCMS 2nd Quarter High Honor Roll - February 2017
6th GRADE HIGH HONOR
Raj Arumugam, Mackenzie Barnicle, Samantha Buckingham, Andrew Burke, Julia Capage, Elizabeth Carpenter, Alexandrea Caudill, Berin Celik, Joseph Cicero, Gavin Cich, Nathaniel Cohen, Lauren Coombs, Natalyn Cordero, Riley Crosby, Reagan Fast, Caitlin Fay, Logan Fox, Aubrey Frank, Jackson Frey, Lauren Geyer, Kelsie Greene, Amanda Gula, Sophia Heffley, Zoe Heider, Jenalynn Hoy, Katie Jaegers, Samuel Jayme, Eden Johnson, Julia Juntunen, Jessica Kam, Kathleen Krawczyk, Edward Kwarciak, Phillip Lepine, Patrick Lepine, Morgan Malush, Sydney Martin, Alana Miano, Mia Moran, Maia Nowak, Luke O'Brien, Carson Page, Alena Panepinto, Megan Pinzel, Olivia Pratt, Matthew Rebmann, Gavin Rice, Matthew Rizzo, Wynonna Roberts, Ella Rudney, Olivia Ryan, Serenity Sikora, Ryan Smith, David Still, Alyssa Stockinger, John Szczublewski, Kayleigh Vanderzell
7th GRADE HIGH HONOR
Angelo Aiello, Christina Anderson, Nathan Bender, Thomas Bender, Christopher Benns, Sophia Black, Sophia Bobeck, Kaylee Boyle, Kiersten Brown, Faith Caldwell, Giana Casullo, Jordan Choboy, Aidan Cioppa, Seth Cox, Zander Crvelin, Noah DeCourcey, Renee DiLaura, Samuel Dulniak, Lucas Dunn, Brendan Ehlenfield, Michael Foglia, Lily Hauer, Joshua Henderson, Justin Horvath, Raistlin Huff, Jacob Jayme, Jackson Jones, Riley Joseph, Bethany Kulikowski ,Megan Lavis, Molly Leggett, Zachary Leng, Connor Lenhard, Noelle Linenfelser, Faith Marsala, Hannah Martinez, Madisyn Martino, Trinity Meinhart, Aidan Mingoia, Hannah Moore, Elizabeth Morris, Alana Mosher, Arianna Nasca, Alexis Nguyen, Ian Pachura, Riley Patterson, Sara Pearse, Michael Percival, Ethan Person, Madison Piggot, Hayley Pizur, Morgan Santorio, Mia Schiffmacher, Kira Seidel, Abishek Selvakumar, Finune Shaibi, Alessandra Smith, Carmen Sokody, Tereska Sorel, John Stravino, Rebekah Thompson, Lauren Tompkins, Albert Wain, Rayna Wallens, Evan Walowitz, Riley Weber, Lidya Weng, Aiden Zach, Graham Zorich
8th GRADE HIGH HONOR
Allan Benjamin, Isabel Buckingham, Camille Burruano, Alaina Cameron, Emily Cohen, Haley Coombs, Zachary Cramer, Sarah Dodge, Brooke Eichel, Thomas Fabiano, Riley Kane, Eleah Leng, Thomas Lockett, Abigail Marlow, Rose Meaney, Samantha Meierer, Victoria Oldman, Ryan Pinzel, Mark Ramsperger, Kevin Rogoza, Hannah Schiffmacher, David Schnell, Aaron Szczepankiewicz, Lucas Tahara, Michael Valle, Alexander Wright, Jenna York
VCMS 2nd Quarter Honor Roll - February 2017
6th GRADE HONOR
Dylan Andrews, Abigail Bentley, Jacob Berard, Emma Besl, Brendan Carroll, Riley Chen, Michael Christensen, Miranda DeCourcey, Alex Dezutter, Rebecca Dilliot, Taylor Evans, Sara Fletcher, Madison Flory, Natalie Fritsch, Raquel Gagliardi, Angelo Galoppo, Mya Genovese, Christian Giddings, Sara Glose, Sarah Grover, Chase Harding, Jason Hill, Corinne Ireland, Harmanjeet Kaur, Jasmeen Kaur, Cameron Kitchen, Sydney Knight, Lily Koslowski, Griffin Mahoney, Paul Mefford, Sean Mesmer, Caleb Meyer, Kaylee Montana, Conner Morrow, Dylan Murray, Josiah Neumann, Cody Okelberry, Lindsey Olendorf, Giavana Panepinto, Isabelle Pezdek, Jackson Quinn, Maelee Roach, Evan Russo, Kosmo Sarigiannis, Madison Schneider, Jack Sharp, Sophia Steffans, Annabella Tippett, Marcus Tittle, Grace VanderMey, Justin Vazquez, Gabrielle Vecio, Patrick Whalen, Erick Wittmann, Joshua Wozniak, Michael Zacher
7th GRADE HONOR
Eva Ahne, Anthony Amato, Madison Andrews, Parker Aronica, Thomas Banas, Ashley Battaglia, Franceska Bongiovanni, Kenneth Brodie, Kayla Butler, Natalie Carter, Marcus Celano, Michael Coburn, Adiana Cotroneo, Olivia Crowley, Izabella DeGlopper, Caitlyn DeLong, Francesca DePalma, Kayleen DiCarlo, Claire Dickinson, Jenna Duquin, Leah Dylag, Tyler Figliola, Adison Fike, Gurkirat Gill, Lana Gondek, Kaci Gottler, Anna Hammond, Spencer Hecht, Samantha Hoerner, Alicia Hunt, Mason Hutchins, Ashley James, Ella Koslowski, Noah Krathaus, Joseph Lewis, Melanie Longo, Ethan Lysarz, Aidan MacNeil, Karli Macrides, Christopher Macro, Nicole Malczewsky, Joshua Mallabar, Ryan McMann, Jonathan Minton, Avery Mondoux, Callen Neeson, Olivia Nucci, Alexandra Oats, Joshua Przystal, Ava Racz, Lauren Ratajczak, Caralyn, Reynolds, Samar Rizek, Alyssa Robertson, Ryan Sander, Ryan Saucier, Jackson Scalise, Rebecca Schultz, Muhammad Shabbir, Katherine Squires, Sophia Steck, Kimberley Swain, Alex Szczepankiewicz, Victoria Thauer, Ava Todaro, Brian Vanini, Karina VeRost, Hailey Watches, Jessica Whitfield
8th GRADE HONOR
Connor Barnicle, Tyler Baughman, Anthony Buscaglia, Grace Carey, Samuel Carpenter, Matthew Castellino, Martin Castner, Joseph Christiano, Sara Cicero, Ian Cioppa, Brooke Conway, Alyson Czerwonka, Polla Daghestani, Cameron Davis, Jack Dlugokinski, Jenna Doctor, Makaila Elandt, Mara Ellsworth, Kaylin Frost, Alison Gula, Brady Haines, Ryan Halliman, Quinn Hart, Margaret Hegarty, Allison Hill, Carissa Hoover, Joshua Hunt, Dominick Kane, Edward Kanfoush, Zoe Kowalski, Hannah Lambert, Savanna Lenze, Morgan Lynch, John Mandura, Ashley Maras, Madeline Maroni, Ryan Michki, Jacob Miller, Nicole Nguyen, Cecilia Nowak, Elaina Page, Mia Phillips, Charles Piggot, Morgan Proctor, Grace Samplinski, Lucas Seifert, Joseph Seifert, Amina Shaibi, Peyton Shearer, Yifan Shen, Connor Tribby, Molly Tuohy, Edward VeRost, Nathan Wallens, Grace Wenner, William Worrall, Vivienne Zacher
VCMS 2nd Quarter Merit Roll - February 2017
6th GRADE MERIT
Paige Bedell, Kaitlyn Burns, Emmalee Currie, Riley Decker, Michael Doctor, Anthony Fratello, Natalie Gojmerac, Eric Hamm, William Hanlon, Tanner Hawley, Mackenzie Ingalsbe, Brady Jones, Joshua Koloshuk, Noah LeBrasseur, Ryan Lysenko, Kendyll Mack, Nycelle Mitchell, Maria Novelli, Jacob Pangborn, Kaylin Peterson, Maria Preston, Arden Randle, Megan Reynolds, Mitchell Samplinski, Kaden Smith, James Soto, Brooke Squires, Aubrey Zdarsky, Joshua Zherebilov
7th GRADE MERIT
Veronica Bonner, Samuele DeLorenzo, Jashanjit Dhillon, Joseph Dlugokinski, Thomas Dworak, Khloey Ellis, Olivia Floro, Olivia Fox, Victor Fritsch, Joseph Genovese, Katelyn Giambra, Arman Deep Gill, Alexis Hess, Jacqueline Heyden, Graer Howell, Anna Hurley, Rebekah Jaenecke, Jenna Kaiser, Nicholas Karnath, Skylar Koschuk, Kyla Mack, Alivia Manzo, Halie Martinez, Joshua McMahon, Paige Moses, Ryan O'Grady, Christian Pendola, Grace Promowicz, Isaac Quick, Isaiah Reading, Shaan Sandhu, Daniel Senn, Alicia Shivers, Jonathan Simpson, Evan Smith, Liam Snyder, Evan Steck, Tyler Sykes, Alex Vazquez, Sara Verso, Celia Wood, Bailey Yung
8th GRADE MERIT
Evan Ackerman, Allyson Bellinger, Kelsey Burns, Joseph Ceccato, Tristan Chaffee, Krystyna Colautto, Ava DeFranks, Dominic Ford, Dominic Gramza, Tyler Grant, Kameron Greene, Isabella Harper, Celia Jackson, Jordan Jakuminiak, Ty Shawn Jennings, Stephen Leone, Sean Leslie, YuLin Lu, Elisabeth Madigan, Angelina Marinello, Hayden McLachlan, Sean McMann, Griffin Miller, Alyssa Nelson, Eleanor O'Brien, Nicholas Pachla, Maya Pecoraro, Steven Pedlow, Brionna Raiser-Russell, Sarah Reeves, Jessica Robertson, Ethan Schinnagel, Joseph Schnettler, Arsal Shaheen, Zorica Simic, Logan Sionko, Elizabeth Smolkovich, Callie Sommer, Amanda Spaulding-Kellner, Victoria Thompson, Morgan Tollner, Andrew Tomasula, Angelina Torres, Joshua Vizzi, Amanda Wellence, William Wieberg, Kaylee Woroniecki
Eighth Grade Career Exploration Day - January 2017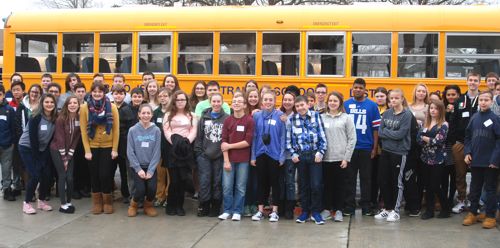 Grand Island Middle School students arrive at BOCES Center.

Left: Cosmetology Classroom. Right: Early Childhood Education classroom.

Culinary classroom.
Erie 1 BOCES Kenton Career & Technical Center held a Career Exploration Day on Wednesday, January 25th at the Center located on Two Mile Creek Road. 50 students from Connor Middle School got to experience the "Taste of Tech" tour. Other schools taking the tour that day were from Ken-Ton, Cheektowaga middle schools and Northtowns Academy. There are 30 career and technical programs available to high school students in Erie County. Some of the careers are Animal Science, Auto Collision, Auto Tech, Baking and Pastry, Building Trades, Cosmetology, Criminal Justice, Culinary Arts, Early Childhood Education, Health Careers, Sports Science & Welding. The BOCES Center has over 500 students enrolled in its programs.
JV DECA Results - January 2017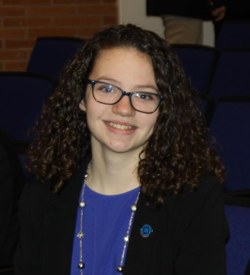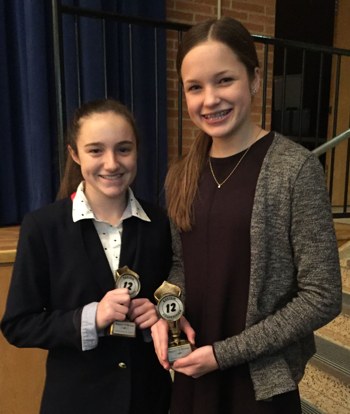 Left: Isabel Buckingham. Right: Morgan Tollner and Grace Samplinski.
JV DECA had a successful showing at the January 8th DECA Regional Competition at Grand Island High School. Veronica E. Connor Middle School is fortunate to charter the only Junior Varsity program in Region 12. Competing against high school students from all over Western New York, Morgan Tollner and Grace Samplinski created beautiful entries in the Visual Advertising Competition qualifying to move onto DECA States in Rochester, NY in March. Special thanks goes out to their middle and elementary school teachers for honing their design skills.
Due to attrition, Isabel Buckingham moved up the ranks in a highly competitive Sales Demonstration Event, also qualifying her for State Competition. Frequent public speaking opportunities at Board of Education meetings, as well as Student Council experience outside the classroom, have perfected the oral communication and problem-solving stressed by her classroom teachers. Much appreciation goes out to Fahim Mojawalla of Island Ship Center for meeting with our students during his busy shipping season to fan the flames of enthusiasm and introducing competitors to the rapidly changing world of marketing and sales. JV DECA serves to grow students professionally no matter where their future goals and dreams may take them.
NYS 529 College Savings Program - January 2017
The Veronica Connor Middle School PTA is hosting a NYS 529 College Savings Program on Thursday, January 12th at 7:00 p.m. in Room 110 at Grand Island High School. Visit www.ny529atwork.org to learn more about the Program, request an information kit and enroll online. See
flyer
.
Dorothy Garcia- Middle School PTA Honorary Life Membership - January 2017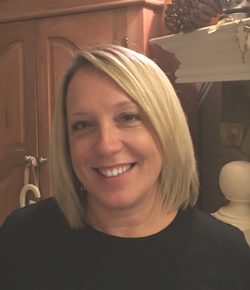 Dorothy Garcia is the recipient of a Connor Middle School PTA Honorary Life Membership award. She has been a part of PTA since her girls were at Sidway School. She has served in many roles on PTAs throughout Grand Island and has volunteered at numerous events, from cake walks to Family Fun nights. Most recently she served as vice president of Programs at Connor Middle School and also on the mini-grant and scholarship committees. Her service to children and youth includes volunteering as a Religious Education teacher at St. Stephen's Church. She has helped with many school and parish plays, and has been active on other committees and clubs. In her spare time she is a busy member of the Sandy Beach Yacht Club. Dorothy Garcia is a positive role model for so many children in the Grand Island School District and can be seen five days a week with a smile on her face at Kaegebein Elementary School as a lunchroom monitor. She is truly deserving of this award.