Moose Lodge #180 Web Page

2524 Grand Island Blvd., Grand Island, NY 14072
773-6655


Previous Moose News

International Website

---
Monte Carlo Night To Benefit Miracle League - February 2011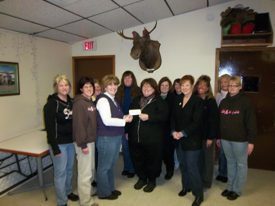 WOTM presenting check to Miracle League
The Women of the Moose, on behalf of the Grand Island Moose Lodge, recently purchased a "brick" from the Miracle League and they would like to challenge other community groups to raise money for Miracle League by hosting some kind of fundraiser.
The Grand Island Moose Lodge, located at 2524 Grand Island Blvd., is hosting a Monte Carlo night on March 5th from 7-10PM with a live auction for prizes at 10PM. This event is open to the community and everyone is invited to come have fun and support the Miracle League. The community is also asked to donate to the event if possible, click on
donation letter
and
information flyer
for complete details.
Isledegrande.com would like to salute the members of the Moose Lodge #180 for their efforts to provide a Thanksgiving dinner for the senior citizens residing at the Islandview Apartments. Moose members, who have done this for 20 years, served a delicious dinner to 32 senior citizens on November 21 at the Moose Hall. Those enjoying the meal wanted to express their sincere appreciation to the Moose for this generous gesture that gets their holiday season off to a great start.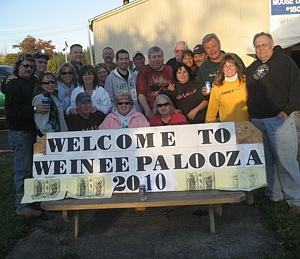 Click photo for larger view

On Saturday, October 16, 2010, a group of friends of the late Peter Courey gathered for what is called "Weinee Palooza" in memory of Peter Courey. The event has taken place almost every year since Pete passed away in July 2005. Don Hoover has spearheaded the gathering and the first two years Pete's parents attended the event, unfortunately they have both passed away within the last year. Money was raised for the Grand Island Neighbors Foundation and each person in attendance had to bring a dish that contained hot dogs. The unusual as well as common dishes were dined on. A table is always set up with a picture of Pete, a lit candle and an ashtray, which represents Pete's love for a good cigar! The group hopes to keep the tradition up next year in memory of their friend, Pete.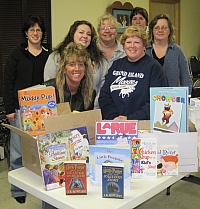 (front left) Lynn Dingey and Nancy Anderson; (back) Amy Garten, Mindi Kratz, Patti Kendzierski, Wendy Napier and Cindy Bull.
Click photo for larger view

Over 200+ brand new books were recently collected by Moose members to be donated to Women and Children's Hospital of Buffalo. The Grand Island Moose Family Center is a part of an international organization of men and women dedicated to caring for young and old, bringing communities together and celebrating life. In the past year alone, the Moose has reached out to the community in several ways from a canned food drive for the Neighbors Foundation, hosting Thanksgiving dinner for the Island View Seniors, supporting a Relay For Life team, holding a garage sale to benefit Hospice, collecting for care packages to be sent to the troops overseas, along with hosting a children's Halloween and Christmas party and coming up soon, the annual children's Easter Egg Hunt. The Moose always has something going on. For more information please call 773-6655.