Parish Players 2022
---
Parish Players Present Frozen Jr. - July 2022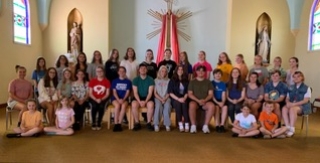 Full Cast.

The Annas & Elsas.

Standing: Hayden Carr (Hans), Joe Cali (Kristoff)
Hailey McMahon (Olaf), Sophia Bobeck (Elsa) Kathleen Krawczyk (Anna), Nick Jayme (Sven)
It is with great excitement for the First Time in Forever the Parish Players will be returning to the stage with their production of Frozen Jr. on July 8 and 9. The Parish Players last production was in February 2019 with Hello Dolly and Mary Poppins. In the summer of 2020 the Parish Players led a Frozen Jr. Camp for the summer with all expectations of performing for their 30th season in April 2020. The show has been sidelined until now!
Many changes have taken place for this season. Due to numerous changes, the Parish Players have not been able to build their stage in the St. Stephen School and had to venture to new grounds. The Players will be performing at Grand Island High School in the air-conditioned Grand Viking Theater with their production of Frozen Jr.
Frozen is the story of two sisters, Elsa and Anna, played by Sophia Bobeck and Kathleen Krawczyk, respectively, and their travels with Prince Hans (Hayden Carr), Olaf (Hailey McMahon), Kristoff (Joe Cali, replacing Jayden Kleinschmidt who was sidelined due to injury), and many others they meet along the way. Elsa and Anna begin the show as young girls, played by cousins Emma Redfern and Quinn Sugg, who have been practicing these roles for three years now.
Bobeck, who graduated from Grand Island last Sunday, said, "For the past 2 years I have been unable to pursue a part of myself that was cut off by the pandemic. Theatre has always been such a big part of me, and I have been mostly unable to connect with that part for a long time. This year, I have finally been able to come back to that part of me. Coming back to theatre has been like returning home—old friends have flooded back to reconnect and new friends have also appeared. I'm so grateful that I was given the opportunity to have a final show on the Grand Island High School stage before I move on attending SUNY Geneseo. After 11 years with Parish Players, I'm elated that I was able to end my journey in theatre with the exact same people with which it began."
Marissa Mistriner, also a recent graduate of Grand Island High School, plays Bulda and began her acting career in 101 Dalmatians ten years ago. Marissa said, "I'm so happy that we are finally able to put on our production of Frozen Jr., and to be performing it in a new location at Grand Island High School. It has been so special to reconnect with the directors and my fellow cast mates, both the returning and new members, to end my senior year before attending Niagara University in the fall. I am beyond grateful to have been apart of this group for the last ten years!"
FROZEN CAST LIST
Frozen, Jr. is directed by MaryLis Rustowicz with assistant directors Maggie Rustowicz and music director Joe Cali. Presale tickets are available for $10 through showtix4u (https://www.showtix4u.com/event-details/65143) or at the door for $12.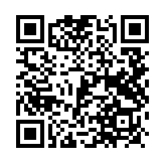 QR Code for tickets.
Parish Players Auditions
Parish Players will present Disney's Frozen on July 8 and July 9, 2022 at Grand Island High School! The show will be directed by MaryLis Rustowicz, produced by Maura McCowan Rustowicz, and assisted by Maggie Rustowicz and David Conboy.
Open auditions will be held on March 1st, March 2nd, and March 3rd. We are allowing those ages 21 and under to audition. Be prepared to sing a song, preferably from a musical, for auditions. Please like our Facebook page, Parish Players.
FROZEN AUDITION INFORMATION:
Tuesday, March 1st: 6:00-8:00 in St. Stephen's Old Church
Wednesday, March 2nd: 6:00-8:00 in St. Stephen's Old Church
Thursday, March 3rd: 6:00-8:00 in St. Stephen's Old Church
Everyone auditioning must provide proof of having the full COVID-19 vaccination. If you are unable to make any of the audition times or have any questions, please contact MaryLis. Email - mrustowicz54@gmail.com Cell Phone - (716)773-1335