"Grand Island Pictures from the Past"
Volume 17


If you have any pictures you would like to share send to Jodi Robinson

Previous Pictures From The Past


---



Kaegebein Elementary School Walkers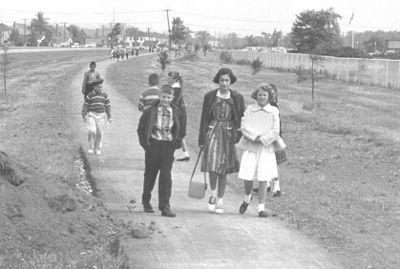 Click for larger view
Paul Leuchner sent this photo which looks to be the late 50's of the walkers making their way home from Kaegebein School. Paul wrote: "The exact date of the photo is not known but it predates the construction of the pedestrian overpass that now traverses the South Parkway. It also appears that the trail the students are using had been recently completed." If anyone has more information regarding the students in the picture or likely time period please pass along. Thanks Paul.



Fantasy Island Groundbreaking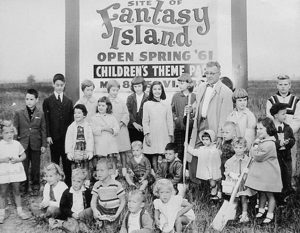 Gentleman with shovel is former Supervisor George J. Burgstahler with granddaugher Amy.
Center, smiling at camera is Lori Hirschhaut Graber and younger brother Howard (dark hair) on the ground to her left.
May be Kim Birzon on the right with the other shovel and sister Michelle to her right.


Eagle Park Tragedy Marker Dedication - June 2011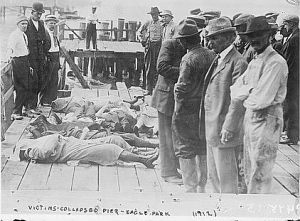 Click photos for larger view
In remembrance of the 39 souls who lost their lives during the June 23, 1912 Eagle Park disaster on West River, Grand Island, NY, a plaque will be dedicated at 1 p.m. Sunday, July 1, 2012 at the south end of the Whitehaven Overlook at 2715 West River Road. A crowded pier at Eagle Park gave way on that date 100 years ago when about 260 people went into the river, some being trapped under debris. Two hundred and twenty-four were saved. The principal sponsor is the West River Homeowners Association. The public is invited and refreshments will be served.
Click for larger view
Update:
Teddy Linenfelser had posted this picture in 2003 with the captian - Former Supervisor George J. Burgstahler turned the first shovel of dirt in ground breaking ceremonies for Fantasy Island Saturday, October 15, 1960. The photo was sent to me by Supervisor Burgstahler's daughter, Gail Burgstahler Rothenburg, who explained that her daughter, Amy, is holding the shovel.
In addition , Gail Rothenburg passed along a message from Lori Hirschhaut Graber who identified others in the photo. There are a lot of kids in the picture taken at the Fantasy Island groundbreaking. If you can identify anyone, pass it along to
jodi@giecom.net
. The picture must have been taken in 1959 or 1960.