Town Recreation Department Webpage - 2011


Town of Grand Island Website

Linda Tufillaro, director
E-Mail
3278 Whitehaven Road
773-9680

---
Previous Recreation Department News
Recreation Department Pumpkin Carving Contest
Pumpkin Carving Contest sponsored by the Town Recreation Department on Saturday, October 29. See
Contest
for information.
By Linda Tufillaro, Director Town Parks & Recreation Dept.
The Parks & Recreation Department would requests your assistance in following a new addition to the Town of Grand Island's annual Veterans Day program. At the suggestion of community members, we will honor individual veterans during the ceremony and plan to do a cyclical program.
Last year we honored those veterans of WWII. This year we will focus on the Korean War survivors. Future years the highlighted honorees will be the Viet Nam, the Cold War, and the Iran, Iraq, Afghanistan survivors.
Would you please assist me by submitting the name of your Korean War member and include their address and phone number. A verbal salute will be read at the Town's Veterans Day program that will take place at Veterans Park on Friday, November 11, 2011 at 11:00 AM.
Please send me your Veterans name by October 21, 2011, to 3278 Whitehaven Road, or phone in at 773-9680 or e-mail to
recreation@grand-island.ny.us
. Thank you for your cooperation. Contact Linda Tufillaro-Director, Grand Island Recreation Dept. with any questions.
Recreation Department Community Yoga Class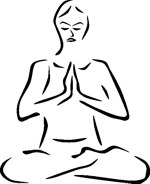 Class Starts September 6th, click for details
.
The Town Recreation Department will host "National Night Out" at the Marion Klingel Town Commons at 7 p.m. Tuesday, August 2, 2011. A band concert by Lost Souls Brass & Percussion will be featured along with free activities for the family (child ID kits, GI Fire Co., law enforcement vehicles and displays, crafts and fun for all). Hot dogs and snacks will be available for purchase from the Grand Island Fire Company Ladies Auxiliary. A rain date of Thurs., Aug. 4 has been set for the concert only.
Race Results
Race Results By Category
Brooke Staples is sitting on Easter bunny's lap.
Ava Satterlee is showing off her egg.
Mary Stewart Photos
The Grand Island Town Recreation Department, under the direction of Linda Tufillaro, hosted its annual visit with the Easter Bunny and an egg hunt on Friday, April 22nd at the Marion Klingel Town Commons and gazebo at the center of town. Members of the G. I. Knights of Columbus assisted with the event which was well attended by toddlers through eight-year-olds.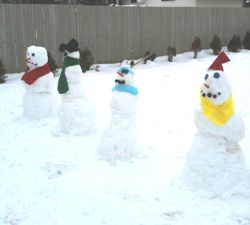 Click photo for larger view.
The Snow Sculpture contest winners for 2010-2011 are Angelia and Brianna Beyer of Windham Lane.