Town Recreation Department Webpage - 2019


Town of Grand Island Website
Recreation Department Website
Joseph A. Menter - Recreation Supervisor
E-Mail
3278 Whitehaven Road
773-9680

---
Previous Recreation Department News
Independence Day Parade 2019 - June 2019
This is a very special year for the parade, its 50th Anniversary! If you wish to participate, please fill out the
Parade Entry Form
and submit or email the completed form to the Recreation Department. Participant application deadline is NEXT WEEK Friday June 21, 2019!!!
Line up positions will be posted online, on the Recreation website and on Isledegrande.com, commencing July 1st and may be subject to change.
Parade Lineup Information and Regulations
.
Summer Programs 2019 - April 2019
The Town of Grand Island Recreation Department has released their Summer Program book for 2019. There are activities for all ages, and a wide range, from sports to art, theater, fishing and nature. See
flyer
. Registration for youth programs begins on May 4th, online or in person at the Recreation Office at the Nike Base, starting at 8:00 a.m. Adult program registration is open.
Easter Egg Hunt & Visit with Easter Bunny - March 2019
Grand Island Recreation Department Easter Egg Hunt and Visit with the Island Easter Bunny is on Friday, April 19th at 10:00 a.m., at the Miracle League Shelter at Veteran's Park. See
flyer
.
Following the hunt, Easter activities will begin at 11:00 a.m. at the Grand Island Memorial Library. The Checker's and Snoozer's Easter Show will take place at 11:30 a.m. and is limited to the first 100 registered. See
flyer
.
Rec Dept. Snow Sculpture Contest - January 2019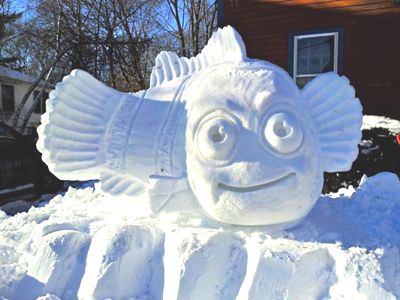 Grand Island Recreation Department Snow Sculpture contest takes place from the first snow fall through March 31st. Call or email the Rec. Department and tell them the location of the sculpture and contact information. Pictures will be posted online and at Town Hall with winners announced April 4th. Call 773-9680 or email recreation@grand-island.ny.us.
Rec Dept. February Break Activities - January 2019
Grand Island Recreation Department February Break Activities 2019 will take place Monday - Friday, February 18th - 22nd, at the Community Center at Nike Base Park, 3278 Whitehaven Road. There are two options available, with one including field trips to Holiday Valley Tubing and Rainbow Roller Rink. Activities are open to children in grades 3 - 8. See
flyer
. Each activity is limited to 25 spots and pre-registration is required.