Year In Review 2013
---
January
On Saturday, January 5th, Grand Island Fire Company rescue personnel responded to a report of a snow blower accident at a West River Rd. residence. A gentleman was found with his hand trapped in the discharge chute of a snow blower he had been operating. He was treated at the scene for traumatic injuries and transported to ECMC for further medical attention.
The Town Parks & Recreation Department were asking WHY? to the late December vandalism that occurred at the Nike Base facility and were looking for help in finding the suspects.
Smoke detectors alerted four members of a north Grand Island Blvd. family early Thursday, January 17, 2013. The fire started in a laundry basket in the basement and may have been caused by smoking material. Damage was estimated to be $10,000.
Following three MVA incidents on Friday, January 25th, Grand Island Fire Company rescue personnel again had to contend with two separate MVA's on Sunday, January 27th. Amazingly none of the accident victims reported injuries that needed hospitalization.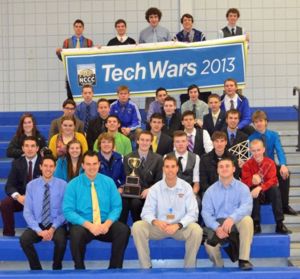 GIHS Wins Tech Wars Again! This was the fourth year in a row that the Grand Island team won the engineering competition at N.C.C.C. In addition, Grand Island also won 1st place in the Middle School competition.
February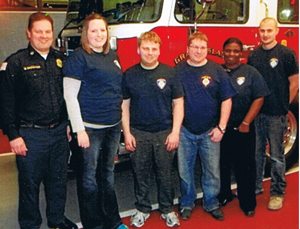 Five New Members Join GI Fire Company - The 2013 recruit/trainees are Lena Dombrowski, Robert Dailey, Russell Perez, Michele Jones and Chris Caruana, pictured above with Ass't Fire Chief and Instructor Mark Sadkowski.
Serial graffiti vandal Richard Whitefield of Grand Island pleaded guilty to two felony counts of third-degree criminal mischief and two misdemeanor counts of making graffiti near the Peace Bridge and the Scajaquada Expressway.
It was announced that the Grand Island Community Gardens, the vision of John and Brigette Drehs, would be located on land donated by Chuck Rizzo, owner of the Food Mart at the corner of Ransom Rd. and Stony Point. There will be 25 plots available at a cost of $20 each. The garden is a not for profit community project open to all Island residents.
March
At 9:41 a.m. on Friday, March 1st, Grand Island Fire company rescue personnel responded to a report of a person "jumping off the South Grand Island Bridge." Several cell phone calls by witnesses were received by Buffalo 911 and passed on to law enforcement agencies as well as the GI Fire Company which initiated emergency dispatch procedures. The U.S. Coast Guard, Border Patrol, and City of Tonawanda assisted with additional water craft and a helicopter. The Erie County Sheriff's Department, NY State Police, Tonawanda Police Department and the Grand Island Town Police also had ground units in place for shoreline duty. Fire Chief Kevin Koch terminated GI Fire Company efforts at 12:17 p.m. when the reported victim could not be located.
Former islander, Coast Guard Petty Officer 2nd Class Josh Pearson was named Shipmate of the Week on March 1, 2013 in the "Coast Guard Compass", the official blog of the Coast Guard.
A car drove through the front doors of the Grand Island Community Federal Credit Union, 2014 Grand Island Blvd. on Thursday, March 7th. Four people were taken by ambulance to local hospitals with what were reported as non-life threatening injuries.
The Grand Island girl's basketball team won the Class A-1 semi final on Saturday, March 2nd by beating McKinley. They then went on to beat Hamburg for the Class A-1 title but lost on March 9th to Pittsford Mendon in the Far West Regionals. It was the final game for Coach Jenepher Banker after 15 seasons.
April
Cassie Oursler was named the Niagara Gazette Girls Basketball Player of the Year and the All-WNY Girls Player of Year.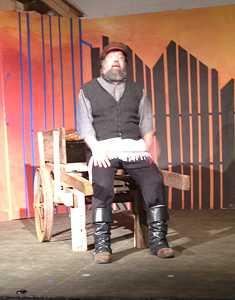 Steve Olszewski
The St. Stephen Parish Players presentation of "Fiddler on the Roof", over 5 nights in mid April, was stupendous! The large cast was headlined by Steve Olszewski-Teyve, Eileen Niland-Golde, Jessica Ackendorf-Tzeitel, Natalie Baldassare-Hodel, Rebekah Gaydosh-Chava, Jared Eichel-Motel, Danny Olszewski-Perchik and McLain Erhard-Fyedka.
Chamber of Commerce 2012 Citizen of the Year Awardees
Linda Tufillaro, Lifetime Achievement Award
Wavelengths Hair Design, Business of the Year
Paul G. Leuchner, Civic Person of the Year
Marty Allen, Educator of the Year
Rev. Kevin Backus, Ministry Award
Beverly Kinney, Community Service Award
James Watz, Performing Arts Award
The Fisherman's Landing project, located below the South Grand Island Bridge has received the NYS American Public Works Association 2012 Structures Award for projects less than $5 million at their annual conference in Geneva, NY. On hand to accept the award were GI Town Engineer John Whitney, Assistant Civil Engineer Lynn Dingey, Supervisor Mary Cooke and Senior Engineering Assistant Brian Clarkson.

Erie County Sheriff Deputy Christopher Soluri received the William R. Dils Sr. Deputy of the Year Award for his courage in dealing with the suicidal man who confronted him with a large knife Aug. 25 after the deputy had gotten the man's girlfriend and their baby out of their apartment. After lengthy negotiations, the man emerged unarmed and was taken into custody without further incident. Chris is an Island native and is a 1st Assistant Chief in the Grand Island Fire Company.
May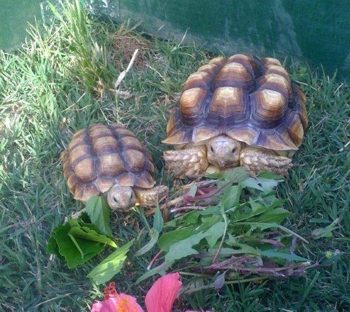 The Island Ship Center had an unusual request in May. Two South African Tortoises needed a lift to a rescue family in California and Fahim Mojawalla was on it! The turtles left Grand Island on Monday, May 13th and arrived safely in California the next day at 11:00 a.m.
Parks & Recreation Director Linda Tufillaro retired after 39 years as director. She began working for the town as a park attendant in 1970 and over the years implemented many new programs and activities.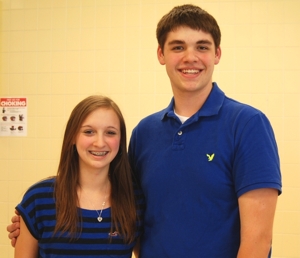 GIHS Junior Chris Swagler and 8th grade sister Sarah participated in their final "Bald For Bucks" program. Chris began as a 6th grade student and with help from Sarah raised $13,700 in just six years. This is the final year as the high school does not have the program.
The Grand Island Fire Company celebrated its 75th Anniversary on Saturday, May 18, 2013 at Asbury Hall in Buffalo. The Fire Company was formed in 1938, when the town donated land for a fire station and a pumper was purchased. The GIFC has expanded its fleet to 22 pieces of apparatus, with a new Marine Unit, a high level Paramedic Program and a "state of the art" Dispatch Center.
June
A severe thunderstorm on Sunday, June 2nd dumped 2.5 inches of rain and created flooding and power problems on Grand Island. Supervisor Mary Cooke reported that Town Hall sustained considerable damage to the first floor due to wastewater backup when a nearby lift station was disabled due to power loss.
Business First released its top 100 school rankings, Grand Island fared as follows:
GI High School #29
St. Stephen Middle #36
Connor Middle School #37
St. Stephen Elementary #30
Kaegebein Elementary #76
Huth Rd. Elementary #94
The Relay For Life of Grand Island was Saturday-Sunday, June 8-9th at Veterans Park. There were 41 teams and 480 participants who had already raised $91,612.55 before the event! The final total as of August 31st was $153,000 and change.
The Niagara Frontier League held their 76th annual banquet on June 12th at the Tonawanda Castle. GIHS Girls Volleyball Coach John Head received the NFL Grand Island Coach of the Year after leading the team to a 14-0 record. The Lady Vikings won the NFL championships and played in the Section VI Class A finals. Junior Varsity Boys Basketball Coach Chris Simpson received the Cornerstone Award. The award reflected his impact on student-athletes as a business teacher, coach, yearbook advisor and enthusiasm in supporting the GIHS Athletic Department where ever needed.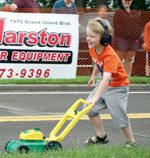 The weather was a bit dicey on Sunday morning, June 16th for the Lawnmower Race on West River. It did keep the classic cars away, with only a few braving the raindrops to be on display. But the main event went off without a hitch. A total of 30 entrants signed up to participate in the lawn mower race. In the walk behind division, the youngest entrant ever and son of a popular committee member and past race winner, Pete Marston, five year-old Pete Marston III won.
Winners:
Vintage Class: Jim Mazza
Stock Class: Floyd Doring 16mph
Super Stock (single cylinder): Pete Marston 37mph
Super Stock (two cylinder): Bryan Zulawski 42 mph
Modified Class: Rob Schooping 63 mph
The event raised close to $5000 for the Relay For Life.
On Saturday, June 29th the Grand Island Fire Company Marine Unit #1 proceeded to the U.S. Coast Guard Station for a joint training exercise in order to improve state of readiness crewmanship skills. EMS Capt. Jon Cinelli, Lts. Jourdain Benoit, Dan Mathes, and FF Sean O'Donnell brushed up on seamanship tactics, vessel handling, as well as victim rescue extraction, "packaging", and safe transfer to an on shore triage/treatment area.
July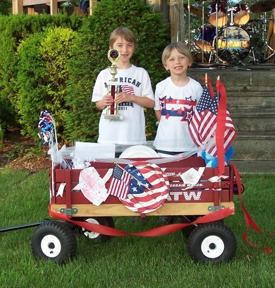 The winners of the GI Recreation Department Wagon Decorating Contest on July 2nd were brothers Luke and Brody Winarski. Children between the ages of 4 and 8 were invited to decorate a wagon and were judged on overall look, patriotic theme and details.
Paul Leuchner Named One Of Buffalo News 2012 Outstanding Citizens
An aquatic biologist now retired from the Army Corps of Engineers, Paul Leuchner has been a tireless advocate for parks, the environment and maximizing the connecting trails that are part of the Niagara Greenway. The Grand Island resident founded Paddles Up Niagara in 2006 and still serves as chairman. The event has brought hundreds of participants and visitors to a family-friendly canoe and kayak event on the Niagara River off Beaver Island. He was appointed by Gov. George Pataki to the Niagara River Greenway Commission, serving from 2005 to 2009, and now serves as commissioner emeritus on the Past Commissioners Advisory Committee. Leuchner successfully pursued a plan to build a handicapped-accessible launch ramp for canoes and kayaks in the East River Marsh in Ferry Village at Beaver Island State Park and to create the Spaulding Trail that links the Beaver Island Parkway Trail to the East River Marsh. After completing this project he proposed a similar paddlecraft launch in the City of Tonawanda that now operates at Eastern Park on Ellicott Creek.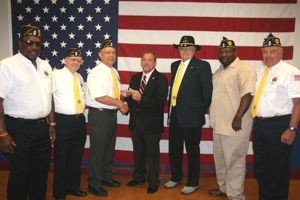 From left: June Beard (Service Officer), Joe Synakowski (Judge Advocate), Fred Wornick (Commander), Mr. Brian Stiller (VA Hospital Director), Bo Pikas (Scholarship Chairman), Michael Beard (Asst. Sergeant at Arms) and Rick Schmidt (1st Vice Commander).
The GI American Legion Post #1346 donated $1000 to the VA Hospital Patients fund on Friday, June 19th. The money was raised by raffling a planter during the annual flower sale in May.
The Holiday Inn Resort & Conference Center was purchased for $4 million at auction by a Middle Eastern hospitality firm and renamed Byblos Niagara Resort & Spa. Byblos Hospitality Group of Dubai along with two local partners – downtown Buffalo developer Roger Trettel and Buffalo General Medical Center surgeon Dr. Fadi Dagher have been making nice upgrades to the facility.
Shortly after 4:00 p.m. on Saturday, July 13th, Grand Island Fire Company rescue personnel responded to a call of an injured bicyclist who had been struck by a vehicle at the intersection of Ferry and East River Roads. Ass't Fire Chief Chris Soluri stated that the victim, 56-year-old Berhhard Rohrbacher of Buffalo was lying in the roadway when responders arrived on location. He was immobilized by GIFC medics and EMT's and transported to ECMC for additional medical evaluation. Rohrbacher, an orthopedic surgeon at a local hospital, was impressed with the "excellent" treatment he received at the scene, and stated that his helmet probably saved him from more serious head injuries.
At 6:27 p.m. on Monday, July 15th, Grand Island Fire Company rescue personnel responded to a reported collision of two jet skis in the Niagara River near Navy Island. Deputy Fire Chief Matt Osinski reported that Marine Unit 2 reached the 16-year-old victim within 12 minutes where he had been picked up by a nearby boater. He was immediately immobilized and taken to shore for transport to ECMC for further medical attention. The second jet ski operator reportedly sustained no injuries.
On July 25, 2013, Salustiano Sanchez-Blazquez, a 112-year-old former musician and coal miner from Grand Island was recognized as the Guinness World Records oldest man. Mr. Sanchez-Blazquez died Friday, September 13, 2013.
August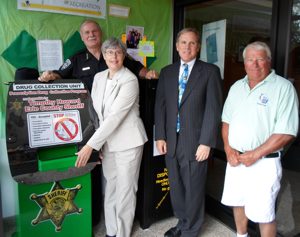 The lower level entrance to Town Hall is the new home of the Drug Collection Unit and Needle Disposal Box. Non-liquid drugs of any kind that are no longer needed and any type of sharps can be left in the designated containers anytime Town Hall is open. If you arrive with materials to deposit and doors are locked, simply call 858-2903 (this number is posted and able to be read from the outside) and the Erie County Sheriff Deputy on duty will meet you and take the material.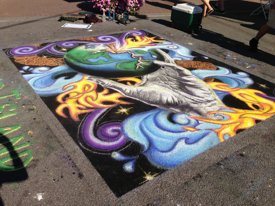 Grand Island High School took First Place honors at the 29th Annual KeyBank Chalk Walk Competition on August 10th making this the school's fourth consecutive win! This is Abhiraj Grewal's third First Place honor, Ali Price's second, and Lovepreet Kaur's first. This year's theme was "Four Forces of Nature: Earth, Air, Fire and Water".
The collapse of a 30" section of sewer pipe near the power lines on Whitehaven Road was discovered on Tuesday, August 13th at 10:30 a.m. by the formation of a sinkhole. The project ended up being much more difficult and costly than originally anticipated. A bond resolution was adopted on October 21st in the amount of $1,000,000 to replace approximately 620 lineal feet of 30 inch diameter sanitary sewer pipe.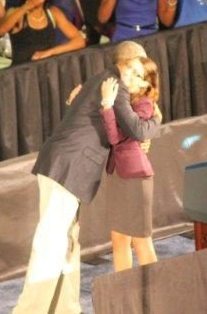 Maura Rustowicz photo
University of Buffalo sophomore and Grand Island native Silvana D'Ettorre was the lucky student to introduce President Barack H. Obama on August 22nd at U.B. Alumni Arena. She learned two days earlier that she was chosen and went right to work writing her welcoming speech. Silvana spoke in front of a crowd of 7,200 people and had never given a public speech previously.
September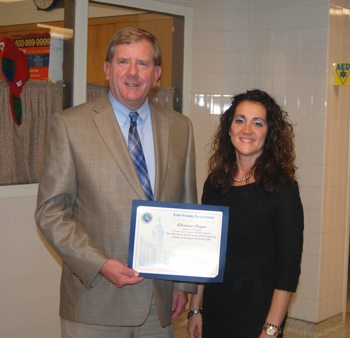 Erie County Legislator Kevin Hardwick honored Grand Island Middle School Assistant Principal Eleanor Payne on Wednesday, September 25th in recognition of her quick thinking and reaction in saving the life of a student earlier this month. The incident occurred on Monday, September 9th when a 10-year-old girl who had left earlier in the day due to illness, returned to get items from her locker. The student collapsed in the hallway and Mrs. Payne performed CPR and got her breathing again. Fire officials say that Mrs. Payne's actions saved the students life.
A planned eight-mile trail connecting Beaver Island State Park and Buckhorn State Park is consistant with the goals of the Niagara River Greenway plan and got the okay at a meeting on Tuesday, September 17th. Half a dozen Grand Island residents voiced strong opposition to the project that will run along the West River Parkway.
Grand Island businessman Matt Smith of Serene Gardens was named Young Retailer of the Year by the nation's leading magazine for horticulture retailers. He received the annual under-30 award at the international conference of the Association of Horticulture Professionals.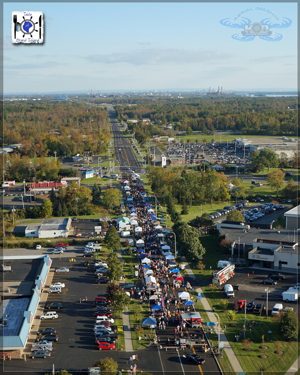 Kevin Cobello, K & D Action Photo
The 2nd Annual "Taste of Grand Island" was held on September 28th and was a huge success. Beautiful weather brought out many islanders to enjoy the many vendors selling their wares.
October
Over 2000 Sidway Elementary School students and Open House visitors came to Fire headquarters on Thursday, October 10, 2013. They learned about the GI Fire Company volunteers, equipment and operational Capabilities.
Erie County Sheriff Tim Howard gave Grand Island resident and Sheriff's Deputy Christopher Soluri, New York State's Certificate of Exceptional Valor, for his exemplary action last year on Grand Island in which an armed despondent threatened to kill himself and others. While knowing the risk he faced, Deputy Soluri took aggressive, timely action protecting the lives of the suspect's girlfriend, their baby and the suspect himself.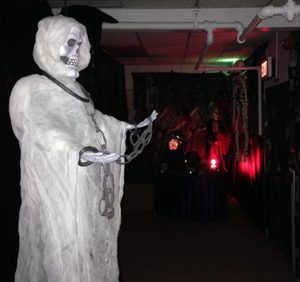 The Grand Island High School Art Club and the Grand Island Recreation Department worked together to put on a weekend of Halloween activities at the Nike Base on Friday and Saturday, October 25th & 26th. Over 200 children, teens, and adults enjoyed activities and the "Haunted House" and "Spooky House", designed and built by the Art Club led by Cindy Wynne.
November
Election Results
Highway Superintendent
James Tomkins - Republican 1970, Conservative 644, Total 2614
Bill Stanley - Democratic 1693, Working Families 195, Independence 427, Total 2315
Town Council
Chris Aronica - Republican 2167, Conservative 829, Independence 371, Total 3367
Ray Billica - Republican 2075, Conservative 742, Total 2817
Beverly Kinney - Democratic 1975, Independence 429, Total 2404
Dolly D'Orazio - Democratic 1587
Town Justice
Mark Frentzel was re-elected without opposition after winning four party lines in the primaries in September.
The 2013 Chamber of Commerce sponsored Light Up the Boulevard Electric Parade & Festivities took place on Saturday, November 23rd. The Rudolf Run began at 5:00 p.m. with the parade directly following. The weather was quite cold but many die hard festival goers enjoyed themselves.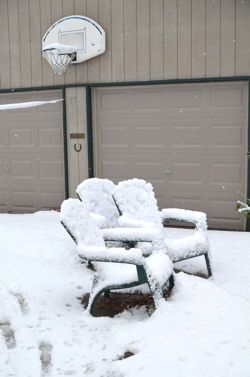 Our favorite photographer Mary Stewart sent in photos from her LaSalle neighborhood of the first snow storm of the 2013 season. On November 26 & 27, four to five inches fell overnite. No big deal, just a little slick.
December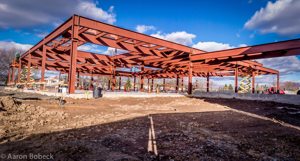 Aaron Bobeck Photo
The new wing at GIHS is on schedule and due to be completed August 1, 2014. The wing is referred to as STEM (science, technology, engineering, mathematics).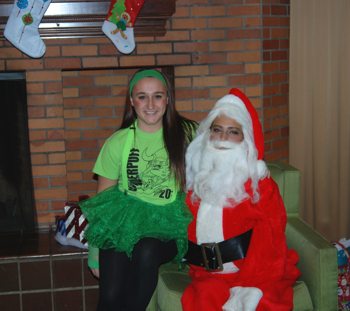 The GIHS Student Council "Gala of Trees", on Saturday, December 7th at Byblos Resort, was the place to be for Christmas cheer. A beautiful display of large and small decorated trees and wreaths were available for silent auction and family friendly activities were available to participate in. All proceeds from the event were being donated to the Grand Island Neighbors Foundation.
The Neighbors Foundation had their busiest year yet as they helped 68 families have a very nice holiday. For over 35 years the Neighbors Foundation have been helping those in need, especially during the holidays. Grand Island High School students helped with food drives, donations and the actually sorting of the non-perishables.
GIHS 2012 graduate and Kent State sophomore Stephanie Senn was signed to the Kansas City Shock, a premier women's soccer team. She will play in the Midwest League from May - July.