Grand Island School Board News
2011

Previous News Pages
School District Special Board Workshop - Dec. 2011
Grand Island Central School District
Board of Education
Special Board Workshop
Capital Project Planning
Saturday, January 7, 2012
9am – Noon
Middle School Little Theater
School District Capital Project Vote Results - Dec. 2011
The results of the Dec. 20th Capital Project Vote are as follows:
Proposition 1 - PASSED
Yes - 1610
No - 292
Proposition 2 - PASSED
Yes - 1361
No - 516
See
Buffalo News Story
by Dale Anderson.
Jerry Parisi to Serve as
Principal at Veronica E. Connor Middle School - Dec. 2011
Grand Island Board of Education is pleased to announce the appointment of Jerry Parisi as Veronica E. Connor Middle School Principal.
Following the recent retirement of Bruce Benson, who served as middle school principal for the past 15 years, a search committee was formed and a comprehensive screening process was conducted to ensure the selected candidate possessed the instructional and academic background suited to meet the high standards of Grand Island Central School District. "Mr. Parisi demonstrates strong leadership qualities and has proven his commitment to our students through his role as assistant principal in the high school," states Superintendent Robert Christmann. "We began with over 100 candidates interested in this vacancy. Throughout the process, Mr. Parisi demonstrated the intellect, vision, strength of character, trust and willingness to listen. His priority to increase the level of academic outcomes for students was noted by all groups".
Parisi has served as Grand Island High School assistant principal since July 2009. Prior experience includes serving eight years as a school counselor at Maryvale High School, one year as a teacher at West Seneca West High School, and six months as a teacher at Baker Road Alternative High School. Parisi holds a master's degree in School Counseling and a master's degree in Educational Administration from the University at Buffalo. "I'm honored to continue my service as Veronica Connor Middle School principal here in the Grand Island community," Parisi says. "I'm eager to work with the middle school students and staff as we continue to develop the skills necessary for the 21st century."
Mr. Benson has made himself available on an occasional basis until December 31, 2011 to assist the district on curricular and instructional matters.
School Board Meeting Agenda - Dec. 12, 2011
See
Meeting Agenda Dec. 12, 2011
.
School District Capital Project Vote - Dec. 20, 2011
Grand Island Central School District Capital Project Vote
Tuesday, December 20, 2011
10:00 a.m. - 9:00 p.m.
Grand Island High School Main Gym
Information regarding the Grand Island Central School District Vote has been posted to the district Website and can be found at www.k12.ginet.org - under quick links "Proposed Capital Project". Here you will find complete Capital Project information including:
 

- A message from Board of Education President, David Goris 

- Propositions 

- Scope of Work 

- Frequently Asked Questions 

- Project Financing 

- Voter Information
School Board Agenda - Nov. 21, 2011
See
Meeting Agenda Nov. 21, 2011
.
Grand Island Board of Education - Special School Board Meetings - Nov. 2011
Monday, November 14, 2011
Grand Island High School Senior Cafeteria
6:30pm - Linkage Meeting with High School Students
7:45pm - Special Board Workshop to Discuss Public Information
Activities Related to the December 20, 2011 Capital Project Vote
Special School Board Workshop Agenda - Nov. 2011
See
Meeting Agenda Nov. 5, 2011
.
Notice From District Office - Nov. 2011
The Grand Island High School and Middle School will be in session on Tuesday, November 8th. Only elementary schools will be off for Parent/Teacher conferences.
School Board Meeting Agenda - Nov. 2011
See
Meeting Agenda Nov. 7, 2011
.
Special School Board Meeting - Oct. 24, 2011
See
details
.



Grand Island Sings For Hope - October 2011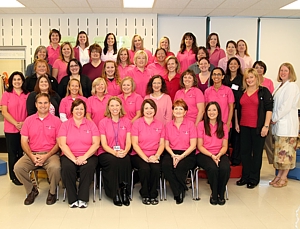 Huth Road School...teachers and staff for Grand Island Sings for Hope
- Bob Kopf Photo
Monday evening, October 17, 2011 was a fine example of Grand Island's community spirit. The event at Grand Island High School,
Grand Island Sings For Hope,
a musical spectacular, was well attended by a very generous audience, produced to benefit "Mary's Room" that provides free wigs to women undergoing chemotherapy, and to breast cancer services at Mount Saint Mary's Hospital.
The very inspirational music was provided by the Huth Road 5th & 6th Grade Select Chorus, GIHS Women of Note, Grand Island Community Chorus, Grand Island Pink Chorus, and the Grand Island High School Concert Choir. The Pink Glove Dance Presentation Video was shown and the final songs, sung by combined choruses, included "I'll Make the Difference" by Moses Hogan.
The concert was under the direction of Carol J. Horrigan, Carolyn Lokken, and student teacher Kelly DiStefano.
A "Think Pink Boutique" held the High School Viking Mall included a basket raffle, original bracelets, handmade note cards, and baked goods. There was no admission charge to the concert.
Special School Board Meeting - Oct. 15, 2011
GRAND ISLAND BOARD OF EDUCATION
NOTICE OF SPECIAL MEETING
SATURDAY, OCTOBER 15, 2011
9:30 AM
HIGH SCHOOL ROOM 124 (TECH ROOM)
AGENDA
1. Capital Project Planning: Board Discussion
School District Feels Ripples of Bullying Suicide - Oct. 2011
See
10/5/11 Buffalo News Story
by Paul Lane.
Fuccillo Presents HUGE Check to Viking Vision - Oct. 2011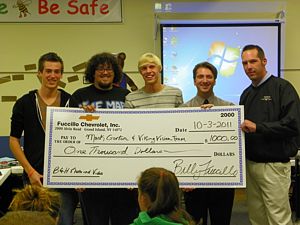 During the Good News portion of the Grand Island Board of Education Meeting on Monday, October 3, 2011, Fuccillo Chevrolet generously donated a $1,000 check to Grand Island High School and the Viking Vision Club.
Jason Smith, internet sales manager for Fuccillo Chevrolet, presented the check to Viking Vision advisor, Mark Gorton, senior Seth Carey, and class of 2011 graduates Jay Corrao and Brennan Carey, for their efforts in recording and editing four 30-second commercials in April 2011. The commercials are featured under videos on the Fuccillo Chevrolet Web site at www.fuccillochevrolet.com.
"This was a great opportunity for the students to learn all the facets of video production required to make these commercials possible. It provided experience in videotaping, audio operation and digital editing", states Gorton. "The donation will help fund a new boom microphone which will be used during production of Viking Vision News as well as other commercials and video productions. Viking Vision News is a program produced by Grand Island High School students three times a week. The program is played continuously in Grand Island High School's Viking Mall and can also be found on www.schooltube.com/channel/grandislandhsvikingvision.
The partnership between Grand Island High School's Viking Vision Club, and Fuccillo Chevrolet will continue as the production club plans to produce more commercials for the dealership in the near future.
Thank you to Fuccillo Chevrolet for their continuous support of Grand Island Schools.
School Board Meeting - Sept. 2011
See
Meeting Agenda Oct. 3, 2011
.


Board Accepts Resignation of GIHS Track Coach - September 2011
UPDATE: See
"Buffalo News Story"
September 22, 2011
by Tim Graham
September 20, 2011 Buffalo News
by Paul Lane
The Grand Island School District acted quickly over the past week to end the tenure of Donald Sauer as the high school's track and cross-country coach, but the reason is unclear.
The School Board voted Monday night (9/20/11) to accept the resignation of Sauer as coach effective immediately. Superintendent Robert Christmann said Sauer was suspended by the district last week.
"We have no reservations about the decision," said Christmann, who declined to offer a reason for the suspension, which came after the Sept. 10 start of the team's season.
Sauer is a retired district employee who also coached Grand Island indoor and outdoor track. His spot at the helm of the cross-country team is being held by middle school science teacher Craig Davis, who Christmann said stepped in on 24 hours notice. Athletic Director Jon Roth is conducting interviews for the coaching vacancy, but there's a possibility the job won't be filled permanently this season.
"My main concern is a certified coach," Roth said. "I have that now."
"I don't know that we will fill it, but we are looking. What we are not doing is filling it just to fill it," Christmann said.
Grand Island should not be forced to withdraw from any events as a result of the resignation, Christmann said, with the possible exception of the Manhattan Invitational in October in New York City.
In other business
• The board approved the district's Annual Professional Performance Review plan. In line with the state Education Department, the review will rate teachers and principals on a scale of 0-100. It will use a combination of standardized test scores, observations and other methods to arrive at a numeric rating, which will then be used to label the employee ineffective, developing, effective or high effective.
• The board scheduled a session Nov. 21 to discuss district efforts to prevent bullying. While acknowledging that bullying occurs daily, Christmann said everyone who works in the district is dedicated to eradicating it, and he hopes that students and parents will speak up if they hear of any incidents.
"We will do something. It's not acceptable. It needs to stop yesterday," he said. "(But) we can't stop it if we don't know about it."
School Board Meeting - Sept. 2011
See
Meeting Agenda Sept. 19, 2011
.
School Board Report - Sept. 12, 2011 See Buffalo News Report by Paul Lane.




School Board Meeting - Sept. 2011 See Meeting Agenda Sept. 12, 2011.




GI Sings for Hope - Sept. 2011 The Grand Island Central School District and the Grand Island Community will join forces on Monday, October 17, 2011 to turn our island "PINK" in a unique fundraising effort called "GI Sings For Hope." This concert will take place at 7:30 p.m. at Grand Island High School and will feature choruses from the Grand Island schools and the Grand Island Community Chorus. Also appearing will be the "Pink Chorus" which is open to any singers from the community who would like to join. Pink Chorus rehearsals will be held on Thursdays: September 22nd, 29th, October 6th and 13th from 7 p.m. to 8:30 p.m. in the music room of Huth Road Elementary School.
A highlight of the concert will be a special video spotlighting community members, groups and businesses participating in a unique "Pink Glove" dance. If you haven't seen this phenomenon, check it out on YouTube. Anyone interested in having their group participate in the Pink Glove dance or singing in the Pink Chorus is asked to contact Carol Horrigan at Huth Road School or e-mail her at CarolHorrigan@k12.ginet.org
On the evening of the concert, the High School Viking Mall will be turned into a "Think Pink Boutique" including a basket raffle, original bracelets, handmade notecards, and baked goods. Admission to the concert is free. All proceeds from the "Think Pink Boutique" will go to Mary's Room which provides free wigs to women undergoing chemotherapy, and to breast cancer services at Mount Saint Mary's Hospital.
The community is invited to join in this uplifting concert. It promises to be a very inspirational and moving evening.




School Board Meeting August 29, 2011 See Buffalo News Report by Paul Lane.




School Board Meeting - Aug. 2011 See Meeting Agenda Aug. 29, 2011.




School District Public Meeting - Aug. 2011 Grand Island Board of Education
Notice of Public Meeting
Wednesday, August 24, 2011
Middle School Little Theater
6:00pm 2011-12 Goal Setting Discussion
7:00pm Facility Committee Meeting




School District Open House Schedule - Aug. 2011 Grand Island Central School District Open House Schedule for the 2011-2012 School Year
August 29: Huth Road Elementary School Open House (grade 2) at 6:30 p.m.
August 31: Kaegebein Elementary School Open House at 6:30 p.m.
September 7: Huth Road Elementary School Open House (grades 3 - 5) at 6:30 p.m.
September 8: Sidway Elementary School Open House at 6:30 p.m.
September 13: Veronica Connor Middle School Open House at 7:00 p.m.
September 15: Grand Island High School Open House at 6:00 p.m.

Grand Island High School and Veronica Connor Middle School
1100 Ransom Road, Grand Island, NY 14072
Kaegebein Elementary School
1690 Love Road, Grand Island, NY 14072
Huth Road Elementary School
1773 Huth Road, Grand Island, NY 14072
Sidway Elementary School
2451 Baseline Road, Grand Island, NY 14072




Grand Island High School New Student Information - Aug. 2011 See New Students GIHS.









School District Reworked Contract - June 2011 See Buffalo News Story by Paul Lane.


Grand Island Central School District will hold Kindergarten Screening from May 31 through June 10, 2011 Attention Grand Island parents. Kindergarten screening is by appointment and may be scheduled once you have registered your child. Screening takes approximately an hour to complete. Your child will spend about 20 minutes with three different professionals. He/she will see a reading specialist for an assessment of his/her readiness skills and will also meet with a speech therapist and a school nurse. It is important that you have record of your child's physical exam and immunizations by that time.
If you have any questions regarding your child coming to Kindergarten, please do not hesitate to call Charlotte Sidway Elementary School at 773 – 8870. We look forward to welcoming you and your child to Sidway School!




Sports Camp Summer Program - 2011 Sports Camp is back at Grand Island High School. It will run June 27 - July 29th and is for grades 2 - 7. See complete information.


The Grand Island Central School District budget ($51,859,079) was approved by a vote of 1366 to 565.
Proposition 1, $671,212 was approved by a vote of 1203 to 643.


Board of Education: 

617        Brian Chapin         
1046        Joan Droit 
631        Richard Little 
393         Phyllis Stallard         
364        Myrna Blair 
1083        Emily Ciraolo 
1207        Tak Nobumoto 


Joan Droit will immediately fill the remaining term for George Casey.
Tak Nobumoto and Emily Ciraolo will begin their 3-year terms in July.


The Grand Island School District's Community Education Summer 2011 brochure is now on line at http://www.k12.ginet.org/files/238/giceb%20summer%202011.pdf.




School Board Agenda - May 2011 See May 16, 2011 Agenda




Grand Island's Music Program - May 2011 by Diana Nobumoto
Grand Island's stellar music program has continued their tradition of bringing excellence and pride home to our community.
Over the past several weeks the following groups have participated in this spring's NYSSMA (New York State School Music Association) Major Organization Festival.
They have traveled from Orchard Park to Williamsville to be evaluated by adjudicators from around the state.
• Mr. Robertson's Kaebegein Elementary band received their first Gold with Distinction
• Mr. Poissant's Huth Road Elementary band received an outstanding rating of Gold
• Miss Smith's 7th and 8th grade bands both received Gold with Distinction
• Mrs. Masiello's Singcopations group and her Men On Monday's ensemble both received Gold with Distinction
• Mr. Matthew Ells on his first trip with the High School Orchestra received a Gold with Distinction
• Mr. Allen's High School Concert Band received Gold with Distinction
• Mr. Allen continuing his tradition of excellence with his Wind Ensemble brought home their 8th consecutive Gold with distinction
Gold with distinction is the highest rating to be earned with Gold, Silver and Bronze following.
The comments made by these experienced judges commended our students for their hard work, motivation and dedication and applauded their excellence. They also applauded our teachers for their hard work and congratulated our district for continuing our standard of excellence in our music program.
We congratulate all of these fine students and teachers and thank them for their dedication and perseverance and for making Grand Island shine once again!
We wish Mr. Ells Middle School Orchestra and Mrs. Russo's 6th grade band much luck on their upcoming performances and will update you on their success!! We are extremely proud of all of you!!!!




School Board:
Ransom Rd. School Safety Issues Discussed - May 2011 See Buffalo News Story by Paul Lane.




Message from School Superintendent Robert Christmann In my capacity as President of the New York State Council of School Superintendents we have dealt with many issues relating to our first priority which is the best interests of students. I share with you a press release from the Council which went out this morning. Whatever you could do as an individual, staff member, a parent, a school, PTA, etc., to bring this issue to the attention of more people, it would be greatly appreciated. There has been a good measure of evidence of a tie in between video games and actual behaviors. As school staff we should all be extremely concerned about this new threat to the safety of students and school personnel. See Press Release.




Grand Island PTA Council Hosts Meet the Candidates Night - May 2011 See Candidates Night
The Grand Island Parent Teacher Association (PTA) Council will be hosting a "Meet the Candidates Night" on Tuesday, May 3, 2011 at 6:00 p.m. in the Veronica Connor Middle School Little Theater located at 1100 Ransom Road, Grand Island, New York.



School Board Agenda - April 2011 See April 25, 2011 Agenda


See Universal Pre-Kindergarten Lottery.


See Absentee Ballots.


The Grand Island School Board has prepared a proposed budget for the 2011-2012 school year. See 4/12/11 Buffalo News Story by Paul Lane.


The Grand Island School Board has prepared a proposed budget for the 2011-2012 school year. It reflects an attempt to balance the educational needs of the children, the needs of the community, and the financial resources available at this time without sacrificing the quantity or quality of services provided. See http://www.k12.ginet.org/district.cfm?subpage=13408. Voting takes place May 17th in the Grand Island High School gym (1100 Ransom Road).


Lottery to be Held for 2011-2012 Universal Pre-Kindergarten Program Last Day to Register is May 27, 2011
Grand Island Central School District will hold a lottery to determine enrollment for the 2011-2012 Universal Pre-Kindergarten (UPK) program. An open meeting will be held on Thursday, June 7th at 2:00 p.m. in the Grand Island Senior High School Auditorium (located at 1100 Ransom Road, Grand Island, New York) to announce the results of the UPK lottery. All interested parents are welcome to attend. Notification letters and phone calls will be made to parents in the weeks following the lottery to confirm the specific location and session assignments for the incoming UPK students.
To be eligible for the program a child must be 4 years old before December 1, 2011 and a Grand Island resident. Half day sessions, five days per week are offered at Charlotte Sidway Elementary School (morning and afternoon) and also at Care-A-Lot Child Care Center (morning only).
UPK applications are available on-line at www.k12.ginet.org, or call Sue Carter at 773-8818 for an application. Appointments must be made in advance to register your child. Please call 773-8800 to schedule an appointment. The application deadline is Friday, May 27, 2011. The last appointment to register on this date will be 3:00 p.m.


If you are a Grand Island resident and have a child turning five years of age on or before December 1, 2011 you have probably received a call regarding registration for your child. If you have not received this call and have a child eligible for Kindergarten, please call the District Office at 773-8800 so that your child can be registered.
Sending your child to Kindergarten is a big step, but a very exciting time. Please join us at 6:30 p.m. on April 7, 2011 for the hour long presentation, "Getting Ready for Kindergarten." This is an evening designed with parents in mind. Teachers from Sidway Elementary School will share helpful information with parents about their child coming to school. The evening is especially helpful for parents who have questions about what to do at home to help the child feel prepared for coming to school.
If you have any questions regarding your child beginning Kindergarten, please do not hesitate to call Sidway Elementary School at 773-8870. We look forward to welcoming you and your child to school!


See 3-28-11 Buffalo News story by Paul Lane.




School Board Candidates Sought to Fill 3 Seats - March 2011 Candidates interested in a seat on the Grand Island Board of Education must file nominating petitions with District Clerk Janet Schuster by 5pm April 18, 2011.
Thirty eight (38) valid signatures of district residents are required on a petition. Forms are available at the district offices located at 1100 Ransom Road from 8:30am to 3:30pm weekdays. There are three (3) three-year terms to be filled.
The qualifications to run for the Board of Education are: (1) you must be a citizen of the US, (2) you must be at least 18 years of age, (3) you must be a resident of the district for one year prior to the election, and (4) you must be able to read and write.
The School Board election and budget vote will be held from 10am to 9pm May 17, 2011 in the High School Gym.


See 3-15-11 Buffalo News story by Paul Lane.




Island To Ax Summer Middle School - March 2011 See Buffalo News




School District Faces Possible Cuts - March 2011 See Buffalo News




School Board Agenda - March 2011 See March 7, 2011 Agenda




School Board Agenda - March 3, 2011 Board of Education
Thursday, March 3, 2011
Agenda
5:30pm Public Session
High School AV/PD Room 124
Special Budget Workshop
Executive Session
THE BOARD WILL CONSIDER A MOTION TO GO INTO EXECUTIVE SESSION FOR THE PURPOSE OF DISCUSSING:
1. Collective Negotiations/Grievances
2. Proposed, Pending, Current Litigation
3. Employment/Employment History of Particular Persons or Matters Leading to the Appointment, Employment, Promotion, Demotion, Discipline, Suspension, Dismissal or Removal of a Particular Person
4. Confidential Student Matters
5. Proposed Acquisition, Sale or Lease of Real Property Only when Publicity Would Substantially Affect Their Value
6. Matters that will Imperil the Public Safety if Disclosed
SHOULD THE BOARD APPROVE AN EXECUTIVE SESSION MOTION, IT IS EXPECTED TO BE APPROXIMATELY 45 MINUTES IN LENGTH.
Adjourn




Universal Pre-Kindergarten Applications Now Being Accepted - Feb. 2011 The Grand Island Central School District is now accepting Universal Pre-kindergarten applications for 2011-2012.
Here are the requirements:
• Your child must be 4 years old no later than December 1, 2011 in order to be eligible.
• You must be a Grand Island resident.
• Half-day sessions, five-days per week, are offered at Charlotte Sidway Elementary School (morning and afternoon) and one island child care center (morning only).
• Applications and registration materials are available on line at www.k12.ginet.org.
The application deadline is May 27, 2011. The lottery will be held June 7, 2011.




School Board Meeting Schedule Changes - 2011 Grand Island Central School District
Important Notice
Change in Board of Education Meeting Schedule
Monday, February 28, 2011
Postponed

Thursday, March 3, 2011
Added – 5:30pm
Budget Workshop
Middle School Little Theater

Monday, March 7, 2011 Regular Meeting
Monday March 14, 2011 Regular Meeting
Monday, March 28, 2011 Regular Meeting
All Regular Meetings Begin at 7:00pm
Middle School Little Theater




Island school officials wrestle with issues posed by state budget - 2011 BUFFALO NEWS STORY - by Paul Lane - Feb. 8, 2011

Grand Island School District officials spent Monday night lamenting the governor's desire to cut state funding to schools while simultaneously leaving districts largely unable to combat gaping budget gaps. Gov. Andrew M. Cuomo's first budget discussion last week called for about a 2.7 percent decrease in funding to school districts across the state in 2011-12. For Grand Island, that would equate to roughly a $1.7 million funding cut. That number doesn't take into account additional reductions taken out by the state in the 2010-11 budget that weren't considered in Cuomo's year-to-year numbers, Assistant Superintendent Lorraine Ingrasci added. With those cuts factored in, the funding cut is closer to $2.2 million from this school year to next, she said.
Superintendent Robert Christmann said that major expenditures such as salaries, health insurance and retirements are slated to climb by $2.56 million for 2011-12. Those two factors mean that the district's budget process begins with a $4.76 million gap in funding, he said, which could result in "astronomical changes for schools."
"The governor's solving his problem a little bit, but he's pushing the problem down to the local level to make the tough decisions that he hasn't yet," School Board member Glenn Bobeck said.
The governor's suggestions for filling budget holes included drawing from reserve accounts, but that's unrealistic because most of Grand Island's roughly $13 million in reserve money is earmarked for specific purposes, including capital projects, Christmann said. Cuomo also mentioned freezing teacher salaries, but school districts are unable to do so due to contractual obligations, which Christmann cited as one of the hundreds of mandates from the state that leaders in Albany fail to pay for.
"Give us the authority to do that, and we'll be glad to do that," Christmann said about freezing salaries.
With no other changes in year-to-year spending, Grand Island would face a 20 percent tax rate hike in 2011-12.
While Christmann stressed that such an increase is not an option, the district wouldn't be able to pass any tax hike that could actually help if Cuomo's proposed tax rate cap of 2 percent passes.
Christmann said that 2 percent figure is closer to 0 percent due to the language of the tax cap law, which states that any tax rate increase above the cap limit would have to be approved by 60 percent of district voters. A 2 percent tax rate hike in Grand Island would generate about an additional $500,000, he said.
Failing a tax rate increase, the district would be left with little option other than to cut spending — and, with 80 percent of the district's budget paying for salaries, staff members would likely be the first target, said Christmann, who declined Monday to speculate how many staffers could be affected.
While Cuomo has asked his budget committees to have their first sets of recommendations to him by the end of this month, it's unlikely that any guidance in terms of firm budget numbers will be in place by the time the district's budget is due in eight weeks, Bobeck said.
"We need to pass a budget by May without knowing exactly what state money's coming in," he said.




Board of Education Meeting Agenda - Feb. 7, 2011

7:00pm	Public Session
		Middle School Little Theater

1.	Pledge of Allegiance to the Flag
2.	Emergency Fire Exit Announcement
3.	Cell Phones, Pagers and Computers Silenced

***		Recognition

1.	Good News 
a.	Welcome to Paul Lane:  Buffalo News
b.	Niagara Police Athletic League (PAL) Nomination
c.	PAL Lifetime Award:  Jude Kuehne
d.	PAL Prep Athletic Awards:  Jenna Raepple & Ben Tomkins
e.	Kallie Banker:  All Time Leading Lady Viking Scorer
f.	Transportation Department Appreciation
g.	United Way Thank You
h.	US Department of Education "Conference on Advancing
Student Achievement Through Labor Management Colloration"
i.	WNYESC Awards for Excellence:  Carol Horrigan and 
Jennifer Appenheimer:  March 10, 2011

***		Voice of the People – Agenda Items Only 
At this time, public comments are invited from those 
individuals who desire to address the Board of Education 
on any topic which is on the agenda.  Residents who have 
previously signed up to speak will be recognized by the 
President.  When speaking, please identify yourself first.
  Speak clearly and loudly enough for everyone in the 
  room to hear you.  Speakers are requested to limit
  their remarks TO NOT MORE THAN THREE (3) MINUTES; 
  to appoint a spokesperson if a concern is a group 
  concern and, if necessary or desired, to supplement
  verbal presentations with written reports.  
  Personal comments toward a member of the community,
  staff or Board of Education will not be considered appropriate.

 
***		Consent Agenda

1.	Items for Approval
a.	Board of Education Meeting Minutes
•	1/24/11 
b.	Personnel
•	Certified and School Related Personnel

***		Capital Project Planning

1.	Five Year Facilities Plan (2005 & 2008) 
2.	Student Enrollment Projections
3.	CM Interview Questions (any changes?)
4.	Energy Performance Contracting Presentation
5.	Shared Maintenance Facility Feasibility Study Update
6.	Eco Island BCS Update
7.	Principals Capital Program Recommendations

***		Business & Finance

1.	For Information Only
a.	Food Service Review

***		School District Budget

1.	For Information Only
a.	2011-12 Cuomo Budget Review
b.	2011-12 Revenue Reductions
c.	2011-12 Expenditure Increases
d.	Reserve Funds
e.	Cuomo Property Tax Cap Proposal
f.	Erie 1 BOCES Budget Proposal 

***		Curriculum

1.	For Information Only
a.	Reading Department Agenda
b.	Teacher Center Course
c.	Math Audit Summary
d.	SED District Report Cards:  February 10, 2011
e.	Universal Prekindergarten

***		Superintendent's Report

1.	Overview/Updates
a.	Mandated Costs:  Any Relief?
b.	2010-11 District Data Teams
c.	Ransom Road Safety Update
d.	Superintendent Conference Day Calendar Change
e.	Website Progress Report

2.	Old Business
a.	For Information Only
•	Six Period High School Request 

***		Board President/BOE/Correspondence 

1.	Overview/Updates
a.	Board of Education Liaison Reports 
b.	Rotary Club Dinner for Students of the Month:  
April 29, 2011, Buffalo Launch Club
c.	Grand Parent Letter to Board of Education
d.	Recent Graduates Linkage Summary
e.	Erie 1 BOCES Board Nominations
f.	2011 SED School Facilities Summit

***		Roundtable

***		Voice of the People – General Items
At this time, public comments are invited from those 
individuals who desire to address the Board of Education
 on any topic which is not on the agenda.  Residents who 
 have previously signed up to speak will be recognized by 
 the President.  When speaking, please identify yourself 
 first.  Speak clearly and loudly enough for everyone
 in the room to hear you.  Speakers are requested to 
 limit their remarks TO NOT MORE THAN THREE (3) MINUTES;
 to appoint a spokesperson if a concern is a group 
 concern and, if necessary or desired, to supplement
 verbal presentations with written reports.  Personal
 comments toward a member of the community, staff or
 Board of Education will not be considered appropriate.

***		Future Events/Agenda Topics

1.	Monday, February 28, 2011, Regular Meeting 7:00pm MSLT
2.	Monday, March 7, 2011, Regular Meeting 7:00pm MSLT 
3.	Monday, March 14, 2011, Regular Meeting 7:00pm MSLT 
4.	Monday, March 28, 2011, Regular Meeting 7:00pm MSLT

***		Executive Session

THE BOARD WILL CONSIDER A MOTION TO GO INTO
 EXECUTIVE SESSION FOR THE PURPOSE OF DISCUSSING:

1.	Collective Negotiations
2.	Grievances/Arbitrations/I.L.P.
3.	Employment/Employment History of Particular Persons
 or Matters Leading to the Appointment, Employment, 
 Promotion, Demotion, Discipline, Suspension, Dismissal
 or Removal of a Particular Person

SHOULD THE BOARD APPROVE AN EXECUTIVE SESSION MOTION,
 IT IS EXPECTED TO BE APPROXIMATELY 45 MINUTES IN LENGTH.

***		Adjourn






Notification of School Closing For Wednesday, February 2, 2011 By Robert W. Christmann
Schools Superintendent
February 1, 2011 . . .I am taking the very unusual step of today closing school for tomorrow, Wednesday, February 2, 2011. This decision is based on the consistency of predictions among local weather reports which indicate a large amount of snow for Grand Island in combination with strong winds during most of the day. With the high priority that the District places on student and staff safety, this was, therefore, an easy decision to make. While we regret the loss of any day of academic instruction, keeping school open is still of secondary importance to exposing students, parents and staff to any safety issues that could result from the impact of a major winter storm hitting our District.
It is hoped that doing this early notification of tomorrow's closing will provide our parents and staff with an extra margin of planning time to respond to any personal needs that could be created by this change in our normal work schedule. Feel free to share this decision with your students before they leave today as they might be able to take home today some school related work to do tomorrow while remaining safe at home.
We will be informing the media of this decision later today, probably around 7pm, and will be sending out a Global Connect message to all parents around 6pm. For any of our elementary staff, you can inform your children that there is no need for them to do the inside out pajamas or other similar activities which are intended for me to subliminally receive their collective messages that school should close. Instead the weather reports I have received from multiple sources have convinced me that the conditions tomorrow will be unsafe for our students and staff and those forecasts alone are enough for the District to close. Stay warm and stay safe. Hopefully we will be back together on Thursday.




Grand Island Community Education Winter 2011 Session - January 2011 Community Education classes for the winter 2011 session will begin on Monday, January 24th. Walk-in registrations will be held on the same day from 6:00-7:00 p.m. in the foyer of the Grand Island high school on Ransom Road. The Bridge/Community Education brochures were mailed to Grand Island residents the week of January 3rd. The Grand Island Community Education brochure can be viewed and registration forms downloaded online at www.k12.ginet.org ( Dpt & Svcs)




School Board Agenda - January 2011 See Jan. 24th Agenda
Grand Island Community Education Winter 2011 Session - January 2011
Community Education classes for the winter 2011 session will begin on Monday, January 24th. Walk-in registrations will be held on the same day from 6:00-7:00 p.m. in the foyer of the Grand Island high school on Ransom Road. The Bridge/Community Education brochures were mailed to Grand Island residents the week of January 3rd. The Grand Island Community Education brochure can be viewed and registration forms downloaded online at www.k12.ginet.org ( Dpt & Svcs)