Charlotte Sidway Elementary School News Web Page - 2015


2451 Baseline Road - 716.773.8870

Charlotte Sidway Elementary School District's Website

Principal
Denise Dunbar

Previous Sidway News
Sidway Supports Neighbors Foundation - December 2015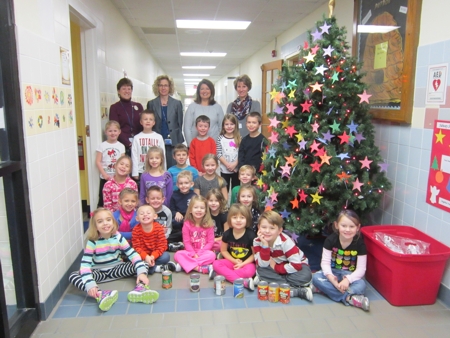 Left to right, back row are: Miss Cowan (teacher), Mrs. Dunbar (principal), Mrs. Kurpiewski (teacher aide) and Mrs. Moriarty (secretary), the coordinators. There is a child from each class room.
Sidway Elementary is getting into the Christmas Spirit. The children at Sidway have been collecting food and money to help support the Neighbors Foundation. The Neighbors Foundation is a community based volunteer program that has been assisting families in need on Grand Island since 1973. This year Sidway students have collected $950 and 482 items of food. These gifts of generosity are sure to bring smiles and joy to the families that receive them.
Kindergarten Orientation for Parents & Child - May 2015
Kindergarten Orientation for parent and child is on Tuesday, May 19th at Sidway School, 2451 Baseline Road. The afternoon begins when the doors open at 1:00 p.m. Presentations for parents in the large gym and activities for children in the classrooms will begin promptly at 2:00 p.m. The afternoon concludes with a short bus ride for you and your child. You will have an opportunity to meet several faculty and staff and have any questions you may have answered.
Getting Ready for Kindergarten Night (Parents Only) - March 2015
This is an evening designed with parents in mind. Teachers from Sidway School will share helpful information about coming to school. The hour long presentation is on Wednesday, April 15th and will begin at 6:30 pm at Sidway School. This is especially helpful if you have questions about what you can do at home to help your child feel prepared for coming to school. If you have any questions regarding your child coming to Kindergarten, please do not hesitate to call Sidway at 773-8870. We look forward to welcoming you and your child to Sidway School!
Universal Pre-Kindergarten Registration is Now Open - March 2015
Grand Island Central School District will be holding a lottery to determine enrollment for the 2015-2016 Universal Pre-Kindergarten (UPK) program. An open meeting will be held on Wednesday, May 27, 2015 at 2:00 p.m. in the Grand Island High School Professional Development Room (located at 1100 Ransom Road, Grand Island, New York) to announce the results of the UPK lottery. All interested parents are welcome to attend. Notification letters and phone calls will be made to parents in the weeks following the lottery to confirm the specific location and session assignments for the incoming UPK students.
To be eligible for the UPK program a child must be 4 years old on or before December 1, 2015 and a Grand Island resident. Half day sessions, five days per week are offered at Charlotte Sidway Elementary School (morning and afternoon) and also at Kiddos Korner Preschool (afternoon only). UPK applications are now available online at www.grandislandschools.org or call Susan Carter at 773-8818 for information. Appointments must be made in advance to register your child. Please call 773-8800 extension "0" to schedule an appointment. The application deadline is Monday, May 18, 2015. The last appointment to register on this date will be 2:00 p.m.
Sidway Hosting 2nd Annual Parent University - February 2015
Sidway will be hosting it's second annual "Parent University" on Thursday, February 26th from 6:00 - 8:00 p.m. Doors open at 6:00 p.m. for registration and refreshments. Parents will attend a keynote address at 6:15 titled: "Children don't come with instructions, managing challenging behaviors". Parents will then chose one session to attend from the following:
1. Math Strategies to help with math at home.
2. Writing Strategies and Developmental Spelling.
3. Got Stress? - de-stressing ideas for parents.
The evening will close with a keynote address at 7:30 p.m., titled "Children's social and emotional well being"
. There will be structured activities for students while parents are free to attend these sessions. Please RSVP to Sidway - 773-8870, in order to plan accordingly. While the focus is on parents of primary school students, all parents are welcome to attend!