Grand Island Sports News 2013
Previous Sports Pages
Neutz Named UB Scholar Athlete - December 2013
Alex Neutz has been named the University of Buffalo Scholar Athlete for this year at a banquet hosted by the WNY Amateur Football Alliance. Alex has been a four-year starter for the Bulls as a receiver and has scored 10 touchdowns in two seasons at U.B. With a 3.9 GPA, Alex was also named to the Mid-American Conference's All-MAC Academic Team. Alex will be playing his final game as a Bull in Boise, Idaho at the Famous Idaho Potato Bowl at 5:30 p.m. on Saturday, December 21st, against San Diego State.
Kansas City Shock Adds Stephanie Senn- December 2013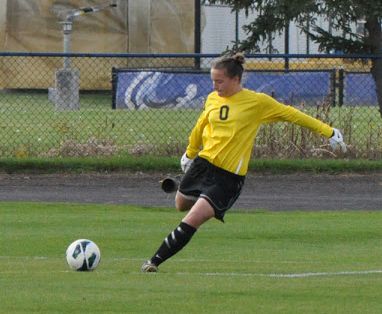 The Kansas City Shock, a premier women's soccer team has just signed Island native and Kent State sophomore stand out Stephanie Senn to their team. Another team mate, Madison Helterbran was also signed. The Shock website wrote "sophomore goalkeeper Stephanie Senn played 1795 minutes in goal for the Golden Flashes and earned a 12-7-1 record with six shutouts. Her shutout record was third-best in the Mid-American Conference (MAC), while her 1.00 goals against average was sixth and her .802 save percentage was seventh. She was selected first team MAC. As a freshman, Senn set Kent State season records with 13 victories and eight shutouts last fall. She played all 20 games in goal with Kent State recording 13 wins and eight shutouts. The team plays from May - July in the Midwest League.
Nick Masiello in 2013 Atlantic 10 Championships - November 2013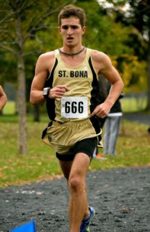 St. Bonaventure University Junior Nick Masiello recently broke the St. Bonaventure men's cross country 8k record at the Atlantic 10 Championships at Pole Green Park, Virginia. Masiello finished with a time of 26:10.3, surpassing the existing record by 35 seconds. After suffering injuries in the 2012 season including a stress fracture, head coach Bob Macfarlane said he enjoys how Masiello has bounced back in his third season. "He came back with a vengeance this year," Macfarlane said. "He crushed the (Bonaventure 8k) record and you want to beat the record with no questions asked." Masiello is a 2011 graduate of Grand Island High School.
Neutz leaving his own mark at UB - November 2013
Buffalo News Story - By Rodney McKissic | News Sports Reporter
See
story
.
Alex Neutz is tied for the all-time touchdown record at U. B. and has three games left to break the record.
Island Swimmers Qualify for States - October 2013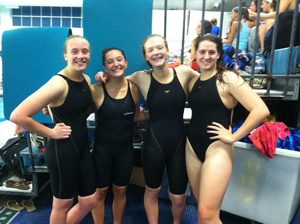 From left: Grace Fredricks, Molly Meka, Alexis Fredricks, Natalie Brophy.
Three swimmers from Grand Island, all members of the Mount St. Mary High School swim team, have qualified for the State Meet in Ithaca November 22-23rd. In a meet held at the Tonawanda Aquatic center on October 4th against Kenmore East and Kenmore West, the relay team consisting of Islanders, Senior - Molly Meka, Sophomores - Grace Fredricks and Alexis Fredricks, and from Tonawanda, Senior - Natalie Brophy, swam the 200 yard Medley Relay in 1:52.21. This is the first time in many years that Mount St. Mary's is sending a relay team to States. Following that event, Alexis Fredricks qualified for States in the 200 Individual Medley (2:10.96) and the 100 Butterfly (59.15). The school won the meet beating both Ken East and a very strong Ken West team.
Alexis Fredricks had previously qualified in the 100 Back stroke (59.78). She credits her success this year in large part to her twin Grace for constantly challenging her at practice and in the gym. "Grace is the hardest working swimmer at practices" she said. "There are times when I feel like I can't do another rep in the gym or swim another lap, and then I see Grace and I know I have to try to keep up with her." Mount St Mary's only loss so far this year was in a close meet against Nardin. They won meets against Sacred Heart, Kenmore east, Kenmore West, and Tonawanda as well as taking 1st place in a relay meet against Alden, Cleve Hill, Depew, Pioneer, Springville and Tonawanda.
Senn Nominee for MAC Women's Soccer Players of the Week - October 2013
Grand Island native and sophomore Kent State Goalkeeper Stephanie Senn had another solid weekend in net for the Kent State Golden Flashes. She shut out both Buffalo (1-0) and Akron (1-0) to pick up her sixth shutout of the 2013 campaign. Senn has allowed just 11 goals this season (0.80 gaa) and has combined for 57 saves (.838 save percentage). As just a sophomore, she already ranks third all-time in shutouts in a career (14).
Grand Island Day at UB Football- October 2013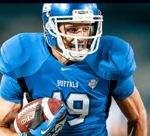 Grand Island native, #19 Alex Neutz
Grand Island Day is scheduled for Saturday, October 19th at U.B. Football stadium. Festivities begin at 1:15 p.m. when you can meet the team at the "Walk to Victory". A free pre-game concert by Big Bad Voodoo Daddy begins at 1:30 and there will be family entertainment and activities at Stampede Square from 2:30 p.m. - game time at 3:30 p.m. Come out and cheer on starting senior Alex Neutz who is a wide receiver. Tickets are $10.00, see
ticket form
.
In an Niagara Gazette article dated October 4th - "Alex Neutz is one of 170 candidates nominated for the 2013 National Football Foundation National Scholar-Athlete Awards and a semifinalist for the 2013 William V. Campbell Trophy, awarded to an individual deemed the nation's top scholar-athlete while playing football an any collegiate level."
UB's Neutz catches on quickly - September 2013
By Bucky Gleason | News Sports Columnist
September 11, 2013...Another nice Buffalo News
article
on Grand Island native Alex Neutz.
Neutz, Oliver are driving forces on UB's offense - August 2013
By Bob DiCesare | News Sports Reporter
August 25, 2013...Nice Buffalo News
article
on Grand Island native Alex Neutz, one of the "most prolific offensive producers in the history of UB football."
Say Cheese Playoff Champs! - August 2013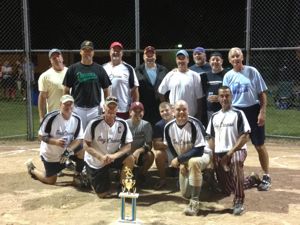 Click for larger view.
Say Cheese, managed by John Loos, are the Thursday night league playoff champs. The score was Say Cheese - 23 – Island Lanes 2 – 22. Island Lanes 2 scored 17 runs in the first two innings and were leading by a score of 18-9 after three innings. Say Cheese fixed their fielding errors, made a pitching change, and chipped away at Island Lanes 2 lead. Say Cheese was down by 5 runs going into the bottom of the 7th inning and scored 6 to win the game.
Kester's Krew G.I. Market Playoff & League Champs! - August 2013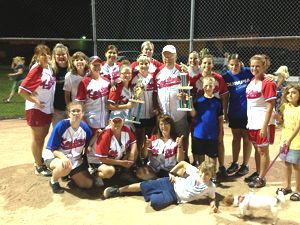 Kester's Krew with trophies. - Click for larger view.
Kester's Krew G.I. Market beat T.C.'s Tavern by a score of 7-2 on Monday, August 19th in the Monday Night Women's Championship. Kester's Krew also won the league championship with a 9-0 record. Their final record including playoffs was 11-0.
Say Cheese Villains Playoff Champs! - August 2013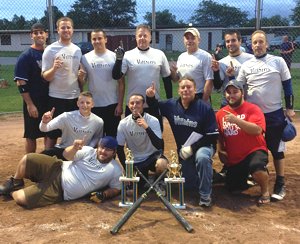 Say Cheese Villains with trophies.
The Say Cheese Villains won the Grand Island Recreation Department Tuesday night men's league championship with a record of 11-1. They also won the final playoff game against John's Pizza Fubar by a score of 18-3.
Chris Carter Finishes First IRONMAN - August 2013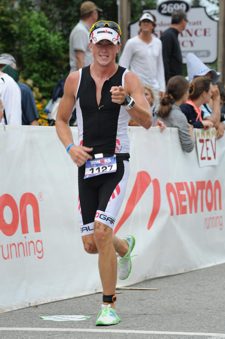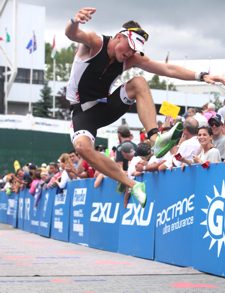 Chris Carter still had energy to spare after finishing the course.
Now we can say IRONMAN Chris Carter, after he finished his first competition in Lake Placid on July 28, 2013. Chris finished 317th out of 2,537 entries and 9th in his age group. His total time was 11 hours, 15 minutes, 30 seconds, broken down as follows; 2.4 mile swim - 1 hour 10 minutes and 12 seconds, 112 mile bike - 6 hours 1 minute and 22 seconds, 26.2 mile marathon - 3 hours 53 minutes and 19 seconds. Unbelievable Chris, super job!
Vipers 12U Playoff Champs! - August 2013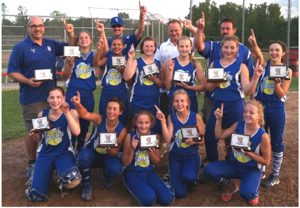 From left, bottom: Grace Federico, Megan Stanley, Hallie Mingoia, Alyssa Ruminski, Chloe McQuestion. Middle: Allyson Shoener, Jenn Hinaman, Bailey Huber, Jenna Tavano, Jess Faso, Marissa Hovey. Back: Joe Federico, AJ Hinaman, Dave Mingoia, Bill Stanley.
Coach recap:
The Vipers are part of the WNY Metro Softball League which is comprised of 30 teams from as far north as Medina, to as far south as Wellsville. This year the Vipers finished third overall in league play behind Mel Ott and Clarence, losing to Clarence once and beating Mel Ott once during the regular season. The Vipers had a good year with tournaments, finishing fifth in the Lewiston Battle of the Fort tourney and the Cayuga Gamblers tourney, and finishing third in the North Buffalo tourney two weeks ago. The real excitement came when league playoffs started.
The Vipers first playoff game was against Amherst which the girls won easily 13-2. In their second game the Vipers found themselves in a pitchers duel with Mel Ott winning that game 5-2 in extra innings. Game three was against Lockport and the Vipers were able to cruise to an 11-1 victory to put them into the league championship game against Clarence. The Vipers scored first in the game taking an early 1-0 lead but Clarence came right back and scored two runs to take the lead. Clarence seemed to take command of the game in the fourth inning by scoring three runs and taking a 5-2 lead. But that was all the runs they would get, as the Vipers tightened up on defense, and came alive offensively scoring four runs in the fifth inning and one more run in the sixth to take a 7-5 lead. With two outs in the bottom of the seventh, Clarence had a runner on first and the tying run at the plate, but was struck out to end the game and give the Vipers the 12u playoff championship.
Cloe McQuestion, Jenn Hinaman, Allyson Shoener, Marissa Hovey, Grace Federico, and Bailey Huber all played infield for the Vipers, and made it tough for opponents to get on base when a ball was hit. Jenna Tavano, Jess Faso, Allysa Ruminski, Hallie Migoia, and Megan Stanley played outfield and made great catches throughout the year. Grace Federico, Jess Faso, and Cloe McQuestion were tough behind the plate as catchers. Megan Stanley, Hallie Mingoia, And Marrisa Hovey were strong on the mound all season. These girls put a lot of work in to get themselves to where they are today and they should be proud of their efforts.
Last but not least the coaches of the 12u Vipers are, Joe Federico, Bill Stanley, Dave Mingoia, and AJ Hinaman. We would like to thank the girls for all their efforts and we applaud them for their achievements.
Try outs for the 14u Grand Island Vipers will be held Monday August 19th 6pm at Veterans Park diamond 9&10. Anyone interested in trying out please show up that day. If you have any questions please call Bill Stanley at 512-3518.
" High school basketball stars rise and grind" - August 2013
By Aaron Mansfield / Buffalo News Sports Reporter
July 31, 2013, see excerpt "Oursler in learning mode" from
story
and full story
link
.
GI Vipers 12U Headed To Championship Game - July 2013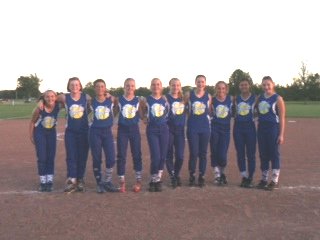 From left: Marrisa Hovey, Bailey Huber, Megan Stanley, Chloe McQuestion, Alyssa Ruminski, Jenna Tavano, Grace Federico, Hallie Mingoia, Jess Faso
The Grand Island Vipers 12u girls travel softball team is headed to the WNY Metro League Championship game. The Vipers who finished 3rd in the league, had a playoff win on Monday, July 22nd over Amherst 12-2, and Tuesday, July 23rd over Mel Ott in extra innings 5-2. Wednesday evening in the semi finals, they beat Lockport 11-1. According to Coach Bill Stanley, the girls have really stepped up their play for the playoffs finding themselves one step away from their goal of winning it all, as they await the winner of the Clarence, Wheatfield game. There will be a complete season recap next week in Isledegrande.
GP World Record Hydroplane has GI Connection - July 2013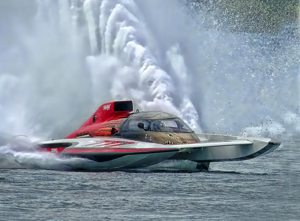 GP 777 Steeler
Mike Endres write-up
...After our fuel explosion and a disappointing performance at Valleyfield, Quebec at the beginning of July, the Steeler crew went to work. The Steeler went to Henderson hydroplanes on Monday, July 15th to have the damaged hull repaired. The decks from the cockpit back were removed and reinstalled after repairs were made. Working diligently all week until 2:00 a.m. Friday morning, July 19th, the Steeler was ready to make the trip to Waterford, Michigan with high hopes of setting a new world record. Still putting cosmetic touches on in the pits Saturday morning, the Steeler was ready to go. The Steeler broke the 5 lap 1 mile course record on Saturday but not by enough of a margin to claim the new record. The Steeler crew once again went to work and found some more power and speed. Sunday's 1st heat was the charm. The Steeler shattered the GP world record by over 4 miles per hour setting a new mark at 112.768 mph average speed for 5 laps, 5 miles. Driver Bert Henderson, owner Huey Newport and the entire Steeler crew felt the untold hours were certainly worth it. GI connections are crew members Mike Endres, Gary Roesch and Mike Geblein. Driver Bert Henderson presented the first place trophy to Mike Geblein for his tireless efforts in getting the Steeler ready for its record run. Next up is St Felicien, Quebec, on August 3rd & 4th, followed by "Thunder on the Niagara" in Gratwick Park in North Tonawanda on August 17-18th.
Arabian Region 18 Championships Winner - July 2013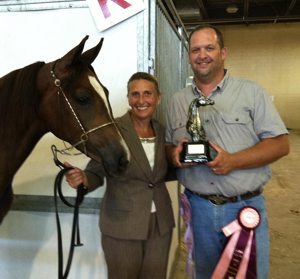 Lily, Mary and husband Jeff Smith
Grand Island High School teacher Mary Smith is busy in the summer with her Arabian horses. Mary participated in the "Arabian Horse Association Region 18 Championships" in London, Ontario on July 20, 2013. Her horse Lily was named the Champion Half Arabian Fillie and is headed to nationals in September. Mary's horse Pistachio PA also competed in the Region 18 Sport Horse section, winning 6 Regional Titles. Good luck at the Nationals!
Grand Island 10U Softball District 1 Champions - July 2013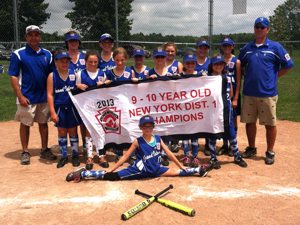 Front: Kendall Suffoletta - Click photo for larger view.
Standing, left to right: Coach Mark Suffoletta, Allyson Bellinger, Abi Krull, Morgan Tollner, Katie Sullivan, Emily Cohen, Erin Cool, Rose Meaney, Emily Kwiecinski, Grace Samplinski, Grace Carey, Carolyn Ginsburg, Avery Andrews, and Coach Art Meaney.
The 10U softball squad made Grand Island and District 1 proud by heading out to Pittsford to play Fredonia in a Sectional contest on July 14th. Unfortunately, that matchup did not end in the girls favor and a very powerful Fredonia squad moved on to the next round to determine a state champion. The team will be bringing home a District 1 championship banner though after beating a tough Mel Ott team in a best-of-three playoff series. Grand Island was in fine shape to hold the District 1 championship and Veterans' Park was in fabulous condition.
The players that made this championship possible were: Pitchers Morgan Tollner, Grace Carey, Rose Meaney, Kendall Suffoletta, and Avery Andrews kept the Mel Ott batters off balance with the help of catchers Emily Kwiecinski and Carolyn Ginsburg. Emily Cohen played solid shortstop while Grace Samplinski, Erin Cool, Katie Sullivan, Allyson Bellinger, and Abi Krull also played some tight, shut-down defense.
The girls plan on proudly displaying their championship banner in the Grand Island Fourth of July parade next year as a thank you to the friends and family that made this accomplishment possible.
Neutz Named to Biletnikoff Award Preseason Watch List - July 2013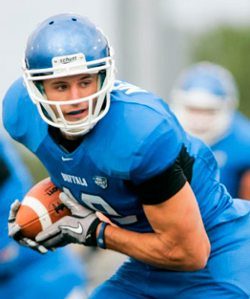 Former Grand Island Viking and University of Buffalo senior wide receiver Alex Neutz has been recognized as one of the top receivers in college football. The "2013 Biletnikoff Award Preseason Watch List" was released on Tuesday, July 16th and Alex was on it for the first time in his career.
From a U.B. website article
:
In 2012, Neutz put together one of the best seasons ever by a Buffalo receiver, despite being the focal point of every opposing defense. Along with being named the team's offensive MVP, the Grand Island native was named to the All-MAC Second Team. He ranked second in the MAC, and 20th nationally, in yards receiving per game (92.3).
In the single season record book, his 65 catches in 2012 rank sixth overall (third in the Division I era), his 11 touchdowns are the second most ever, and his 1,015 yards receiving are the second most in the Division I era and the fourth most in program history. As he enters into his final season, he is sixth in career catches, seventh in yards, second in touchdowns, and fifth in 100-yard games.
The award recipient is selected by the Biletnikoff Award National Selection Committee, a group of over 200 prominent college football journalists, commentators, and former receivers. The 2013 Biletnikoff Awardwinner will be presented live on December 12, 2013, on The Home Depot College Football Awards Show to be broadcast from 7:00 – 9:00pm on ESPN.
Carter Wins Dick Bessel Race, Headed to Ironman - July 2013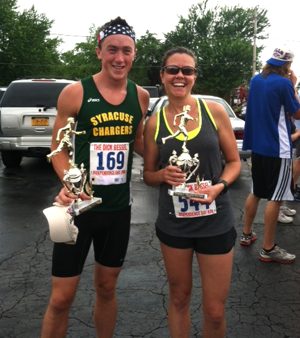 Chris Carter with Karen Serafin.
Island native Chris Carter finished first at the Dick Bessel Race on July 4th with a time of 10:49. Karen Serafin of Medford, MA was the woman's leader with a time of 14:29.
Chris is now headed to the Adirondack Mountains to compete in the Ironman Lake Placid on July 28th. He will swim 2.4 miles, take a 112 mile bike ride and finish up with a 26.2 marathon. WHEW! Good luck Chris, we applaud you!!!
Conway Wins Peter Lyman Memorial USTA Junior Tennis Tournament - July 2013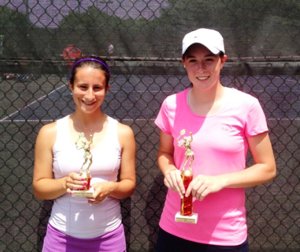 From left: Tami Comins & Carlee Conway
Grand Island resident Carlee Conway participated in the Peter Lyman Memorial Tennis Tournament over the July 5th-7th weekend. Conway won the Girls 18's after three-set matches against Tami Comins (6-2, 4-6, 10-2) and Alana Danieu (6-3, 1-6, 10-4). Comins and Conway then partnered for the Girls Double event and posted an 8-5 Pro-set win against Chandrika Sanapala and Chhinda Som. They advanced to the finals against Raissa Lou and Brianna Gibbs. The match featured big serves and strong volleys as Comins-Conway won by an 8-3 final.
When Conway was asked what was most memorable about being a two-time winner at this year's tournament, she responded "being awarded the trophies by Coach Nielsen was nice, but it was more memorable to have met Peter Lyman several times over the past six years of her USTA Jr. career". "Receiving trophies from Mr. Lyman for winning my age bracket the past three years is most memorable, he was such a nice man and made all us players feel welcomed and important."
See complete tournament
story
"Oursler takes Grand Island experience to Robert Morris" - June 2013
By Aaron Mansfield / Buffalo News Sports Reporter
June 28, 2013, see
story
.
Carlee Conway Three-Peats in All-Catholic Tennis - May 2013
From left: Madison Bradley & Carlee Conway with their awards
Junior Carlee Conway from Sacred Heart Academy repeated as the All-Catholic Singles Champion and League MVP in the Msgr. Martin High School Athletic Conference for the third year in a row. It was the second year in a row that the final came down to Madison Bradley from Nardin vs. Conway. Conway won the All-Catholic final 6-1, 6-0. She gave up only one game, going 48-1 during the four play-off matches in two days. However, Bradley gave Conway the strongest competition, playing as many as 5 games to deuce. Bradley had strong ground-strokes and a hard first serve, but Conway's consistency and well-placed shots won out. Conway credits the combined lessons from Rachel Delpiore and Lee Nickell from Miller Tennis Center for her consistent ground-strokes. She also works with Mark Szfnicki from the Gow School, developing a variety of serves and effective volleys. Conway won numerous points with her come-to-the-net game, putting away several volleys. The Grand Island native faced all three Nardin singles players in route to the championship. The win moves Conway's three season high school record to 43-0. Conway won the USTA Jr. Central NY Girls 18 Championship with a win over the Section III runner-up two weeks ago. Conway has wins versus the top four players from WNY Section VI over the past 10 months in USTA Jr. tournaments, most recently in March at a USTA Jr. tournament held at the Village Glen in Williamsville, NY.
Islanders Play On FC Buffalo - May 2013
The FC Buffalo semi-pro soccer team has three former GIHS soccer players participating this season. Islanders Kolby Banker, Bobby Ross and Jeremy Figler are playing in the minor league "Football Club of Buffalo". Games are at All High Stadium on Main Street in Buffalo. The next game is Friday, May 17th at 7:00 p.m. and is "Grand Island Soccer Club Night". See
flyer
for discount tickets opportunities. The Niagara Gazette had a nice story about the club written by Michael Mroziak on Friday, May 10th, see
story
.
Grand Island 12U Vipers Softball - March 2013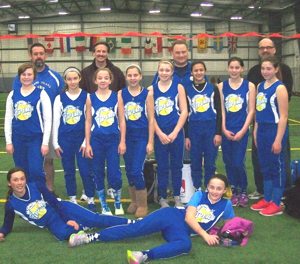 Pictured above - front row left to right are, Megan Stanley and Hallie Mingoia. Middle row left to right are, Bailey Huber, Marrisa Hovey, Chloe Mcquistion, Allysa Ruminski, Jenna Tavano, Jenn Hinaman, Grace Federico, and Jess Faso. Back row left to right are, Coaches Bill Stanley, AJ Hinaman, Dave Mingoia, and Joe Federico.
The Grand Island 12U Vipers recently finished their indoor softball season at Sahlen's Sports Park. After a slow start the girls finished stong with good hitting and fielding. They ended up finishing 5th overall out of 12 teams.
Kan Jam League Coming To Grand Island - March 2013
In the Summer of 2013 Grand Island will begin its first Kan Jam League and "step up to the kan" when it comes to competing with neighboring communities in Western New York and the rest of the country. Grand Island's league will take place at Beaver Island State Park and will begin the first Monday of July. Competitions will be held eight consecutive Monday's. The crowned champion of the Grand Island Kan Jam League will be entered into the National Kan Jam Championships for a chance to compete for the ultimate crown. Teams for the league can be co-ed and must have at least one alternate for the team. The Grand Island Kan Jam League is currently registering on their
website
.
Kan Jam was started locally in the early 1990's as a few guys throwing a disc into banged up metal garbage cans. Kan Jam is now America's #1 lawn sport.