St. Stephen's Church News 2013
---
Pastor: Rev. Paul Nogaro
St. Stephen's Church Website
Previous News



2100 Baseline Road, Grand Island, NY 14072
fax: 716-773-5792

Karen A. Cammarata - Business Manager
businessmgr@adelphia.net 716-773-7647 ext #104

Office: Sandy Beyer or Helen Lemme - 716-773-7647 ext #100
ststephenswny@adelphia.net


Mission:
To enable the people of Grand Island to encounter Jesus by sharing Word and Sacrament with a loving concern for one another.
Events
: Daily Mass Monday - Friday 7:30 A.M. and 12:05 P.M. Saturday 9:00 A.M., and 4:30 P.M. Sunday 7:00 A.M., 9:00 A.M. & 11:00 A.M. Open to All
Help
: Promote and support our church and promote and support the events that we sponsor!
Strengths
: A strong, stable, faith filled community that has open arms for all who enter through our doors.
St. Stephen's Youth Ministry "Kid's Night Out" - December 2013
St. Stephen's Youth Ministry "Kid's Night Out" is Saturday, December 21, 2013 from 5:00 - 10:00 p.m. Child care for ages 3 - 10 will be available if you would like to do some shopping or for date night. There will be activites and the cost is $15 each, $25 for two or $30 for three or more. See
flyer
for details.
St. Stephen's Rummage Sale - June 2013
St. Stephen's Church is having a Rummage Sale on Friday, June 28th from 10:00 a.m. - 8:00 p.m. There will be a basket raffle, soup, chowder, hot dogs and hamburgers available.
St. Stephen's Commemorative Ornaments & Clings - January 2013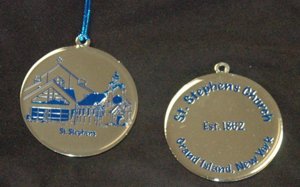 Click top photo for larger view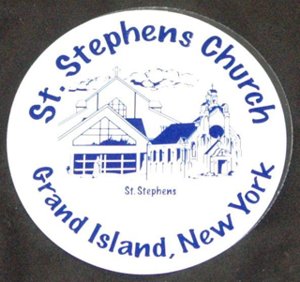 To celebrate the 150th anniversary of St. Stephens Church, a commemorative ornament and window cling have been made available. The ornament is $7.00 and the cling is $2.00. There were 200 produced, so get yours quick at the church rectory.