St. Stephen's Church News 2015
---
Pastor: Rev. Paul Nogaro
St. Stephen's Church Website
Previous News



2100 Baseline Road, Grand Island, NY 14072
fax: 716-773-5792

Karen A. Cammarata - Business Manager
businessmgr@adelphia.net 716-773-7647 ext #104

Office: Sandy Beyer or Helen Lemme - 716-773-7647 ext #100
ststephenswny@adelphia.net


Mission:
To enable the people of Grand Island to encounter Jesus by sharing Word and Sacrament with a loving concern for one another.
Events
: Daily Mass Monday - Friday 7:30 A.M. and 12:05 P.M. Saturday 9:00 A.M., and 4:30 P.M. Sunday 7:00 A.M., 9:00 A.M. & 11:00 A.M. Open to All
Help
: Promote and support our church and promote and support the events that we sponsor!
Strengths
: A strong, stable, faith filled community that has open arms for all who enter through our doors.
St Stephen's Annual Rummage Sale - July 2015
St Stephen's is having its Annual Rummage Sale, 2100 Baseline Rd, Friday, July 10th (9am-5pm), Saturday, July 11 (9am-6pm), Sunday, July 12 (9am-2pm). Sunday Bag Sale - $3.00 per bag. See
flyer
.
School Supply Drive - May 2015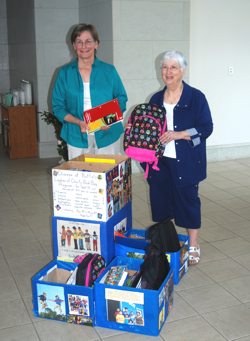 Diane Lee and Barbara LaDuca
Yearly the Ladies of Charity distribute school supplies to children, ages 5 -17, by referral from Catholic Charities case workers in several WNY counties. Families of all faiths are eligible because of low incomes, victims of house fires, domestic abuse, and new immigrants. SAY YES & CLOSING THE GAP are two programs in the Buffalo Public Schools run by Catholic Charities that identify students in need. 15 years ago, the program had 50 requests. Last year over 700 children were equipped for the new school year. In July & August, book bags are packed and ready for distribution, then and as needed during the year.
This is a Spring Project for families, school children, discussion and prayer groups or anyone wishing to assist the Ladies of Charity. Place your donations in specially marked boxes in the St. Stephen's narthex, From May 1 - May 27th. Monetary donations are also accepted. New School Supplies Needed: Book bags, erasers, ballpoint pens, highlighters, primary & regular crayons, magic markers, loose leaf paper, comp. & spiral notebooks, folders, glue sticks, scissors, rulers, #2 pencils, colored pencils, 3 ring binders and small tissue packages. For more information contact Angelo & Barbara LaDuca at 773-2888. Supplies may also be dropped off at 139 Parkview Dr., Grand Island until June 2nd.
Catholic Charities Fund Drive - March 2015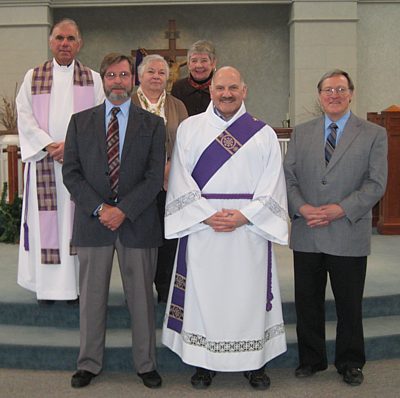 Committee pictured L-R: Fr. Paul Nogaro, Dan Linenfelser, Jo Ann Linenfelser, Janet Sheehan, Deacon Mike Ficorilli, Ted Korkuc
Deacon Mike Ficorilli, deacon assistant with Catholic Charities, spoke at all the masses at St. Stephens Church this past weekend about the upcoming Catholic Charities Fund Drive. Deacon Mike is a Grand Island resident and former folk music director at St. Stephens. He said that last year over 146,000 people of all denominations were assisted by Catholic Charities with a wide range of services for people of varying needs. The Appeal this year runs from March 22nd - 29th and the goal is $10.9 million. Contributions can be made at the weekend masses or by contacting St. Stephens rectory at 773 7647.