St. Stephen School News Page
2014
School Website
Previous News Page
St. Stephen School Honor Roll - December 2014


St. Stephen School 1st Trimester Honor Roll
Grade 3: Mrs. Julia Moretti
1st Honors: Eric Bartlo, Emma McWilliams, Tessa Morris, Maria Pawelczyk, Blake Pyc, Rebecca Sander, Jack Trettel, Mara Wild
2nd Honors: Kelly Coghlan, Natalie Garland, Wyatt Grimmelt, Maxwell Martineck, Marissa Mrkall, Luke Noe, Luke Sweeney, Isaac Tagliavento

Grade 4: Mrs. Maria Grapes
1st Honors: Ella DeRose, Anna Donlon, Julia Eddy, Tyler Gardner, Madison Jones, Jessica Klein, Kathleen Krawczyk, Riley Masterman, Lily Panepinto, Christian Reszel, Jack Rogers, Juliana Rottaris, Elliott Stone
2nd Honors: Joseph Ciraolo, Bobby Damon, James Moorhouse, Brendan Murphy, Joseph Pawelczyk, Ava Sullivan

Grade 5: Mrs. Jennifer Hoplight
1st Honors: Anna Bartlo, Cara Eugeni, Elizabeth Garland, Natalie Hesch, Olivia Sentz, Sheila Strott, Grace Tabone, Sophia Terlecky
2nd Honors: Brandon Barone, Samantha Falbo, Alivia Frosolone, Graer Howell, Chance Luthringer, Dennis Misko, Marissa Mistriner, Sean Nemeth, Nicolette Williams

Grade 6: Mrs. Kelly Davis
1st Honors: Andrew Buchman, Kristen Coghlan, Jay Granto, Connor Hill, Elizabeth Judd, Grace Misko, Maisie Mrkall, Vincent Ricotta, Grace Sweeney
2nd Honors: Connor Berlinger, Giuliana Congi, Marek Eddy, Evan Maynard

Grade 7: Mr. Phillip Kenline 1st Honors: Sara Frosolone, Victoria Garland, Sara Hyder, Chase Luthringer, Meghan McMurray, Emily Meka, Mikayla Robinson, Mary Helen Strott
2nd Honors: Vincenzo Ciffa, Jessica Flash, Allyson Nemeth, Justin Ortiz, Victor Pavone, Isabel Reszel, Robert Reszel, Taylor Stock, Kathryn Sullivan

Grade 8: Mrs. Bonnie Stephens
1st Honors: Mackenzie Barone, Sarah Berlinger, Jacob Eddy, Catherine Faturos, Emma Gandolfi, Emily Klein Alexander Nemeth, Nicole Nobrega, Isabella Ziolkowski
2nd Honors: Charley Benz, Jake Flash, Brandon Vedella



St. Stephen School Shopping Extravaganza - October 2014


Join us at St. Stephens 6th Annual Shopping Extravaganza event being held on Sunday, November 2nd from 9:00 a.m. - 3:00 p.m.. FREE ADMISSION AND PARKING. Our vendors and crafters offer a variety of items to please and satisfy your holiday shopping needs. Looking for a unique gift for that someone special? We have it all! Over 80 vendors! Food, Drink, Fun, Face Painting, interactive kid friendly animal encounters, Crafts, Raffles and admission is FREE! 2080 Baseline Rd Grand Island, NY 14072.



St. Stephen School Honor Roll - July 2014


St. Stephen School 3rd Trimester Honor Roll
list
St. Stephen School Lenten Fish Fry Dinners- February 2014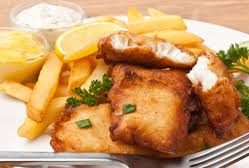 St. Stephen School's Home School Association will begin hosting their 34th Annual Series of Lenten Fish Fry Dinners on Friday, March 7th! Fish Fry Dinners will be offered every Friday for the seven (7) Fridays of Lent, (through April 18). Menu includes your choice of beer-battered, fried, or baked haddock, deep fried shrimp, deep fried scallops, or Captain's Platter (combination); coleslaw; and choice of their famous potato salad, rice pilaf, French fries, and/or creamy macaroni and cheese. Fresh bread and butter also served for dine-in guests. Range of beverages, including beer and wine, assorted soft drinks, coffee, and tea. Delicious homemade desserts are also available. Dinner prices for most menu choices range between $5 and $12. Senior Citizens discounts are available. Desserts and some of the beverages are priced ala carte, for a nominal charge. Friday Fish Fry Dinners will be served at St. Stephen School Cafeteria, 2080 Baseline Road, Grand Island, NY, 14072. Dine-in and Take-Out Dinners will be served from 4:30pm - 7pm. Take-Out orders will be taken by phone at 773-4347 from 3:30 - 7pm on Fridays. On Good Friday, April 18th, we will have only Take-Out Dinners (no sit down dinners).
St. Stephen School Makes Valentines for Veterans - February 2014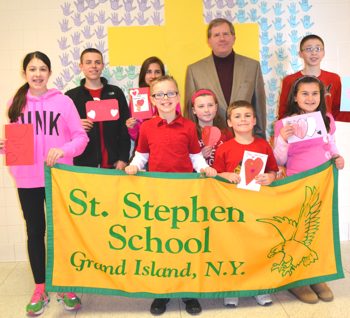 From left: Katie Faturos, Patrick Curtin, Shannon Klein, Graer Howell, Anna Donlon, Legislator Kevin Hardwick, Sam Iuvino, Joseph Pappano and Marissa Mistriner
Students from St. Stephen School met with Legislator Kevin Hardwick on Monday, January 27th to make Valentines cards for the "Valentines for Veterans" program. These cards will be delivered to local veterans and active servicemen and women to thank them for their service and to remind them that they are appreciated this holiday.
St. Stephen School Alumni Wanted - February 2014
All St. Stephen School alumni are encouraged to contact a committee that is planning an alumni reception on Saturday, March 29, 2014. If you are an alumni or know of one, please contact sssalumnae@gmail.com.



St. Stephen School Open House - January 2014
St. Stephen's School Open House will be held on Sunday, January 26th as they kick off Catholic Schools Week with a 9:00 a.m. School Mass followed by the school open house from 10:00 a.m. - 2:00 p.m. There will be a story time in the Library from 10:30 - 11:30 a.m. and arts and crafts in the Art Room, as well as exhibition games in the gym. Be sure to look in the halls to see the wonderful artwork, writings and creativity of the students. All are welcome! For more information call 773-4347.