St. Stephen's Church News 2017
---
Pastor: Rev. Paul Nogaro
St. Stephen's Church Website
Previous News



2100 Baseline Road, Grand Island, NY 14072
fax: 716-773-5792

Karen A. Cammarata - Business Manager
businessmgr@adelphia.net 716-773-7647 ext #104

Office: Sandy Beyer or Helen Lemme - 716-773-7647 ext #100
ststephenswny@adelphia.net


Mission:
To enable the people of Grand Island to encounter Jesus by sharing Word and Sacrament with a loving concern for one another.
Events
: Daily Mass Monday - Friday 7:30 A.M. and 12:05 P.M. Saturday 9:00 A.M., and 4:30 P.M. Sunday 7:00 A.M., 9:00 A.M. & 11:00 A.M. Open to All
Help
: Promote and support our church and promote and support the events that we sponsor!
Strengths
: A strong, stable, faith filled community that has open arms for all who enter through our doors.
Catholic Charities Appeal - March 2017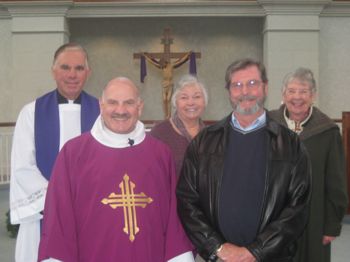 Committee members pictured from left: Fr. Paul Nogaro, Deacon Mike Ficorilli, Jo Ann Linenfelser, Dan Linenfelser, Janet Sheehan.
Deacon Mike Ficorilli from St. Andrews Parish in Kenmore spoke at all the masses at St. Stephens Church last weekend about the upcoming Catholic Charities Appeal. Deacon Mike, a Grand Island resident who was formerly involved with the music ministry at St. Stephens, has worked in the food pantry for Catholic Charities. He reminded the parishioners that during the Lenten season a good way to increase works of mercy is to donate to the Catholic Charities Drive. The Drive last year assisted more than 152,000 people through 70 different programs in the eight counties of Western New York. The Appeal runs through Easter and the goal is $11 Million. Donations can be made by return mail, or at the weekend masses.
First Friday Evening Discussion - January 2017
First Friday evening February 3, 2017, St. Stephen's Hospitality Room. Join us for a health seminar for you, your family and others you care about. "Nutrition Response Training" with Dr. Thomas G. Barba, Chiropractic & Master Clinician Nutrition Response Testing. A non-invasive system of analyzing the body to determine the underlying causes of ill or non-optimal health. We start at 7:00 p.m. with a short social and the program begins at 7:30 p.m., bring a friend.