St. Stephen's Church News 2018
---
Pastor: Rev. Paul Nogaro
St. Stephen's Church Website
Previous News



2100 Baseline Road, Grand Island, NY 14072
fax: 716-773-5792

Karen A. Sweet - Business Manager
businessmgr@ststephensgi.com 716-773-7647 ext #104

Office: Micahlena or Fran - 716-773-7647 ext #100
ststephenswny@ststephensgi.com


Mission:
To enable the people of Grand Island to encounter Jesus by sharing Word and Sacrament with a loving concern for one another.
Events
: Daily Mass Monday - Friday 7:30 A.M. and 12:05 P.M. Saturday 9:00 A.M., and 4:30 P.M. Sunday 7:30 A.M., 9:00 A.M. & 11:00 A.M. Open to All
Help
: Promote and support our church and promote and support the events that we sponsor!
Strengths
: A strong, stable, faith filled community that has open arms for all who enter through our doors.
St. Stephen Church Annual Rummage Sale - June 2018
St. Stephen Church Annual Rummage Sale is scheduled for Friday & Saturday, June 29 & 30 from 9:00 a.m. - 5:00 p.m., and Sunday, July 1st from 9:00 a.m. - 2:00 p.m. (Fill a bag for $3.) The church is located at 2100 Baseline Road and there will be a basket raffle available during the sale.
St. Stephen School and Parish Annual Golf Challenge - June 2018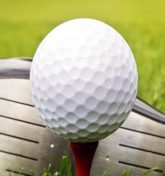 St. Stephen School and Parish Annual Golf Tournament is Monday, July 9th at River Oaks Golf Course. See
flyer
for details.
Ladies of Charity School Supply Drive - June 2018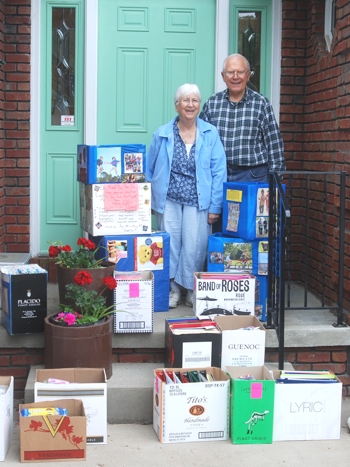 Barbara & Angelo LaDuca.
The Ladies of Charity school supply drive recently ended and the Grand Island community donated 27 boxes of supplies for the effort. On June 6th, the boxes were delivered to the Ladies of Charity headquarters on Broadway in Buffalo. Over 600 requests for supplies will be filled throughout the Diocese of Buffalo, so students will be well equipped for the new school year next fall.
Barbara Frase of Tonawanda started the school supply drive in 2000 with the Ladies of Charity, and after her passing in 2002, family and friends took over the cause in her memory. Grand Island coordinator Barbara LaDuca thanks the community for their generous donations.
School Supply Drive - April 2018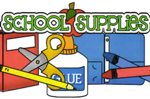 Yearly the Ladies of Charity distribute school supplies to children, ages 5 -17, by referral from Catholic Charities case workers in several WNY counties. Each year over 700 children are equipped for the new school year and as needed during the year. High school students can earn community service hours toward graduation. In July & August, book bags are packed and ready for distribution.
This is a Spring Project for families, school children, discussion and prayer groups or anyone wishing to assist the Ladies of Charity. Place your donations in specially marked boxes in the St. Stephen's narthex, From April 29th - May 31st. Monetary donations are also accepted. New School Supplies Needed: Book bags, erasers, ballpoint pens, highlighters, primary & regular crayons, magic markers, loose leaf paper, comp. & spiral notebooks, folders, glue sticks, scissors, rulers, #2 pencils, colored pencils, 3 ring binders and small tissue packages. For more information contact Angelo & Barbara LaDuca at 773-2888. Supplies may also be dropped off at 139 Parkview Dr., Grand Island until June 2nd.
Encore for Evie - April 2018
St. Stephen's Parish Players are staging an "Encore for Evie" performance of Disney's Lion King Jr. on this Friday, April 13th. Evie Baumler was one of the six year-old cubs in last week's performances. Evie's second open heart surgery was scheduled for Wednesday, April 11th at Strong Memorial Hospital in Rochester, but was cancelled. Curtains go up at 7pm at St. Stephen School, 2080 Baseline Rd, with doors opening at 6:30. All seats are general admission and will be sold at the door. Suggested donation is $5 per person. All proceeds from this show will go towards helping little Evie's medical bills. Join us for an encore performance as we visit the Pridelands one more time and fight to make a difference for those, like our little lion cub Evie, who are living with a heart defect.
Catholic Charities Drive - March 2018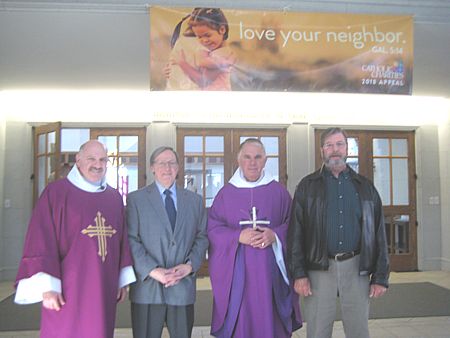 From left: Deacon Mike Ficorilli, Ted Korkuc, Father Paul Nogaro and Dan Linenfelser.
Deacon Mike Ficorilli, a former member of St. Stephen's Parish, now with St. Andrew's Parish in Kenmore, spoke at all the masses at St. Stephen's last weekend about the upcoming Catholic Charities Drive. Deacon Mike has been involved with the Drive for the last seven years and gave examples of how he has seen Catholic Charities assist individuals and families overcome many different problems including drug addiction, mental health, spousal abuse, and more. He said that last year nearly 153,000 people went to Catholic Charities for help in the eight counties of Western New York, 243 of them from Grand Island. The Appeal runs through Easter Sunday, this years goal is $11,000,000, and the patron is St. Clare of Assisi. Donations can be made at the Sunday masses or by contacting the rectory at 773-7647.
Holy Name Society Breakfast Fundraiser - January 2018
St. Stephen Holy Name Society Parish Community Breakfast Fundraiser will take place on Sunday, January 28th from 8:30 a.m. - 12:30 p.m. in the hospitality room. Tickets are adults - $7.00, seniors - $6.00, children 5-12 - $3.00 and under 5 - free. See
flyer
.