Grand Island Town &
School News Web Page
2022
Previous News Page
Town/County Tax Bills Mailed - January 2022
Town Clerk Patricia Frentzel announced that the 2022 Town/County Tax Bills have been mailed. If you have changed banks, have paid off your mortgage or do not have an escrow account and did not receive a tax bill, please contact the Town Clerk's office at 773-9600 ext. 620 or 600. The office will be open extras hours: Saturday, February 12 – 9:00am – 12:00pm Monday, February 14 – 8:30am – 6:00pm Tuesday, February 15 – 8:30am – 6:00pm
Checks should be made payable to Town Clerk. The last day to pay without penalty is February 15. Envelopes must show a legible postmark of February 15 to be accepted on time. Taxpayers should call the office for correct amounts for payments made February 16 and later. Payments can be made until June 30, 2022. After this date, payments must be sent to the County. ONLINE TAX RECEIPTS AND PAYMENTS - SERVICE FEES APPLY - www.grandislandny.us. DEBIT AND CREDIT CARDS ACCEPTED AT COUNTER SERVICE FEES APPLY.
Tax Notice
.
NYS Parks Issuing West River Dock Permits - January 2022
The New York State Office of Parks, Recreation and Historic Preservation has announced that they will be issuing temporary seasonal dock permits for up to 35 public docks along the West River Shoreline Trail on a first come first serve basis for the 2022 season. Permit applications will be distributed beginning at 8:00 am on February 5, 2022 until 35 applications have been distributed. Due to Covid-19 protocols, participants will be asked to remain in their cars and follow signage and staff direction. Further information is available online at www.parks.ny.gov/parks/56/details.aspx or call the Beaver Island State Park Office at 716-773-3271.
GICSD Substitute Recuitment Job Fair - January 2022
The Grand Island Central School District will hold a substitute recruitment job fair from 9 a.m. to 2 p.m. on Friday, Jan. 21, at Grand Island HIgh School, 1100 Ransom Road.
Substitutes are currently needed in all areas at the district office, high school, middle school, and three elementary schools. All applicants for substitute teachers, aides, nurses, custodial, clerical, monitors, buildings and grounds, food service, bus drivers, and attendants will be interviewed on site. If interested, submit an application in advance on the WNYRIC portal available though the Grand Island district website (www.grandislandschools.org), or be prepared to fill one out upon arrival. Interviews will be conducted on site, and interested parties can continue to apply for these positions on a continual basis throughout the school year.
Applicants should bring their current resume, copy of transcripts, certificate (if applicable), driver's license, and Social Security card. Parking is available in front of the high school. Substitute teaching applicants must have completed a bachelor's degree. Email suzannepfleger@gicsd.org for more information.
Town & County Tax Bills Mailed - January 2022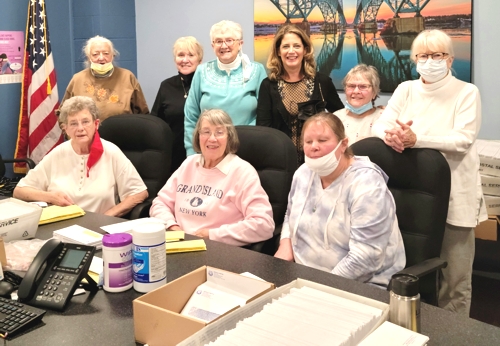 Sitting from L to R: Ann Dlugokinski, Martha Mueller, Suzanne Mueller.
Standing L to R: Lorraine Wilcox, Linda Clark, Kathy Lechner, Town Clerk Pattie Frentzel, Jean Schlegal and Pat Cummings.
Despite COVID – 19, the Town and County tax bills are in the mail!! Our volunteer seniors, socially distanced and wearing masks, prepared the tax bills and were treated to lunch. Town Clerk Pattie Anderson Frentzel reported that the last day to pay without penalty is February 15, 2022.
Erie County Sheriff Sergeant Local Hero - January 2022
The Erie County Sheriff's Office announced on Monday, January 3rd the following; On January 2, 2022, while working as part of the SWAT Reaction Force at Highmark Stadium Dr. Kevin McGee and Sgt. Chris Soluri responded to assist with a first aid call for an individual having a seizure and potentially a heart attack. Upon arrival, cibilians were observed to be performing CPR on the victim. Without hesitation, Dr. McGee and Sgt. Soluri sprang into action, took control of the scene, and deployed a Sheriff's Office AED. The doctor and the sergeant continued to work on the patient, who had no pulse and was not breathing, ultimately regaining consciousness. After traveling in the ambulance to a local hospital, Dr. McGee turned over the patient to emergency room staff; the patient was conscious, alert, and talking when Sheriff's personnel left the facility.
National Law Enforcement Day - January 2022
Thank An Officer Today - January 9th, 2022.
Policing was a haphazard process in the young nation. Protective forces were privately operated and for profit. Frontier justice was a mix of factors. The military was the primary law enforcement during the time of the Civil War, but during reconstruction, local sheriffs played an important role in enforcing the general order and the right to vote for the slaves who were freed.
By the 1880s, the major cities of the United States had police forces who served and protected the public from criminals and wrong doing in the growing cities.
In 1929, President Hoover assigned the Wickersham Commission to examine the effectiveness of law enforcement in the whole nation. The idea of a mobile officer was developed to professionalize the police. The American police were formed having quasi-military aspects of rank structure and accordingly uniforms were assigned. Their main task was to prevent crime and provide a wide array of other public services. The police power in the United States in a specific area gave benefits to the government and local people.
Inauguration of Newly Elected Officials - January 2022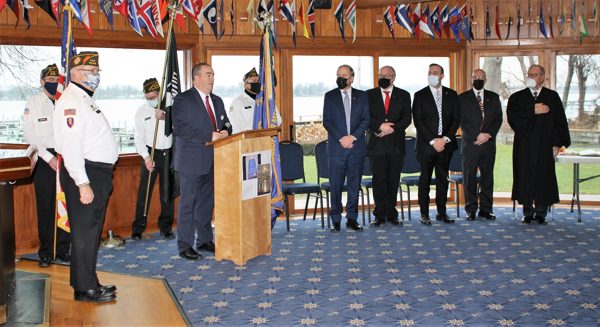 From left: VFW Honor Guard, Master of Ceremonies Eric Fiebelkorn, Town Justice Mark J. Frentzel, Councilmen Peter Marston, Jr. & Christian Bahleda, Highway Superintendent Richard Crawford, Jr. and The Honorable Joseph Cassata.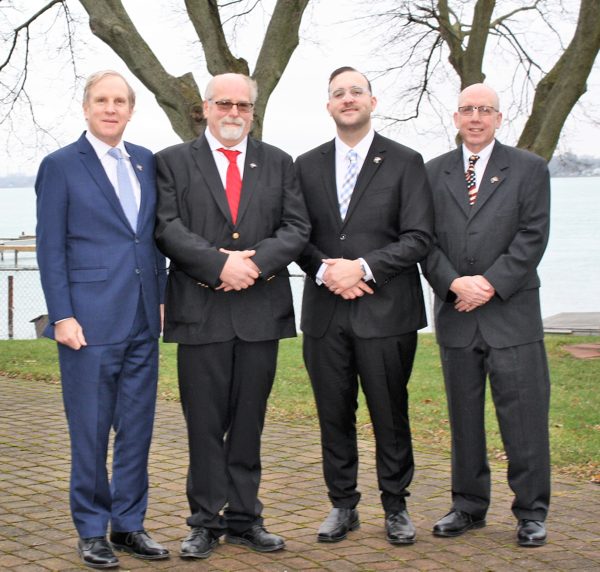 From left: Mark J. Frentzel, Pete Marston, Jr., Christian Bahleda, Richard Crawford, Jr.
The Town of Grand Island held the Inauguration of the newly elected officials on Saturday, January 1, 2022, at 12:00 p.m. (noon) at the Sandy Beach Yacht Club. Inaugurated were Mark J. Frentzel – Town Justice, Richard Crawford, Jr. – Highway Superintendent, Peter Marston, Jr. – Councilman and Christian Bahleda – Councilman. Eric Fiebelkorn was the Master of Ceremonies. The Honorable Joseph Cassata was the installing officer.
National Fuel Tips for Winter Safety - January 2022
(Jan. 4, 2022) WILLIAMSVILLE, N.Y. – National Fuel advises homeowners to be prepared and safe this winter and pay attention to outdoor gas meters, furnaces, and vents. Also, payment assistance information. See
press release
.