Trinity United Methodist Church Web Page

Trinity UM Church News - 2012

Official Trinity UM Church Website


Previous News Page

2100 Whitehaven Road
Grand Island, NY 14072

---
Senior Pastor: Larry Baird
Associate Pastor: Nate Lange

| Ph: 773-3322 | Fax: 773-3366
---


News from Trinity UMC Church- Nov. 2012
For you and your children, Sunday, December 2, 2-5 pm at Trinity UMC, 2100 Whitehaven Road:
Encounter the sights and sounds of the Bethlehem of the nativity, as the entire church is transformed. Children can see the inn, the carpenterís shop, the marketplace and more, and interact with the nativity characters everywhere. There are crafts, activities, videos and other treats in store for an afternoon of seeing, participating and just having fun.
All children must be accompanied by adults. Preregistration is required online at
www.gitumc.org
. No charge.


Fall Fest At Trinity - Oct. 2012
Trinity Fall Fest to feature food, basket auction, Popular Trunk or Treat
A Fall Festival will be held at Trinity Church on Saturday, October 20 and will include a "Taste of Trinity," Basket Raffle and Trunk or Treat. The Taste of Trinity will feature pulled pork, grilled sausage, hot dogs and chili, as well as several kinds of soup, baked goods and desserts, clam chowder and more. The silent auction includes a variety of products and services from local businesses. And kids can come in costume from 2 p.m. to 4 p.m. for free Trunk or Treating outside in the parking lot. There will also be games and prizes. A bounce house will be inside the gym for a nominal fee. Trinity Church is located at 2121 Whitehaven Road.


Historic Trinity Garden Tour - June 2012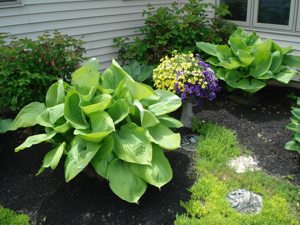 The Ninth Annual Garden Tour sponsored by the Historic Trinity Committee will take place on Saturday, July 14th from 11:00 a.m. - 5:00 p.m. This year, eight outstanding Grand Island gardens will be featured in what is said to be the final show. This fundraiser benefits the renovation and maintenance of the multi-use building known as Historic Trinity. Booklets with the locations and descriptions of the tour gardens will be available at Historic Trinity, on Saturday, July 14th. Tickets are available at Serene Gardens, Pamís Gift Shop and the Church Office, or by phone 773-2421 or 773-4946.

Also available  at the church:

* Garden plants from EH Enterprises, at reduced prices

* Gardening magazines & books  for a donation

* Refreshments

* Historic Trinity display

* RADA cutlery

* Other gardening items 




Pink Love Bag Project - May 2012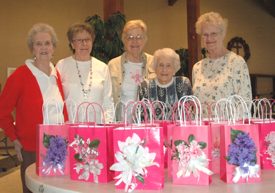 From left: Catherine Long, Pat Shaw, Nancy Hayes, Betty Killian and Elle Zarbo.
Click photo for larger view
The ladies of Trinity UMC have been involved in the Pink Love Bag Project since its inception in 2008. Toiletries and donations are collected throughout the year to be placed into decorative pink bags. The bags are then taken to the Buffalo Veterans Hospital, where they are given to female veterans. A group gathered on Friday, May 11th, to put together 300 pink bags. Items needed for the bags include: tooth brushes, deodorant, medium sized conditioner, shampoo, toothpaste, hair brush. Hand sanitizer, lip balm and bar soap are also needed. If you would be interested in donating toiletries or money, contact Nancy Hayes (773-7127) or Pat Shaw (773-4439).
The Trinity United Methodist Women will host a Krolick's Fish Fry/Chicken Finger Dinner from 4-7 p.m. Friday, April 6, 2012 at Trinity UM Church, 2100 Whitehaven Road. See
Information
for details.
.