Charles N. DeGlopper Memorial VFW Post #9249
2018
2121 Grand Island Blvd.
Previous VFW News

April Newsletter

---
Hot Turkey Sandwich Night - November 2018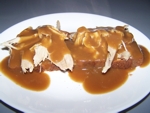 The VFW Post 9249 Auxiliary, 2121 Grand Island Blvd., is hosting a Hot Turkey Sandwich Night on Friday, November 16th from 4:00 - 7:00 p.m. or sold out. Tickets are $7 per plate or $7.50 for take-out. Dinner includes open faced hot turkey sandwich with gravy, chips, vegetable and cranberry sauce. 50/50 and Lottery Tree.
Grand Island VFW Auxiliary Suits for Vets Drive - October 2018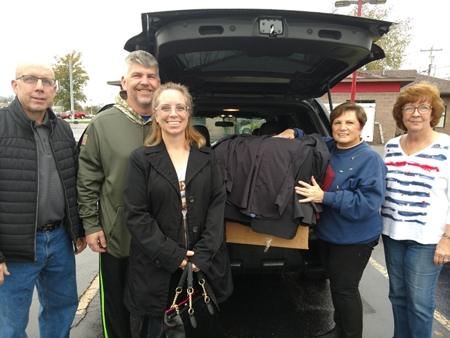 From left: Dick Crawford, Kevin Tyler, Patricia Tyler, Rosemary Wojick & Kathy Blake. - Alan Lee photo.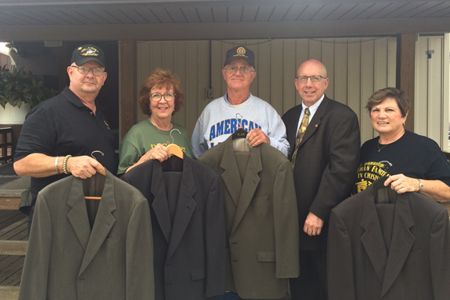 From left: Alan Lee, Kathy Blake, Ray DeGlopper, Dick Crawford & Rosemary Wojick.
Many military veterans face barriers when transitioning to civilian life. In particular, finding a civilian career after they finish their service can be a challenge. Looking the part and dressing professionally is essential to feeling confident in any job interview. Studies have shown making a good first impression depends a lot on appearance. After wearing the same military uniform for several years, veterans need assistance with looking the part so that they may interview with confidence.
Grand Island VFW Auxiliary Post 9249 has made it their mission to give men and women veterans the resources they need to succeed in the workforce by outfitting them with professional business clothing. The Auxiliary along with Ladies of the Moose and the American Legion will be collecting suits, pant suits, skirts, slacks, shirts, shoes and blazers in various sizes and colors. Men and women Veterans will have an opportunity to select from the wide array of new and gently-used ensembles.
At last Fridays Pork Roast Dinner at the VFW sponsored by the VFW Auxiliary, Patricia and Kevin Tyler donated a wardrobe box of women's suits and dresses. "When veterans complete their military service, we want to help provide the confidence they need to obtain valuable careers", said Rosemary Wojick - President of the auxiliary. Auxiliary member Dick Crawford is chairing the event and commented that "by outfitting these men and women with professional attire, we are helping them to get back into the workforce and to become self-sufficient, we are confident their renewed resolve will have an impact on their families and communities". Residents are asked to call Crawford at 818-6992 to have their donations picked up, drop them off at the VFW Post or Highway Department through the month of November.
Help A Hero Scholarship Campaign - October 2018
VFW Post 9249 Commander Dan McMahon would like you to know about a special scholarship campaign sponsored by Sport Clips Haircuts. Starting October 15th through Veterans Day, November 11, you can "Help A Hero" when you get a haircut at one of the almost 1,800 Sport Clips locations across the U.S. The goal this year is to raise $1.5 million toward scholarships through the Veterans of Foreign Wars of the U.S. (VFW)-administered program. The closest location is at 5095 Transit Road, Buffalo, NY 14221.
From the press release: "Sport Clips worked with the VFW to establish the VFW's "Sport Clips Help A Hero Scholarship" program in 2013, after partnering for more than a decade to provide phone calls home for America's service members and their families. The Help A Hero Scholarship program now provides up to $5,000 of assistance per semester to qualified U.S. service members who are in need of financial support to pursue an education at post-secondary institutions, including trade schools. So far Sport Clips, clients, team members and product partners have raised more than $4.9 million for the program to fund 1,115 scholarships. But the company's founder, a veteran, says there's more work to be done."
"Estimates are that one million service members will leave the military over the next five years, so it's mission critical to help pave the way to civilian careers and essential employment. We started the Help A Hero program to help veterans with the education costs not covered by the GI Bill," says Gordon Logan, Sport Clips founder, CEO, Air Force veteran and VFW Life member. "Help A Hero Scholarships are changing lives by offering the support needed to ease the transition from the military and providing for veterans and their families as a way of saying 'thank you' for their service."
VFW Auxiliary Roast Pork Dinner - October 2018
The VFW Auxiliary is hosting a Pork Roast Dinner on Saturday, October 20th, at the post, 2121 Grand Island Blvd., from 4:00 p.m. - 7:00 p.m. The cost is $10 per plate or early bird from 4:00 p.m. - 4:30 p.m. at $9 per plate. Dinner includes Roast Pork with stuffing, gravy, mashed potatoes, sauerkraut and applesauce. Take out available for $10.50, no early birds. A dessert table will be available, 50/50 and lottery ticket money tree.
Sign Up For Thank A Vet Program - October 2018
The Erie County Clerk's Office will host a sign-up for the "Thank A Vet" Discount Program at the VFW Post 9249, 2121 Grand Island Blvd., on Wednesday, October 17th from 10:00 a.m. - 12 noon. See
flyer
for details.
VFW Announces Kick-Off of Annual $30,000 Scholarship Competition - September 2018
Albany NY, September 2018
- Department of New York Veterans of Foreign Wars Commander Gene Ratigliano, and Youth Recognition & Scholarship Chairman (VOD) Wally Zincio announced the kick-off of this year's VFW's Voice of Democracy Scholarship competition. Local high school students have the opportunity to compete for thousands of dollars in scholarships and a trip to Washington, D.C. and Valley Forge PA.
Students must write and record a three-to-five minute essay on the selected theme using an audio CD or flash drive and present their recording, typed essay and completed entry form to their local VFW Post by Midnight, October. 31st. The 2018 theme selected is "Why My Vote Matters". Post winners compete at the District level with the winner advancing to the state competition.
A panel of impartial judges consisting of elected officials, and community leaders will convene December 29, 2018 at Columbia Greene Community College, Hudson NY to choose winning essays from the ones that reached Dept. VOD Chairman, Wally Zincio desk from across the state. From there the Dept. of New York 1st place winner will then be advanced to the National competition.
Locally, the entries must be turned into the Charles N. DeGlopper Memorial VFW Post 9249, 2121 Grand Island Blvd., Grand Island, NY 14072, by the close of business, October 31, 2018.
All state first-place winners receive a four day trip to Washington, D.C. and the chance to compete for their share of more than $150,000 in scholarships. The first-place winner receives a $30,000 college scholarship. The Dept. of N.Y. 1st. place winner will also be offered a trip to Valley Forge P.A. to attend a leadership seminar, Freedoms Foundation.
The National Association of Broadcasters (NBA) started the Voice of Democracy Scholarship program in 1947. The VFW became a national sponsor in the late 1950s and assumed sole responsibility for the program in 1961. The competition was created to provide students grades 9-12 the opportunity to express themselves in regard to democratic ideas and principles. Around 40,000 students participate in the competition each year and the VFW awards more than $2 million dollars scholarships every year. For details visit: http://www.vfw.org/VOD.
Gold Star Mother's Day - September 2018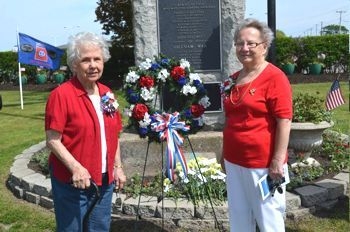 From left: Gold Star mothers Shirley Luther & Mary Anne Crowe.
From VFW 9249 Auxiliary Americanism Chairman Bob Lamb.
Gold Star Mother's Day is September 30th, 2018.
The Gold Star Mothers organization was founded on June 4, 1928, in Washington, D.C. by Grace Darling Seibold and 24 other Gold Star Mothers. Grace Seibold had lost her son in 1918 while he was serving with the British Royal Flying Corp. In order to release her grief - Grace and other war mothers worked in hospitals and clinics to alieve the suffering of wounded war veterans.
In May 1918, President Woodrow Wilson approved a suggestion by the Council of National Defense that American women should wear a black arm band on the left arm with a gilt star for relatives who had died in service of their country.
On the last Sunday in September, Gold Star Mother's Day is observed in the U.S. in honor of Gold Star mothers, as established in Title 36 § 111 of the United States Code. This was originally declared by Senate Joint Resolution 115 of June 23, 1936.
On September 21, 1948, the United States Post Office issued a 3-cent stamp to honor the Gold Star Mothers. The stamp, designed by Charles R. Chickering features a palm branch and a star. It was the first stamp in eight years to honor a women or a woman'' organization. The first sheet of stamps was presented to Mrs. Thomas F. Sullivan - the matriarch of the Sullivan Brothers who perished when the USS Juneau was sunk in 1942.
American Gold Star Mothers, Inc. is a private, nonprofit organization of American mothers who have lost sons or daughters in service of the United States Armed Forces. In June 2005, the Gold Star Mothers altered their membership criteria and started accepting non-citizen members. Adoptive mothers and stepmothers are also allowed. Membership is not contingent on whether the child was killed in action or the theatre of operation or the time period of the service.
Grand Island VFW Post 9249 9/11 Memorial Service - September 2018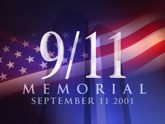 The public is invited to the Charles N. DeGlopper Memorial VFW Post 9249, 2121 Grand Island Blvd., for a Memorial Service on Tuesday, September 11, 2018, at 7:00 p.m. This will commemorate the loss of 2,996 lives on the 17th Anniversary of the attacks in New York City, Shanksville, Pa and Washington. DC. All groups and organizations are invited to come to the Post and stand together for this memorial service. Bring your organization's colors and banners as we pay tribute to those who lost their lives 15 years ago. If there are any questions please contact Commander Dan McMahon 622-6911 or Sr. Vice Commander Eshelman at 773-6343.
Grand Island VFW Post 9249 Patriot's Pen Winners - June 2018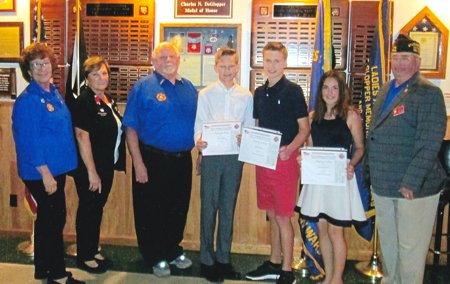 From left: Youth Activities Chairperson Kathleen Blake, Auxiliary Vice President Rosemary Wojick; Auxiliary President Davis Tolejko, Chace Pyc - 1st place, Brandon Murphy - 3rd place, Isabella Maynard - 2nd place, Post 9249 Commander Daniel McMahon.
Each year the VFW and VFW Auxiliary sponsor the Patriot's Pen essay competition. This is open to all students in grades 6-8, and the 2018-19 competition asks students to examine the statement, "Why I Honor the American Flag." This year's winners are Chace Pyc - 1st place, Brandon Murphy - 3rd place, Isabella Maynard - 2nd place.
Grand Island VFW Post 9249 Scholarship Winner - June 2018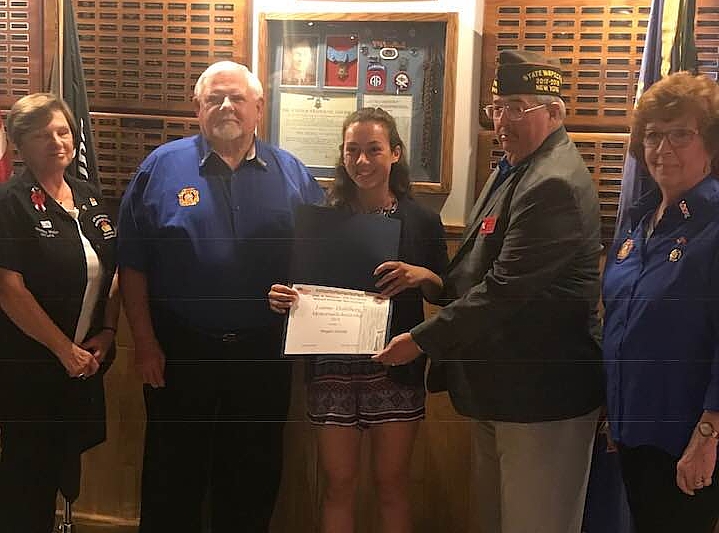 Auxiliary Vice President Rosemary Wojick; Auxiliary President Davis Tolejko, Scholarship winner Megan Stanley, Post 9249 Commander Daniel McMahon, Youth Activities Chairperson Kathleen Blake.
The Grand Island VFW Post 9249 Lianne Dahlberg Memorial Scholarship recipient is GIHS senior Megan Stanley. Megan wrote an essay, "Why Should We Support Our Veterans?", see
here
. Megan will be studying Criminal Justice this Fall at Hillbert College.
VFW Annual Picnic Sponsorship Opportunities - May 2018
On July 4th 2018, the Charles N. DeGlopper Memorial VFW Post 9249 and auxiliary are teaming up once again to bring to Grand Island our annual picnic. The Post will have food trucks and auxiliary will be serving corn-on-the-cob, clams, pop, water and legal beverages throughout the day. Somewhere between 3,000 and 4,000 people will come to our grounds and enjoy the festivities we have planned.
The picnic will begin, following the Town's parade along Grand Island Blvd. and continue throughout the afternoon until 5:00 p.m. Friends, relatives, alumni and visitors to Grand Island will be participating. There are several games and events for the youth attending our great day. There will be a sound system for your listening and dancing pleasure.
This event is the Post's largest annual fund raising event. During the year we use the money raised to support needy Veterans and their families in and around Grand Island. Money has supported the "Van for Vets" Program, food pantries and various Veterans Hospital Volunteer programs. We continually support many community programs such as scholarships to graduating seniors, Patriot's Pen, Voice of Democracy, the Grand Island Hockey Club program, Neighbors Foundation and adult softball.
Many hours and days of planning go into making this event a success and the costs associated with our day are rising. As the Post Commander and event Chairman, I am asking for your financial support to offset some of these costs. Or Volunteer support, The Post has established 4 levels of sponsorship:
Platinum Level - $1500.00
Gold Level - $1000.00
Silver Level - $500.00
Kid Games Sponsor - $500.00 and volunteers
Platinum & Gold Level sponsors have the opportunity to put their own display on the Grounds. Multiple sponsors, will chose spots according to level. Silver Level will have their sponsorship on the back sides of our venue tickets. We Sell 45 - 50 thousand tickets. Multiple sponsors will be split up among the tickets. We will use the sponsors' names in our press releases and signs will be posted at the entrance gates to the grounds listing sponsors and sponsorship levels.
Thank you,
Daniel B. McMahon - Commander, Post 9249
Givfw9249@yahoo.com - Post: 773-6343
Thank A Vet Program Visits VFW - May 2018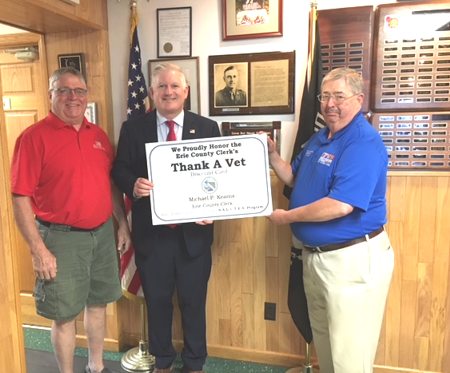 From left: VFW Jr. Vice Commander Paul Coughlin, Erie County Clerk Michael Kearns and Post Commander Dan McMahon.
Erie County Clerk Michael Kearns was at the VFW on Thursday, May 17th to sign up participants in the "Thank A Vet" program. The program offers didcount cards veterans with significant benefits from over 1,400 Erie County Businesses.
Chiavetta's Chicken BBQ - May 2018
The VFW Post 9249, 2121 Grand Island Blvd., is hosting a Chiavetta's Chicken BBQ on Wednesday, May 2, 16 & 30th, from 4:00 p.m. till gone. Take-Out or Dine-In. Pre-sale tickets are available and encouraged. Dinner price is $10.00 and includes chicken, cole slaw, potato salad, dinner roll and butter.
VFW Auxiliary Lenten Fish Fry - March 2018
The VFW Auxiliary is hosting a Lenten Fish Fry on Friday, March 23 & 30, 2017 from 5:00 p.m. - 8:00 p.m. Dinners are $10.00 per person and include baked or fried fish, french fries, cole slaw, macaroni salad, bread & butter and coffee. Desserts are available for purchase. Chicken finger basket $10 adult/$5 kids. Raffles and 50/50 also available.
Auxiliary Corned Beef & Cabbage Dinner - March 2018
15th Annual VFW Post 9249 Auxiliary Corned Beef & Cabbage Dinner is on Saturday, March 17th from 4:00 - 7:00 p.m. at 2121 Grand Island Blvd. Tickets ar $10 and include corned beef, cabbage, potatoes, carrots and dessert. There is an early bird from 4:00 - 5:00 p.m. at $9. There will be a 50/50 and lottery tree raffles. Public is welcome.
VFW Auxiliary Spaghetti Dinner - February 2018
The VFW Post 9249 Auxiliary Spaghetti Dinner is Saturday, February 10th from 4:00 - 7:00 p.m., or sold out. All you can eat spaghetti, with meatballs, salad and bread is $7.00. Early birds from 4:00 - 5:00 p.m. is $6.00. Raffle, 50-50, everyone welcome.
VFW Auxiliary Annual Soup Night - January 2018
The VFW Post 9249 Auxiliary Annual Soup Night is Saturday, January 20th from 4:00 - 7:00 p.m., or sold out. All you can eat soup, and bread is $7.00. Lots of soups to choose from. Dessert table available. Take out available after 6:00 p.m., $6 per quart. Raffle, lottery tree, everyone welcome.
Newsletter - January 2018
The VFW Post 9429
Newsletter
.