Charles N. DeGlopper Memorial VFW Post #9249
2018
2121 Grand Island Blvd.
Previous VFW News

January Newsletter

---
Family Breakfast at VFW Post 9249 - February 2019
The VFW Post 9249 is hosting a family breakfast on Saturday, February 16, March 23, April 27 and May 18th. This fundraiser is open to members, guests and the community. The buffet breakfast includes scrambled eggs, potatoes, bacon, sausage, pancakes, fruit, juice and coffee. Service is from 9:00 a.m. - 10:30 a.m. and the cost is $7.00 per person. Everyone welcome!
Flyer
.
VFW, Legion and Expansion Committee Receive Funds & Valentines - February 2019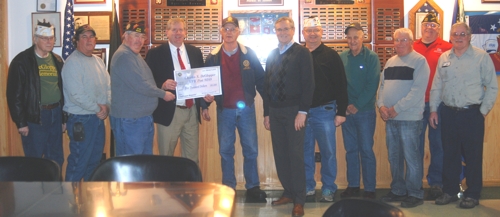 From left: Richard Lozo, Dan Drexilius, VFW Commander Dan McMahon, Legislator Kevin Hardwick, American Legion Commander Ray DeGlopper, Jim Sharp, Allen Lee, Alan Prame, Gary Roesch, Paul Coughlin and Ed Bognar.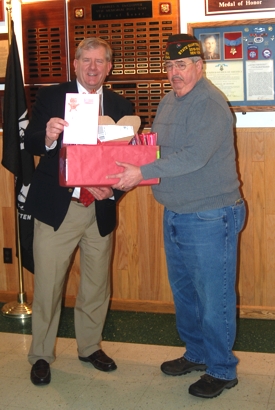 Legislator Kevin Hardwick presenting Valentine's to Commander Dan McMahon.
Erie County Legislator Kevin Hardwick stopped by the VFW Post 9249 on Tuesday, February 12th, to present a check for $5000 to the VFW, American Legion and the DeGlopper Memorial Park Expansion Committee. These funds are from the 2018 Erie County Budget and will go towards the expansion expenses. Hardwick also delivered a box of valentine's made by elementary students from Grand Island, Town and City of Tonawanda, public and parochial schools. These will be delivered by VFW Commander and Commander Grand of NY military order of the Cooties Dan McMahon, to the Veteran's Hospital on Thursday, Valentine's Day. The expansion committee can look forward to an additional $1000 in this year's budget.
VFW Auxiliary Soup Night - January 2019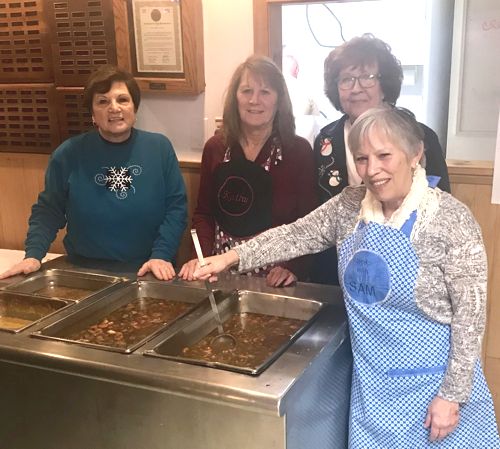 From left: VFW Auxiliary members Rosemary Wojick, Kathy Hillman, Kathy Blake & Sam Hill.
The VFW Annual Soup Night was a great success on Saturday, January 19th. A dozen different soups were served and you could try them all. The fundraising event was sponsored by the VFW Auxiliary.
VFW Auxiliary Annual Soup Night - January 2019
VFW Auxilliary Annual Soup Night is Saturday, January 19th from 4:00 p.m. - 7:00 p.m. All you can eat soup, salad and bread for $8.00. Take out soup is available after 6:00 p.m. for $7 per quart. Lots of soups to choose from. There will also be a lottery tree and 50/50. Everyone is welcome to attend.