Charles N. DeGlopper Memorial VFW Post #9249
2022
2121 Grand Island Blvd.
Commander Ann Marie Pfohl
Facebook Page

Previous VFW News

Charles N. DeGlopper VFW Post 9249 Pavilion Rental


---
New Clothing Drive For VA Medical Center - November 2022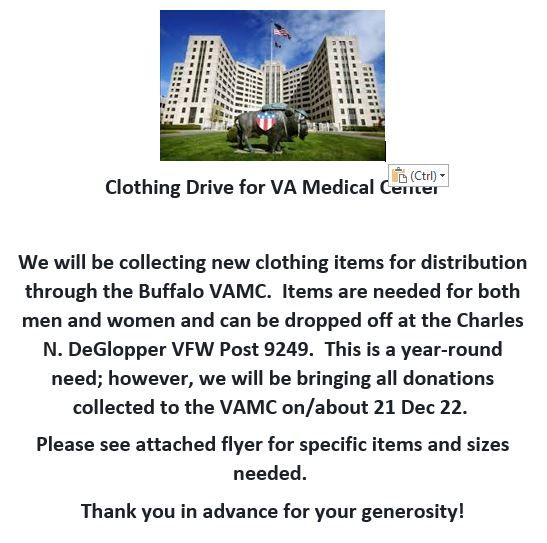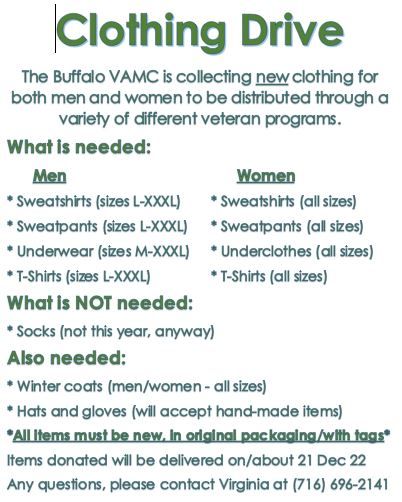 VFW Pork Roast Dinner - October 2022
The Charles DeGlopper VFW Auxiliary will host a pork roast dinner on Saturday, October 22nd from 4:00 p.m. - 7:00 p.m. See
FLYER
. Cost is $10 each and proceeds will be shared by the VFW Post and Neighbors Foundation.
VFW Receives Home Depot Upgrade - September 2022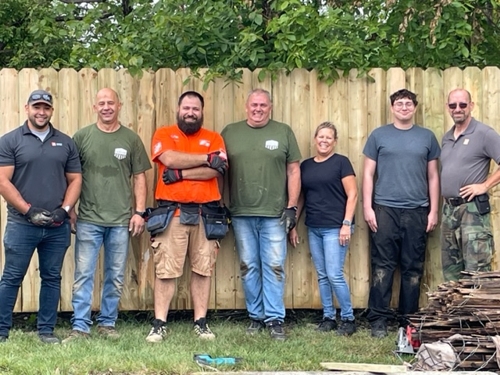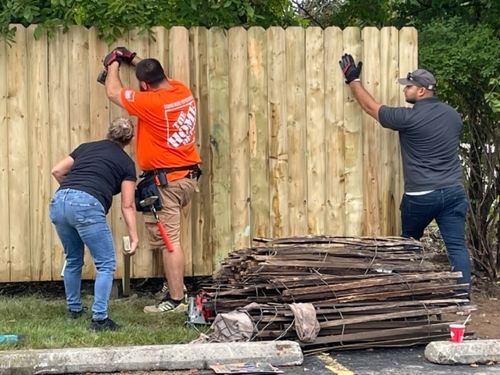 On Tuesday, September 6th, volunteers from Home Depot spent the day replacing fencing at the VFW Post 9249 on Grand Island Blvd. This is part of a company wide community outreach program and some of the volunteers were veterans. They also revitalized the front roadside entrance.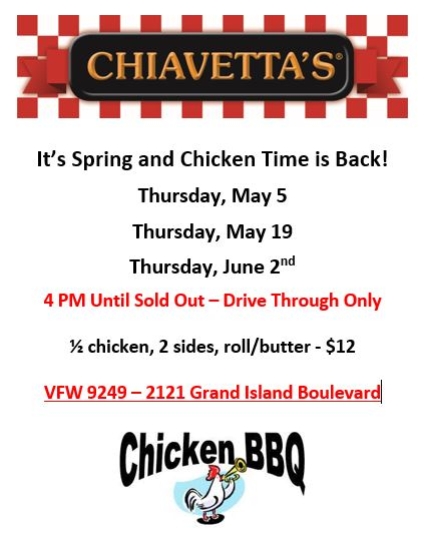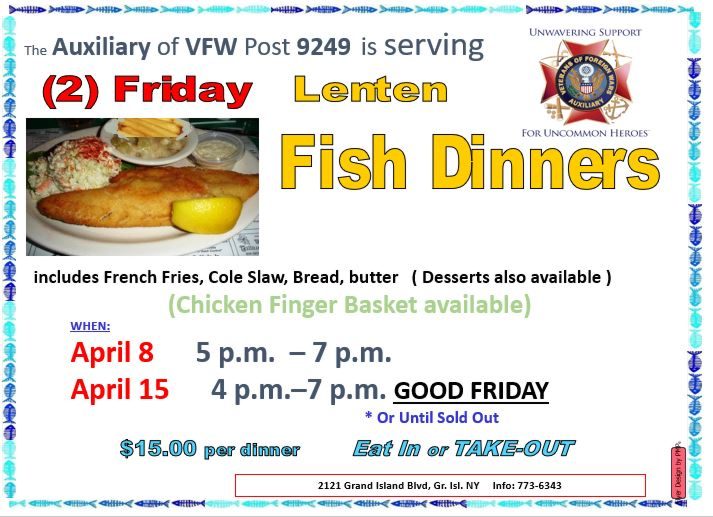 VFW Auxiliary Corned Beef & Cabbage Dinner - March 2022
The Charles N. DeGlopper Memorial VFW Post 9249 Auxiliary is hosting a Corned Beef & Cabbage Dinner on Saturday, March 19th from 4:00 p.m. - 7:00 p.m.. Cost is $12.00 and includes corned beef, cabbage, potatoes, carrots and dessert. Public is welcome. Proceeds will be donated to local food pantries. Non-perishable food donations appreciated.
VFW Fundraiser Clothing Drive - March 2022
Charles N. DeGlopper Memorial VFW Post 9249 is having a Clothing Drive. Collection will be April 1 - April 21 and drop off is at the Post's back porch Monday - Sunday, 11:00 a.m. - 8:00 p.m. See
FLYER
.
VFW Stars & Stripes Flag Fundraiser - March 2022
Charles N. DeGlopper Memorial VFW Post 9249 is having a Stars & Stripes Fundraiser. They are selling US 3x5 Flags made of Nylon with embroidered stars and 4x6 flagpole flags. Deadline for orders is April 25th. See
FLYER
.
National Anthem Singing Contest - February 2022
Spread patriotism through song! Youth ages 6 to 16 are encouraged to enter the @VFWAuxiliary national anthem singing contest, Get Excited for the Red, White and Blue! Contestants may sing "The Star-Spangled Banner" in the arrangement and genre of their choice: rock, pop, reggae, R&B, hip-hop, country, classical and other genres are accepted. However, they can't change the words! There are several cash awards at the national level. Entries are due to a local VFW Auxiliary by March 31, 2022. Visit https://vfwauxiliary.org/what-we-do/youth-activities for contest eligibility, rules, national awards and an entry form. Submissions can be delivered to the VFW or sent to vfw9249rwb@yahoo.com. Last year our very own Jenna Hecht from Grand Island won the NYS contest and went on to Nationals! For more information, please email our Grand Island VFW Auxiliary member contact Bob Lamb @ vfw9249rwb@yahoo.com Phone inquiries can be made to Pattie Frentzel – 716-773-8788. See
FLYER
.
Rules & Entry Form
. Submit to the local VFW by March 31st.